Conference opposes division of Punjab
Division of Punjab to Destablize Pakistan:Punjabi National Conference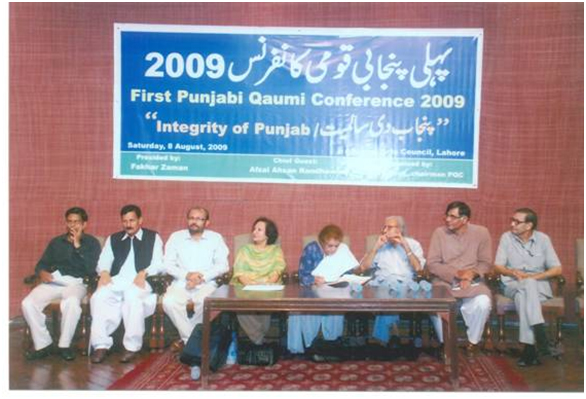 LAHORE, Aug 8 The first Punjabi National Conference here on Saturday opposed the division of Punjab.
The conference, organised by the Academy for the Promotion of Punjabi Language, Literature, Art and Culture with Chauhdry Nazir Kahit in the chair at Alhamra Art Centre, rejected the division of the province at any level, be it administrative, racial or lingual. It demanded that Punjabi should be adopted as the basic medium of instruction in the province and made the official language in all spheres.
The conference noted that Pakistan was passing through the most crucial phase of its history. It should do away with feudalism and distribute lands among tenets and landless farmers. The revenue generated by export and import of goods from Punjab should be spent on the development of undeveloped districts of the province. The Karachi Cotton Exchange should be shifted to Multan and renamed as Multan cotton exchange.

The conference said that non-Punjabis holding posts on Punjab's quota in the federal government should be removed and these jobs should be given to the unemployed youth from underdeveloped districts of Dera Ghazi Khan, Bahawalpur, Multan, Mianwali and Jhang. It supported provinces' demand for autonomy and condemned the atrocities being committed against Baloch people. It recognised Baloch people's right to the natural resources of Balochistan and called for an end to the military operation in the province and recovery of the missing people. It said target killings of Punjabis in Balochistan should stop.

The conference demanded that the federal government set up universities of all languages on the pattern of the Federal Urdu University. It said federal grants for the Punjabi Adabi Board, Balochi Academy and Pushto Academy should be raised and made equal to that of the Sindhi Adabi Board's. It should be made compulsory for the provinces to allocate one per cent of their budgets for these literary institutions. Government advertisements should be given to the print and electronic media in regional languages. The conference condemned the atrocities being perpetrated against minorities and demanded that life and property of the minorities should be protected.
It demanded that the Punjab Directorate General of Public Relations should start a newspaper in Punjabi language in the province.
Curtsy:DAWN.COM. PUBLISHED AUG 09, 2009