Filmmaker extraordinaire Remembering
the man who defined Lollywood
ADNAN LODHI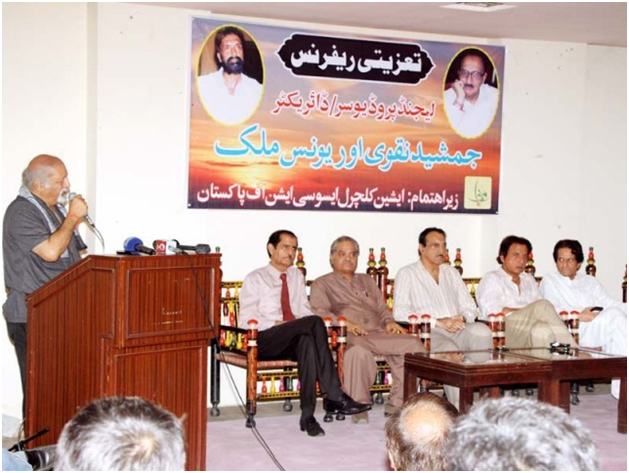 Malik also directed other hit Punjabi films, such as Sher Khan, Wehshi Jatt, Maula Bakhsh, Akhri Jang, Jatt in London and Sholay. PHOTO: PUBLICITY
LAHORE: If there's one quintessential film that defines Lollywood, it is Maula Jatt. And Younis Malik was the director who made it possible. His demise in July this year robbed the Pakistani film industry of a visionary filmmaker.
Maula Jatt set the template for action films in Lollywood, said directors, actors and others associated with the industry at the condolence reference held for Malik at Alhamra Cultural Complex in Lahore on Tuesday. Even Indian directors look to him for inspiration and have tried several times to remake Maula Jatt, albeit unsuccessfully, they claimed.
Today, Maula Jatt is so steeped in Pakistani pop culture one often hears the iconic dialogue 'Maula nu maula na maray te maula nai marda' peppered in theater performances and even everyday conversations. The film itself was shown in cinemas for years, becoming a classic of our time.


The condolence reference was organised by the Asian Cultural Association to pay homage to two Lollywood directors who passed away recently, Malik and Jamshed Rizvi. A number of film personalities including Nasir Adib, Sarwar Bhatti, Mustufa Qureshi, Perviaz Kalim, Ghulam Mohiuddin, Irfan Khoosat, Masood Butt, Pervaiz Rana and Anwar Rafi were present on the occasion.
"Although everyone played their role as best as they could, credit must go to Malik for his ability to make Maula Jatt a trendsetting film. Besides Jatt, he also directed other hit Punjabi films like Sher Khan, Wehshi Jatt, Maula Bakhsh, Akhri Jang, Jatt in London and Sholay. He is also credited for giving many new faces their breakthrough," said Maula Jatt's writer Nasir Adib.
"He was not only a great director, but also a great person. He was among the few directors who sacrificed everything for the film industry. He sold his land and invested in films. People would laugh at him, but over time he proved everyone wrong and became the captain of the ship that is our Punjabi film industry," said director Pervaiz Rana.
Director Masood Butt said he remembers Malik coming to the studio on a bicycle on his first day. "With time, he became a mentor for others. Many of today's directors have learnt the art of direction from him. He never compromised on his principles, which were hard work and honesty," added Butt.
About Bollywood's infatuation with Maula Jatt, senior director Altaf Hussain said they tried making a reboot of the film thrice, but failed each time. "I admit he was the most successful among us."
Actor Mustufa Qureshi said he will be forever indebted to Malik for turning him into an actor. "He is the pioneer of Punjabi action films. His and Rizvi's work is a treasure trove for newcomers to learn from," he added.
Folk singer Shaukat Ali later paid tribute to the two departed souls through his music, after which prayers were offered for the deceased.
Published in The Express Tribune, July 30th, 2015.