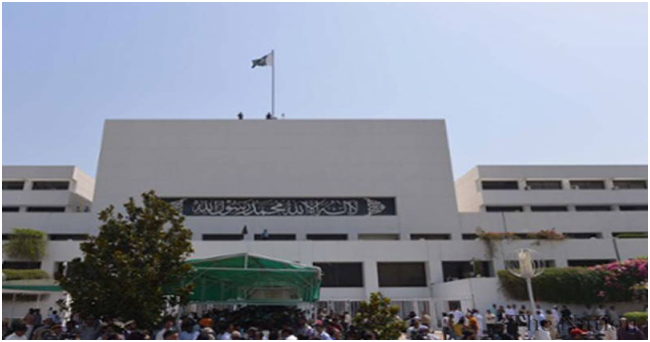 Ashraf Javed

LAHORE - Punjab province witnessed at least 1,850 registered incidents of so-called
"honour killings" during the last five years, official data reveals.

As the federal government is taking legislative measures to curb this crime, social experts
believe that mere legal changes cannot help much unless they are complemented with
social change.

According to official statistics available with The Nation, at least 328 persons were
murdered for bringing shame to their families in 2015, 404 in 2014, 388 in 2013, 366 in
2012, and 364 in 2011.

Large majority of the victims were young women who were butchered by their relatives for
bringing a 'bad name' to the families or communities.

The data collected by the provincial police department reveals there was no let-up in the
incidents of 'hour killings' despite the government's declarations to bring the culprits to
justice.

Hundreds of women including teenage girls are killed every year in the name of honour.
However, only a handful of these killers are brought to justice.

Most of the culprits go scot-free because the law allows other family members to pardon a
killer. The federal government is now planning to plug this legal loophole.

Faisalabad, the home district of the provincial law minister Rana Sana Ullah, had the
highest number of honour killings.

At least 38 such murders took place in Lahore, Sheikhupura, Nankana and Kasur districts
last year. Similarly, the police registered 24 honour killings in Gujranwala, Hafizabad,
Gujrat, Mandi Bahauddin, Sialkot and Narowal districts in 2015.

Eight cases were reported in Rawalpindi, Attock, Jhelum, and Chakwal districts.

Some 42 murders in the name of honour were reported by police in Sargodha, Khushab,
Mianwali, and Bhakkar districts the same year.

Faisalabad, Jhang, Toba Tek Singh, and Chiniot districts witnessed at least 76 honour
killings in 2015.

No less than 39 killings took place in Multan, Lodhran, Khanewal, and Vehari districts. Also,
18 killings were reported by police in Sahiwal, Okara, and Pakpattan districts.

Dera Ghazi Khan, Rajanpur, Muzaffargarh, and Layyah districts witnessed 51 such killings
last year. As many as 19 murders were reported in Bahawalpur, Bahawalnagar and Rahim
Yar Khan in 2015, according to police data.

The 28-year-old British national Samia Shahid was the latest victim of honour killing in
Punjab this year.

She was murdered in cold blood in Jhelum district last month after he came to Pakistan to
visit her relatives. Her husband, Syed Mukhtar Kazam, believes Saima was killed because
her family disapproved of their marriage.

Amid hue and cry over honour killing of outspoken social media star Qandeel Baloch last
month, Maryam Nawaz Sharif said the ruling Pakistan Muslim League-Nawaz was planning
to pass long-delayed legislation against honour killings within weeks.

The upper house of parliament had passed the Bill in 2014 but it lapsed after the gover-
nment failed to put it up for a vote in the lower house because it was preoccupied with
legislation aimed at tackling security problems and economic reforms.

According to the prime minister's daughter, the Bill soon will go before a parliamentary
committee. Maryam said the government wanted to pass the law unanimously and had
been negotiating with religious parties in parliament who are opposing the law.

"We have finalised the draft law in the light of negotiations," she stated in an interview
in July. "The final draft will be presented to a committee of joint session of parliament
on July 21 for consideration and approval."

Maryam said once the parliamentary committee approved the bill, it would be presented
for a vote in a 'couple of weeks' before the joint session of parliament. The bill however,
has not been presented before the parliament yet.

The government has been facing mounting pressure to pass the law against murders
carried out by people professing to be acting in defence of the honour of their family or
community. The law would remove the loophole that allows other family members of a
victim to pardon a killer.

In a rare move, last month the government became a complainant in the police case
against Qandeel's brother, who is accused of murdering her, designating it a crime
against the state and thereby blocking her family from forgiving their son.

Rights activists and legal experts say the new law would not help much in curbing the
menace of honour killings in a society with very low literacy rate where people most
people believe it right to take law into hand in such cases.

"In our fractured society, nobody is ready to take the responsibility. The religio-political
(nexus) is behind the flaws in our social system," leading lawyer Abid Hassan Minto told
The Nation.

"Laws (to punish culprits) already exist. Are (these) laws being implemented fully? What
difference the new legislation will make in the present scenario," he asked.

Minto said the whole system needs an overhaul. "We need a new world (social structure)
and educated people, and a new Pakistan if we really want to see the change. Otherwise,
corruption, injustice and honour killings cannot be controlled."

Senior advocate Azhar Siddique said the incidents of honour killings "are taking place in
our society because of lack of education". He said the government would have to
determine first whether the proposed anti-honour killing law would be Islamic or anti-
Islamic.

He said that honour killings are a cultural practice and it is very difficult to stop it without
changing the cultural norms. Like Minto, he also stressed the point that laws are useless
without implementation.
Source:The Nation, August 06, 2016
Send email to nazeerkahut@punjabics.com with questions, comment or suggestions
Punjabics is a literary, non-profit and non-Political, non-affiliated organization
Punjabics.com @ Copyright 2008 - 2017 Punjabics.Com All Rights Reserved
Website Design & SEO by Webpagetime.com