Baker Atyani & Sib Kaifee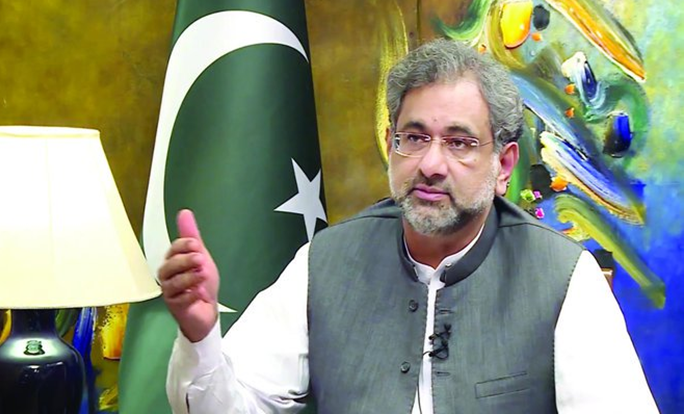 Pakistan Prime Minister Shahid Khaqan Abbasi gestures during his exclusive interview with Arab News in Islamabad. (AN photo)
ISLAMABAD: The days of Pakistan depending on the US to meet its military and other require-
ments are over, Prime Minister Shahid Khaqan Abbasi told Arab News during an exclusive inter-
view.

The world should recognize Pakistan's efforts in fighting the "world's war" on terror, he said, in
his first interview since returning from the UN General Assembly (UNGA) in New York in September.

"If one source dries up, we have no option but to go to another source. It may cost more, it may
consume more resources, but we have to fight that war, and that's what we emphasized to all the
people that we met," Abbasi added.

"Any sanctions or restraints… put on our systems only degrades our efforts to fight terror, and it
affects the whole equation in this region," he said.

"We have major US weapons systems in our military, but we've also diversified. We have Chinese
and European systems. Recently, for the first time we inducted Russian attack helicopters."


Pakistan PM discusses war on terror, economic strategy in exclusive interview with Arab News

Complexity of governance

It has been two months since Abbasi assumed office after being voted in by Parliament via special
elections on Aug. 1. Pakistan Muslim League-Nawaz (PML-N), the ruling party, holds the numbers
in Pakistan's National Assembly, and Abbasi being a staunch loyalist and trusted comrade of Nawaz
Sharif was the suitable choice.

He has hit the ground running, facing a barrage of domestic and international challenges including
terrorism, an energy deficit, and economic and regional volatility.

"It's a complex job," he said, adding that governing a country with a ballooning population of over
207 million is no walk in the park.

"Pakistan is one of the largest countries in the world… It's a nuclear power. We have a challenging
neighborhood. There's a war on terror in the country. There are issues in Afghanistan. There's a
very large foreign military presence there... We have a neighbor to the east with which we've had
several wars. They (India) are also a nuclear power. We have a dispute. They occupied Kashmir,
which is our territory… The economic challenge is (also) there."

Elections

Abbasi, 58, is a US-qualified electrical engineer with a bachelor's degree from the University of
California and a masters from George Washington University.

He was a pilot for 40 years, and is Pakistan's first premier to have flown an F-16 aircraft during an
air force training exercise.

He entered mainstream politics in 1988 and later became an MP. Being part of a politically connect-
ed family helped him become an accomplished politician, being elected to Parliament six times.

Abbasi is also a prosperous businessman, having launched Pakistan's first successful budget airline
and keeping it profitable when other private carriers shut down.

The incumbent government's term finishes on June 4, 2018, and he is confident that the next
general elections will be held within two months of that.

"Whatever happens, elections will happen on time and in early August. Pakistan will, God willing,
have a new government. Hopefully the same party (PML-N) will come to power," he said, smiling.

UNGA and US

Abbasi and his delegation held meetings with several "key players" on the sidelines of the UNGA,
including eight heads of state, the UN secretary-general, US Vice President Mike Pence and inter-
national investors.

The meeting with Pence was "very constructive," Abbasi said, adding that there was "also a small
interaction with President (Donald) Trump at his reception."

This was the first high-level communication between the two allies since Trump strongly criticized
Pakistan in his Afghanistan and South Asia strategy that he unveiled on Aug. 21.

"There was no meeting scheduled (with Trump). In fact, the meeting with Vice President Pence
wasn't scheduled. It was at their request," Abbasi said. "This was a visit to the UN to basically
present Pakistan's case at the General Assembly."

Bilateral ties

The "candid" discussion with Pence was essential for official engagements in the future because
when Trump's policy statement on South Asia came out, there were "a lot of apprehensions on
what it meant, and what it meant for Pakistan-US relations," Abbasi said.

"I think we moved substantially forward in that direction. Whatever concerns they (the US) have,
we've shown our willingness to address those concerns."

The meeting paved the way for one between Pakistani Foreign Minister Khawaja Asif and US Secret-
ary of State Rex Tillerson on Wednesday in Washington.

They discussed Trump's South Asia policy, and Asif told Tillerson that Islamabad pursues a zero-
tolerance approach to "all terrorist and militant groups."

This was in response to Trump's assertion that Pakistan harbors "agents of chaos," which he blames
for Afghanistan's continued instability.

On Tuesday, Defense Secretary James Mattis said the US was willing "one more time" to work with
Pakistan on Afghanistan, but would resort to measures set by Trump in case of non-compliance
regarding the allegations of support for militants.

Abbasi said: "We can categorically state that we don't provide any sanctuaries to anybody. The
bottom line is today we have a common objective: To destroy terror and bring peace to Afghanistan."

Afghanistan

"We're partners in the war on terror, and that's what we emphasized. We emphasized to everybody
we met there (at the UNGA) that nobody wants peace in Afghanistan more than Pakistan," added
Abbasi.

"The reality today is that much of the area bordering Pakistan is controlled by the Taliban. The
people we're fighting in Pakistan today, their sanctuaries are in Afghanistan, their leadership is living
there, the planning is done there, the logistical bases are there, and they regularly cross the border
and attack our installations. We recently had a suicide attack on the deputy chairman of the Senate.
He survived, but 22 people were killed. It was by an Afghan national who had crossed the border to
attack his convoy deep inside Pakistan," Abbasi said.

"We're fencing our border. We're open to Afghan liaison officers. We have Afghan refugees here. So
if anything is pinpointed and the intelligence is provided, we take action," he added. "Whatever
happens in Afghanistan affects us. Whatever happens here affects them."

India's role

Pakistan wants peace in Afghanistan via a solution that "is owned and led by the Afghans," said
Abbasi, warning that Washington's desire to include India would be detrimental.

"We don't believe that injecting India into the Pakistan-US relationship will help resolve anything,
especially in Afghanistan, where we don't see any role for India. India has a relationship with the
US. That is between them and the US."

Pakistan wants an "equal relationship or partnership with the US, like every other nation," he said.

It wishes to work with the US "to resolve regional" and "global issues… ranging from the economy
to nuclear" matters.

Cost of war

Pakistan has fought "a very hard and vicious" war on terror, said Abbasi, adding that "200,000 of
our troops are deployed. We have 6,500 shaheeds (martyrs) in the army. We have 21,000 of our
citizens who've been killed, including police personnel. Almost 35,000 people have been seriously
injured."

He added: "Nobody has fought a bigger war on terror than we have, with our own resources. Even
the most conservative economic estimates of Pakistan's losses are over $120 billion. It has been a
very difficult war, but our army has performed very well."
Source:Published — Monday 9 October 2017
Lesson from the past: Why learning Mandarin is the precautionary
measure that Pakistan needs to enforce right now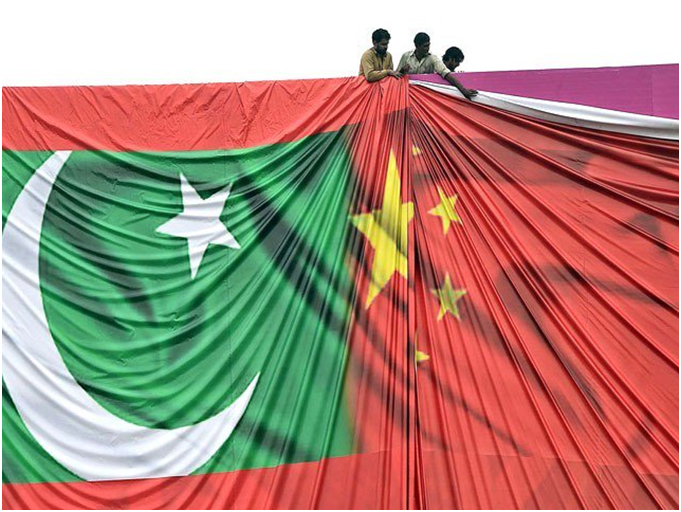 Workers set up a billboard welcoming President Xi Jinping to Pakistan ahead of his visit in 2015. PHOTO: AFP
The China-Pakistan Economic Corridor (CPEC), which was originally valued at $46
billion and is expected to be a game changer for Pakistan's economy, has been viewed
with much scepticism since the day it was green lit.

Some Pakistanis believe CPEC to be the equivalent of the Marshall Plan, an American initiative to
aid Europe economically post World War II. Others believe that it is simply another East India
Company (EIC) in the making, equivalent to calling CPEC a vehicle for colonialism.

If you think about it, the idea that the Chinese could become the new British for us is not at all
far-fetched. While the British innocently entered India through the EIC, the Chinese have chosen
to enter Pakistan through CPEC. Also, the lucrative potential for trade and business was the
motivation for the British, and the very same potential has brought the Chinese to Pakistan. The
similarities here are thus uncanny.

Is CPEC a cloaked attempt by the Chinese to recolonise Pakistan?

No one can say for sure, but by the time this picture gets clear enough to tell, it will already be
too late. We cannot effectively decide whether CPEC is a blessing or a colonial nightmare waiting
to happen, but what we can do is not repeat the mistakes of our ancestors who were unable to
break free of their shackles until Muhammad Ali Jinnah came to their rescue.

Hence the question arises – are we taking the precautionary measures required to ensure that the
Chinese do not become for us what the British used to be?

Arguably, the biggest difference between the British and the Muslims of India was a communication
gap that resulted from the language barrier between the two. The same is the case with CPEC, which
is largely under Chinese management and thus Chinese workers are hired over Pakistani workers
due to the language barrier. Learning Mandarin, therefore, is the precautionary measure Pakistan
needs to enforce.

In February 2017, a Chinese delegation expressed that Chinese investors were keen on investing in
bio-technology, textile, agriculture and renewable energy sectors of Pakistan. Additionally, the
delegation also expressed interest in investing in other sectors such as mechanical and electrical trade,
construction and real estate development and the automobile sector.

Earlier this year, the first Pakistan-assembled Chinese car went up for sale. Clearly, this highlights the
level of investment the Chinese will be making in Pakistan, and as the delegation pointed out, creating
30,000 new jobs in the process.

It is safe to say that in the aftermath of CPEC, the demographics of Pakistan will witness a vast change.
A report by the Federation of Pakistan Chambers of Commerce and Industry in 2016 pointed out that
at the then rate of influx of Chinese nationals into Balochistan, the locals will be outnumbered in the
province by 2048. This will not only have an impact on our economy, but on our way of life as well.
This year, we have already witnessed the launch of Huashang, the first ever Chinese weekly newspaper
to be launched in Pakistan, which indicates that the Chinese population is already on a rise here.

It is important to understand that the rapid influx of Chinese nationals in Pakistan won't just result in
new job opportunities, but will also attract Chinese citizens who, given China's population, will consider
relocating to Pakistan in search of employment opportunities. The Chinese companies which are currently
working on the development of CPEC projects will obviously prefer hiring workers who they can
communicate with instead of Pakistani workers who lack the language skill.

It is a fact that the Chinese civilisation prospered because of the Silk Road, an ancient network of trade
routes that connected Asia and Europe. Presently, China's One Belt One Road initiative (OBOR) will play
a similar role and not only lift China in the global economic ranks but also result in a rapid spread of the
Chinese population throughout the world. This also means that more and more people will learn and
speak Mandarin, in addition to over one billion people who already speak it, to further their businesses.
This is enough evidence to conclude that learning Mandarin should be encouraged and facilitated in
Pakistan.

In today's multilingual and global society, being fluent in English is not enough. Education systems in
the US and Europe have already introduced various language immersion programs in their education
systems which help open new doors for young students.

While numerous countries in the world understand that in the global world we now live in, it is a
necessity to introduce prominent languages from all over the world; Pakistan unfortunately did not
get the memo. Given the fanfare and celebrations surrounding CPEC, one could hope that the govern-
ment would prepare to at least incorporate Mandarin into the curriculum or promote centres willing
to teach the language. Unlike Sir Syed Ahmed Khan – who encouraged the Muslims of subcontinent to
adopt western education during the British Raj – our policy makers have done nothing to ensure that
Pakistan will be able to keep up with the influx of China.

Learning Mandarin will not only help Pakistani workers gain jobs in CPEC projects, but will also help them
keep up with China's growing investment in other sectors of Pakistan. In addition to career opportunities,
learning Mandarin will also be a gateway for Pakistanis into a new culture of over a billion people, and will
surely allow for a better understanding of the Chinese people and their customs. This will ultimately result
in more prosperous relations with our neighbours.

The ball is in our court now. We can either allow China's rapid growth to be the end of Pakistan as we know
it or we can let it be a thriving new chapter for us.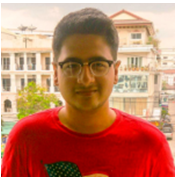 Sahir Palijo
The author is an under-grad pursuing a degree of Business Administration. He loves to write his thoughts
and is a movie freak. He tweets at @The_Sahir (twitter.com/the_sahir)
Source:October 8, 2017
22-year-old army officer martyred as militants
attack border post in Khyber Agency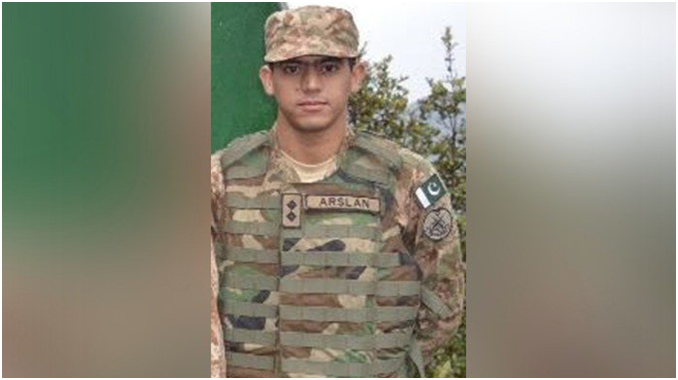 PHOTO: ISPR
An army officer was martyred on Saturday in cross-border firing in Rajgal, Khyber Agency,
Inter-Services Public Relations (ISPR) said in a statement.

Lieutenant Arsalan, 22, was deployed as the officer commanding the newly-established border
post in Rajgal, Khyber Agency when he was hit by militant firing from across the border
between Pakistan and Afghanistan. Lt Arsalan was the only brother of three sisters.

Earlier in May this year, at least 10 people, including women, children and a Frontier Corps
(FC) man, were killed and 47 injured after Afghan border forces resorted to 'unprovoked' firing
at Pakistani troops guarding a census team.

The incident occurred in the Killi Luqman and Killi Jahangir villages of Chaman, which straddle
the border and have been a source of controversy between Afghanistan and Pakistan. Kabul
claims the villages are part of the war-torn country's Spin Boldak district, an assertion Pakistan
flatly denies.

Pakistani forces deployed in Chaman returned fire and injured two Afghan security officials.
Both sides rushed reinforcements to the border and Pakistani authorities closed the Chaman
crossing indefinitely once again. Pakistan had closed the border with Afghanistan for a month
after a series of terrorist attacks across the country left around 100 people dead.
Source:The Express Tribune, Published: September 23, 2017
India biggest exporter of terror in region, says
Saad Rafique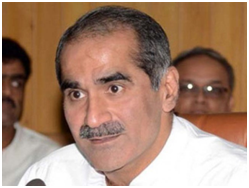 Railways Minister Khawaja Saad Rafique. PHOTO: File
Railways Minister Khawaja Saad Rafique said on Saturday that India was the biggest exporter of
terrorism in the region.

Expressing his views on the social media website Twitter on Saturday, the railways minister
demanded that the UN and all civilised nations should take notice of India's "barbaric actions".

He also tweeted a picture of Lieutenant Arsalan, 22, the officer commanding the newly-established
border post in Rajgal, Khyber Agency martyred in cross-border firing earlier in the day with a
couplet praising his sacrifice and bravery.

Rafique also pointed out Indian forces' recent ceasefire violations along the working boundary that
left at least six civilians dead and dozens others wounded. He added that the unbridled Indian
troops were involved in all kinds of state and non-state sponsored terrorism.

Earlier, the Foreign Office said that the deliberate targeting of civilians was deplorable and contrary
to human dignity and international human rights and humanitarian laws. "Despite calls for restraint,
India continues to indulge in ceasefire violations," it added.
Source:The Express Tribune, Published: September 23, 2017