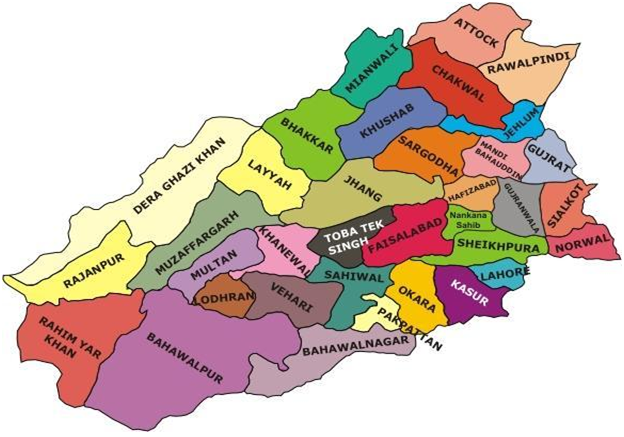 Although all cities of Punjab have been rotting for decades under massive political and
bureaucratic corruption, the towns of Southern Punjab have suffered the most Culturally,
there is not one but three Punjabs, excluding the one on the Indian side. If we don't consider
religion and its influence on community and identity formation, Indian Punjab would culturally
and linguistically be a part of Central Punjab in Pakistan.

Apart from the familiar commonalities that are found among the ancient lands and peoples
of the Indus, their dialects and social structures are very different. So are the patterns of
leadership, elite formations and power relationships in society.

Southern Punjab, much like other parts of the country, no longer represents any ethnic
cohesion. The ethnic-linguistic mix has greatly changed with migration from the other Punjabs
since canal colonisation. And the pattern of migration through various land acquisition schemes,
particularly after the absorption of the State of Bahawalpur into Punjab, has continued.

Powerful civil bureaucrats with political roots in Central Punjab have allotted hundreds of
thousands of acres state land to relatives, friends, and to those who could bribe them. This
pattern continues in Cholistan and Thal (Layyah). Fake land claims by the migrants from India
at the time of Pakistan's creation, which continued to be entertained for decades, were another
factor that robbed a great majority of local (Seraiki) landless peasants of their rights to own land.

In some areas, migration has even changed the historical demographic balance, particularly in
major cities and towns of Southern Punjab. The region today represents a complex mosaic of
linguistic and ethnic groups, including Baloch, Punjabis, Seraikis, Mohajirs and Pashtuns. The
latter are in smaller numbers as a residual social class of the Pathan rulers of the Derajat (Dera
Ghazi Khan and Dera Ismail Khan) and the Multan state before its conquest by Ranjit Singh.

Social characteristics of a region, complex as they are in Southern Punjab, are important to
understanding which social groups control resources — land, political power and social influence —
and how they affect social relations and development patterns.

The ever-expanding towns of Southern Punjab represent a very complex picture of ethnicity and
culture, provide a common space for all and an opportunity for liberation from feudal bondage for
the peasant as well as the middle income agriculturalist.

Although all cities of Punjab have been rotting for decades under massive political and bureaucratic
corruption, the towns of Southern Punjab have suffered the most.

Just visit any town, including Multan, the seat of some of the ruling families of the region: the dust,
smog and litter will hit you in the face. You will see broken potholed roads, leaking sewage and
constant construction under special programmes by prime ministers, presidents and hordes of
provincial and federal ministers from the region.

The villages and rural areas of the region are worse than the towns. At least in the towns, there
might be some functioning public schools and a few colleges, but not in most of the rural areas.
There is at least one ghost degree-college that this writer has observed in one of the southern
districts. In town colleges, teachers do not attend classes or lecture regularly. The teachers of
natural sciences run private academies and don't devote themselves to teaching at the colleges.

The same is true of government hospitals where even the poor patients needing some surgery are
driven to private clinics run by doctors on the payrolls of government hospitals. There might be a
few noble exceptions to this practice that robs both state and society, but what this writer has
witnessed over several visits to the region is heartbreaking.

What hurts more is that the ruling classes of the region continue to be elected by the same helpless
peasantry that is hauled to the polling station every time to confirm political legitimacy on their
lords. Democracy therefore has to go a long way to make the ruling classes accountable to anyone —
the law, institutions or the common voting citizen. But this is the only route to progress; we have
tried all others.

Great difference is visible in the quality of education delivery and some other social services among
the rural areas of Southern Punjab between the native and the settler communities. The settler or
migrant communities fare much better in terms of quality of education, particularly in areas where
they have demographic strength.

The native villages that we have observed in more than one district of the region have seen very
little or no development: their schools are dysfunctional or most of the teachers are absent; basic
health centres have no doctors; and roads break down within a few months of their construction.
This is no fiction; it is a cruel reality that is very visible in so many areas.

How do we explain these troubles of Southern Punjab?

They are primarily because of feudalism, semi-tribal social structure and monopoly of landowning
families over political representation. This class has misused its power and continues to do so.
There appears to be an unbreakable nexus between the civil bureaucrats heading different
government departments at the district level and the elected representatives both of local
governments and the members of provincial and federal legislatures.

Again, with few exceptions, they have joined hands to misappropriate development funds by
spending very little on projects and pocketing most of the money. During the Musharraf years,
Southern Punjab witnessed greater plunder than perhaps any other region of the country.
Transparent and fair accounting and auditing, including quality checks of public works
programmes in the region, would reveal the scale of this plunder.

Has any thing changed under the new elected government of Punjab?

No. Sadly, nothing has really changed in Southern Punjab. We have the same number of
ghost schools — mostly girls' schools — absentee teachers and doctors, and poor quality of
public works.

Punjab as whole and Southern Punjab in particular has been in constant decline as a result
of poor governance and an ineffective system of accountability. Regrettably, the greatest
number of poor, landless and miserable people live in Southern Punjab. These are perfect
conditions for alienation and driving people towards hopelessness and desperate actions.

Accountability of both corrupt bureaucrats and public representatives — past and present —
may gradually restore some trust in governing institutions. The new rulers of Punjab need to
understand the troubles of Southern Punjab and take remedial actions. Some of these
actions are doable, like better governance through efficient and reliable service delivery.
For change in social and power relations, we'll have to wait till true democracy takes root.
Dr Rasul Bakhsh Rais is author of Recovering the Frontier State: War, Ethnicity and State in Afghanistan
(Oxford University Press, 2008) and a professor of Political Science at the Lahore University of Management
Sciences. He can be reached at rasul@lums.edu.pk
Source: http://www.dailytimes.com.pk/default.asp?page=2009616story_16-6-2009_pg3_2
Pakistan's South Punjab: politics of marginalisation
April 12, 2010

Raza Rumi
The discourse on South Punjab conceals the grassroots social movements and the clamouring for a linguistic identity in
the region
The conundrum of South Punjab remains a major challenge for analysts, policy makers and
above all the people of this marginalized region. Socio-economic data testifies to the impove-
rishment and the deprivation that exists in the region. Add to this the iniquitous land
distribution and utter lack of economic opportunities for the local population. Despite the
rhetoric of the establishment, the region has been neglected through decades of "modern"
development in northern and central Punjab. The bulk of public resources were invested in
Lahore, Rawalpindi and other urban centers of the North. Industrialisation, growth of private
education facilities and the rise of the middle class are phenomena that have eluded the
dusty environs of South Punjab.

The result is clear: the electoral patterns show support for redistributive agendas and which
are deemed as pro-peasantry. In recent years, southern Punjab has also witnessed two
conflictual yet interrelated trends. First, the rise of Islamism through a network of sectarian
madrassas which train militants and mercenaries alike; and scattered yet influential social
movements around the issues of linguistic identity and livelihoods. How does one make sense
of these contradictions?

It is well known that the Wahhabi-Salafi ideologies backed by potent financing networks have
played a major role in turning this impoverished region into a nursery for militant Islamism
that targets the plural Sufi culture embedded in the cultural mores of the local inhabitants;
and act as a bastion for the Taliban network across the country. There is insurmountable
evidence to this effect and those who are not willing to confront this brutal reality are living
in a state of denial. Since the Zia years, the state is no longer a neutral arbiter and it promotes
a particular brand of Islamic ideology. It is also clear that a sophisticated regime of economic
incentives addresses lack of public entitlements and a non-responsive state apparatus.

However, we have also witnessed that the peasants in Okara and Khanewal have valiantly
resisted appropriation of land by security agencies and have set a momentum of challenging
the state's land policy. Similarly, issues related to water distribution and resettlement due to
mega projects sponsored by International Financial Institutions (IFIs), have also come into
public light due to the political mobilization that has been taking place in D G Khan, Muzaffargarh,
Layyah and elsewhere. It is a separate matter that such stories do not receive adequate attention
in the media which is owned by rich, powerful barons whose interests are integrally linked to an
extractive state. As pointed by a leading activist, Mushtaq Gadi, the discourse on South Punjab
willfully ignores the authentic voices from the grassroots that revolve around livelihood struggles
and the quest for a regional identity.

Another dimension of the regional turmoil pertains to the growing movement for linguistic identity.
The Saraiki language and its submerged identity is now a rallying point for most living in the
southern most districts of the region. This movement for cultural expression has gained momentum
with increased calls for a separate province and the fact that the disputed status of Bahawalpur
State has been raised by politicians from the region is a case in point. The state of affairs, reported
rather cautiously in the mainstream media, points to the fact that political elites are now forced
willy-nilly to subscribe to the idea of a separate province. Else, they are likely to be rejected at the
next general elections.

In fact, the decades' long denial of rights and entitlements and a politico-cultural identity act as
great catalysts for breeding militancy. If one were to add the economic deprivation and endemic
poverty to the list then the situation is quite alarming. No wonder we are seeing history unfold in
front of our eyes. The nexus between poverty and militancy is problematic but certainly undeniable.
FATA and other parts of Pakistan have shown us how a poor majority finds 'opportunity' in the
game of terrorist networks and their well oiled financing machines. South Punjab is no exception.

Pakistani state will have to think beyond its mantras of national security and 'foreign hand' and
accept that its policies have led to the explosive situation in South Punjab. At the same time, this
region is not Swat or a FATA agency that can be bombarded with troops and drones. Also, it is
important to note that at the people's level, Talibanisation has yet to take root. There is hardly
any evidence to suggest that there is popular support for the Taliban agenda. A relevant book
entitled, Probing the Jihadi Mindset , Sohail Abbas (2007) that looks at the profiles of over 500
jihadis shows that participation of South Punjabis in the 'Jihad project' is minimal.

What next? First, major investments in public works and programmes that enhance employment
and livelihoods in the region must be the focus of the state. Second, a comprehensive madrassa
reform should take place concurrently that should quite logically start with the registration,
documentation and curricula standardization. Third, networks that finance militancy should also
be traced and tackled. The issue of a separate province or an autonomous region within the
monolith Punjab province will need to be confronted sooner than later. Brushing it under the
carpet will not help.

If the political elites have settled issues such as renaming NWFP, provincial autonomy and NFC
then why can't this issue be resolved within the democratic framework?
FIRST PUBLISHED IN THE FRIDAY TIMES
Raza Rumi is a development professional and a writer based in Lahore. He blogs at www.razarumi.com
Pakistan's Jihadist Heartland: Southern Punjab
Once-tolerant southern Punjab has become a base for jihadist groups. Socio-economic grievances,
political alienation and poor education provide a near endless source of recruits. To reverse the
tide, the government must end a climate of impunity, block hate speech, improve rule of law, and
refocus counter-terrorist action to target all jihadist groups.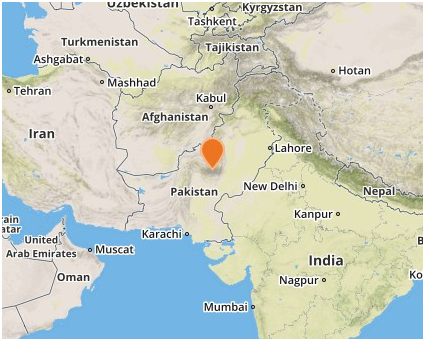 Executive Summary

Southern Punjab must be central to any sustainable effort to counter jihadist violence within and
beyond Pakistan's borders, given the presence of militant groups with local, regional and
transnational links and an endless source of recruits, including through large madrasa and mosque
networks. The region hosts two of Pakistan's most radical Deobandi groups, Jaish-e-Mohammed,
held responsible by India for the 2 January 2016 attack on its Pathankot airbase; and the sectarian
Laskhar-e-Jhangvi (LeJ), which was at least complicit in, if not solely responsible for, the 27 March
Easter Sunday attack that killed more than 70 in Lahore. To reverse the jihadist tide, the Pakistan
Muslim League-Nawaz (PML-N)'s federal and Punjab province governments will have to both end
the climate of impunity that allows these groups to operate freely and address political alienation
resulting from other governance failures these groups tap into.

Southern Punjab was once known for a tolerant society, but over the past few decades, state
support for jihadist proxies, financial support from foreign, particularly Saudi and other Gulf
countries, combined with an explosive mix of political, socio-economic, and geostrategic factors,
has enabled jihadist expansion there. Bordering on insurgency-hit and lawless regions of the country
and also sharing a border with India, it has long provided a convenient base where these outfits can
recruit, train and plan and conduct terror attacks. Although jihadist groups still harbour a fringe
minority in a region where the vast majority follows a more tolerant, syncretic form of Islam, their
ability to operate freely is largely the result of the state's policy choices, particularly long reliance
on jihadist proxies to promote perceived national security interests. The absence of rule-of-law,
combined with political dysfunction and inept governance, also allows these organisations to exercise
influence disproportionate to their size and social roots.

With state sponsorship and a pervasive climate of impunity enhancing jihadist groups' recruitment
potential, the risks of joining are far lower than potential gains that include employment and other
financial rewards, social status and sense of purpose. These are all the more compelling in Punjab's
largely rural and relatively poorly developed southern regions, where perceptions of exploitation by
the industrialised central and north Punjab, referred to by southern Punjabis as Takht Lahore (throne
of Lahore), are high, the result of political marginalisation, weak governance, economic neglect and
glaring income inequity.

After the December 2014 attack on the Peshawar Army Public School by a Pakistani Taliban faction
that killed over 150, mostly children, the civilian and military leadership vowed to eliminate all
extremist groups. Yet, the core goal of the counter-terrorism National Action Plan (NAP) it developed –
to end distinctions between "good" jihadists, those perceived to promote strategic objectives in India
and Afghanistan, and " bad" jihadists, those that target the security forces and other Pakistanis –
appears to have fallen by the wayside.

A highly selective approach still characterises the ongoing crackdown on militant outfits in southern
Punjab and undermines broader counter-terrorism objectives. While the anti-India Jaish continues to
operate freely, paramilitary units use indiscriminate force against local criminal groups, and the
Punjab government resorts to extrajudicial killings to eliminate the LeJ leadership and foot soldiers.
Overreliance on a militarised counter-terrorism approach based on blunt force might yield short-term
benefits but, by undermining rule-of-law and fuelling alienation, will prove counterproductive in the
long term.

The lack of progress on other major NAP goals, particularly reform and regulation of the madrasa
sector, has especially adverse implications for southern Punjab, with its many Deobandi madrasas.
The children of the poor are exposed to sectarian and other radical ideological discourse. The state's
unwillingness to clamp down on it in sectarian madrasas and mosques so as to counter hate speech
and prevent dissemination of hate literature increases the potential for radicalisation in the region.

In the poorest region of the country's richest and most populous province, where economic hardships
are compounded by periodic natural disasters, including droughts and floods that destroy homes
and livelihoods, jihadist groups, often with state support, their access being facilitated by the
bureaucracy, are given opportunities to win hearts and minds through their charity wings. At the
same time, civil society organisations capable of filling the gaps in the state's delivery of services
are often subjected to restrictions and intimidation.

Despite jihadist inroads, the vast majority in southern Punjab still adhere to more moderate syncretic
forms of Islam: Sufism, and Barelvism, with practices and rituals that Deobandis and Wahhabi/Salafis
portray as heretic. Yet, a general climate of impunity is encouraging extreme religious, sectarian and
gender discrimination and exclusion. If left unchecked, these groups' influence will likely spread within
and beyond the region.

Lahore and Islamabad should enforce the law against all jihadist organisations, without exception. If
they do not, many in southern Punjab may continue to see the rewards of joining such organisations
as far outweighing the costs.

Recommendations
To end the climate of impunity

To the federal and Punjab governments:

1. Replace selective counter-terrorism with an approach that targets all jihadist groups that use
violence within or from Pakistani territory, including by thoroughly investigating the alleged role of
Pakistan-based jihadists in the Pathankot attack, extending beyond individual operatives to the
organisations that sustain them.

2. Focus counter-terrorism efforts on reforming and strengthening the criminal justice system, with
a properly resourced, authorised and accountable provincial police force at its heart, so as to
moderate reliance on lethal force.

3. Investigate and monitor under the Anti-Terrorism Act or UN Security Council Resolution 1267 and
its blacklist all madrasas, mosques and charities with known or suspected links to banned groups,
as well as those that maintain armed militias, or whose administrators and/or members incite
violence and other criminal acts within or from the country; and act first against those madrasas in
southern Punjab already identified as actively training militants and having direct or indirect links
with jihadist outfits.

4. Prevent circulation of hate literature and enforce laws against hate speech in madrasas, mosques
and other forums, including by following through on all current cases against hard-line preachers
and others accused of violating them.

To redress policy that favours a jihadist fringe over a moderate and diverse civil society

5. Remove arbitrary official and unofficial restrictions on NGOs and other civil society organisations
in southern Punjab and assume responsibility for protecting against jihadist threats.

6. Repeal all legislation that discriminates on the basis of religion, sect and gender and refrain from
backtracking on provincial pro-women legislation or yielding to Islamist party pressure to dilute its
provisions.

7. Protect southern Punjab's religious minorities, in particular Christians and Hindus, and take
action against perpetrators of violence against women by acting through the legal system on
reports of intimidation and abuse.

To redress the political, social and economic alienation in southern Punjab that contributes to
recruitment opportunities for jihadist groups

To the federal and Punjab governments:

8. Reform and expand the public school network, including by removing intolerant religious
discourse and distorted narratives glorifying jihadist violence from the classroom; and accompany
education reform with assistance along the lines of the Benazir Income Support Program (BISP)
to help poor families afford to send their children to school.

9. Increase southern Punjab's development budget, accompanied by meaningful consultations
with communities on development programs; and establish and implement requirements to hire
a significant proportion of local labour for such programs and provide it related training.

To the ruling and opposition parties:

10. Respond to the political alienation in southern Punjab by including local leaders within party
decision-making processes and structures, and giving them a voice at the local, provincial and
national levels.

11. Redress local grievances by addressing them in the provincial and federal parliaments,
including through appropriate legislation.

Islamabad/Brussels, 30 May 2016
Source: https://www.crisisgroup.org/asia/south-asia/pakistan/pakistan%E2%80%99s-jihadist-heartland-southern-punjab>