OPINIONS
Focus on Punjab (ARTICLES)
PUNJABI BABOO'S NOW RILE ALL PROVINCE, INCLUDING BALOCHISTAN BY ANSAR ABBASI
                             Perspective:Ansar Abbasi
Punjab Baboos now rule all provinces, including Balochistan
Punjab excludes Islamic subjects from Matric book
Sindh card users banking on Punjabi Baboo brigade
Punjab Baboos now rule all provinces, including Balochistan
Ansar Abbasi

ISLAMABAD: Instead of addressing the sense of deprivation among smaller provinces, the Gilani administration seems to be fuelling more frustration as the only non-Punjabi chief secretary in the most backward province of Balochistan too has been removed and replaced by a bureaucract from Punjab.
Following the recent removal of Ahmad Bux Lehri as Balochistan chief secretary and his replacement by Babar Yaqoob Fateh Muhammad, now all the four provinces have chief secretaries from Punjab.
Although under the law there is no bar on such appointments, for the purpose of national cohesion all Pakistan services like District Management group (DMG) and Police Service of Pakistan (PSP) were created to get such federal officers rotated in all different provinces.
In the past, as part of unwritten policy, it has always been ensured not to offer all key positions to the officers from one particular province. But the PPP government led by Zardari-Gilani duo has stopped giving any considerations to all such sensitivities and as a result today all the provincial chief secretaries as well as the chief secretary Gilgit Baltistan and chief commissioner Islamabad are from Punjab.
Presently, the chief secretary Punjab is Nasir Mahmood Khosa, who hails from Dera Ghazi Kan; Khyber Pakhtunkhawa chief secretary is Capt. Ghulam Dastagir, who is from Chakwal; Sindh chief secretary is Raja Muhammad Abbas, who belongs to Kahuta and the newly appointed chief secretary Balochistan Babar Yaqoob Fateh Muhammad is from Nowsheran Virkan, Gujranwala. The chief secretary Gilgit Baltistan Saif Chattha is from Sheikhupura while the chief commissioner Islamabad Tariq Peerzada too is from Punjab.
Ahmad Bux Lehri, who was replaced as chief secretary Balochistan is a reputed Grade 22 officer of the DMG and is from Balochistan.
He could have been replaced by any DMG officer from Sindh or KPK but the Gilani regime opted to bet on a BS-21 officer from Punjab for the key bureaucratic position in Balochistan despite the fact that the other three provinces already have chief secretaries from Punjab.
In the past such was the display of national cohesion that even the Punjab province had chief secretaries from Balochistan, Sindh and even from KPK. The Gilani regime has the choice to consider Ahmad Bux Lehri as the chief secretary of any of the other three provinces because such appointments give boost to the civil servants from smaller provinces.
Although the federal services have the majority representation from Punjab, the KPK and Sindh have also comfortable share. Balochistan, however, has a small share in the federal services because except quota, fewer candidates qualify to join federal services on merit.
Ironically, the PPP government that claims to be the champion of the rights of the people from the smaller provinces has placed total reliance on bureaucrats from Punjab.
Only recently, The News had reported that 43 of the 49 federal secretaries appointed by the present regime were from Punjab.
Besides, a study into key appointments in other federal institutions also showed that the PPP government has failed to keep a balance among all federating units in key bureaucratic appointments to strengthen the federation and to address the sense of deprivation among the smaller provinces, particularly Sindh and Balochistan.
Apart from federal secretaries and provincial chief secretaries, almost all the key administrative positions in the Islamabad Capital Territory and Capital Development Authority have also been offered to officers from Punjab. Organisations like the Intelligence Bureau, Federal Investigation Agency, National Police Foundation, National Highway Authority, Motorway, Nadra and many others are also headeded by the baboos from Punjab. We even have the auditor general from Multan whereas seven out of eleven members of the Federal Public Service Commission are from Punjab. It is heartening to see that at least the chairman FPSC is from Sindh.
The regional/provincial quota is though observed while making fresh appointments but it has always been the endeavour of successive governments to ensure the representation of all the provinces in key appointments. In the past we have seen the chief secretaries of Punjab from Balochistan and Sindh but the bad governance of the present PPP regime is developing an extreme imbalance of federating units representation in key federal institutions - a trend which if not stopped and rectified would badly hurt national cohesion
Curtsey:The News: Monday, March 26, 2012

Sindh card users banking on Punjabi Baboo brigade
Ansar Abbasi

ISLAMABAD: President Zardari's blessed Gilani government, which makes tall claims about serving the interest of the smaller federating units and leaves no opportunity to use the Sindh card, is betting on the brigade of top Punjabi bureaucrats to run his government as other provinces have either no or extremely low representation in the federal secretariat.
Out of the 49 federal secretaries, heading federal divisions, 43 belong to Punjab, three each from Sindh and KPK while there is not even a single bureaucrat from Balochistan leading any of the federal divisions. Two of the three federal secretaries, including Cabinet Secretary Nargis Sethi and Finance Secretary Dr Waqar Masood, have hardly or never served in Sindh in their whole career.
Punjabi bureaucrats never had a smoother sailing in the history of Pakistan than what they are presently enjoying under the PPP regime—a government which otherwise pays a lot of lip service to the 'federation' and the rights of the smaller federating units.
A who's who of top-level federal bureaucracy reveals that the Federation of Pakistan has practically withered away as far as top-level bureaucratic placements are concerned. Despite all the much ado about the Balochistan package, Sindh mainstreaming and addressing the deprivation in Khyber Pakhtunkhwa, the smaller federating units have practically nil representation at the policy and leadership level in the federal civil services and at the top policy making body of the country — the federal secretariat.
All the key civil servants posted in important bureaucratic positions are either direct 'selectees' of Prime Minister Gilani or 'recommendees' of Senior Minister Chaudry Perviaz Elahi as terms of engagement with the PPP have made it a point that all the Punjabi bureaucrats who were part of the Pervaiz Elahi team in Musharraf regime are given key positions in the federal government. This favouritism have totally disproportionate the share of the federating units in complete favour of Punjab.
It is shocking to see that out of 49 ministries and divisions surveyed, 43 positions of federal secretaries are occupied by Baboos belonging to Punjab, whereas three posts of federal secretaries are occupied by Sindhi bureaucrats, three by officers, belonging to KPK, and PM Gilani could not find even one single Baloch civil servant for a responsible position in Islamabad.
As per the Constitution, the share of provinces in the Federal Civil Services is 50 percent for Punjab, and 23 percent for Sindh, 11.5 percent for KP, 4 percent and 5% for Fata and 4 percent for Balochistan. Any government which wants to strengthen the federation should go beyond this proportion on the principles of affirmative action.
Interestingly, members of the federal cabinet, MNAs and senators have also turned a blind eye to this erosion of the federal civil service. President Zardari, who leaves no opportunity to play the Sindh card or smaller provinces card, also ignored this cartelisation of the federal bureaucracy. Even President Zardari's own secretariat is stuffed with Punjabi bureaucrats.
One strange aspect of this scandalous under representation of smaller provinces at the top position in Islamabad is that all the major coalition partners of the PPP belonging to smaller provinces — the MQM, ANP, JUI, Fata representatives and PML-Q — have never raised a word against this historic injustice to the federation.
It is worth mentioning here that all major policy formulation bodies, like the federal cabinet, ECC, Ecnec, Planning Commission, depend on expert advice of all these federal secretaries, hence the smaller provinces are practically excluded from these important policy positions.
Following is the list of Punjabi Baboos ruling the roost under the PPP government: Junaid Iqbal Ch, Secretary Capital Administration and Development Division; Zafar Mahmood, Secretary Commerce; Anwar Ahmad Khan, Secretary Communications; Abdul Wajid Rana, Secretary Economic Affairs; Rana Asad Amin, Special Secretary Finance; Sarshar Ahmad Khan, Special Secretary, Military Finance; Salman Bashir, Secretary Foreign Affairs; Kamran Lashari, Secretary Housing & Works; Mrs Batool Iqbal Qureshi, Secretary, Human Rights; Muhammad Ahsan, Addl Secretary in charge, Human Resources Development; Taimur Azmat Usman, secretary Information and Broadcasting; Saeed Ahmad Khan, Secretary Information Technology & Tele-communication; Khawaja Siddique Akbar, Secretary Interior; Muhammad Arif Azeem, Secretary Railways; Babur yaqoob, Secretary, Kashmir Affairs and Northern Affairs; Muhammad Masood Chishti, Secretary Law, Justice and Parliamentary Affairs; Sohail Ahmad, Secretary Narcotics Control; Karamat Hussain Niazi, Secretary National Assembly; Anisul Hasnain Musavi, Secretary National Harmony Division; Javed Malik, Secretary National Disaster Management; Shafqat Hussain Naghmi, Secretary National Food Security and Research; Maj (r) Qamar Zaman, Secretary Overseas Pakistanis (Additional Charge); Muhammad Ejaz Chaudhry, Secretary Petroleum & Natural Resources; Javed Mahmood, Secretary, Planning & Development; Agha Sarwar Raza Qazilbash, Secretary Ports & Shipping; Raja Ikramul Haq, Secretary Postal Services; Maj (r) Haroon Rashid, Special Secretary, President's Secretariat (Public); Maj (r) Malik Asif Hayat, Secretary, President's Secretariat (Public); Khushnood Akhtar Lashari, Principal Secretary to Prime Minister, Prime Minister's Secretariat / Federal Secretary, Establishment (Addl Charge); Muhammad Ayub Kazi, Special Secretary, Prime Minister's Secretariat; Shahid Hussain Raja, Secretary Privatisation; Muhammad Javed Iqbal Awan, Secretary Production; Maj (r) Qamar Zaman, Secretary Professional and Technical Training; Arif Azeem, Secretary, Railways; Shoukat Hayat Durrani, Federal Secretary, Religious Affairs; Salman Siddique, Chairman Federal Board of Revenue; Ikhlaq Ahmad Tarar, Secretary Scientific & Technological Research; Asif Bajwa, Secretary Statistics; Shahid Rasheed, Secretary Textile Industry; Maj (r) Khawaja Muhammad Naeem, Wafaqi Mohtasib's Secretariat.
KP got a slightly better deal, because Federal Industries Secretary Aziz Bilour has two brothers as a federal minister and provincial ministers. The other two KP based federal secretaries being Amjad Ali Khan, Secretary Inter Provincial Coordination and Habib Ullah Kahn as secretary States and Frontier Regions.
The only Sindhi federal secretary is Imtiaz Qazi working as federal secretary Water and Power whereas Nargis Sethi, Federal Secretary Cabinet and Dr Waqar Masood Khan, Federal Secretary, Finance, too have Sindh domiciles but if not all, they served the most part of their careers in Islamabad.
Curtsey:The News: Monday, December 05, 2011

Punjab excludes Islamic subjects from Matric book
By Ansar Abbasi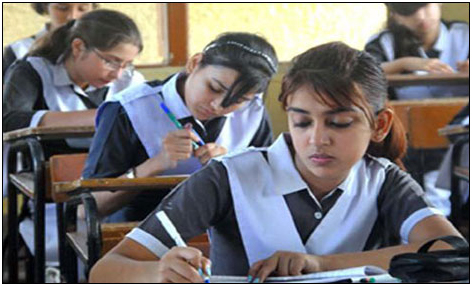 ISLAMABAD: The Punjab government has excluded several key subjects from the fresh 10th class Urdu text book edition published in February 2013 which is now being marketed for new students of matric.
These subjects include 'Islamic ideology of Pakistan' and 'Hazrat Umar (RA)- a Great Administrator' besides removing persuasive Islam-related poems of even poets like Allama Iqbal. On the poetry side, all the Islamic poems including 'Rabbe Kainaat' of Maulana Altaf Hussain Hali, 'Mohsin-e-Insaniat (PBUH)' (the Saviour of Humanity) by Mahirul Qadri, 'Tulu-e-Islam' (the rise of Islam) of Allama Iqbal, 'Siddiq (RA)' on Hazrat Abu Bakar Siddiq (RA) by Allama Iqbal, 'Shaan-e-Taqwa' (which is against drinking) by Allama Iqbal etc have also been removed in the new text book.
While the title page of the book contains the picture of Allama Iqbal, it does not contain any poem of the great poet of Islam and Pakistan.
The new edition of the 'Urdu compulsory for 10th class' does not include the very first chapter of the earlier edition's prose i.e 'Hazrat Umar Farooq (RA)- a great administrator' by Allama Shibli Naumani. The new text book's first chapter is an essay on writer 'Mirza Muhammad Saeed' written by Shahid Ahmad Dehlvi.
The second chapter in the old edition was on 'Ideology of Pakistan' written by Dr Ghulam Mustafa Khan. This important chapter highlighted the basis for the creation of Pakistan and endorsed that the country was created in the name of Islam, to make it an Islamic state, has been replaced by a new chapter on 'Princess of Paristan' (Paristan ki shahzadi) written by Ashraf Saboohi.
The third chapter of the old edition of the 10th class text book was 'Musaddas-e-Hali' written by Moulvi Abdul Haq. This chapter narrates how a Muslim poet in the 19th century influenced the hearts and minds of the Muslims. It has now been replaced by a writing of Dr Waheed Qureshi on 'Eidul Fitr in Urdu Literature' (Urdu Adab main Eidul Fitr).
Similarly the chapters like 'Sacrifice' (Eisaar) by Deputy Nazir Ahmad, which has a great lesson for children, has been removed from the new 10th class text book. This chapter gives the lesson of how the affluent should help the poor. The story is about a child, who distributed his Eidi to a poor family.
Another important chapter of the old book 'Fatima binte (daughter of) Abdullah' written by Mirza Adeeb has also disappeared from the new Urdu compulsory of class 10 for Punjab students. This story was about a 10-year old daughter of an Arab leader Abdullah. The story is about Jihad and the young Muslim girl's urge to help the Muslim Mujahideen in Jihad against un-Islamic forces. The girl was martyred and did her parents proud.
This incident has such an importance that even Allama Muhammad Iqbal had also written a poem on this young girl with the title 'Fatima binte Abdullah'. Allama presented her as a role model for Muslim youth.
A chapter Nam Dev Mali was, instead, included in the book that was about an expert Hindu gardener who was killed when attacked and stung by honey bees. The writer of this short story Maulvi Abdul Haq described the death of the expert Hindu gardener as 'having embraced Shahadat (martyrdom)'.
One of the chapters in the old edition was about 'The deprived of inheritance' (Mahroom-e-Virasat) by Allama Rashidul Khairi has also been excluded. This chapter focused on the un-Islamic tradition of depriving women of inheritance.
One chapter called 'Travelling is the key to success' (Safar Kamiabi ki Kunji hay) written by Moulana Abdul Haleem Sharar, a great Urdu writer, has also been removed. It covered the adventures, jihad, travelling etc of the great Muslim leaders.
A chapter on the 'words of poets' (Shaeron ki batain) in the old book has also been removed.
The chapter presented different aspects particularly self respect of Muslim poets.
On the poetry side all the Islamic poems including 'Rabe Kainaat' of Maulana Altaf Hussain Hali, Tulu-e-Islam of Allama Iqbal, 'Mohsin-e-Insaniat' of Mahirul Qadri, 'Siddiq (RA) on Hazrat Abu Bakar Siddiq (RA) by Allama Iqbal, 'Shaan-e-Taqwa' (which is against drinking) by Allama Iqbal etc have also been removed in the new text book.
Two ghazals of Khawaja Mir Dard on Islamic Sufism and two ghazals of Mirza Ghalib have also been removed from the new text. Poetry of a Indian poet Firaq Gorakhpuri has been included in the text book and the poet is presented as a hero awarded by the Indian and Russian governments.
While the title page of the book contains the picture of Allama Iqbal, it does not contain any poem of the great poet of Islam and Pakistan. Excluding extremely impressive Islamic poetry, the new text book, however starts with a Hamd (praise of Almighty Allah) and Naat (praise of Hazrat Muhammad —
PBUH).
Curtsey:The News: March 24, 2013 -