Maharaja of Punjab:Urdu version of
Ranjit Singh's biography hits stalls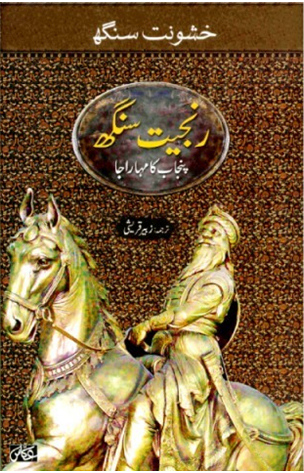 Book documents Sikh Empire's contribution towards Punjab and the larger Indian region.
Khushwant Singh's biography of Maharaja Ranjit Singh has been translated into Urdu by a local journalist, Zubair Qureshi.
Divided into 21 chapters, 'Ranjit Singh: Punjab ka Maharaja'details the Sikh leader's early life; his rise to power and fame; his conquests of Lahore, Peshawar, Nowshera, Multan, Kashmir, Amritsar, Jhang, Attock and Kasur; his political and diplomatic acumen; and above all his love for horses and women.
In the foreword, Qureshi writes that Singh can rightly be called a son of the soil — he was born in Gujranwala — as he not only succeeded in blocking military advances from Afghanistan but also kept the British at arm's length and generated fear and caution in their hearts about rising Punjabi nationalism.



Singh not only recruited Hindus, Muslims, and Christians in his army but also a large number of French and European generals travelled all the way to become part of Sikh Empire's Punjab Army.
"During the translation, I came to know Europeans' craze for Lahore and its charms. Lahore has charmed the world and continues to do so even today," the foreword reads.
"By translating Khushwant Singh Ji's book, I have tried to tell my countrymen the contribution of Sikhs in the development of this region. Today, one can trace the signs of Sikh architecture and culture sprawled across the terrains of Punjab and Khyber-Pakhtunkhwa."
In critically appreciating the book, Najeeba Arif, an Urdu language and literature professor at the International Islamic University, writes "The translation has revealed many facts of the history of Punjab which were not known before. Qureshi has translated Khushwant Singh's book excellently."
"The book can serve as an historic document to understand Lahore and its surroundings in the days of Sikh Raj. Qureshi's translation is a good addition in the category of such books," wrote Urdu columnist and poet Ataul Haq Qasmi.
Qureshi said reading the original was so overwhelming an experience that he could not help but translate it into Urdu.
Curtsey: The Express Tribune, January 27th, 2015.