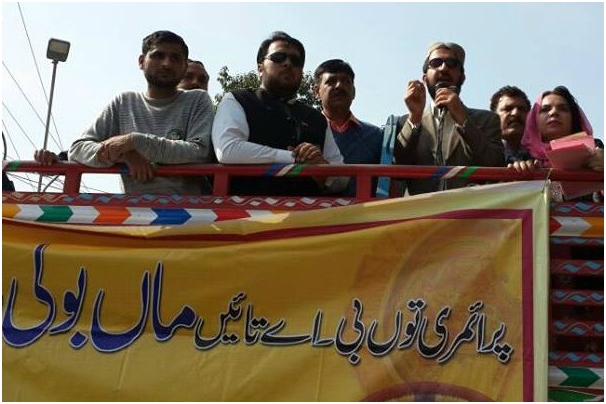 PROMOTING 'PUNJABIYAT' ON INTERNATIONAL MOTHER LANGUAGE DAY
Rida Adnan Khan

Pakistan's rich cultural history is a 'mash-up' of regional cultures. Literature, poetry and music in regional languages gained fame all over the subcontinent. Apart from Urdu, regional languages; Balochi, Sindhi, Punjabi, Seraiki, and Pashto poetry have all incorporated and influenced Pakistani poetry.
On International Mother Language Day, all over Pakistan demonstrations took place to appreciate, support and encourage the contribution of regional languages. Each province celebrated their languages and special demonstrations took place in Multan in favour of Siraiki.
Punjab's biggest event took place outside press club Lahore. It was organized by Punjabi Adabi Board to promote 'Punjabiyat'. Lawyers, doctors, teachers, politicians and many esteemed folk artists attended the event and spoke in favour of Punjabiyat.
Unions including All Pakistan Trade Union, The Railway Union, Lawyers Association, Punjab Teachers Association, Lahore High Court Bar Association, Communist Mazdoor Kisan Party and Punjabi Adabi Sangat participated As well. Taimur Rehman of Laal Band and professor at Lahore University of Management Sciences, criticized the effect of increasing westernization on Pakistan's cultural. Yousuf Punjabi from Punjabi Sangat claimed that had Punjabi Sufi poetry been part of educational curriculum, society's tolerance level would have been higher.
President Punjabi Adabi Board, Mushtaq Soofi took the opportunity to express his anger on the PML-N government and said the government has been extremely uncooperative to take any measures to support language and cultural promotion. The event was originally supposed to include a walk from Nasir Bagh to Punjab Assembly but the city management had refused to give the permit at the last day.
Almost all speakers including Naseer Ahmed (Peoples' Party Human Rights Wing) , Sai Ahmed Ali (Haq Bahu Peer) and Ejaz Chaudhry (Pakistan Tehreek-e-Insaf) said Punjabi studies should be made compulsory from primary to bachelors level and projected their support for this cause.
How ever, Insaf Student Federation, the only student body present at the event, disagreed and presented the stance of Pakistani students. Muneeb Aleem Awan, President ISF Lahore, stated that Punjabi studies should be introduced at primary level only initially. Furthur, Abdul Monim Tariq Lodhi (ISF Information Secretary Lahore) said that not only Punjabi, but regional languages all over Pakistan need to be revived and cultural integration should be promoted as well.
With Bhulleh Shah's voice playing on speakers and demonstrators carrying banners and raising slogans; the event had the air of festivity as well as seriousness towards the cause.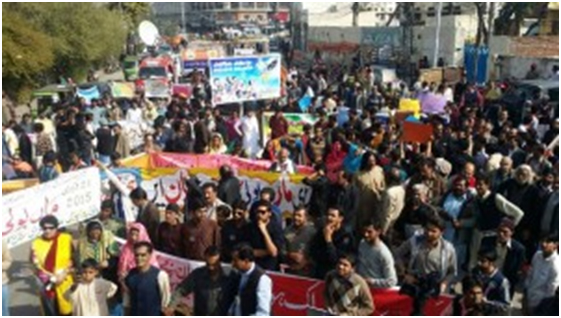 Student Demonstrators Stand in favour of Compulsory Punjabi Education at Primary Level
About 500 people graced the event and participation of students was much noted and appreciated by all.
RIDA ADNAN KHAN
Studying Economics and Political Science from Lahore School of Economics. Political and social activist. Dreamer, believer, achiever.
Source:baghitv.com  FEB 23, 2015