Protestors of Lahore,rise
ASHA'AR REHMAN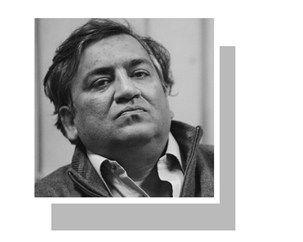 THERE'S a picture that has been doing the rounds on Facebook for some time which shows a young boy sitting on his haunches posing with visible pride against his neat miniature model of expressways of clay. An English translation of the Urdu caption to the photograph would read: 'Shahbaz Sharif in his childhood'. According to one Facebook status, the message won appreciation from SS for its humour.
This could only have been taken as a compliment to the building powers of a supremely confident man. This is a leader who does things early and is determined to force his way through — at any cost, and with little consideration for the side effects of his constructive efforts, as Lahore's rare good-sense combatants, the civil society activists who sometimes confront the merry Shahbazian machine, would add.
Sometimes, because by no stretch has this protect-Lahore group been consistent, the attempts to save the city have come in patches. The fitful opposition lacks the perseverance for preservation that had been on display to some effect, say in the 1980s during the non-democratic rule of Gen Ziaul Haq.
There has been in subsequent years a feeling that those who had fought for the city to retain its old character — media included — had been somewhat diverted into talking up some other causes. There was resignation about, if not agreement on, the general principles that were to streamline movement forward. The activists have their own bridges to make as they press the Shahbaz Sharif government to factor in their concerns into its grand development scheme of today: a metro train that threatens to mar the beauty of historical monuments in Lahore.
---
Aesthetics, culture, heritage — these are words permanently absent from the opposition critique of Shahbaz Sharif's projects.
---
The demand — more a petition given the rather non-acrimonious, even conciliatory tone that those leading the civil society move have adopted as opposed to any adventurous, aggressive campaign — relates to an intra-city train project that the government is keen to bestow upon beloved Lahore.

In the words of a rather old-fashioned journalist, the orange train seems to have been borne out of a city that is in a hurry to go somewhere, whereas actually it is a city hooked to its leisurely pace.
The journalist insists that the pace at which Lahore has been travelling — its industry and commerce — would indicate there was still some time before it was ready to put flashy transportation such as metro buses and metro transportation to gainful use.

The argument eventually brings us to the familiar stage where we end up discussing what we needed more than a rushed ride on the fancy train. These are not easy comparisons and any debate that talks about priorities must also somewhere feature an acknowledgement that these buses and trains that CM Shahbaz is so eager to decorate our present with are not entirely unneeded.

Let's be frank. There is a lot of appeal for this brand of development among those who live in Lahore, even if by the old proud definition, now more sparingly applied, not all of them can be said to possess the refined cultural preferences that made up a true Lahori.

At the risk of sounding repetitive, only someone who is mindful of the true worth and working of democracy would be able and willing to address the concerns of those who want to conserve Lahore's heritage. The majority is happy to have development, of any kind, of some kind, and while it may have certain complaints, it is doubtful that it carries any hard feelings for the Shahbaz government over its arbitrary provision of the red bus or the like.
Redress will require first an understanding of the basic concept of democracy with premium placed on the aspirations held by all kinds of fringe groups and minorities. Unless this basic principle of democratic dispensation is adhered to, the finer aspects that enrich life will continue to be crushed under the cruel wheels set in motion by the majority's love for modern life.

That political opponents have been unable to come up with a developmental alternative to the Shahbazian scheme is a long-standing issue. But perhaps more damning against the background of the current Lahore-heritage debate is the total absence of substances and causes cultural in the counter-narrative — narrative being a preferred term these days — built up by the PML-N's opponents.
In the argument book of parties such as the PTI or for that matter the PML-Q that has also been quite vocal against the N-League in Punjab, it is the red bus and the orange train versus, say, an energy-generation plant. Aesthetics, culture, heritage — these are words permanently absent from the opposition critique of Shahbaz Sharif's policies and projects.

Not even the PPP, the supposedly more culture-inclined party, is ever heard agitating against an official idea proposed by the PML-N. This callous aloofness to matters related to heritage and culture contributes to a situation where ultimately it is CM Shahbaz's development project against anyone else's. It is never development against aesthetics, unless civil society activists finally decide to take it up, on their own and with no support from political groups.

On his part Mian Shahbaz Sharif has been of late more mindful that he does not create any unnecessary ripples among the pro-culture souls. In recent years, the PML-N government has been more relaxed and more accommodating in Lahore of those who had once been too wary of the party's anti-culture reputation to have any kind of association with it. The names given to the various underpasses built in the Punjab capital for instance are taken as a sign of maturity of the N-league set-up and of its willingness to rise above parochialism.
Allowing the civil society space over pet projects such as the orange train, however, requires a far greater shift. The activists and the media will need to be much more consistent to force that change.
The writer is Dawn's resident editor in Lahore.
Curtsey: Dawn, November 6th, 2015