Punjabi in Canada
Punjabi becomes 3rd most spoken language in
Canadian House of Commons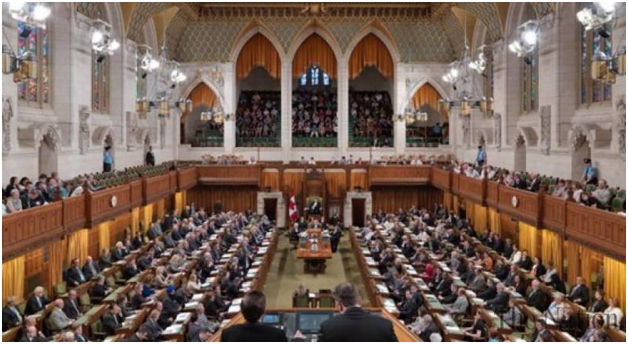 Toronto: Punjabi has now become the third most common language, after English and French, in the House of Commons of Canada after 20 Punjabi-speaking candidates were elected to the Parliament in October.
In total, 23 lawmakers of Indian-origin were elected after October 19 general elections. Three of the 23 lawmakers do not speak Punjabi, Hill Times online reported today.
Prime Minister-designate Justin Trudeau, who won from Papineau, Quebec constituency, will unveil his Cabinet later this week. Some of Punjabi-speaking lawmakers are expected to be included in the Cabinet.
Meanwhile, Navdeep Bains of Liberal Party said that the elected 20 Punjabi-speaking lawmakers represent all constituents regardless of their party affiliation or ethnic origin.
"It speaks to our commitment to diversity and allowing individual to play an important role in our political institutions," Mr Bains said.
"The main issue to understand is that we have a very clear mandate to execute our platform and we also have a responsibility to represent our constituents, which are very diverse," he added.
"The voice of the Indo-Canadian community will now be very well represented in the parliament. In the overall aspect of it, the South Asian community won," Deepak Obhrai of Conservative Party was quoted as saying.
According to Statistics Canada's 2011 National Household Survey, 430,705 Canadians identified Punjabi as their mother tongue, making it the third most common language after English and French, the report in the daily said.
The 430,705 native Punjabi speakers make up about 1.3 per cent of Canada's population and the 20 Punjabi-speaking lawmakers represent almost six per cent of the House of Commons, the report added.
Courtesy NDTV, November 03, 2015
Video:Punjabi becomes third most spoken language in Canada's Parliament
Video:कनाडा की संसद में पंजाबी की बल्ले बल्ले! | Punjabi Declared Third Language in Canadian Parliament
Video:NDP Canada Steps forward to recognise Punjabi Language & Culture in Canada
Video:Abolish 150 year old ban on Punjabi language education.Nazeer Kahut
Video:Three Sikhs sworn In As Cabinet Ministers In Canada | Justin Trudeau | Mango News
Liberals sweep Canada polls with Punjabi help
Ikhhlaq Singh Aujla,TNN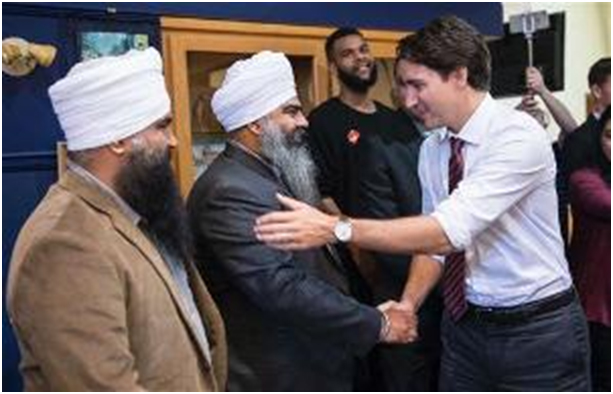 The role of Punjabis is important as it helped the Liberals go past the 170 mark needed for a simple majority.
CHANDIGARH: A painful chapter in the history of Punjabi migration is the Komagata Maru episode when a shipload of Punjabis was stopped from landing in Canada in 1914 and sent back from Vancouver. Harsh immigration laws had ensured that only 24 of the 376 people on board disembarked. As the rest returned to the Calcutta port, the British fired at them, killing 19.

Little over 100 years later, exactly 19 Canadians of Indian origin have been elected to the Canadian parliament late on Monday night. This is the highest ever presence of MPs with Indian roots in the House of Commons in Canada. As many as 17 are of Punjabi origin. In 2011, only eight Indian-origin MPs were elected to the House of Commons all of whom were Punjabis.


The result was historic in more ways than one for the Canadians as Justin Trudeau-led Liberals ended nearly 10 years of Conservative party rule. Fifteen or 8.15% of his 184 MPs are Punjabis. Indian-Canadians make up over 3% of Canada's population of about 35 million.

The role of Punjabis is important as it helped the Liberals go past the 170 mark needed for a simple majority.

Among sitting MPs, Conservative Deepak Obhrai from Calgary Forest Lawn in Alberta province was the only Punjabi-origin candidate to retain his seat. The losers included multiculturalism minister Tim Uppal, who lost to another Punjabi Amarjit Sohi of the Liberals by a mere 80 votes.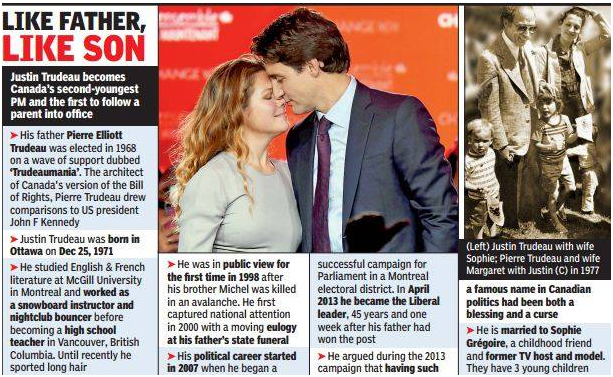 "This victory is about inclusion, cohesiveness, where we build strong communities," Sohi told a daily. "Canada is where someone like me can come from somewhere else, build a new life, raise my family and contribute back so immensely."

Sohi was arrested in 1988 in Bihar under TADA for his alleged links with Naxals and released in 1990 following court orders.

"I have a strong record both as a representative of the constituency as well as working in government, and in the opposition, over the years I have been in Parliament," Obhrai, who won a seventh term, told the Calgary Sun.

Compared to the 24 candidates of Punjabi-origin in the previous general elections in 2011, this time 43 were in the fray, including one independent. There were 11 constituencies where Punjabi-origin candidates from either of the three main parties, Liberal, Conservative and NDP, were pitted against each other.

In the 2011 federal polls, there wasn't a single Punjabi-origin candidate of the Liberal party who made it to parliament. From just 36 in 2011, Liberals have 184 MPs in a house of 338 this time.

In Punjabi-dominated Brampton district of Ontario, all five seats were won by the candidates from the community. Overall in Ontario province, Punjabi-origin candidates, all Liberals, won eight seats. Even in west Canada, four Punjabi-origin candidates of the Liberal party won in British Columbia province where also the Punjabi community has a strong presence. Sukh Dhaliwal of the Liberals defeated sitting MP Jinny Sims of NDP to get elected from Surrey-Newton riding.
Curtsey:The Times of India Oct 21 2015
Punjabis make history in Canada federal elections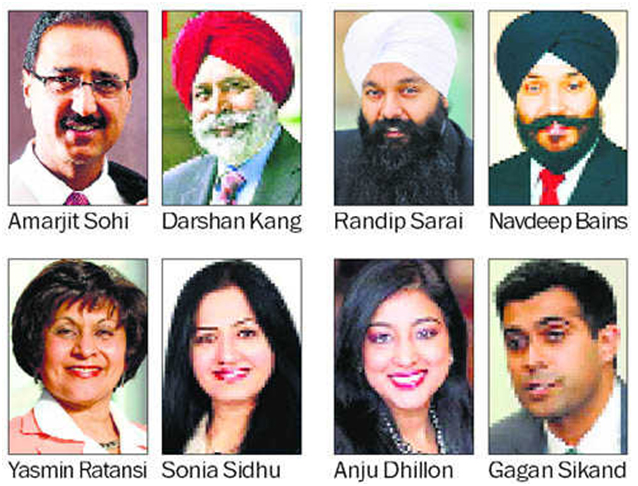 Sarbjit Dhaliwal
Tribune News Service
Chandigarh, October 20
History was made in Canada in the 42nd federal elections, results of which were out today. As many as 18 Punjabis have been elected as Members of the House of Commons (Parliament) of Canada. The number exceeds the figure of those elected from Punjab for the Lok Sabha (13).
Of the 44 Indo-Canadian candidates, 20 are elected to that country's Parliament. This is the maximum number of Indo-Canadians ever elected. In 2008, 10 and in 2011, 8 Indo-Canadians were elected. First time in 1993, three Indo-Canadians made to Parliament. One of them was Gurbax Singh Malhi, the first turbaned Sikh to be elected.
The 17 Indo-Canadians belong to the Liberal Party, which gained a clear majority in the 338-member House. The party has won 185 seats, the Conservative, the outgoing ruling party, 100 and the NDP, which is the main opposition party in the incumbent Government, is placed third with 42 seats.
Among the prominent Punjabi winners are Navdeep Bains, Harjit Sajjan, Deepak Obhrai and Sukh Dhaliwal. Navdeep Bains and Sukh Dhaliwal had lost the elections last time but won this time. Four Punjabi women - Sonia Sidhu, Kamal Khera, Anju Dhillon and Ruby Sahota have also been elected.
Prominent losers are Tim Uppal and Bal Gosal, Devinder Shorey, Param Gill, Jinny Sims and Nina Grewal. Tim Uppal lost the election to Amarjit Sohi of the Liberal Party with a thinn margin of 80 votes in Edmonton-Mill Woods in Alberta.
There are five turbaned Sikhs -- Harjit Sajjan, Raj Grewal, Darshan Kang, Navdeep Bains and Randip Sarai - who have been elected. Harjit Sajjan, who has been elected from Vancouver South, an area dominated by people of Chinese origin, is a serving Lt Colonel in the Canadian Army. He contested the election after taking leave. He led the Canadian Army in Afghanistan war.
Traditionally, Punjabis have been close to the Liberal Party, the reason the party put up maximum number of candidates from the community. The Liberals had nominated 20 Indo-Canadians in the elections and most were Punjabis. Of these, 15 Punjabis have been elected. Only two Punjabis have been elected on the Conservative Party ticket. They are Deepak Obhrai and Jati Sidhu. The best win is for Anju Dhillon, who won in a French-speaking constituency where Punjabi population is negligible.
The Liberal Party has promised to revoke C-24 Bill, which empowered the Canadian government to divest any immigrant, found involved in anti-Canada or any terrorist activity, of citizenship. The party has also promised to soften the C-51 Bill authorising the government to make arrest without issuing an arrest warrant in a terror-related case.
Those who made it
The list of Indo-Canadians elected to the House of Commons: Raj Saini, Raj Grewal, Kamal Khera, Ruby Sahota, Sonia Sidhu, Rameshwar Sangha, Navdeep Bains, Gagan Sikand, Yasmin Ratansi, Sukh Dhaliwal, Darshan Kang, Harjit Sajjan, Amarjit Sohi, Anju Dhillon, Randip Sarai, Deepak Obhrai, Jati Sidhu and Chander Aryan, Bardish Chaggar and Bob Saroya.
Curtsey:The Tribune,
Canada Shows Some Love Back. Punjabi Becomes The Third Official Language Of Country's Parliament

Deepu Madhavan
It's official guys!
Punjabi, or Pu-n-jaa-bi as many westerners describe it, is officially the third language of the Canadian Parliament. The first and second official languages of the country and its parliament are English and French.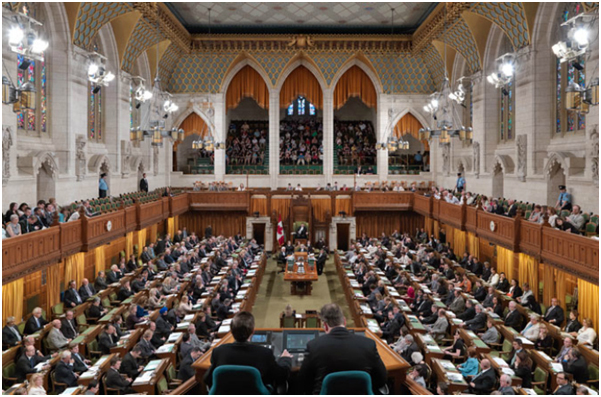 Four years back Punjabi was recognised as Canada's third most common language. Now it has officially taken over the mantle in the Commonwealth's top legislature after the election of 20 Punjabi-speaking candidates to the House of Commons.
Twenty-three Members of Parliament of South Asian-origin were elected to the House of Commons, Parliament of Canada in the 19 October Parliamentary elections. Three of them, Chandra Arya – born and raised in India, Gary Anandasangaree – a Tamil and Maryam Monsef – of Afghan origin, do not speak Punjabi, The Hill Times Online reported.
Of the 20 who speak Punjabi, 18 are Liberals and two are Conservatives. Among the newly-elected Punjabi-speaking MPs, 14 are males and six are females. Ontario elected 12, British Columbia four, Alberta three and one is from Quebec. Prime Minister-designate Justin Trudeau is scheduled to unveil his Cabinet this week and some of these Liberal MPs are expected to be included in the front bench.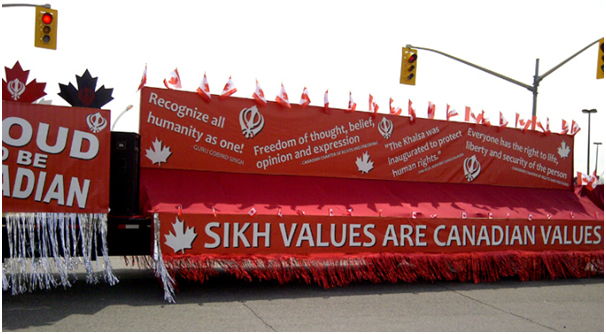 "The voice of the Indo-Canadian community will now be very well represented in the Parliament. In the overall aspect of it, the South Asian community won," MP Deepak Obhrai of Conservative Party said.
In an interview with the paper, Navdeep Bains, a Liberal MP, said although 20 Punjabi-speaking MPs have been elected, these MPs represent all constituents regardless of their party affiliation or ethnic origin.
Iqra Khalid, the Liberal MP who was born in Pakistan, said the diversity of the newly-elected House reflects the true make-up of Canada. According to Statistics Canada's 2011 National Household Survey, 430,705 Canadians identified Punjabi as their mother tongue, making it the third most common language after English and French. The 430,705 native Punjabi speakers make up about 1.3 per cent of Canada's population. The 20 Punjabi-speaking MPs represent almost six per cent of the House of Commons.
For years, many people have mocked Punjabis with jabs about their uncle in 'Kaneda' and promises of jobs as a taxi driver in Toronto. But now who's having the last lassi?
(With PTI inputs) Jun 20, 2014
Decorated Sikh soldier takes command of Canada's military
AFP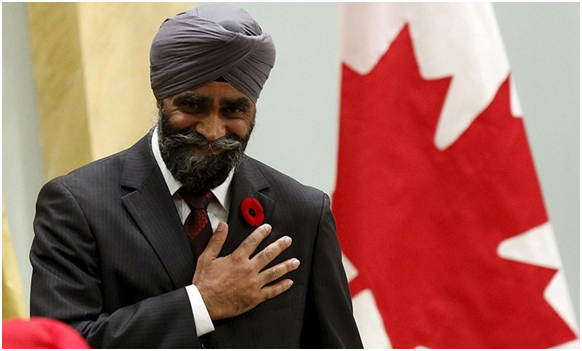 Canada's new National Defence Minister Harjit Sajjan gestures after
being sworn-in during the ceremony. — Reuters/File
OTTAWA: Sporting a turban and a thick beard, decorated soldier Harjit Sajjan stood out in the Canadian military, but as defense minister he is among several Sikhs appointed to key positions in Justin Trudeau's administration.
The veteran of wars in Bosnia and Afghanistan was appointed to the senior ministerial post on Wednesday, when Trudeau and his cabinet were sworn in, following the Liberals' October 19 election victory.
At age 45, he takes on one of the toughest jobs of the new administration.
He will be responsible for winding down Canada's combat mission against the Islamic State group in Iraq and Syria, withdrawing from the US-led F-35 fighter jet program and quashing sexual misconduct in the military.
He will also sit on the new government's most powerful cabinet committees, including public safety and espionage.
Born in Punjab, India in 1970, Sajjan moved to Canada with his family at age five, settling in the Pacific coast city of Vancouver.
He worked 11 years as a police officer, including a stint as a detective with the gang crimes unit, before joining the Canadian military and rising to the rank of lieutenant-colonel.
Ironically, he was reportedly rejected by the first unit where he applied 26 years ago, but stuck it out.
He would go on to deploy four times overseas to Bosnia and Afghanistan – where he earned honors for helping to weaken the Taliban's influence — and became the first Sikh to command a Canadian army regiment.
"He was the best single Canadian intelligence asset in theater (in Afghanistan) and his hard work, personal bravery, and dogged determination undoubtedly saved a multitude of coalition lives," said David Fraser, former commander of the Multinational Brigade in southern Afghanistan, in a short biography of the Liberal candidate for the Vancouver South electoral district.
In an interview with The Globe and Mail, Fraser said Sajjan was a "true warrior" who thrives in the face of adversity.
"I picked him (for the Afghanistan job) because of his experience in dealing with gangs because the Taliban were nothing more than bunch of thugs and gangs," Fraser told the daily.
Entering politics, Sajjan faced a messy nomination that split the large Vancouver Sikh community.
Many ripped up their Liberal membership cards over the backing he received from former leaders of the World Sikh Organization (WSO), including Sajjan's own father.
The WSO, which has long advocated for the creation of a Sikh homeland, was criticized in the past for praising Air India bomb-maker Inderjit Reyat, who remains the only person convicted in the 1985 attack on a jetliner that killed 329 passengers and crew over the Atlantic Ocean, southwest of Ireland.
"I am not a member of the WSO. I've had no negative vibes from anybody," Sajjan told public broadcaster CBC last year.
On Wednesday, WSO president Amritpal Sing Shergill praised the record number of Sikh MPs that would be serving in the new parliament.
They include three men and a woman in the cabinet — Sajjan, Infrastructure Minister Amarjeet Sohi, Innovation, Science and Economic Development Minister Navdeep Bains and Small Business and Tourism Minister Bardish Chagger.
This comes nearly two decades after Herb Dhaliwal became the first Indo-Canadian to be appointed to the cabinet.
"Punjabi is now the third most common language at Parliament Hill," the seat of Canada's government, Shergill said.
Settling into his new job while still a lieutenant in the army reserves, Sajjan is in the unusual position of maybe having to take orders from generals who answer to him as minister.
Among them are the chief of the Defense Staff, General Jon Vance, who requested Sajjan's specialized skills in counterinsurgency and Afghanistan tribal politics for a 2009 mission in Kandahar.
Sajjan has asked to be released from the Canadian forces, but it has not yet been finalized.
"If we all of a sudden send soldiers in harm's way and my skills are absolutely needed for the mission, I'd be happy to take a leave of absence from being a member of Parliament and share the risk with the other members of the CAF (Canadian Armed Forces)," Sajjan told the Canadian Military Family Magazine during the campaign.
Curtsey:DAWN.COM, Published: November 7, 2015

Punjabi women conference voices for equal rights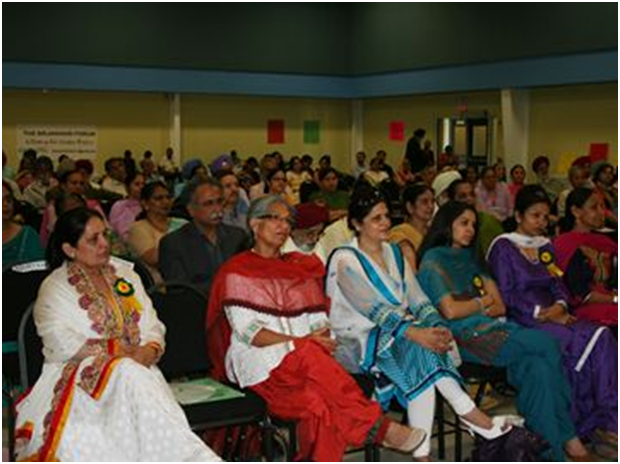 Canadian Punjabi Women conference
Photos by Nouman Khalil
Over 200 attended the first annual Canadian Punjabi Women Conference to raise awareness
about equal rights for women around the world.
By Nouman Khalil
BRAMPTON — A GTA-based not-for-profit association of Canadian Punjabi women known as DISHA (Developing Initiatives for Social and Human Action) hosted its first annual Canadian Punjabi Women Conference to raise awareness about equal rights for women around the world.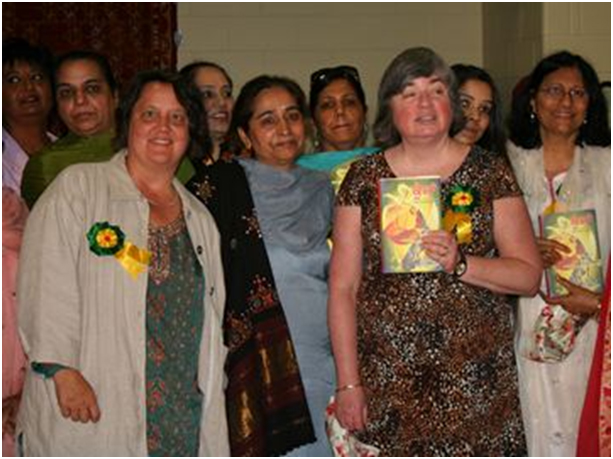 "The purpose of today's gathering is to celebrate women, condemn all kinds of violence against them, raise awareness and empower them with the tool of knowledge," said Dr. Kanwaljit Kaur Dhillon, chair of the conference.
Held at Brampton's Century Gardens Recreation Centre on Sunday, the conference was attended by around 200 researchers, writers, social workers and community leaders from all across North America, as well as a number of scholars from India.
"My own understanding regarding the issue is that immigrant women in general, including Punjabis, face not only personal challenges to settle in a new society, but they also deal with immigration stresses on the family," said keynote speaker Syeda Nuzhat Siddiqui.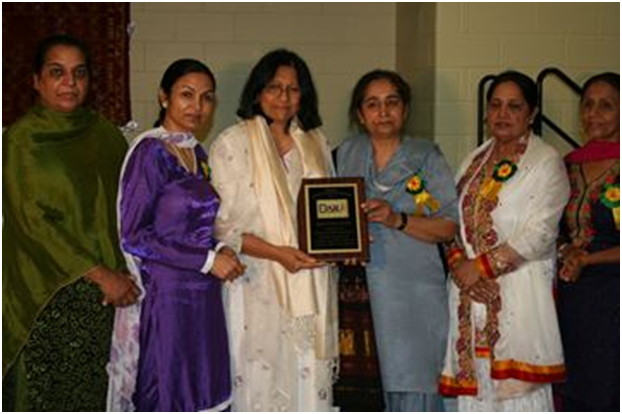 She said learning the English language and developing skills for the job market are tools for self-reliance, which can help provide women with better chances for economic wellbeing.
She urged the women to remain engaged and commit to a common goal of not only resolving Punjabi immigrant women's issues, but also reinforcing the process of systemic change through peaceful solutions.
During the conference, the poetry book "Koonjan", written by Dr. Kanwaljit Kaur Dhillon, was also released.
DISHA encourages women to share experiences and explore the steps to promote dignity and independence of social and human awareness amongst women.
Curtsey:Brampton Guardian, Jun 20, 2014
World Punjabi Conference Held
World Punjabi conference 2011 was held on 5, 6, & 7 August 2011. The two days sessions was in Oakville (Toronto) and one day session was in Ottawa. The bi-annual conference which is an event that brings the Punjabi Diaspora together for mutual literary & cultural exchange, education and inspiration. The Canadian Punjabi community which has grown over the years felt there was a need for such an exchange program. At the second bi-annual international gathering of the Punjabis attendances of more than 200 intellectuals from across the globe are expected. The main purpose of the conference is to reflect upon the prediction of the UNESCO that the Punjabi language shall disappear during the next fifty years. The invited international scholars will be presenting their papers which will focus on the future of the language and suggest solutions for the preservation and promotion of Punjabi language in India and abroad. As always the conference is striving to bring Punjabi consciousness together. The World Punjabi Conference is an effort to showcase and to promote the Punjabi literature, culture and values. The last conference which was held in 2009 was attended and inaugurated by the Hon. Minister of Immigration & Citizenship Jason Kenny. The last conference was well attended by the known scholars and
Curtsey: www.punjabikalma.com
Video:World Punjabi Conference 2011 Resolution Dr Darshan Singh Bains
Video:World Punjabi Conference Ottawa 2011 Maheep Singh
The Punjabi Oscars
Jaskiran Kapoor , Jaskiran Kapoor : Tue Jan 03 2012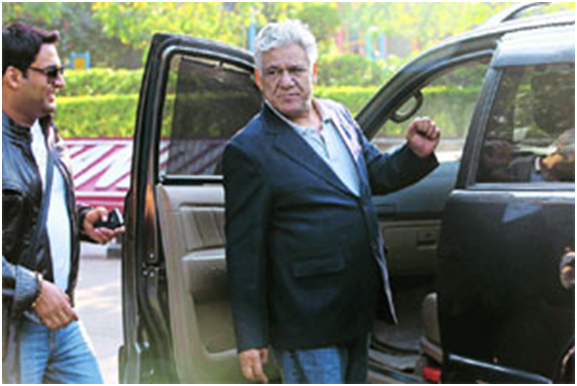 With Ontario, Canada, boasting of a four lakh-strong Punjabi population, we should have known this was coming. In August this year, the world will see the first Punjabi International Film Academy Awards (PIFAA) in Canada, the country that has earned the title of "mini-Punjab".
To be organised by Parvasi Media Group of Canada, PIFAA "will provide a platform for Punjabi artistes across the world," says feels the Group's head Rajinder Saini. Although he agrees that Toronto alone has several film festivals throughout the year, these are largely of the Bollywood variety. "These festivals are either religion-based or end up promoting Hindi stars. PIFAA will focus on the commercial Punjabi film industry, and Punjabi films from all over the world, especially Pakistan," he adds. The four-day-long event will be held at the Air Canada Center .
While film star Dharamendra has been appointed the brand ambassador, others on the bandwagon include producer-director Manmohan Singh and actors Om Puri, Prem Chopra and Preeti Sapru. Young gun Arya Babbar, too, is on board; he's a symbol of the next generation of stars after the success of his first Punjabi film, Yaar Anmulle. Junior Babbar will also be seen in three more Punjabi films in 2012.
"The Punjabi film industry is growing and we already have a huge market overseas, so this ceremony is welcome," says Puri, providing the bytes in Dharamendra's absence.
"We've received immense response from the Pakistani Punjabi film industry, and they will be sending in their films once we invite entries," says Puri. According to him, the festival will boost the Pakistani film industry too as their films are "primarily in Punjabi". The awards will focus on a gamut of genres, from commercial and shorts to documentary, from 2011. "We're planning to give awards in the retrospective section from 2013," says Saini.
Curtsey:The Indian Express,
AAP leaders in Canada to woo Punjabi diaspora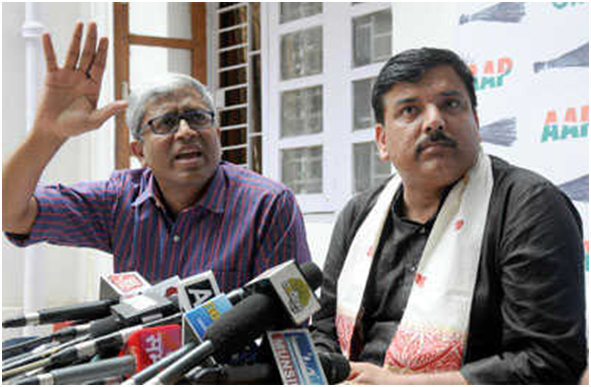 AAP leaders Ashutosh and Sanjay Singh. Tribune file photo
With eyes set on the 2017 Punjab Assembly poll, a delegation of AAP leaders has flown to Canada to woo the NRI Punjabi diaspora settled in the North American country in a bid to strengthen the party's voter base in the state as well as attract overseas donation.
Top AAP leaders Sanjay Singh, also the party's Punjab affairs in-charge, and Ashutosh along with leaders from the state have started holding dialogues with the Punjab natives.
Incidentally, it is Singh's second visit to Canada this year.
"The trip is meant for interaction and engagement with those who belong to Punjab," Ashutosh said over phone.
When contacted, a party leader said, "Canada is to the people of Punjab what Delhi and Mumbai are to Biharis and UPiites. A lot of migrant population from the state is settled in Canada and therefore, households in each village will have someone or the other working in Canada."
"The Indians working in Canada not only hold economic power because of the money they send back, but can also influence voters. More importantly, they are also a major source of fund for the party," the AAP leader said.
Of the overseas donation received by the AAP, major contributors are from the US and Canada.
The party had sought to reach out to Punjab natives in Canada during the Lok Sabha poll as well.
"During such visits, we canvas support for the party and such delegations also help spread party's tentacles. In fact all the parties do this," the AAP leader said.
Apart from Canada, a lot of natives from Punjab are also settled in Australia, the US, the UK and Malaysia. The AAP is planning to send party delegations in these countries in coming days to garner support and raise funds.
With an aim to wrest power in Punjab after having made its presence felt in the state during the Lok Sabha election, the AAP had recently made structural changes in the state unit, which irked many in the party.
The AAP had opened its account in the Lok Sabha by winning four seats in Punjab in 2014 General Election. However, two of its MPs—Dharamvira Gandhi and Harinder Singh Khalsa—have been suspended on the charge of anti-party activities. — PTI
Curtsey;The Tribune India, New Delhi, November 15
Canada's political parties want Punjabi-origin candidates
By MANJEET SEHGAL
Punjabis are everywhere - including in Canada.
Not surprisingly, the upcoming general elections in Canada will see several Punjabi-origin candidates contesting for a seat in the Canadian Parliament.
Compared to the 2011 elections, the number of Punjabi-origin candidates this year is likely to be nearly double.
(From left) Ruby Dhalla, Devinder Shory and Navdeep Singh Bains are top Punjabi politicians
Political parties across the spectrum in Canada are roping in Punjabi-origin Canadians to contest on their tickets, especially in the constituencies where a large chunk of the electorate have roots in Punjab.
So far, tickets of 23 Punjabi-origin candidates have been confirmed, sources told Mail Today.
The three main political parties in Canada - the Liberal Party of Canada, the Conservative Party and the New Democratic Party - have formulated a clear strategy of wooing the Punjabi community.
"And to do that these political parties are all set to field more and more candidates of Punjabi origin," said Conservative MP Devinder Shory.
"Compared to the last elections, the number of Punjabi-origin candidates is likely to increase this year," Shory added.
Over the last few elections, the number of Punjabi-origin MPs in Parliament has decreased.
While in 2006 there were 10 Punjabi-origin MPs, the number fell to eight in 2011. But, this trend can change this time with the Liberal Party racing ahead of other parties in the surveys.
The Liberal Party is known to field more Punjabi-origin candidates in the elections.
The general elections in Canada are slated for October 19.
Among the noted Punjabi-origin politicians likely to contest are Mani Kaur, Joginder Kaur, Navdeep Singh Bains, Shinder Purewal and Bill Sandhu.
Source: http://www.dailymail.co.uk/indiahome/indianews/article-3028008/Canada-s-political-parties-want-Punjabi-origin-candidates.html
Video:Surrey Canada Sikh Baisakhi Parade - Vaisakhi Nagar Kirtan 2015
Punjabi is second largest immigrant language spoken in Canada

News East-West
TORONTO: Immigration is fast changing the linguistic landscape of Canada. And Punjabi tops the list of the 10 immigrant languages spoken most at home, according to the 2011 Census of Population.
Punjabi is followed by Chinese, Cantonese, Spanish, Tagalog, Arabic, Mandarin, Italian, Urdu and German, according to the census.
But if speakers of Cantonese, Mandarin & Chinese n.o.s (not otherwise specified) are taken together, they become a million-plus-strong group, pushing Punjabi to the second place among the immigrant languages most spoken at home.
In fact, 460,000 people reported speaking Punjabi at home, as per the 2011 the census.
In the Toronto area, 8 percent of immigrants spoke Punjabi, 8.8 percent Cantonese, 5.9 percent Urdu and 5.7 percent Tamil at home.
In all, 1,790,000 people in the Toronto area – Canada's largest metropolitan area – reported speaking an immigrant language at home. Which means that 32.2 percent of the Toronto population speaks languages other than English and French at home.
In the Vancouver area, 712,000 people – 31 percent of the population – spoke an immigrant language at home. Punjabi was on the top, with 17.7 percent of these people saying that they spoke this language at home, 16 percent spoke Cantonese, 12.2 percent Chinese n.o.s, 11.8 percent Mandarin and 6.7 percent Tagalog (of the Philippines) at home.
Not surprisingly, the number of English speakers at home in both the metropolitan centres of Toronto and Vancouver is declining.
While the number of English speakers at home in Toronto fell from 59.1 percent from 2006 to 55 percent in 2011, these figures declined from 62 percent in 2006 to 58 percent in 2011.
Clearly, Canada is becoming less of an English-speaking nation.
Over 200 languages are spoken in Canadian homes, making it the foremost country on the planet in terms of languistic diversity.
As for the use of Canada's two official languages at home, English is spoken by 58 percent – or 19,225,000 Canadians – and French by 18.2 percent – or 6,043,000 Canadians.
The use of both these languages at home has come down slightly since 2006.
One-fifth of Canadians – nearly 6,630,000 people- speak a language other than English or French at home in 2011, according to the census.
Surprisingly, Hindi and Bengali are among the immigrant languages which have seen a huge jump in the number of their users since 2006.
While the use of Hindi increased 44 percent, Bengali speakers registered 40 percent growth. These two Indian languages are among eight languages that have registered a growth of 30 percent since 2006.
The other languages to post such growth are Mandarin (50 percent), Arabic (47 percent), Creole (42 percent), Persian (33 percent) and Spanish (32 percent).
On the other hand, four languages – Chinese, Italian, Polish and Greek – reported a decline in the number of users since the last census.
Reacting to the news, Sadhu Binning, who is a known Punjabi writer in Canada and also taught Punjabi at the University of British Columbia in Vancouver, said in his facebook posting, "Punjabis living in Canada should be proud of themselves. In the last census (2011), they demonstrated that they are proud of their mother tongue. At least 460,000 people across Canada said that their mother tongue is Punjabi. We know that there are more Punjabis than this number… but this is a moment of joy. CONGRATULATIONS TO ALL PUNJABIS IN CANADA."                                      
Curtsey:.www.newseastwest.com
Second Punjabi International Film Festival unveiled as actors Gippy Grewal, Meera join Mississauga mayor at media launch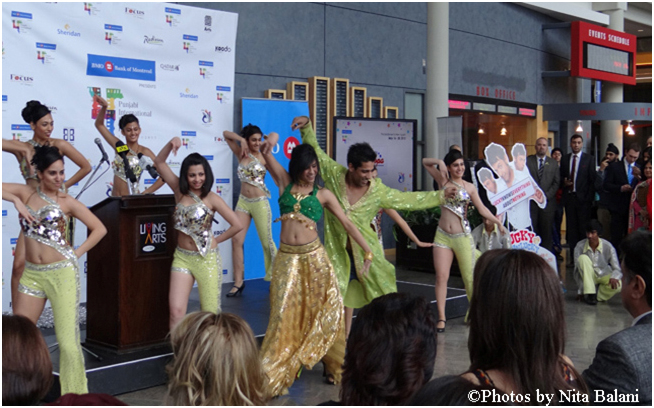 By Nita Balani
MISSISSAUGA: The Punjabi International Film Festival (PIFF) is set to rock Canada again!
Famous Punjabi actor-singer Gippy Grewal, filmmaker Harry Baweja, Pakistani actress Meera and city mayor Hazel McCallion joined the organizers of the PIFF here on Friday in unveiling its second edition to be held from May 16 to May 20.
It was indeed a splendid and informative evening at the Living Arts Centre with not only actors and actresses but also TV personalities, directors, politicians and prominent community members coming out to support great talent and opportunity to view the artistic and modern films from the world of Punjabi cinema.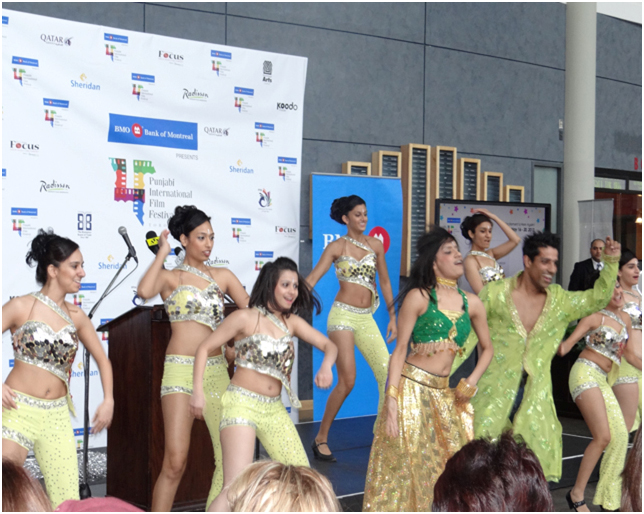 Dancers from the Shiamak Davar dance group were on hand to entertain the august audience.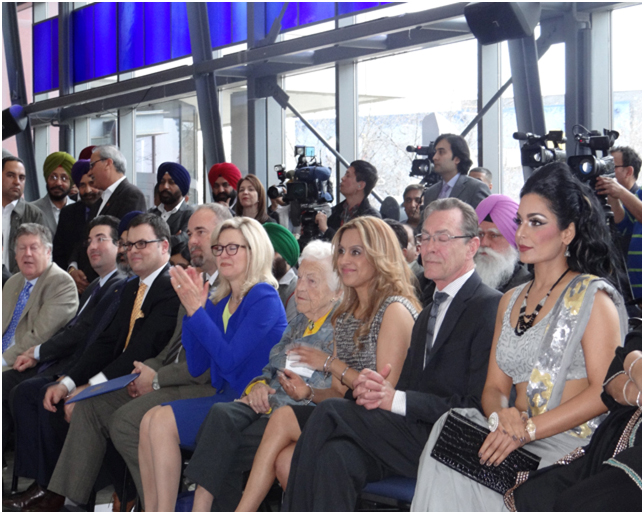 Mississauga Mayor Hazel McCallion and Pakistani actress Meera (extreme right) enjoying the evening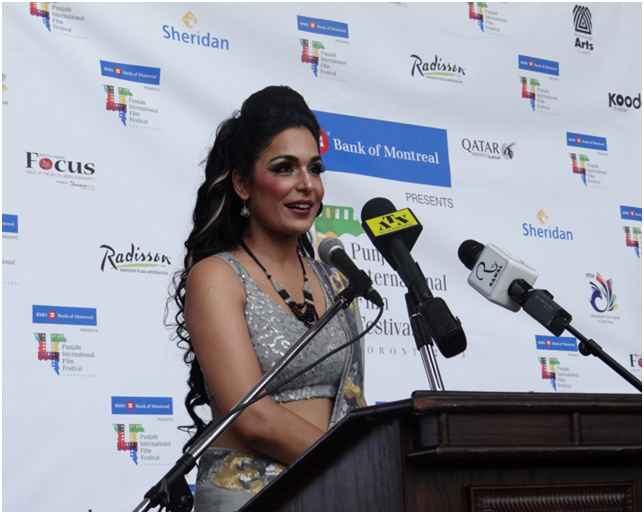 Meera addresses the gathering.
Meera poses.
The highlight of the evening was when actor Gippy Grewal came out on stage with a bevy of beautiful dancers as the audience cheered him and flashbulbs popped.
Grewal is the rising star amongst stars of Punjabi cinema and was there to promote his new comedy Lucky Di Unlucky Story which was screened at the end of the evening.
The star of the film Ishq Khuda, Pakistani actress Meera fascinated the media and the audience. She is often referred to as the "Madhubala of Pakistan". Ishq Khuda is one of the highly anticipated films that will make its world premiere here at the festival.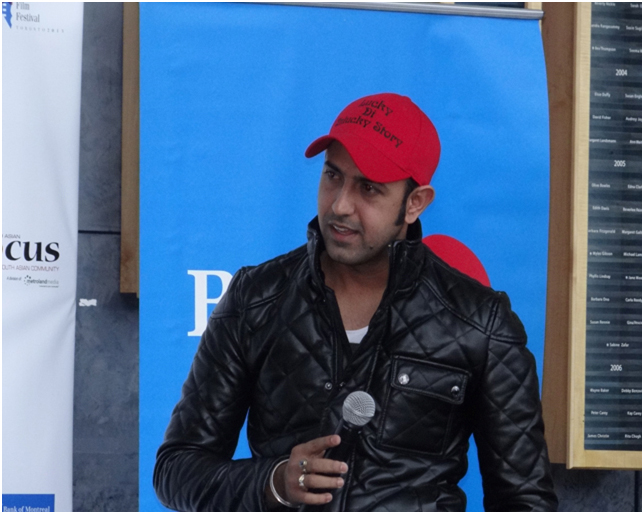 Punjabi actor Gippy Grewal at the media launch of PIFF 2013.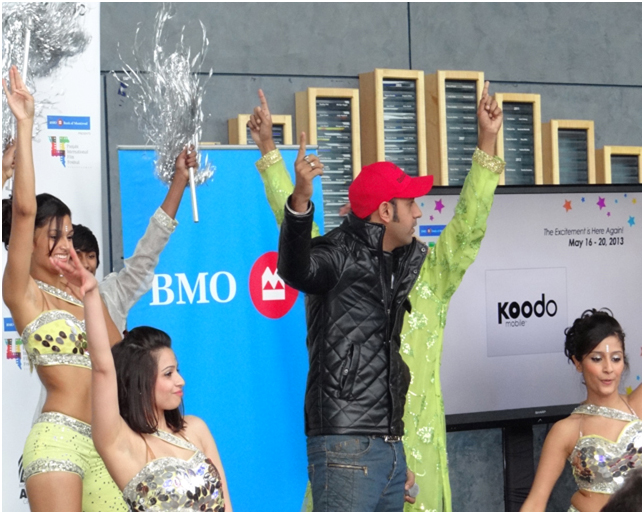 Gippy Grewal dancing with a bevy of beauties.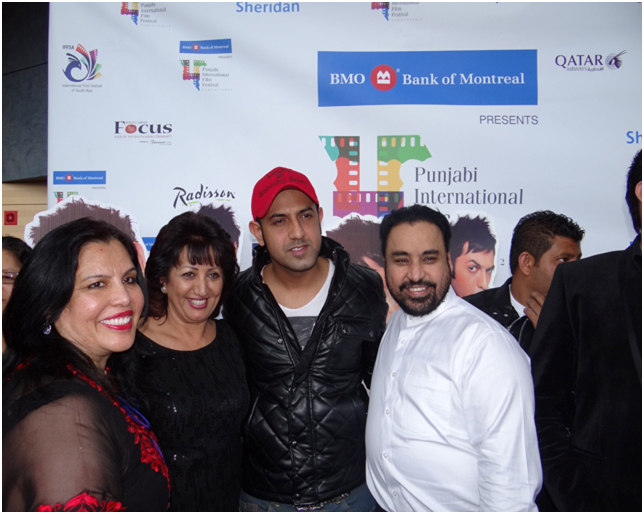 Actor Gippy Grewal (red cap) poses with hotelier Harpreet Sethi (to Gippy's left) and others. Sethi's pretty wife is at the extreme left.
PIFF president Sunny Gill said, "This year's festival will be filled with movies, cultural entertainment and fun for the whole family."
The first PIFF was held last year and had a turnout of over 8,000 in attendance for the screenings. Canada has a population of over half a million Punjabi speaking people and is fast growing to be one of the most important international markets for the Punjabi film industry.
Harry Baweja, well-known Indian film director, said the festival plays an important role in encouraging younger generations of filmmakers to make films in their own language and helps give expression to common social issues affecting the communities.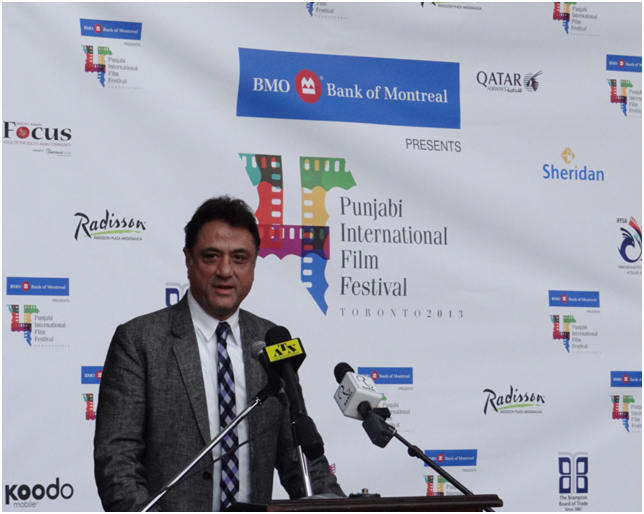 Harry Baweja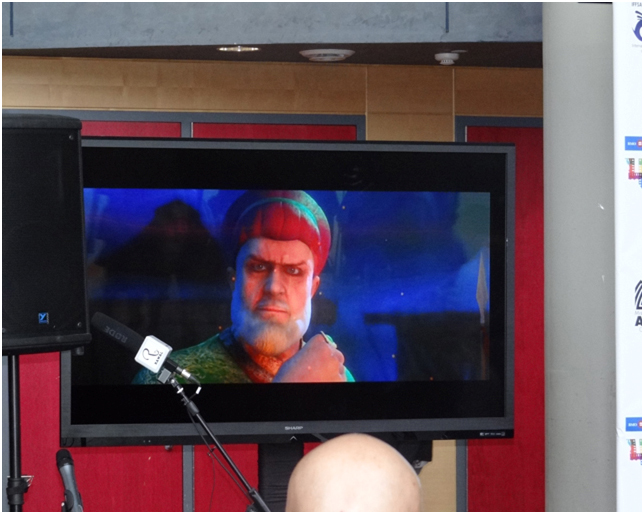 A scene from Harry Baweja's Chaar Sahibzaade which is the first Punjabi photo realistic 3D animated feature film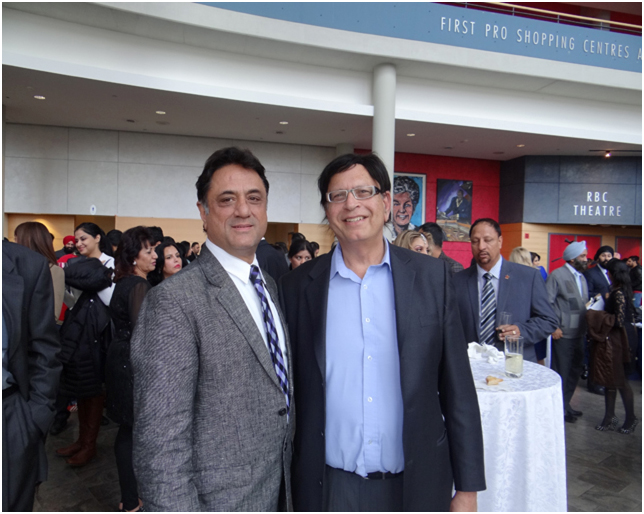 Harry Baweja (left) posing with Lachman Balani.
Harry Baweja has produced Chaar Sahibzaade which is the first Punjabi photo realistic 3D animated feature film. Based on Guru Gobind Singhji's four sons, the film has been well received as it is a part of Sikh history in animated form attracting the younger generation to learn more about their culture. His movies include many Bollywood films, including Love Story 2050 a Hindi sci-fi movie.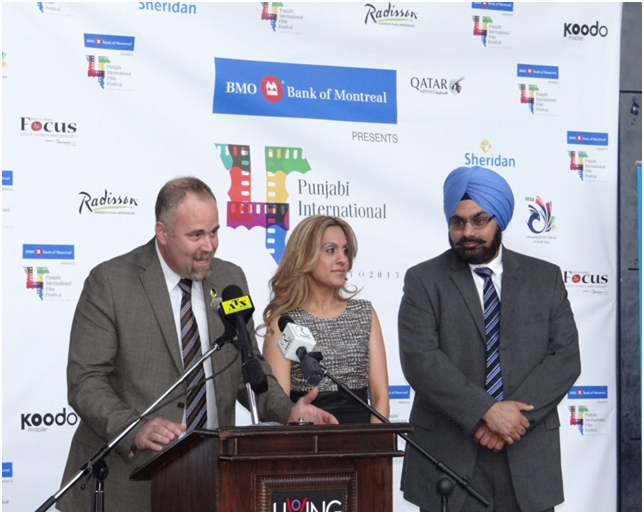 Bank of Montreal (BMO) representative speaking.
Mayor Hazel McCallion, local ward councillors, the CEO of Living Arts Centre and many prominent members of the Bank of Montreal joined to enjoy the evening extravaganza.
Apart from screening full-length and short films, this year's film festival also features an open air screening and community event at Wildwood Park in Malton to allow fans to meet the stars. It is accessible to all community members with many free screenings with prior registrations.

Video:World Punjabi Conference Canada 2015 - First Session @ TAG TV
Video:Pakistan vs Canada | Men's | Day 8 | 5th World Cup Kabaddi Punjab 2014


Video:Indian Intelligence paid Thousands of Dollars to Punjabi Media in Canada to Spoil Image of Sikhs