Punjab :POLITICS
Punjab: Pakistan's political heartland
The province has seen the most ardent campaigning, with few security fears - and a result remains too close to call.
Cyril Almeida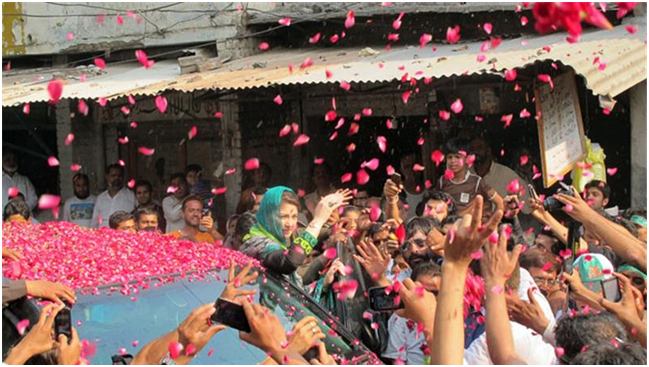 Maryam Nawaz, daughter of PML-N leader Nawaz Sharif, is covered in rose petals as she encourages voters in Lahore, where electoral campaigns have been out in full force [Asad Hashim/Al Jazeera]

Pakistan's most populous province has several inherent advantages come election time. It is prosperous, educated, intensely competitive, and decisive - the last because Punjab is home to 148 of the 272 directly elected seats in the National Assembly, Pakistan's lower house of parliament. This election season it is enjoying another advantage: political parties are campaigning openly and freely, unlike in Balochistan, Khyber-Pakhtunkhwa, Sindh and the Federally Administered Tribal Areas (FATA), where militants of various hues have either brought most parties' campaigns to a shuddering halt or forced them to limp along in a climate of fear and uncertainty.
The vibrancy of the 2013 race in Punjab is down to two factors: the Pakistan Tehreek-e-Insaf (PTI) and Pakistan Muslim League-Nawaz (PML-N) are hammering away at each other in the northern and central regions of Punjab - which account for roughly 100 directly elected seats - while the Pakistan People's Party (PPP) is taking aim at the approximately 40 seats in the poorer, predominantly rural south of the province.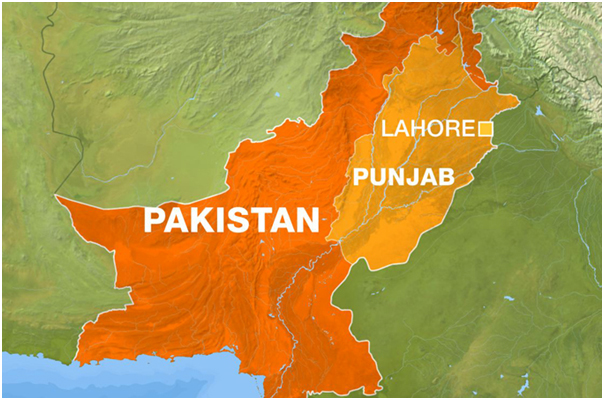 With the general election less than a week away, only this much is clear: no party expects an overall majority of its own in the next parliament and the PML-N is leading the pack in Punjab. With the margins of error razor thin, however, the PML-N's momentum is hard to pin down in terms of numbers. A sweep in the 100-odd constituencies in the northern and central regions of Punjab would put the PML-N in a comfortable position to form the next government in Islamabad.

A PML-N sweep is anything but a sure thing, though; the problem being obvious: a surging PTI-led by Imran Khan. Having eschewed policy specifics in favour of denouncing a political system that is widely perceived as corrupt, elitist and unresponsive to the needs of ordinary Pakistanis, the PTI has gained significant traction in the cities, towns and well-connected rural areas of Punjab.
Even at this late hour, though, there is little clarity about how much of the PTI's support will translate into votes. The party leadership accepts that its electoral machinery, so crucial to turning out the vote on polling day, is not up to scratch and that delays in finalising the PTI's roster of candidates have meant the party will effectively have only three weeks to mobilise the electorate leaning towards it.
But Imran Khan is blitzing the province, racing from one rally to the next, several each day, whipping up election fervour among the PTI supporters and reassuring skittish candidates of their prospects come May 11. Equally, however, the PML-N campaign machinery is in full swing, trumpeting its experience and track record, particularly over the past five years, when the party led the provincial government in Punjab in a manner that is seen as more efficient and clean, as compared to the other provincial and federal governments.
Experience, track record and the Punjab electorate's personal liking for Nawaz Sharif, whose middle-class roots, easy-going demeanour and Punjabi nationalism have proved a winning combination for over a decade and a half, are the principal planks of the PML-N's push to capture power in Islamabad for a third time.

The focus on the PTI as the challenger and the PML-N as the still-strong status quo power in Punjab is only two-thirds of the story, however. If the PTI does scale back the PML-N's fortunes in Punjab significantly, the PPP is lurking in the background, ready to pounce on the back of an expected strong performance in south Punjab and interior Sindh.
Because of PPP leader and current Pakistani President Asif Zardari's tried and tested coalition-building and coalition-sustaining skills, the PPP high command believes that, even were it to finish a close second to the PML-N in the overall seat count from across Pakistan, the party has a better chance at forming a coalition government in the next parliament.
So will it be the PML-N, the PTI or the PPP and a handful of allies? Never before has an election in Pakistan been so fiercely contested, or its result so hard to predict.
Source: Al Jazeera