Education for all: State of south Punjab schools abysmal
By Aroosa Shaukat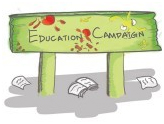 LAHORE .: The government's Jahalat Say Azaadi drive, launched last month, aims to bring out-of-school children toschool. However, recent surveys have revealed that the situation in south Punjab, which has the worst education indicators, is still abysmal.
The Rural Support Programmes Network (RSPN) took a household survey in April this year to identify out-of-school children in eight union councils in Bahawalpur, Rajanpur, Dera Ghazi Khan and Bahawalnagar. It found that more than 43,319 children aged five to 10, out of the 104,000 children surveyed, were out of school. RSPN Education Campaign Manager Nasreen Sheikh said there was an acute shortage of facilities at schools.
As many as 32 per cent of the children surveyed in Bahawalnagar and 34 per cent of those children in Dera Ghazi Khan were out of school, 48 per cent in Rajanpur and 56 per cent in Bahawalpur.
National Rural Support Programme District Project Officer Salman Hyder said that poverty and unemployment were some of the reasons why parents were reluctant to send their kids to school. "Many children in this region contribute to the household income," he said, "Parents want to know the returns from education before they send their children to school."
NRSP Project Coordinator for Rajanpur Akhtar Hussain said that without a sufficient number of teachers, toilets, boundary walls and electricity at schools, the situation could not improve.
The Annual Status of Education Report for 2012 had reported that 30 per cent of the children aged six to 16 in these districts were as out-ofschool. The percentage is 31 for DG Khan, 32 for Rajanpur and 35 for Rahim Yar Khan.
"There is no political will to bring about a positive change at the district level," Idara-i-Taleem-o-Aagahi Programme Manager Safyan Jabbar said.
The Pakistan Institute of Legislative Development and Transparency published a paper Development Funds for South Punjab in November 2010. It stated that the allocation of Annual Development Program (ADP) funds to 11 districts in south Punjab, as a percentage of the total ADP for Punjab, had decreased from 23.3 per cent to 14 per cent between 2003-2004 and 2007-2008.
The ADP funds allocated in 2003-2004 were Rs7.1 million of a total Rs30.5 million. The funds for south Punjab were Rs22 million out of Rs150 million allocated for the province in 2007-2008. The paper mentioned that the student to teacher ratio in south Punjab was 45:1, whereas the average ratio for the province was 40:1.
Sir Michael Barber, special representative of the Department for International Development, shared his findings on the Punjab Schools Reform Roadmap, approved in 2010, in his report The Good News from Pakistan.
He said that by January 2013, there were more than 1.5 million new children enrolled in schools and 81,000 teachers had been recruited. The percentage of schools with basic facilities had increased from 69 per cent in August 2011 to 90 per cent in 2013. Student attendance had increased from 83 per cent in 2011 to 92 per cent by 2011. The paper however stressed the need for funds to 'reach south Punjab'. It mentioned that the lowest percentage of functioning facilities in schools was in DG Khan (77 per cent) and Rajanpur (75 per cent). The lowest enrolment of five to nine-year olds in the province was reported in Muzaffargarh, Rahim Yar Khan, DG Khan and Rajanpur- 60 per cent- the lowest. Neglect, lack of access, poverty and meagre resources were some of the reasons Ali Ahmed, a research fellow at the Institute of Social and Policy Sciences (ISAPS), mentioned as being responsible for the state of education in south Punjab. "If education can't offer a solution to survival in poverty stricken areas, why would parents be attracted to it?" he said, "Even if children were sent to school they were not provided an environment conducive to learning."
The ISAPS' profiles of Multan and Rajanpur districts indicated a lack of facilities in schools. In Multan, where 41 per cent of children aged five to 16 were out of school, the profile indicated that 87 schools were without drinking water, 126 schools had no toilets, 178 had no boundary walls and 517 of them did not have electricity. The indicators were worse for Rajanpur. With 54 per cent of the children out of school, 35 schools were without a building and children sat in the open. As many as 300 schools did not have drinking water, 258 did not have toilets, 276 did not have boundary walls and 963 schools were without electricity. Ali said that there was no denying that the enrolment drive was a step in the right direction, but it would not be fruitful if attention was not paid to the retention and transition of students.
Curtsey:Pakistan Times  September 1, 2013