The forgotten master
Amrik Singh

The Raj, Lahore and Bhai Ram Singh
by Pervez and Sajida Vandal. National College of Arts, Lahore. Pages 268. Rs 1,500.

ASK anyone in Punjab about Bhai Ram Singh and you would invite blank stares, even in Amritsar, where there should be good reasons to remember him. He was the man who designed Khalsa College, Amritsar, in 1892. Even the persons connected with the college (I have been a student there for four years and a teacher for six years) hardly know anything about him. There was little I could say about Bhai Ram Singh until I had read this book.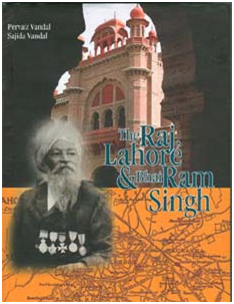 He was one of the outstanding Indians in the late 19th century, much sought after he designed buildings in the princely states of Jind, Nabha, Patiala, Bhawalpore, Jammu and Kashmir, Mysore and so on. For more than two decades, he dominated the architectural scene without a rival.

In Lahore, he designed the Chiefs College, Lahore Museum, the Mayo School of Arts, Punjab University Senate House and scores of other buildings, including the Governor's House in Shimla. At Lyallpur, he designed the College of Agriculture. He was the chief designer of buildings in Punjab in those years and the man who built those was Sir Ganga Ram. Between the two of them, they shaped pre-1947 Lahore. Apart from the walled city and some Mughal buildings that existed earlier, the rest of the city was built in terms of what he designed.

Those concerned with city planning and architecture know that Sir Ganga Ram had a memorable role in the making of Lahore. He was popular in any case, as apart from being a remarkable builder, he was also a philanthropist. The medical college and hospital, founded in his name a couple of years before Partition, still run under his name. A good deal has been written about him, but it took only this author couple to rediscover Bhai Ram Singh.

Like any architect in the subcontinent, the issue before them was to look for appropriate architecture for this region. Apart from the Mughal heritage, the colonial heritage was also a factor in his mind. Since 90 per cent of the Lahore architecture is colonial, those concerned with this issue focussed on Sir Ganga Ram and Bhai Ram Singh.

In this first book that brings out the rich and varied contribution of Bhai Ram Singh, there are chapters dealing with the right kind of architecture for the Raj, the transformation of Lahore, the growth of native architecture and the changes. Half of this lavishly produced and illustrated book is devoted to these issues and the other half deals with the personal life and professional career of Bhai Ram Singh.

He was born in a family of carpenters in a village near Batala and had a good sense of design and understanding of things mechanical. He was not even 14 when the repaired the piano of the Deputy Commissioner of Amritsar, even though he had no training of any kind.

When the Mayo School of Arts was established in 1875, he got admission there and learnt English, basic drawing, mathematics, geometry, indeed everything connected with his profession. He integrated the colonial with the native tradition in furniture making, tapestry making, interior decoration and architecture. Working under the guidance of his Principal, Kipling, he soon surpassed his peers.

The Great Exhibition of 1851 in London had generated two streams of influence. One was reform in art education and the second was trade in oriental wares. Both had their impact on India. The establishment of the Mayo School of Arts was a case in point.

After 8 years of studentship, he became assistant drawing master in Mayo School. In the early 1880's, Principal Kipling (whose son, Rudyard, went on to win the Noble Prize) took him to Calcutta for an exhibition and introduced him to the Duke and Duchess of Connaught, who admired his work and invited him to the UK a little later. He performed so well there that Queen Victoria asked him to design an Indian Room in one of her palaces.

After two years in England, by the time he returned, he was so famous that achievement, honours and popularity were almost instant. Though delayed by several years, he ultimately became the Principal of the Mayo School of Arts, even though he had hardly any "formal education". What he achieved was based on his profound knowledge of the native tradition and the quality of his work.

His family is still here, but most of the material relating to him is to be found in Lahore. Perhaps Khalsa College, Amritsar, may like to enter some kind of an arrangement with the authors to reproduce the portion dealing with Bhai Ram Singh in the book in India or get a new book written. His portrait hangs in one of the Queen's palaces in England, but nowhere in India.
It wouldn't be bad even to name some college of art or architecture after him. Meanwhile, for students of art and architecture in India, the book is available from Manohar Publishers in Delhi.
The Tribune: Sunday, November 12, 2006