Folk Punjab
The Ustad of Ustaads
Nadeem Alam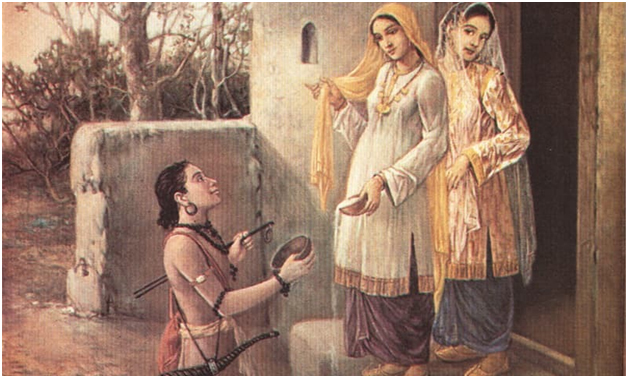 Heer RanjhaImmersed in the ancient visual culture of the Indus Valley, art in Pakistan evolved with modern and postmodern ideologies under the colonial and post-colonial inspirations. The British Raj period is not only pivotal for introducing new techniques and trends in South Asia, but also instrumental in establishing academic art institutions. After the Company painters, Anna Molka Ahamad and Shakir Ali, at the fine arts department of the Punjab University and at the National College of Arts (NCA) Lahore, guided and helped in cultivating the new generations of upcoming artists in Pakistan. However, there have been numerous other artists who contributed at the same level.
Ustad Allah Bakhsh is one such genius who established himself as a marvellous self-taught master and a true exponent of expressing folklore and pastoral life of the fertile plains of Punjab. Nowadays he is considered as the legendary pioneer painter regarding modern landscape and figurative painting in Pakistan.
Ustad Allah Bakhsh did not attend any art institution. He learnt the basic skills of painting from Ustad Abdullah — an established name in the traditional Mughal style miniature painting at Lahore. He developed keen interest in the Western-style painting with more precise perspective and proportion; suggesting deep consideration of realism and worked in oils and on large-scale canvases, a technique that travelled to the sub-continent from Europe. In his pursuit to learn the non-traditional modern style of painting, Allah Bakhsh copied many works of the Western masters and tried out his own colour palette and local themes which, in its early execution, seems a poor replica of the European masterpieces. However, with the passage of time and maturity of skill, the artist evolved his technique and perception of the subject up to a level that is today known as the Allah Bakhsh style.
Ustad Allah Bukhsh is considered as the celebrated pioneer artist of modern landscape and figurative painting
He could be considered as the initiator of landscape and figurative painting in Pakistan; he was the only practitioner in the contemporary style landscapes until Khalid Iqbal introduced modern realism in landscape painting of Pakistan in 1956. Iqbal was skilled at the Slade School of Arts, London under the scholarship of Sir William Coldstream, while the artist was observing all the unique technical aspects of the European masters from the images of their paintings as a distant learner.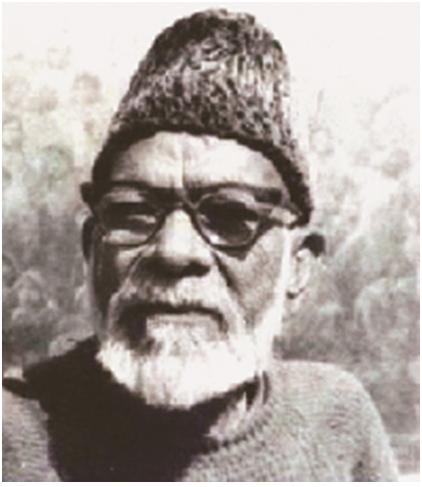 Ustad Allah Bakhsh

The artist might not have been well-equipped with any ideology or have represented any art movement or school of thought in painting, as the likes of Amrita Shergil, Zubeda Agha or Khalid Iqbal, but he was a natural learner and apprentice who, by practising hard, could attain a level of sophisticated draftsmanship.
Other than landscapes, Allah Bakhsh put his hands on the figurative painting as well. In the early period, one can feel the mishandling of disproportionate figures, and find faults with the anatomy of the human body where the painter appears more obsessive with the depiction of folktales like Heer Ranjha and Sohni Mahiwal or the village girls gathered to fetch water on and around a well. The drawbacks diminished completely when he painted the masterpiece of his life Talism-i-Hoshruba (mind-bending magic), based on the well-known fables of the Persian epic literature.
Allah Bakhsh was born in Wazirabad but he always lived in Lahore and owned this city as his original abode. His birth year is usually mentioned as 1895; however, according to a radio interview in 1964, he recalled it as 1892, when his father went to Africa. Allah Bakhsh's father sent him to a Madressah to study Arabic and Urdu which he could never understand as his memory was designed specifically for visuals and images and not for alphabets. As early as the age of five, Allah Bakhsh started apprenticeship with Master Abdullah, who was a known artist (Naqash) in the Mughal Style miniature painting.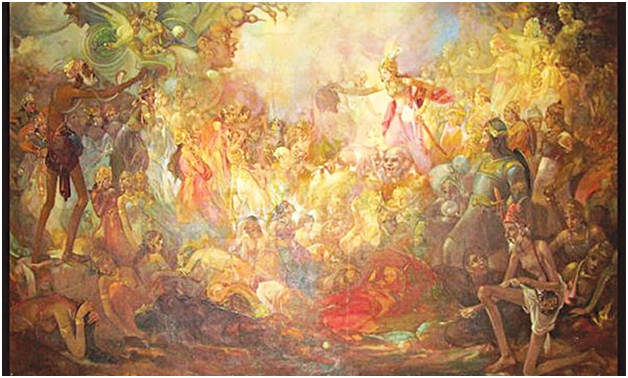 Tilsam-e-hoshruba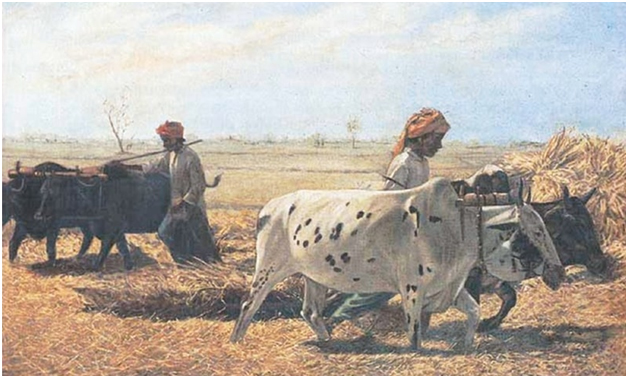 Village landscape with bullocks

The artist moved to Bombay in 1914, for a better future as a sign-board and backdrop painter. During his stay in Bombay from 1914-19, Allah Baksh was striving for survival rather than establishing his identity as an artist. He joined Roop Naraine Photographic Studio to assist Moeen Sahib, an artist from Delhi and a disciple of Master Hussain Bakhsh, the student of Master Sher Muhammad, who served Mayo School of Arts Lahore as vice principal, and was also the mentor of Master Abdullah — his first teacher in Lahore. This link created a brotherhood between Allah Bakhsh and Moeen.
The maestro showed his competence as a retouching and background artist at the Roop Naraine Studio. (Akbar Naqvi in his book Image and Identity has mentioned the studio as Lala Ramlal Studio and the artist whom Allah Baksh assisted as Muhammad Rafi. However, Allah Bakhsh himself recalled that artist as Moeen and the place as Roop Naraine Studio in a Radio interview to Khatir Ghaznavi in 1964).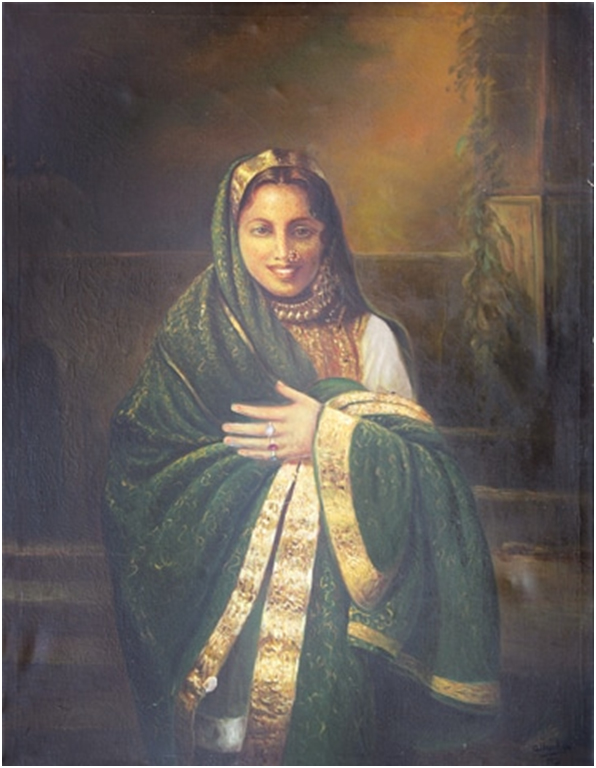 Portrait of a Punjabi woman (1921)

With the decline in photographic business, Allah Bakhsh tried out a painting of Krishna, which attracted many religious Hindu buyers. This overwhelming obsession of the Bombay Hindu community towards the religiously iconoclastic image of Krishna and associated myths and Natak (indigenous theatre) compelled Allah Bakhsh to adopt mythological and theatrical themes and subjects for his painting. This attitude has been approved by the painters of Romanticism; as the likes of Eugene Delacroix who painted Shakespearean tragedy as one of his celebrated themes by exercising romantic topics, literary influences, theatricality, exaggeration and dynamism. The artist, with his paintings based on the Hindu mythology and Punjabi folklore, also carried these elements as a Romantic painter.
In 1919, Allah Baksh was awarded a prize by Simla Fine Arts Society, and the newspapers applauded him as a master painter from Bombay which Allah Bakhsh could not digest and decided to come back to Lahore the same year. There he worked as a commercial artist for the Paisa Akhbar in Urdu Bazaar Lahore until 1922. Then he explored another romance of his life: pastoral life and landscape painting of the fertile lands of Punjab. In 1924, Maharaja of Jammu and Kashmir offered him employment as a court-painter, but he was reluctant to accept this offer. However, he joined the court of Maharaja Patiala and stayed there until 1937-38. It is the same court where Ustad Haji Sharif was also serving as a court-painter with his mesmerising miniature paintings. There must have been chances that these two maestros might have been exchanging thoughts and skills with each other at the Maharaja Patiala's court, but no documented record or evidence could be found to support this hypothesis.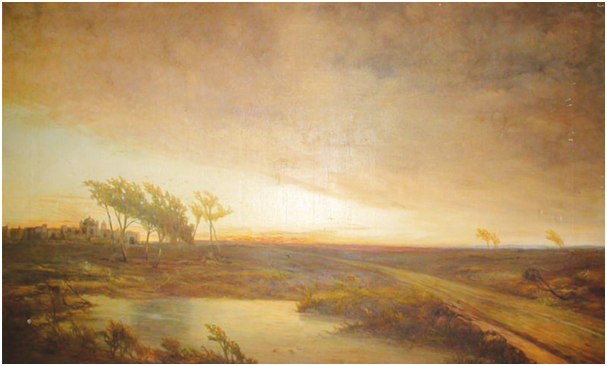 The storm (1967)

He was inspired by the approach and technique of Archibald Herman Müller, the German citizen who lived and worked in India and was considered as the great talent of the 20th century. Müller preferably worked by emphasising on his memory and imagination. Since Allah Bakhsh had good enough experience of creating theatrical backdrops, he worked on visualising and then personifying the characters like Heer Ranjha, Sohni Mahiwal and ordinary village women along with kids or around a well, based purely on his memory and imagination. He did not use live models for his figurative paintings and completed his frames using his solid expertise of compositional balance and colour harmony.
The maestro also implied his unmatchable understanding of compositional harmony in his landscape paintings; the foreground proportionate to the background with a ratio of one to three; a unique feature of modern realist painters of Europe that later has been practised and introduced in Pakistan by the legendary Khalid Iqbal.
He jumped from his naturalistically colourful landscapes of the Punjab-plain environs to the rocky surfaces and erected skyline of the mountains; a style that has remained almost matchless, even to the present-day excellence of the modern Pakistani painters. Allah Bakhsh's approach towards painting mountains is not only romantic, but it shows a great deal of surrealistic approach, especially when he paints them from a wide-angle point of view and covering the whole mountain as his single subject.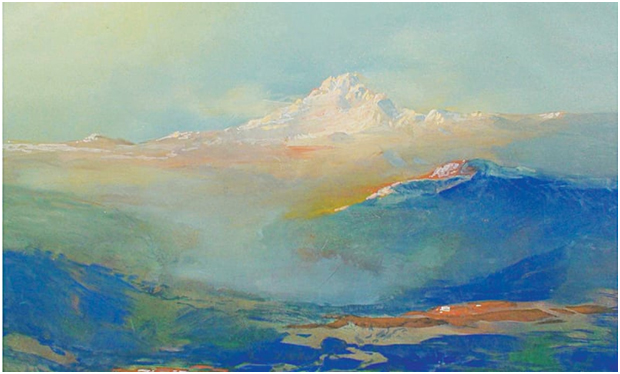 Mountain (1952)

In the last years of his life, the maestro suffered from cataract in eyes and lost most of his eyesight. He wanted it to be cured so that he could see the colours and shapes around him to capture them on the canvas. This icon of Pakistani art died on October 18, 1978.
Curtsey:DAWN.COM:
Published in Dawn, Sunday Magazine, July 26th, 2015