Grim picture of human rights in Pakistan:
A state with a dead government: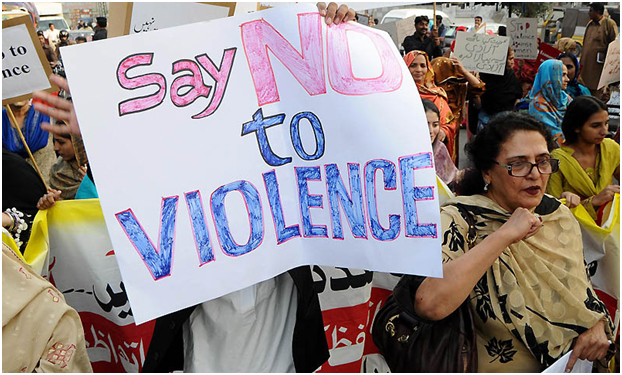 Safeguarding prisoners' rights:
Call for legislation to end custodial torture
By Mariam Shafqat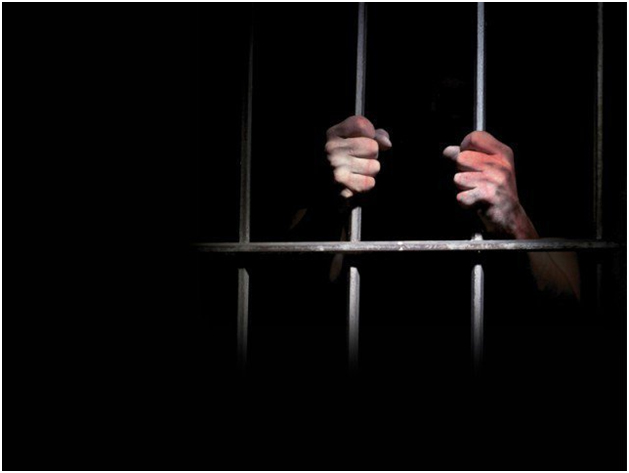 Speakers lament that a proposed anti-torture law pending since 2010. DESIGN: FAIZAN DAWOOD
ISLAMABAD:
Rights campaigners and experts at a seminar on Thursday called for legislation to end torture in custody.
They said though Pakistan had ratified the UN Convention against Torture (UNCAT), it had failed to make law for its implementation. A proposed anti-torture law has been pending in the parliament since 2010.
The seminar was organised by the Potohar Organisation for Development Advocacy (PODA).
"Torture is frequently practiced in our country, even against human right activists, lawyers, journalists and civil society members," said Waqar Mustafa, a project coordinator at the Human Rights Commission of Pakistan.
"The state's resort to torture has been institutionalised and there seems a series of attempts to save perpetrators on a regular basis," he said.
A study conducted by the Democratic Commission for Human Development (DCHD) was also shared at the seminar, according to which more than 50 per cent inmates are tortured while in custody in Pakistan.
The commission's executive director, Tanveer Jahan said over 50 per cent prisoners interviewed categorically said they were tortured during custody. "Many prisoners interviewed said the only way for them to avoid torture was to bribe the police or through some kind of political influence," Jahan said.
She said there was a need to look at torture as a social issue, apart from being a legal one.
Punjab Medical College Faisalabad Head of Forensic Medicine Dr Khurram Sohail Raja shared grim photos and medical cases of victims of police torture.
PODA Executive Director and Punjab Commission on the Status of Women (PCSW) Member Sameena Nazir called for protecting prisoners rights.
Anti-Torture Alliance (ATA) focal person Bushra Kahliq said that if one person was tortured in every police station in a day, it would be 0.4 million individuals getting tortured daily.
She said undocumented torture cells operated by police or other agencies make it difficult to realise the full picture. "During our work with police stations, police officials admitted of setting up private torture cells," she said.
"It is something that police officials feel entitled to do so. They feel it a part of their duty," said National Commission on the Status of Women (NCSW) Chair person Kahwar Mumtaz.
Parliamentarians Commission for Human Rights former chairperson Riaz Fatyana said the government had failed to create awareness of the issue among police force. He said the country was violating UNCAT while fighting the war against terrorism.
"One of the aspects that need to be highlighted is that the torture doesn't work and renders the whole process useless," said Johan Sorensen, head of political section at EU delegation.
He suggested training and equipping the police with tools that help them to investigate suspects without torturing them.
National Commission on Human Rights Chairperson Dr Ali Nawaz Chohan, in his keynote address, said there was a need for amendments in the police laws. "Unless there is a law against torture, it is very difficult to prevent it," he said.
"There is complete mistrust between police and the public," he said and called for improving police recruitment and simplifying FIR registration.
Curtsey:The Express Tribune, July 31st, 2015
Video:Punjab Police at the forefront of human rights violations in Pakistan
Shocking state of human rights in south Punjab
MULTAN, July 22: As many as 262 men and 125 women were killed while 201 women were subjected to criminal assault in south Punjab during the first half of the current calendar year. This was revealed by a recent report of the Multan task force of the Human Rights Commission of Pakistan. Of the murdered women, some 39 were killed in the name of honour while the others fell prey to domestic violence.

Among the men, 26 were killed in the name of honour, 50 over land disputes, 39 while resisting dacoities, 14 over simmering rivalries, five over matrimonial disputes and 126 during routine clashes. Of the women raped during the period, 107 were married, 93 unmarried and one was a widow. As many as 324 women — 149 married and 169 unmarried — were kidnapped.

Some 73 children — 37 boys and 36 girls — were either kidnapped or abducted during the period. The reasons as listed by the HRCP report are criminal assault, domestic disputes, ransom and camel race. Besides, some 67 children — 37 boys and 30 girls — were criminally assaulted, said the report, which added that 33 children were also murdered in that period.

As many as 46 men and 19 women committed suicide in the first six months of 2005. The tendency was found more among the married people. Of those who killed themselves, 13 women and 25 men were married. The report gives financial constraints as the main cause of suicides. Courts handed down death sentence to 109 people, one of them woman, while 14 people were executed during the period. As many as 164 people were subjected to police torture during the period. They included 117 men, 46 women and a child. Similarly, some 110 cases of keeping the people in illegal confinement by the police were also reported between January and June 2005. Six people, including a woman, were killed in police custody.

Twenty-one police encounters took place during the period in south Punjab in which 23 alleged criminals and six police officials lost their lives. A pedestrian was also killed during one such encounter.

While highlighting the police atrocities in this part of the country, the HRCP report particularly mentioned the incident in which lips of an under-trial prisoner were stitched by the police in Vehari district.

Sabir Husain was taken to Vehari by the police on June 22 last from the Multan central jail to produce him before a court hearing an abduction case against him. In the judicial lock-up, he and constable Muhammad Din exchanged hot words after the former was beaten up by a fellow prisoner. Later, the police stitched his lips to stop him from protesting against police highhandedness. The Multan central jail authorities had admitted him from the Vehari police without fulfilling the legal binding of getting examined a prisoner from a medico-legal officer if he returned from the police custody with an unexplained injury. Currently, a judicial probe is under way.

The HRCP report also mentioned an incident in which a blasphemy case was registered against five children aged between 9 and 13 in Haveli Koranga area of Kabirwala in Khanewal district.

They were charged with making an effigy and resembling it with a religious personality. Earlier, a panchayat had ordered to blacken their faces and give them a shoe beating.

Curtsey:DAWN.COM, JUL 23, 2005
MULTAN: Human rights' abuse in south Punjab
MULTAN, Jan 2: The year 2003 could not be any better as far as the state of human rights in the southern Punjab was concerned compared with that in the preceding years, records an annual report of the Human Rights Commission of Pakistan's local task force.

The report says around 1,000 people were murdered up to the November last in Multan, Bahawalpur and Dera Ghazi Khan. "The number of people killed is not less than the toll of a full-scale war," comments the task force. Of those, around 484 were men, 196 women and 65 children. As many as 12 of the children were criminally assaulted before murder while 89 killed in the name of honour.

Some 36 of those women fell prey to anguish of their husbands, 27 killed by brothers, 11 by fathers, seven by sons and 11 by other relatives. Around 103 women became a victim of domestic violence, nine of whom were killed because they had turned down the proposals and three for not bringing dowry up to the expectation of their in-laws, the report says.

It adds that 493 women were subjected to criminal assault in the southern part of the Punjab compared to 440 in the corresponding period of the previous year. Four of the victims had to lose their lives when they resisted the designs of perpetrators. Of the women subjected to sexual violence, 220 were married and 273 unmarried.

Nearly 177 cases of child abuse are also reported, according to which, boys were the victims in 118 incidents while girls in the remaining 59 cases. Some 573 cases of abduction of women were also reported during the period. However, this figure also included the "fake cases" of abductions got registered by the families of such women, who had left their homes of their own free will to marry with the men of their choice.

Nearly 81 men and 48 women committed suicide the main reasons for which in case of men were poverty and unemployment and tense domestic situations for girls and women.

Drinking of pesticides and other poisonous chemicals was noted to be a major phenomenon to cut short one's own life in 42 of the suicide cases. Among the other suicidals, 26 strangled themselves, 17 shot themselves and 16 laid before trains. Some 38 incidents of acid throwing occurred in the area and about 62 people fell victim to this inhuman practice. Two men and four women lost their lives after being severely burnt in the acid attacks.

The task force report observes the state institutes especially the law-enforcement departments have had a role in human rights' violations. In 84 incidents, around 115 men and 43 women were subjected to police torture, 32 of those publicly beaten up. Some 71 incidents of illegal detention were reported and 110 people had to undergo this ordeal.

Two incidents of assault on women by the police officials were also reported. Among the officials allegedly involved in torturing people, two were said to be of the rank of SSP, 10 of DSP, 51 of SHO, 52 of ASI, 34 constables and 11 were jail officials.

The HRCP task force report comments that the local bodies and the district public safety commissions have failed to deliver so far. It also notes with concern the increasing incidence of discriminatory action against artists, especially those who perform at theatres, and describes it as violation of cultural rights of the people in the name of anti-obscenity drive.

Curtsey:DAWN.COM, PUBLISHED JAN 03, 2004
Punjab tops list of human rights violations in country
Punjab has topped the list of human rights violations during last year, according to a report by the Human Rights Ministry. The report said that Sindh, Khyber Pakhtunkhwa, Islamabad and Balochistan had the second, third, fourth and fifth positions respectively. According to non-government organisations (NGOs), Balochistan tops the list of human rights violations.

The report said that 14,181 incidents of karo kari, kidnapping for ransom and gang rape had taken place in Punjab. Similarly, 1,322 such incidents had taken place in Sindh, 371 in Khyber Pakhtunkhwa and 85 in the federal capital, the report said. According to NGOs, in Balochistan, 102 people, including 81 Baloch, 10 Pakhtuns and 10 other persons had been killed during the last year.

Curtsey: Pakistan Today,FEBRUARY 20, 2012
Punjab police protecting only ruling elite: PTI
LAHORE
Central leader of Pakistan Tehreek-e-Insaaf Dr. Yasmin Raashid has said Punjab police are only busy in protecting the ruling elite. Voicing serious concern over human rights violations in Punjab, Dr Yasmin Rashid, also a PTI ticket holder from NA-120, said, shocking statistics of children abuse in the provincial metropolis showed that more than 170 children were abused in Lahore during the last 12 months. She said, this heinous crime is flourishing under the nose of Khadam-e-Aala but he is not ready to devise any mechanism to protect the innocent children.
Shamelessly child protection policy initiated by the Punjab Social Welfare Department has been lying pending with the Planning and Development Department for the past two years, she added. Khadam-e-Alla did not learn any lesson from Kasur child abuse scandal. Instead of putting criminals behind the bars, Khadam-e-Aala comes out to protect his MPA who was the main suspect, she added. She said, hundreds of cases are not reported because victims and families are shy to disclose the sexual offence against their children. If parents report the case, criminals take full advantage of lawlessness and use every kind of influence to pressurise victim's family she added. She said, unfortunately victims of sexual abuse face numerous obstacles in their pursuit of justice due to lack of the will of the government to formulate new legislation. PTI Information Secretary Andleeb Abbas in the statement said how could we protect our children from these animals when such sick-minded people were found in the ranks of ruling party. Whether it was Kasur child abuse scandal or gang-rape of a teen in Lahore last week, both culprits were office-bearers of the PML-N, she added.
She said she was horrified to learn of the growing child abuse saga in the Lahore. Due to poor performance of Lahore police, out of 170 reported cases, 105 child abusers had been arrested and 70 were still at large, she added. She said, these horrible numbers again bring into focus the increasing violence against children that remain unchecked and calls for immediate measures to save innocent children from sexual abuse. Unfortunately, police have miserably failed to protect children, she further added. She said, the nation will like to know what measures Khadam-e-Aala will take now to protect the children as he has done nothing even after the Kasur scandal.
Curtsey: Curtsey:The News, December 31, 2015
Karachi third worst in human rights violations
Imtiaz Ali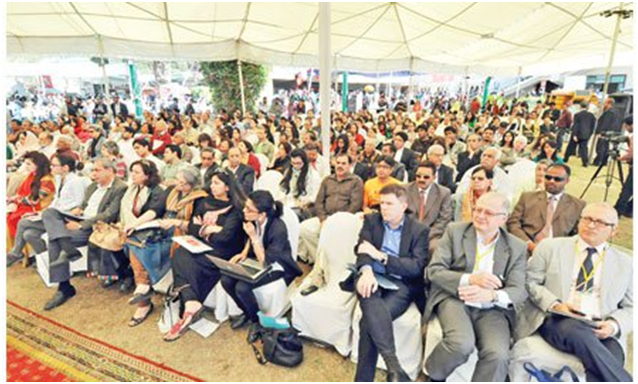 Karachi

After Balochistan and Khyber Pakhtunkhwa, the part of the country where the most serious human rights violations are carried out is Karachi, said the former president of the Supreme Court Bar Association on Saturday.

Hamid Khan was attending the session titled 'Rights and Wrongs: Human Rights in Pakistan' at the 4th Karachi Literature Festival.

Khan said the situation in Balochistan was dire in terms of missing persons and another unfortunate thing was ethnic cleansing.

He said the Punjabi population living in Quetta had been wiped out, while the Shia population living just outside Quetta was also being eliminated.

The Punjabis and the Shias have suffered the most, as the government and security agencies have proven useless, he added.

He said that instead of saving these communities, the intelligence agencies killed Baloch people based on their own secret reports and without any trial.

"Thus, 'wrong against wrong' has been the story of Balochistan for the past five years," he added.

He said Karachi and Khyber Pakhtunkhwa were the other regions where the most serious human rights violations were carried out.

"Recently, the apex judiciary has shown sensitivity towards the Karachi and Balochistan situations. The judiciary can issue verdicts, but it cannot stop the killings. Thus, the apex court has certain limits," he added.

However, he continued, it is healthy development that the judiciary is now giving priority to the enforcement of human rights.

Khan said that apart from these internal factors, some external factors were also responsible for the human rights violations, such as drone attacks, turning the victims' families into fodder in the hands of militants.

Human Rights Watch Pakistan head Ali Dayan Hasan said the demands of human rights activists were reasonable, as they wanted an end to kidnappings and killings as well as implementation of the rule of law.

Hasan said that it was their contention that implementation of human rights would not hurt Pakistan and, instead, would benefit the country.

He said 500,000 Hazaras were living in the ghettos in Quetta, but in January this year, their supposed sense of security was shattered when armed militants entered their localities and killed them, adding that this happened despite the presence of two check-posts.

"We should not live in a state of denial," he proposed, adding that impunity results from a weakened criminal justice system.

Hasan said an independent judiciary was essential for the protection of rights, but it was going through a phase of transition.

Prominent human rights activist Asma Jahangir said cases of impunity were increasing across the country.

If you are associated with religious militants or the establishment, you can get away with murder, she added. She called for addressing the issues of impunity and extremism.

She said extrajudicial killings in Balochistan would have long-term implications for the entire country.

She also said the government had recently introduced the "notorious law" that allowed government agencies to keep people in their custody for years.

Besides, she added, this law has retrospective effects, which means that the years-long detention of people in the past had also been "legalised" through the law.

Another prominent human rights activist IA Rehman, referring to the earlier speech of Hamid Khan, said that these were "situational problems".

He said the real issue was that the rights guaranteed by the constitution were either weak or never implemented, adding that the wrongs had been institutionalised in the country because of the nature of the rule.

"Balochistan is not under civilian rule and this is the major problem. The Balochistan problem reflects the aspirations of the Balochs for their share in the national cake as well as for autonomy," he added.

However, he continued, new development in the country is arbitrariness institutionalised by the army.

He said rising extremism was another disturbing development, which meant more wrongs would be committed.

Implementation of human rights is a cultural matter, but there is an unreasonable attitude towards it in the country, he added.

Resultantly, he continued, human rights activists who have been struggling for the rights of children, women and minorities for the past 20 years have been unable to create any dent.

Rehman said, "We don't have a culture of tolerance and respect for others because we don't have informed and intelligent discourse."

The judiciary is quite selective in taking up human rights violations, as it was not taking up the cases of wrongs against the poor and the wrongs committed by militants, he added.

Justice (retd) Nasira Iqbal, who moderated the programme, observed: "Our problems cannot be resolved until we raise our voices and identify the same."
Curtsey:The News, Sunday, February 17, 2013
APA's Lahore Declaration
Meeran Karim
LAHORE

The Seventh Plenary Session of the Asian Parliamentary Assembly (APA), hosted by the Senate of Pakistan, concluded on Wednesday with a passage of the historic Lahore Declaration supported unanimously by 25 Asian and eight observer countries.

The Declaration, which addresses the pressing issues of climate change, terrorism, and human rights violations, is a consolidation of the working of four APA standing committees on political affairs, economic and sustainable development, social and cultural affairs, and financial regulations over a period of three days. The four standing committees collectively amended and passed 19 resolutions which were later consolidated into the Lahore Declaration.

As per Declaration signed by the elected representatives of the countries including Saudi Arabia, Russia, Turkey, and China, the APA has committed to evolving a formal roadmap with definite timelines for the creation of an Asian Parliament and underscored the need for strengthening the cooperation to deal with the menace of terrorism in all its forms in Asia.

Acknowledging the growing problems of Kashmiri and Palestinian people under occupation, the APA countries have reaffirmed their support for the right to self-determination of the people under 'colonial domination' and 'foreign occupation'. The Declaration has stated that terrorism cannot be associated with any religion, nationality, civilisation, and ethnic group, as is frequently done by mainstream Western media. It has denounced Israel's repeated violations of international law and UN Resolutions as well as its blatant aggression that has claimed thousands of civilian Palestinian lives.

Referring to the US military strikes on Syrian and Iraqi territory to combat ISIS militants; it has clearly stated that any measures, taken by member states to fight terrorism, must fully comply with the international law as embodied in the UN Charter.

Noting that terrorist violence is commonly a result of prolonged unresolved conflicts and unending occupations in the region, the APA through the Lahore Declaration has called for the promotion of interreligious and intercultural dialogue, simultaneously expressing concern with the growing threats to cultural diversity in Asia. Member states have been urged to protect the rights of the Asian migrant workers, especially women, by devising legally binding tools and adopting internationally agreed covenants.

Meanwhile in the light of problems in the Asian energy sector, the APA countries reps present in Lahore for the conference have resolved to establish the 'Asian Integrated Energy Market' to utilise the abundant resources of the West Asia. The rights of Asian countries to develop nuclear energy for peaceful purposes like energy generation in accordance with the IAEA safeguards are stated within the Lahore Declaration.

To pave the way for greater economic cooperation, it has also underscored the need for streamlining the financial architecture of the vast continent, environment friendly models of development, free flow of technology across Asia, and the establishment of a special APA Media Forum for Asian journalists.

With a corruption posing a big challenge to the rise of Asian countries, it has been resolved to establish the Asian Parliaments against Corruption (APAC) to curb the corruption and enhance parliamentary collaboration to create the anti-corruption frameworks.

Realising the implications of illicit drug production, trafficking, and consumption in Asia, the APA has appealed to all the member countries to further ongoing efforts and existing structures for an effective cooperation in this regard.

As APA is an informal alliance of 42 countries with no binding powers on member countries, the Lahore Declaration has called for institutionalising it with the effective measures for budgeting, optimised functioning, and smooth running of the APA outlined. This is intended to enable it to perform its responsibilities and duties to its full ability and potential in the 'Asian Century' as described by APA Chairman Senator Mushahid Hussain Syed. For its contributions to the APA, the Declaration recognised that the Parliament of Pakistan played a pivotal role in the creation of the APA and during its current Presidency; the Senate of Pakistan is effectively contributing to laying the foundations of the Asian Parliament. The agenda is to be carried forward in Cambodia next year, the site of the Eighth APA Plenary Session.

Additionally, a committee of the APA female parliamentarians, presided over by PML-N Senator Nuzhat Sadiq, passed a resolution calling for the special protection of women in the war-torn areas of Syria, Palestine, Kashmir, Afghanistan, and Iraq by their governments. It was resolved that an Annual Coordinating Meeting of the APA Women Parliamentarians will be held before all the future plenary sessions.

The Pakistan delegation at the women committee meeting was represented by PPP MNA Nafisa Shah, PML-N MNA Shaista Pervaiz Malik, Sindh Assembly Deputy Speaker Shehla Raza, and PPP Senator Rubina Khalid.

The closing session of the APA Conference began on Wednesday with opening remarks by Senator Mushahid Hussain Syed who thanked 150 delegates from 25 Asian countries for their participation and visiting Pakistan despite the propaganda aired in the international media. APA President and Chairman of Senate Syed Nayyer Hussain Bokhari termed the Lahore Declaration a 'historic document' made possible due to the full cooperation of all the countries present.

A farewell dinner was later hosted by Deputy Chairman Senate Sabar Ali Baloch for the parliamentarians. Earlier in the day, President of Pakistan Mamnoon Hussain and Governor Punjab Chaudhry Sarwar entertained the delegates with a stately lunch at Governor's House. The delegations are expected to return their home countries on Thursday (today).

Cutsey:The News, Thursday, December 04, 2014
'Human rights violations on the rise in South Asia'
Anil Datta
Karachi

Even though the present-day world is called a liberal world, the "global South" is still not a liberal society and human rights violations are constantly on the rise there.

These observations were made by Dr Azra Anjum, a former professor of political science at the University of Karachi, while speaking at a workshop titled "Implementing Human Rights in South Asia and Europe: policies and practices".

The workshop was organised at the University of Karachi's Area Study Centre for Europe on Wednesday. Dr Anjum's paper was titled "Human Rights, humanity, and discrimination: A South Asian perspective".

She pointed out various discriminatory practices in South Asia, such as discrimination based on caste, gender, religion, and against the indigenous people which began with the advent of the colonial era.

These, she said, had a negative impact on the human rights picture of South Asia, pushing the region into social deprivation and further away from the realisation of the Millennium Development Goals. She underlined the urgent need for coming to grips with the situation at the state, regional, and international levels.

Caste-based discrimination, she said, had been a persistent form of discrimination in South Asia, particularly in the world's largest functioning democracy, India. In India, she said, it was estimated that over 165 million people continued to be victims of discrimination, exploitation and violence simply because of their castes, a phenomenon referred to as hidden apartheid.

Even in Pakistan, she said, the prevalent idea of one "biradari" or group being superior or inferior to another was responsible for the travails of many.

In her introductory paper, Dr Uzma Shujaat, the director of the Area Study Centre for Europe, lamented that there was a yawning gap between profession and practice when it came to human rights.

She said redressing the situation called for a more active interaction between Saarc and the European Union. Since all Saarc countries are signatories to the UN human rights charter, the ideological commitment is already there. The need is for exploring how closer cooperation between the EU and Saarc can improve the practice and implication of human rights.

Dr Shujaat traced the metamorphosis of the human rights at the global level, starting with the declaration of the UN Charter of Human Rights on December 10, 1948. This, she said, stemmed from the devastation wrought by World War II, which made the victors and the vanquished alike - that the survival of the human race among other things depended to a large extent on avoiding selective notions of the rights of humans as human beings.

As a global attempt to guard against human rights violations, she mentioned the 1975 Helsinki Accord signed by 35 nations engendering respect for human rights and fundamental freedoms. She also mentioned the Maastricht, Lisbon, Amsterdam, and Nice Treaties which consolidated the continent's commitment to human rights.

IA Rehman, noted journalist and director of the Human Rights Commission of Pakistan, in his paper titled "Relationship between rights and responsibilities: role of the civil society", spoke about balancing rights and responsibilities.

He noted that the Soviet Constitution of 1936 devoted four articles to citizens' duties. These pertained to abiding by the Constitution and the law, maintaining labour discipline, honesty in performing public duties, and respecting the rules of socialist intercourse.

The second article, he said, defined the duty to fortify public (socialist) property, and under the remaining two articles, Soviet citizens had a duty to render military service and defend the country.The Chinese Constitution of 1954, he said, incorporated the same four duties.

The role of the civil society, he said, was the promotion of rights and securing of guarantees that duties imposed on citizens did not detract from their rights. This role, he said, depended on the level of respect for human rights a society had attained.

Rehman lamented that all South Asian countries had ratified the human rights conventions fell far short of implementing them. In this regard, he said, migrants and minorities were most vulnerable. In Pakistan, he said, there was no provision for allowing boys and girls to marry of their own choice after reaching the age of consent. Besides, there was no recognition of the right to change of faith.

Dr Usman Azhar, an assistant professor at the University of Information Technology, Quetta, highlighted the right of children to be protected against economic exploitation. "They must be protected against any work likely to be hazardous to their health, interfere with their education or is detrimental to their physical, mental, spiritual, moral or social development," he said.

Presenting some alarming figures, he said, he said: "There are 215 million children victim to child labour globally and 115 million of them are employed in hazardous trades."

The trades these children are employed in include agriculture, carpet weaving, automobile workshops, mining, stone/marble cutting, deep-sea fishing, glass factories, hotels and textiles.

Citing figures, he said that in 1996 there were reportedly 3.3 million child labourers in Pakistan - a figure that had risen to 10 million in 2005.

Dr Reza Kazimi, a visiting professor at the Area Study Centre for Europe, talking about the reforms the British introduced after assuming control of India, said these were human rights reforms.

These related to the abolition of Sati, legalising widow marriages, and fixing of the age of consent for child marriages.

"The main plank of the reformist argument was the invocation of universal moral values," he said.

He gave a detailed account of the practice and where it countered opposition and how certain Hindu quarters like the Pundits resisted because with the woman gone, they had a chance to lay hands on her property and jewels.

He also gave a detailed account of the clamping on Thugs and Pindaris by the British as they thought that human rights could not be implemented in an atmosphere of fear and insecurity.

Former ambassador Najmuddin Sheikh, who presided over the proceedings, said if a state failed to afford security to its people, then it became incumbent on the international community to act.

He said a special responsibility rested on Pakistan's shoulders in light of the grant of GSP concessions to Pakistan. The labour conditions in the country would have to be closely watched, he added.

Talking about human rights violations, Sheikh touched upon the matter of young girls in Sindh being married off to the Holy Quran.

"The practice is absolutely repugnant to the spirit of the Holy Quran and carries purely economic undertones, namely to keep the property within the family".

The seminar was held under the joint aegis of the Area Study Centre for Europe and the Hans-Siedell Foundation, Islamabad
Curtsey:The News, Thursday, January 23, 2014
Judges, lawyers stress speedy justice
LAHORE

Judges and lawyers on Saturday stressed the need to provide speedy justice to the masses.Bar representatives put different demands to Lahore High Court Chief Justice Manzoor Ahmed Malik while the chief justice also raised some issues for quick disposal of cases. They were speaking at a conference, "Effective Role of Punjab Bar Council for Access to Justice," organised by the Punjab Bar Council.

PbBC Vice Chairman Farah Ijaz Baig welcoming the guests stressed the need to consider every litigant equal by courts. She said the bar had formed the Legal Aid Committee, Jails Reforms Committee and Human Rights Committee to provide assistance to the masses in access to justice.

Addressing the participants, Justice (r) Nasira Javed Iqbal said the role of reconciliation councils was effective but for the last 8 years there have been no local bodies and resultantly the reconciliation councils also had no existence. She said RCs were very essential for providing justice to women.

She added that Justice (r) Nasir Aslam Zahid had tried for quick disposal of jail appeals after visiting jails but lawyers of Karachi started taking out protests accusing him of minimising their practice opportunities by providing free legal service to the inmates. She said because of lawyers' behaviour in courts, military courts had come into existence. She said bars should make legal aid committees functional for free legal service to deserving people.

She pointed out that in famous lawyer chambers, seniors did not pay attention to new lawyers. She alleged that seniors used juniors in preparing cases but did not pay them. She demanded the PbBC ensure functioning of law colleges on merit. "There should be a topic on law at graduation level," she suggested. She said everyone talked about elimination of touts from courts and bars should provide an alternative if they wanted to do it. She said only touts briefed properly to litigants but lawyers did not bother to talk to litigants. She said the Right to Information Act should be implemented in letter and spirit and whistleblowers must be protected.

Senior Advocate Hamid Khan demanded the bar eliminate all bogus law colleges which were preparing lawyers who were creating hurdle to speedy justice. He said senior lawyers should establish law firms and accommodate new lawyers for their training.

He demanded the LHC chief justice set up a case management system to ensure fixation of cases before judges in accordance with their expertise in specific fields. "For the purpose, case managers should be appointed," he added. Lahore High Court Bar Association President Pir Masood Chishti said the real purpose of the bar was to struggle for the provision of justice to the masses. He said only judges and lawyers were considered critical parts of the justice system, ignoring litigants. He said the LHC had given an assurance to the LHC that it would not announce a strike.

A representative of the PbBC also announced that they had also decided not to go on strike in their five-year tenure.

Justice (r) Fakharunisa Khokhar said Pakistan is a poor country and a poor man has to sell ornaments of his wife or some of his belongings to reach court for justice. She asked the CJ to advise judges to listen to lawyers of the poor with patience.

As the chief guest, LHC CJ Manzoor Ahmed Malik said the conference was on the role of Punjab Bar Council for access to justice but everyone was making demands to him. He said representatives of lawyers, judges, police, jail authorities and prosecution were present in the conference but no one was representing litigants.

He said Pakistan had a good set-up laws but the question was how to implement them? He said it was the responsibility of elected representatives of lawyers to give suggestions in the regard.

He said the bar also should take steps to educate new lawyers about appearance in courts, in preparing cases and pleading their cases. He said lawyers and judges should respect each other. He said 90 percent lawyers were professionals and knew their decorum but three percent of them created problems. "Bars should control them," he suggested. By making reforms in the case management system and devising some other policies, he was sure that by July 3, there would be no pending case from 2007.

Curtsey:The News,Sunday,April,2015
'Change mindset to enforce HR laws'
LAHORE

Punjab University's Centre for South Asian Studies (CSAS) in collaboration with Department of Political Science and Human Rights & Minorities Affairs Department Punjab organised a seminar on "Human Rights in 21st Century" on Monday.

Department of Political Science Chairperson & CSAS Director Prof Dr Ambreen Javaid and Human Rights and Minorities Affairs Department Deputy Director Muhammad Yousaf, Advocate (SC) Abid Hassan Manto, and Research Society, Lahore (Law) advocate Ali Sultan threw light on the topic. Faculty members and a large number of students participated in the seminar.

Abid Hassan Manto said there was no use of just making laws on human rights because laws already existed. He said civil society including students, politicians, scholars and intellectuals should try to make efforts to change the mindset that did not accept such laws.

Ali Sultan said although the declaration of human rights was adopted in general assembly in 1948 but Pakistan adopted this treaty after about 40 years.

women rights: Speakers at a seminar held in connection with International Human Rights Day have said it is call of the hour to address the women rights with priority and the slogan of 'Safety at home, workplace and public' needs to be realised. The themes of the event were implementation status of pro-women laws, focus on laws of sexual harassment at workplace, acid throwing and other anti-women offences. The event was attended by acid attack victims, women parliamentarians, teachers, students, community and civil society representatives.

Former MNA Begum Mehnaz Rafi, MPA Dr Samina Amjad, MPA Sajida Mir, MPA Dr Musarrat Hassan, Muhammad Tehsin were also present.

Violence: Gender Studies Department of Lahore College for Women University (LCWU) on Monday organised a panel discussion on gender based violence.

According to a press release, US Consulate General Lahore's Public Affairs Officer Brinille Ellis joined scholars, human rights advocates, police, and students at the panel discussion and reaffirmed her government's commitment to prevent violence against women.

The panelists included Hadia Awan, principal of Punjab Law College and specialist in gender equity law, Fozia Waqar and Bushra Aziz, station house officer of Women's Police Station in Lahore.

Brinille Ellis in her opening remarks said that Secretary of State Hillary Clinton had emphasised that the United States believed that investing in women and girls was one of surest ways to achieve economic progress, political stability and greater prosperity.

The state of the human rights in Pakistan is deteriorating, especially with reference to religious minorities, due to the lack of awareness and culture of intolerance. These views were shared by speakers at the seminar held in connection with the International Human Rights Day. The speakers included Abdullah Malik and Amna Malik.

Curtsey:The News, Tuesday, December 11, 2012
Woman stoned to death in Lahore:
PM directs Punjab to submit report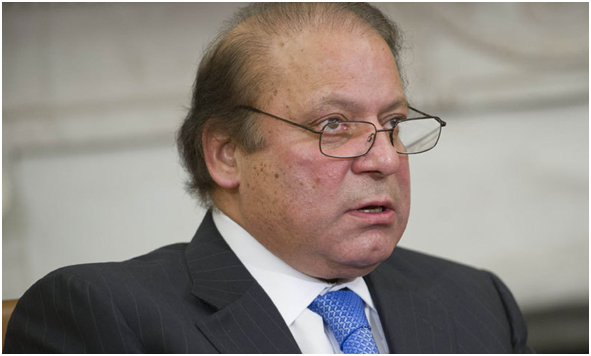 Minister Nawaz Sharif. — File photo
ISLAMABAD: Prime Minister Nawaz Sharif on Thursday demanded "immediate action" over the brutal murder of a pregnant woman who was stoned to death outside the Lahore High Court while police stood by.

Farzana Parveen was attacked on Tuesday outside the LHC building in Lahore by more than two dozen brick-wielding attackers, including her brother and father, for marrying against the wishes of her family. Hundreds of women are murdered by relatives in Pakistan each year supposedly to defend family "honour", but the brazen nature of the attack, in broad daylight and in the centre of the country's second-largest city, has shocked rights activists. The fact that police officers guarding the court apparently did nothing to intervene to save the 25-year-old has added to the outrage. Prime Minister Sharif has told Punjab Chief Minister Shahbaz Sharif, who is also his brother, to act over the "brutal killing of the lady in the premises of the high court in the presence of police", a statement from his office said. "I am directing the Chief Minister to take immediate action and a report must be submitted by this evening to my office," the premier said in the statement.

"This crime is totally unacceptable and must be dealt with in accordance with the law promptly." The prime minister often issues statements condemning bombings and terror attacks but it is unusual for him to comment on an individual murder.

Moreover, the LHC has also taken notice of the incident and has summoned a report on the matter from the district and sessions judge. Parveen, who was three months pregnant, had gone to court to testify in defence of her husband Muhammad Iqbal — who was accused by her relatives of kidnapping her and forcing her into a marriage.

Iqbal, 45, told AFP that the couple had survived a previous attack during the first hearing of the case on May 12 and demanded justice for his wife.

He told the BBC that police officers at the court were "watching silently" while his wife was beaten to death on Tuesday, despite desperate attempts to get them to act.

"One of my relatives took off his clothes to catch their attention," he told the broadcaster.

"A naked man was crying for help in front of the High Court but nobody intervened."

The incident gained prompt attention from the global media and international human right activists reacted to it. The UN High Commissioner for Human Rights Navi Pillay strongly condemned the killing on Wednesday, urging the Pakistani government to take "urgent and strong measures" to put an end to so-called honour killings in the country.

British Foreign Secretary William described the murder as "barbaric" and urged the Pakistani government to fully investigate it. "I am shocked and appalled by the death of Farzana Parveen: both for the appalling manner of her death, and the unspeakable cruelty and injustice of murdering a woman for exercising her basic right to choose who to love and marry," Hague said in a statement. "There is absolutely no honour in honour killings and I urge the government of Pakistan to do all in its power to eradicate this barbaric practice.

"I call on the Pakistani authorities to investigate this atrocious murder fully and bring those responsible to justice." Last year 869 women died in so-called "honour killings" according to the independent Human Rights Commission of Pakistan. Conviction rates are very low due to Pakistan's blood-money laws which allow kin to forgive perpetrators, usually family members in such cases.

Curtsey:DAWN.COM, MAY 29, 2014
Female prisoners lack healthcare: report
Meeran Karim
A United Nations Office on Drugs and Crime (UNODC) survey reveals that around 800 female prisoners in different jails of the country are facing insanitary conditions, harassment, healthcare shortage, counselling and vocational training.

According to executive director of an NGO, Bushra Khaliq, more than 70 percent of women prisoners are subjected to custodial sexual harassment and rape.

United Nations Office on Drugs and Crime (UNODC) Pakistan interviewed 359 female prisoners in Multan, Karachi, Larkana, Hyderabad and separate barracks. According to the UNODC, a majority of Pakistan female prisoner are suffering from different mental illnesses including suicidal depressions and sleep disorders along with critical drug dependency.

To this end, the organisation finds the absence of specialist healthcare for women a source of concern and as a strong reason behind the deteriorating health of female prisoners. Whereas officials from the relevant district health departments carry out regular prison visits, a shortage of lady health staff continues to be a prevalent problem. In prisons located in remote areas of Pakistan, most notably in Southern Punjab, the UNODC states female prisoners are not tested for HIV and civil society organisations play the role of the government in providing education and medicine for the admitted women. Additionally, pregnant female prisoners in remote areas are said to give birth without the necessary supervision and assistance from medical specialists and mid-wives. It is pertinent to note that prisons in Pakistan are required by law to transfer pregnant female prisoners to hospitals for child birth.

In October 2010, a Punjab minister for prisons told the Punjab Assembly that none of the province's 32 prisons provide obstetric surgery for women, required to treat harmed female body organs during and post child birth, and not a single gynaecologist is available on call to attend to the needs of women inmates.

UNODC further notes that in violation of Pakistan's Mental Health Ordinance 2001 that provides free mental healthcare facilities and counselling to Pakistan's prison population, there are no clinical psychologists available in Pakistan's prisons to respond to the needs of all prisoners and the healthcare assessment on entry for both male and female prisoners does not include a thorough assessment of mental healthcare needs of the inmate. To develop their skills for life after prison release, the organisation also found prison authorities fail to provide vocational training to women inmates, thus failing to enable them to be productive and law-abiding members of society.

The hygiene of women prisons and separate sheds in barracks, in spite of their low capacity, is also another source of criticism. According to the UNODC, the availability of bathrooms in the prisons varies from three to four to as many as 60 prisoners in large prisoners per one bathroom. The UNODC observed that while female prisoners can keep their children up to the age of six in prison as per the 1894 Prisoner Act adopted by Pakistan, there are no facilities for education and recreation available for the children of female prisoners.

It is also pertinent to note that the Punjab Budget 2014-15 of Rs 7.36 billion for the Punjab prisons department, endowed with the responsibility to monitor and maintain the province's prisons, contains no new schemes to provide male and female prisoners with hygienic living conditions, education and vocational training, healthcare, counselling, and legal aid for illiterate and poor prisoners unable to pay for their legal defence in courts.

Nasreen Ali, sister of a mentally ill mother accused of murdering her children by drowning her son and daughter in Lahore's Bambawali-Ravi-Bedian Canal (BRB), told The News that her sister is undergoing trial and has been an inmate at Kotlakhpat Camp Jail for more than two years. She said her sister is being denied her rights as per laws regarding judicial remand in Pakistan by being kept under lockup for entire days. She adds that her sister also requires serious psychiatric counselling for her various disorders.

Talking to The News, Punjab Prisons Inspector General Mian Farooq Nazeer said a majority of the country's female prisoners are convicted of murdering their spouses and family members in family disputes.

Due to this phenomenon and social stigma that surrounds women in prison, Farooq Nazeer said female prisoners are known to not be visited by their family members and consequently suffer from depression. Yet, he notes a decline in the number of female prisoners in Punjab and in Pakistan overall with the passage of 2006 Protection of Women Act, which separated zina (extra-marital sex) from zina-bil-jabr (rape) and lead to fewer false accusations against raped women.

In response to criticisms of the government's failure, the IG insisted that lady healthcare staff is available in all prisons where women are kept and all prisons in Punjab currently have enough medicine to last for four months. He said a female psychologist is posted in the Inspectorate and provides counselling when needed to female prisoners. He dismissed claims that Punjab's prisons house women on judicial remand for more than a year and said Inspectorate also provides counselling to female prisoners in legal matters.

The IG told The News that additional food is provided to pregnant women and child residents of the women's prisons are especially provided with food, education, basic recreation, and healthcare. The IG dismissed claims of no skill development activities and said women in jails are trained in handicrafts, factory work and a variety of other specialisations. In remote areas, he said the government requests the support of civil society to launch such programmes for female prisoners. He added that there is currently no female prisoner in Punjab who is suffering from HIV Aids and drug dependency.

Punjab Minister for Prisons, Ch Abdul Waheed, said religious education is provided to female prisoners in the province in addition to classes in Urdu and English. He said women inmates are given preferential treatment as they are provided with charpoys, currently denied to male prisoners. In response to claims of sexual harassment, the minister said male staff is not allowed to enter the premises where women reside and all services including counselling and health check-ups are carried out exclusively by women. Waheed said the PML-N government in 2013 had provided Rs 40 million to male and female inmates accused of non-violent crimes to pay their bail fees.

Meanwhile, Women Police Station SHO in Lahore, Bushra Aizaz, talking to The News, said women police staff are being equipped to counsel female prisoners. She refused to reveal if the prison provided vocational training and healthcare to its inmates.

According to a 2013 report by Human Rights Commission of Pakistan on Lahore's women police station, women inmates are not provided with qualified lady doctors. It further says that cells of the station are reportedly exposed to passersby, walls of its bathroom are only four feet high and the station has no separate barracks for juvenile female prisoners below the age of 18.

Curtsey:The News, Thursday, July 17, 2014
Minorities suffer due to lack of family laws
XARI JALIL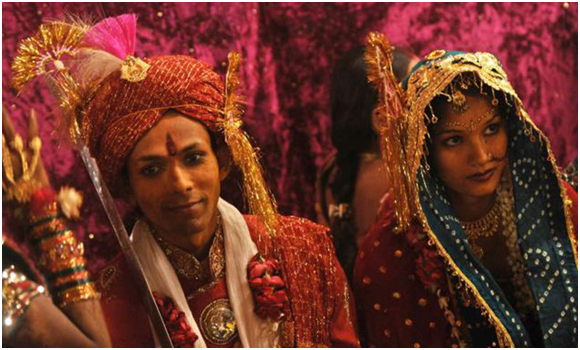 The state has not formulated legislative procedures to register minorities' marriage and divorce.—AFP/File

LAHORE: Among the non-Muslims communities in Pakistan, the Christians and Parsis have some sort of legal framework concerning their marriage and divorce issues but the others don't have such legal protection. The state has not formulated legislative procedures to register their marriage and divorce or to adjudicate their matrimonial disputes. The issues remain in the hands of the clergy instead of being resolved constitutionally. On the other hand, the Muslim majority community has its Muslim family laws which have also been reformed and revised. This was a study conducted by the Community World Service to review the existing laws, rules and administrative provisions regarding family issues of religious minorities.

The study was launched at a local hotel on Wednesday in the presence of Punjab Minister for Human Rights and Minorities Khalil Tahir Sindhu, MPA Shunila Ruth, former parliamentary secretary for external affairs George Clement and Sikh leader Sardar Kaliyan. Sindhu said the issue of marriage registration of the minorities, particularly of the Hindus, was very sensitive and it should be dealt with accordingly. He said the newly married couples could not register their marriages at the union council level. "The Christians are often forced to convert only to get a divorce which is a despicable situation," he said. MPA Shunila Ruth said the assemblies had not helped the minority communities in this regard through legislation. "The chief justice of Pakistan had ordered that the union councils to register these marriages but the order was not implemented," she lamented.

"The age (of the couple) is often not taken into account. Girls and even boys as young as 10 years old can be married and nothing can be done legally about it. The age limit for marriage among the minority communities should be at least 18 years so that they, especially girls, could develop vocational skills and complete their education," she suggested.

Ms Ruth further said that for the Muslims' cases were brought to the Family Courts but for Christians, the cases remained pending for years in Civil Courts. For Hindus, the situation was even worse and the Hindu Marriage Bill was in the Punjab Assembly and yet nothing was being done about it, she deplored, adding that there were no proceedings on the Christian Divorce Bill either. "All minorities should be taken on board when discussing these family laws, not just the clergy," she suggested. Ms Ruth complained that the minority representatives were not elected instead they were selected by their parties which meant those in the assembly were not the real representatives of their communities. However, once they reached the assemblies, they should work for their communities, she said.

Regarding the situation in Youhanabad, Shunila Ruth said police were picking up Christians from their localities without any confirmation of their involvement in the lynching and their families did not have any idea where they had been taken to. "Police claim that the religious leaders have allowed these steps but religious leaders told me personally that they have not," she said, saying that it was inhumane to harass people like this. Regarding Sikh marriage laws, Singh said they were different from other religions and that a separate Sikh marriage act should be devised.

George Clement, Atif Jamil, Sardar Kaliyan Singh and Tariq Javed Tariq also spoke and confirmed that a lack of a Hindu Marriage Act in Pakistan was creating major issues, especially in south Punjab where 0.4million Hindus were residing and were even subject to forced conversions.

Published in Dawn, March 26th, 2015
'Laws need to be amended,mindsets changed to give minorities equal rights'
HRCP and FIDH's report identifies social and constitutional shortcomings affecting Pakistan's minority communities

Karachi

The prejudiced representation of religious minorities in the national curricula and the outright imposition on children to study different religions were, according to a report, among several issues worsening the plight of minority communities in Pakistan.

A joint collaboration of the Human Rights Commission of Pakistan (HRCP) and the International Federation for Human Rights (FIDH), the report, launched at the Karachi Press Club on Sunday, highlights the alarming rate of increase in violence and discrimination against minorities in the country.

Throughout the pattern of religious discrimination, the reported noted that women and girls were found to be the worst victims of human rights violations, notably through the practice of forced conversions and marriages.

The report also identified constitutional laws which further compromised the rights and security of the religious minorities; these included the blasphemy laws, personal status laws, discriminatory policies over issues of land grabbing, evacuee property and land grabbing.

Furthermore, a weak representation of minorities in the parliament, legalised prosecution of the Ahmaddiya community, lack of recognition in the national consensus, forced marriages and the imposition of 'Jizya' on the Sikh community were also some of the major issues reported to be adding to the woes of Pakistan's minorities.

Over the past several decades, successive governments in Pakistan institutionalised discrimination against people belonging to religious minority groups and minority Muslim sects, the report further stated.

HRCP chairperson and vice chairperson of the FIDH, Zohra Yusuf, observed that keeping in view the vulnerability of the minorities, the organisation decided to form a group in June, 2010 to address the growing faith-based challenges. It later on collaborated with the FIDH which brought together 178 human rights groups from 100 countries, the representatives of which met with faith-based minorities of the country and discussed challenges and discrimination they lived through every day, she added.

Recommendations about measures to end violence, marginalization and discrimination of minorities were then brought about in the shape of this report.

HRCP Secretary General I A Rehman emphasised the need to strengthen the civil society in the country.

"Only the presence of a strong and vibrant civil society can reduce the violence and discrimination against these minorities," he noted.

He urged the authorities to review national and international human rights obligations and try and implement them in the country.

"Pakistan will go into its next Universal Periodic Review in 2017 with a worse human rights record than before."

Curtsey:The News, Monday, October 05, 2015
Only one marriage registration office for 3 million Christians in Punjab
by Shehryar Warraich
Lahore: More than three million Christians in Punjab province have only one office in Lahore to get their marriages registered – And their miseries are doubled when they reach Lahore, travelling hundreds of miles, and are informed to come yet again to have that official marriage certificate from the office, revealed observers and human rights activists.

Kashif Nawab, former UN Observer for minorities told News Lens Pakistan, "Deprived members of the community have to endure annoyed circumstances when they are supposed to spend some more days in Lahore without having a penny in the pocket." Even though, to help the community, Christians have established unofficial marriage registration offices under bishops at district level in the province. Priests demeanor marriages and send marriage certificates to bishop office which forwards them the government's office.

Christian population has uncertainties about these unofficial local offices. They assert that the nonexistence of public computerized marriage registration offices without carrying clear rules is a serious matter of concern for the community. For them fee that priests charge is an important issue which needs to be addressed.

"My son's wedding was scheduled on 23rd January in Lalamusa, Gujrat. We had to pay 22 thousand rupees ($220) to two priests and their assistants. The moderator (head of the bishop office) charged 12000 rupees ($120) and the local priest took eight ($80) and two thousand rupees ($20) for their assistants," Akram Veeru, a Christian from Gujrat, told News Lens Pakistan. He said that it was really disturbing for them but they had no choice. "If government takes interest to determine this issue, it would be beneficial for us," Veeru hoped.

Priest Rev Hafeez Gill told News Lens Pakistan that the priests' offices have a fix amount to charge as they perform marriage rituals but still they do check financial status of the families. "Otherwise, we carry out some duties instead on behalf of the bride's family. For instance, we go to the divisional Bishop's office to submit the record of marriage and we also keep all records of marriages with us."

Christian Marriage Act 1872 was adopted as it was at the time of the Partition of Pakistan and India in 1947. Under the Act, fee for marriage registration even in Bishop's office is only 35 rupees (35c). "This is for the marriage certificate which has to be submitted to the government office in Lahore. Priests fee varies depending upon the service families render for the ceremony," Priest Abel explained.

Along with these apprehensions Christians also have many grievances regarding the attitude of one and only registration office in Lahore. They express concrete concerns that the staff working in government's office is not supportive either. "There are so many complaints about the hurdles and hindrances our people face when they apply for computerized marriage registration certificate. Occasionally bribe works instead of legal ways," Francis Joseph Shahzad, a Christian leader told News Lens Pakistan. Unfortunately, various governments promised Christian community to resolve the problem but never fulfilled them. Punjab Minister for Minorities Khalil Tahir Sindhu told News Lens Pakistan, "I am also part of this process and I am trying to get the issue resolved. Government is also familiar with the tribulations of this second largest community of the province but lack of funds is the problem. The government cannot expand offices to district or divisional level with the existing allocation in the provincial budget."

Activist for Christian Rights Shireen Aslam seemed a bit sarcastic while talking to News Lens Pakistan. He said that since 1947, many Christian leaders have become members of National and provincial assemblies but the community is not happy with their performance. "We cannot spare our own people who got the chance but failed to serve their community. We believe leaders of our community are also not serious towards our issues and their solutions."

Curtsey:newslens.pk , March 2, 2015
'Absence of marriage laws for minorities denies them many rights'
KALBE ALI
ISLAMABAD: Marriage and separation-related complications have increased for non–Muslims after the 18th Amendment, under which religious matters and marriage issues were devolved to the provinces.As none of the provinces has drafted its own laws on the matters, the members of the minority communities feared the worst if they came up with any legislation.

"The major concern is that if the four provinces make separate laws, our community will suffer enormously," said Dr Ramesh Kumar, a PML-N MNA and patron-in-chief of the Pakistan Hindu Council.Currently, there is no legal document for the minorities to prove their marriage. Without any legal recognition of a marriage, the Hindu women face problems in getting their names changed in their computerised national identity cards (CNIC) and passports.

These issues were highlighted in a report titled "Religious minorities and marriage laws in Pakistan."

Leaders of minority communities demand provinces legislate to address their concerns regarding registration

The report compiled by Tahir Mehdi has been published by the Community World Service. It highlights the issues related to marriage and divorce for Christians, Hindus, Sikhs, Bahai, Ahmadis, Parsis and even the matters related to cross–religion marriages and conversions. "The main impediment in the formulation of the law for the minority communities is that there is a difference of opinion between the community members and the religious leaders of the communities," Tahir Mehdi told Dawn.

"But this is where the state needed to interfere. If two individuals do not want to live together, there has to be a legal way out." He referred to the lack of any provision of divorce in the Christian and Hindu faith, which is why the religious circles of these communities were not supporting any regulation that would legalise divorce.

However, Dr Kumar has submitted a draft bill on Hindu marriage and separation law to the federal cabinet. "We cannot have divorce but the law calls it separation," Dr Kumar told Dawn.

Meanwhile, the report highlighted the issues faced by different communities due to the absence of a centralised legal framework. Currently, certificates issued by nominated organisations, churches or licensed persons are admitted to courts as the marriage evidence and to Nadra for obtaining CNICs.

The report also highlighted lacunas in various laws such as the Sindh Child Marriage Restraint Act 2013 that criminalised child marriage but did not invalidate such marriages.

It was suggested that the marriage registration system should be introduced at the local level for the non-Muslims too as it is for the Muslims.

Published in Dawn, December 8th, 2014
Reforms agenda: Seminar participants say uniformity in police laws can help improve performance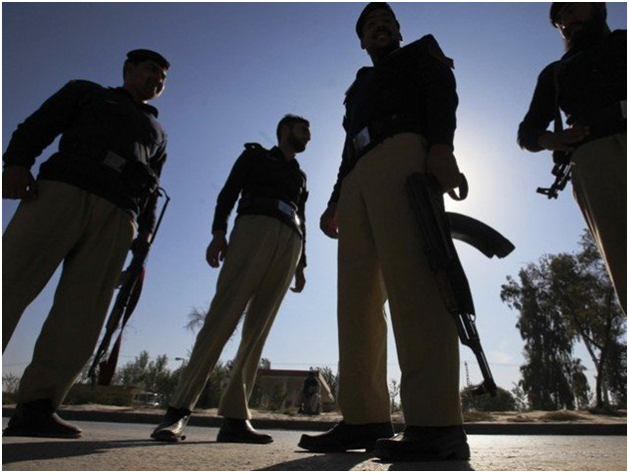 'System of accountability needed to make reforms effective'. PHOTO: REUTERS LAHORE: Participants of a seminar on Saturday called for uniformity in police laws, police organisation, women policing, accountability in the department, police's role against terrorism and community policing.

The Human Rights Commission of Pakistan (HRCP) had organised the seminar, The Deferred Agenda of Police Reform, at its headquarters. In his introductory note, HRCP secretary general IA Rehman said a reform agenda introduced in the Police Department in 2000 had been deferred. He said there were no uniform laws to run the department.

"Reforms have been introduced selectively in some areas. Political influence is still rampant in the department," Rehman said. He stressed the need for highlighting the issue.

Lawyer Asad Jamal said police in Pakistan were operating under three different laws; the Punjab Police were operating under the Police Order 2002, the Khyber Pakhtunkhwa Police under the same law with some amendments, and police in Sindh and Balochistan were operating under an 1861 Act.

He, too, said there was no uniformity in police organisation. Police officials are recruited at two levels – federal and provincial. He said most of the officers from the rank of ASP to onward were derived from the federal cadre and others from the provincial cadre.
Training Additional IG Usman Khattak said reforms had been introduced at the federal level only due to pressure of some international organisations. He said that under the Police Order 2002, policemen should be recruited at the constable and ASI levels. But sub-inspectors, inspectors and corporals, too, were being recruited directly, he said.

Khattak said a thorough system of accountability was needed to bring about effective reforms in police. Zafar Ali Khan, an SP from Khyber Pakhtunkhwa, said there were two types of laws the police dealt with; one dealing with crime and the other with police organisation. He said the Code of Criminal Procedure, the Pakistan Penal Code and the Law of Evidence had been legislated in accordance with the 1861 Act. "The Act has been amended but criminal laws remain the same," he said. He said it was ironic that laws formulated by provinces were executed by the federal cadre (the Police Service of Pakistan). Former Federal Investigation Agency Director General Tahsin Ali said the issues regarding reforms were huge. "We cannot see them through the prism of a police officer, a lawyer or a judge." He said many factors affected the performance of the Police Department. Information Commission Member Mukhtar Ahmad Ali said lack of motivation and incentives for police officials affected their performance. He said there was a huge difference between the perks available to PSP officers and low-ranked police officials. Individualland Research Associate Syeda Sundus said policewomen faced problems such of harassment, lesser authority and low strength. Lawyer Ahmer Bilal Soofi said police's role had changed in the campaign against terrorism. "The force was meant to deal with domestic issues and crimes. The modus operandi of terrorists is different. In many cases, they are trans-national criminals. There is need to introduce reforms in training, legislation, investigation and operation of police," Soofi said.

Published in The Express Tribune, August 23rd, 2015
Seminar on Human Rights Education and Sensitisation held Islamabad
Centre for Policy Studies (CPS) in collaboration with the Ministry of Law, Justice and Human Rights organised a one-day seminar on 'Human Rights Education and Sensitisation', says a press release.

Senator Nuzhat Sadiq, Chairperson, Senate Standing Committee on Foreign Affairs and Commissioner Pakistan Girls Guide Association was the chief guest. In her welcome remarks Ambassador Fauzia Nasreen highlighted the importance of the subject. Faculty and students of Comsats attended the seminar.

Senator Nuzhat Sadiq underscored the vision of Quaid-i-Azam Mohammad Ali Jinnah which was based on the values of human rights, justice and freedom. Referring to the challenges confronted by Pakistan she expressed the resolve of the nation to overcome them. She emphasised the importance of education in developing a prosperous society.

On the question of human rights, she commended the government's efforts in ensuring human rights at the societal level. In order to promote human rights values, she suggested that working groups comprising universities, law associations and civil society should be established. Mentioning about the work done by Girl Guides Association of Pakistan, she informed that over one hundred thousand girls were involved in community level programmes related to health and education.

For effective implementation of various programmes, data collection was important. While accepting the important role of the government, she also emphasised the responsibility at the individual and collective level of the society at large.

In his remarks, director, Human Rights outlined the objectives of the seminar underscoring the fundamental right of dignity of all human beings. He also informed that Human Rights Commission of Pakistan has recently been setup underscoring the fact that the head of this body will have the power of suo moto action in cases related to violation of human rights.

During the panellist session the three resource persons, Famran Ullah Khan of Asia Foundation, Arif Shameem of Capital Development Authority and Khaola Batool of the Ministry of Law spoke about various aspects of human rights. Their focus was on the role of civil society, measures taken by the government and the role of international organization in promotion and protection of Human Rights respectively.

Farman mentioned about the Asia Foundation's "collaborative interventions that included the setting up of Civil Society Organisations in ten districts of Pakistan to promote and protect Human Rights.

Throughout the seminar, the students took active part in discussions and gave their own recommendations and opinions on the basis of their observation and experience on a daily basis

Curtsey:The News, Wednesday, May 27, 2015
Seminar on human rights, governance, democracy held
LAHORE

THE British Council, in collaboration with the British Alumni Association of Pakistan (BAAP) and the British High Commission, held a seminar "Human Rights, Governance and Democracy in Pakistan" on Thursday

Academicians, ex-ministers, bureaucrats, rights activists and a number of students attended the seminar in which key issues, surrounding country's development, were discussed.

Opening remarks were made by Vice Chancellor of Lahore College for Women University (LCWU) Prof Dr Bushra Mateen who was also president of the British Alumni Association.

Political Councilor of the British High Commission, Thomas Drew, speaking on the occasion, said "Elections is only the part of the story for democracy, we need to have strong institutions for this and nothing should be taken as a coalition keeping in mind the current political scenario. Pakistan is on the top of the UK agenda and these political issues are hard etched." "The rule of law in a democracy is the best defense in a democratic government", he added.

Ex-finance minister and vice chancellor of the Beaconhouse National University (BNU), Sartaj Aziz, said democracy often came with the civilian government. "The significant message during the elections is that Pakistan wants military to stay out of the political scenario."

Dr Tahir Manzoor of UNICEF Punjab said that, in order to promote gender equality and education, 'we need to ensure that children need to complete their primary education.

During the year 2000, almost 36 countries had achieved their goals for primary education to reject gender inequality. We also plan to streamline the madrassah education, he added. The public and private sectors should join hands and work in the higher education area which will give a ray of hope to the students, he added. "Better education can be provided with a joint effort with the public and private sectors, he said. We also believe that the teachers are the champions of change and can change the mindsets of children, he stressed."

Human Rights Commission of Pakistan (HRCP) Director IA Rehman, Saif Anjum, Provincial Coordinator for Access to Justice Programme and Shagqat Mehmood, Ex-senator and columnist, also spoke in the end.

Curtsey:The News, Friday, March 14, 2008
Police callousness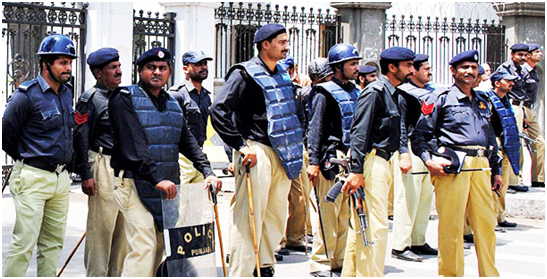 If top police officers can behave in this manner, what could be the calibre of the lower cadres? Police departments across the country are known for their collusion with criminals, harassment of the public, registration of false cases at the behest of influentials and for extracting 'confessions' through torture. - Online Photo.

When it comes to brutality and sheer callousness, the Punjab police have few peers in Pakistani officialdom. A force notorious for its inhumane treatment of alleged criminals as well as the public at large plumbed new depths on Wednesday when the Daska police took a critically injured rape victim on an extended tour of the town and its adjoining rural areas.

The seven-year-old girl — yes, you read the age right — had been fighting for her life in Lahore and doctors there were of the opinion that even the slightest of exertion could prove hazardous. Yet, despite her precarious condition and against doctor's orders, she was transported from Lahore to Daska where an even bigger ordeal awaited her. Under the 'supervision' of police officers as high-ranking as the local DPO and SP, she was placed on a stretcher and taken to diverse areas where the assault may have taken place. The aim of this senseless and cruel exercise, carried out after the Punjab chief minister directed police officers to catch the culprits at the earliest, was to identify the crime scene. Given her condition and age, the girl was naturally unable to do so. Meanwhile her health deteriorated to the extent where she needed emergency aid.

It is clear that the officers handling this case are completely lacking in sensitivity, common sense and the skills needed for a professional investigation. They were told to act by the chief minister and, eager to please, they did so without any consideration for the plight of the victim. Instead of furthering the cause of justice, the Daska police nearly killed a child that has suffered unspeakable horrors. If top police officers can behave in this manner, what could be the calibre of the lower cadres? Police departments across the country are known for their collusion with criminals, harassment of the public, registration of false cases at the behest of influentials and for extracting 'confessions' through torture. But the Punjab police seem to be a breed apart whose mindset simply beggars belief. Urgent reform is in order to transform the force into protectors, not violators, of public rights.

Curtsey:DAWN.COM, — PUBLISHED MAY 14, 2010
Video:Pakistanis Mourn Killing Of Human Rights Activist Sabeen Mahmud
Depicting dismal state of human rights
XARI JALIL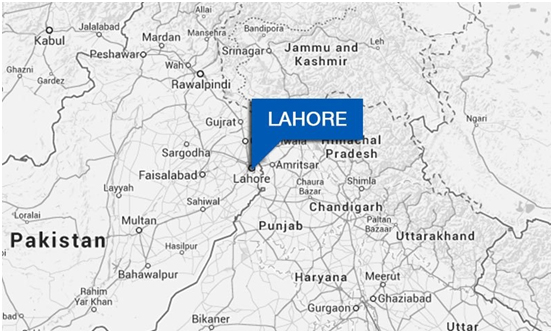 LAHORE: The Human Rights Commission of Pakistan launched two documentaries on Saturday at the Dorab Patel Auditorium.

Chief guest was Danish Ambassador Jesper Moller Sorensen who said the documentaries were 'forceful' pushing one to think of the human rights issues that Pakistan had to face on a daily basis.

"In fact I find it difficult to say much after watching these two documentaries, except that I know with even more strength why Denmark is supporting the people of Pakistan especially where human rights issues are concerned."

He said since 2010 especially Denmark had been giving development assistance to Pakistan, and Pakistan was a serious strategic partner. He said there was always support from Denmark for Pakistanis.

"Every individual has a right to the same opportunities. Even though Denmark is not a perfect country it is still in a better position to help Pakistan. And whatever religion you belong to, whether you are man or woman, child or adult, straight or gay, you have the right to access the same opportunities for a better living," he said.

Sorensen said Pakistan had many religious and sectarian problems as well as women's rights issues. "The unfortunate part is that I have been told that it has not always been like this in Pakistan, and it is a shame that it should continue like that," he said.

He specified that also because of international conventions, it was important that Pakistan must establish a better situation of the human rights.

Earlier as keynote speaker, I A Rehman said it was extremely important that the public in general must understand the importance of human rights issues in the country. "Usually English media does not tend to enable us to reach all parts of the country even though a large chunk of the population now, especially young people look to reading up information on the internet. That is why we have brought together some expressions of these human rights violations in the form of documentaries."

He said in the near future radio would also be used to spread the message across.

The two documentaries 'Zameer Ki Ainak' and 'Aurat, Bachay Aur Mazdoor' showed the many issues that violated basic rights. The first documentary spoke about conscience, and how as a Pakistani it was not impossible to ignore one's conscience because things had come to a head. More of a monologue with a montage of slides showing the grim reality of the country, this documentary was a question directed at how a person must be first accountable to oneself and then think of bringing about a change. Change, or revolution, said the film, does not come knocking at your door. You must bring it by first changing yourself. The second film was a series of parallel stories of different families whose lifestyles differ as do their socio-economic statuses and their mindsets.

So for instance the man who does not allow his daughter to study and instead is bent upon forcibly marrying her off, can easily be the same man who beats his daughter for challenging his arbitrary decisions, and who pushes away polio workers calling them 'Jewish agents'. The woman, who is running a political campaign from her neighbourhood, is pressed down by some men but she still rises after fighting against this status quo thought. And last, we see the suffering of a worker's family because of low pay and unemployment so much so that he cannot even feed his child properly every day.

Published in Dawn, May 31st, 2015
Crimes of 'honour'
EDITORIAL
Chauvinistic judges sometimes allow the plea of "grave and sudden provocation" to colour their judgments. - Reuters/file

When a category of crime draws sustenance from age-old cultural attitudes, particularly those pertaining to the concept of honour and a woman's place in society, legislation alone is an inadequate deterrent. Nevertheless, a beginning must be made, and so it was with the Criminal Law (Amendment) Act 2004 when, for the first time, 'honour' crimes were defined in the Pakistan Penal Code. The same piece of legislation also effected an important amendment in Section 311 of the PPC. This section specifies the penalties that can be awarded by a judge regardless of whether or not a compromise has been reached in a case of murder, including honour killings. The amendment set a minimum punishment of 10 years' imprisonment in cases where the offence is found to have been committed on the pretext of honour but, crucially, it did not take away judicial discretion in awarding punishment in such cases, or other instances of murder.

This meant that many husbands, brothers, fathers and other male relatives (victims of honour killing are overwhelmingly female) still manage to evade punishment. The Punjab government, reportedly spurred by the horrific murder of Farzana Iqbal by her family, in broad daylight, adjacent to the premises of the Lahore High Court in May this year, has now taken an important step towards strengthening the law pertaining to honour crimes.

It has proposed, among other amendments, that the word "may" be replaced with "shall" in Section 311, thereby removing judicial discretion and making the punishment mandatory in cases of honour killing whether or not a compromise has been struck. That such an amendment should be necessary is largely a comment on the cultural attitudes to honour which impact how — indeed whether — such cases are investigated, prosecuted and adjudicated upon. These attitudes hobble the case from the outset. Quasi legal mechanisms of justice, such as jirgas, often hand in glove with an unsympathetic law-enforcement apparatus, discourage victims' families from going to court.

The police, a product of the same society that gives rise to such crimes, brings its own biases to the investigation. Delays at the trial stage render a victim's family susceptible to social pressures because of the 'shame' associated with pursuing such cases. Chauvinistic judges sometimes allow the plea of "grave and sudden provocation" to colour their judgments. The issue must be addressed holistically: plugging loopholes in the law must go together with the sensitisation of police, medico-legal staff and public prosecutors.

Published in Dawn, November 18th , 2014
Dark tale of love and murder in Pakistan's rural heartland
REUTERS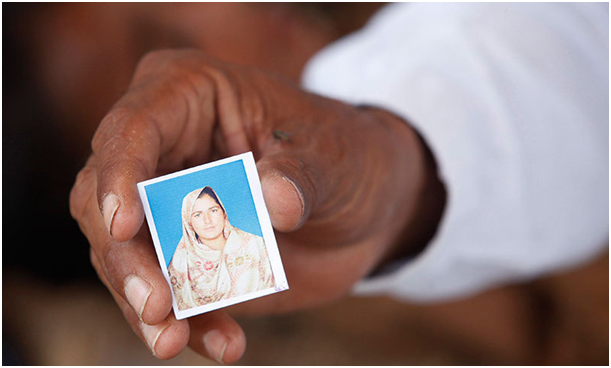 Muhammed Iqbal, 45, shows a picture of his late wife Farzana Iqbal, at his residence in a village in Moza Sial, west of Lahore, May 30, 2014. — Photo by Reuters

MOZA SIAL, Pakistan: A Pakistani man whose pregnant wife was bludgeoned to death by angry family members who did not approve of the marriage fondly recalled a brief life together with the woman he fell in love with at first sight. Farzana Iqbal, 25, was murdered by a group of assailants including her father on Tuesday, witnesses and police said, because she fell in love with and married Muhammed Iqbal in January instead of a cousin they had selected for her. "She was a very happy person. And she was the best wife anyone could ask for," Iqbal, 45, told Reuters in his mud-brick home in the village of Moza Sial in central Pakistan, 240 kilometres west of Lahore. "She never lied. She never broke her promises. That's what I loved and respected the most about her. She never let me down. But I let her down. It was my duty to save her and I let her down." The dark tale of love, betrayal and murder has stunned people around the world, with the United Nations condemning Farzana's killing and a major international newspaper running a photograph of the grisly aftermath of the attack on its front page. In Pakistan, a Muslim country of some 180 million people, the reaction has been more muted. Many conservative families consider it shameful for a woman to fall in love and choose her own husband. Refusal to accept arranged marriages frequently results in "honour killings". In 2013, 869 such cases were reported in the media, according to the Human Rights Commission of Pakistan, and the true figure is probably higher since many cases go unreported. News travelled further afield in this case partly because it took place in broad daylight outside the High Court in the city of Lahore, Pakistan's cultural capital.
---
Murder, marriage, murder
---
The couple's relationship was itself born of a shockingly violent act, one perpetrated by Iqbal himself. In a blunt admission, he said he killed his first wife in a fight over Farzana in 2009. "I got angry. We were fighting, the kind of fights husband and wife often have. But I held her by the neck and just meant to push her but she died," he said.

"I was going to see Farzana and she stood in my way and said she wouldn't let me go. So I pushed her. There was a murder case against me for three to four years but then my sons forgave me, so I went free. Then I married Farzana." Under Islamic law, which is accepted by Pakistani courts, victims' families can decide the fate of convicted criminals. On Tuesday, Farzana, her husband and other family members were attacked on their way to Lahore High Court, where they had planned to argue that their marriage was genuine in response to a charge of kidnapping brought by Farzana's family. "During the scuffle, one unknown accused brought out a pistol and fired a shot which reportedly ... hit Farzana near the ankle," said a Lahore police source.

"At the same time, the father, Muhammad Azeem, hit Farzana with a brick taken from the roadside, while Zahid, the brother, and Mazhar Iqbal, the cousin, also joined in. Farzana died on the spot." Umer Cheema, a police official in Lahore, told Reuters her autopsy showed that Farzana was shot in the shin, adding that police had arrested four people including her uncle Attaullah and her father.

A police source said Farzana had actually been married at the time of her wedding to Iqbal, but told the families she was engaged. Iqbal denied the previous marriage, saying his late wife's family used the accusation to build a case against him.
---
Wedded bliss
---
Iqbal, a farmer, cried as he prayed at the freshly dug grave of his wife. Leaves and rose petals were strewn over the earth, and the petals stained the back of his white shirt red. He said he and his wife had been threatened by her family several times after he told the father he was unable to pay more than $800 to win approval for the relationship.

Attempts in Lahore to contact representatives of the four arrested people were not immediately successful, and it was not clear whether they had lawyers.

Iqbal described his friendship and short-lived marriage with Farzana as blissful.

"Our lands are side-by-side and I used to see her when she came to her lands," he said. "I found her very beautiful and I fell in love with her. I asked for her hand in marriage and her family agreed at first."

"She used to love singing this song to me: 'Don't talk ill of the lover who is gone, Don't think bad of the one you love'. She would always sing this to me," Iqbal added, fighting back tears.

"When I took a shower, she would wait outside with my clothes. And she would sit me in front of the mirror and comb my hair. When I went to work on the fields, she often came along. I would tell her to go back home but she said she wanted to stay there with me." Her stepchildren from Iqbal's previous marriage said they loved her as their own mother. "She was my mother," said stepson Aurangzeb, 22, sitting alongside his father. "She would do anything for me. She was a beautiful person."

Farzana lived in the mud-brick home with Iqbal and his three sons. On the day she was murdered, she kissed the children good-bye before leaving for Lahore.

"We had to leave for the hearing. I can still see her walking around this room, getting ready. She changed her clothes, put on some cream, combed her hair in front of the mirror," Iqbal said.

"Then she sat down and put on her shoes. She kissed her stepsons and told them: 'I'm going away. If life remains, I will see you again'."

Curtsey:DAWN.COM — PUBLISHED MAY 31, 2014
Video:Punjab police torturing people
Human rights: 'Legislation needed against custodial torture'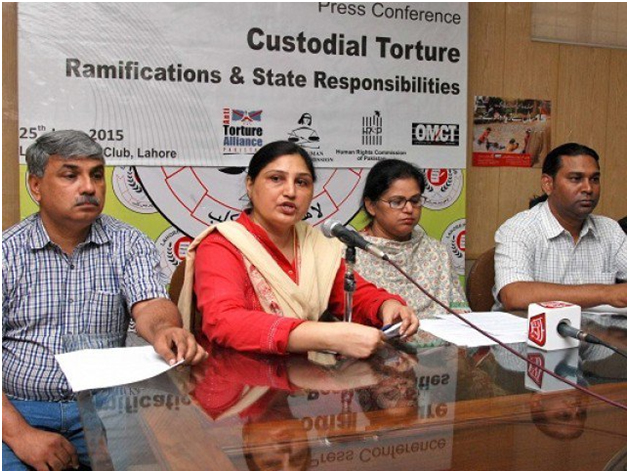 Human rights activist Bushra Khaliq addressing the seminar. PHOTO: EXPRESS LAHORE: Custodial torture is a crime and derogation against humanity, said participants of a conference arranged to mark International Day in Support of Victims of Torture on Thursday.

The Anti-Torture Alliance Pakistan, the Human Rights Commission of Pakistan (HRCP) and the Asian Human Rights Commission had arranged the conference. Human rights activists Asma Jehangir, Bushra Khaliq, Tanveer Jehan, Waqar Mustafa and Advocate Nadeem Anthony spoke on the occasion.

They said custodial torture legitimised violence and promoted impunity. The widespread use of torture by law enforcement agencies is a demonstration of primitive criminal justice system, they said.

"Torture is common in Pakistan. It is tolerated as a norm in our society." They said torture had become a common tool to obtain confessional statements and bribe from detainees. The speakers said that without effective legislation and a proper forensic system, torture-free investigation would remain a wishful thinking.

They said Pakistan had ratified the United Nation's Convention Against Torture (UNCAT) on June 23, 2010, but to date no law had been enacted to criminalise torture. "Although the Senate has passed a "toothless bill" against torture in January 2015, it needs some amendments in line with the UNCAT. The National Assembly must take up the bill in light of civil society demands." The speakers said that in the wake of GSP Plus status for Pakistan, the state's responsibility of effectively complying with the UNCAT had increased. The state's report on progress of compliance with 27 UN conventions, including the UNCAT, is due in six months. Therefore, according to the speakers, it has become important for the government to take steps to eliminate custodial torture. They also passed a resolution calling on the parliament to enact laws to criminalise torture. It demanded that the government end impunity for law enforcers they enjoyed in the name of national security. The resolution demanded that the government establish rehabilitation centres for victims of torture, and pay compensation to them.

It said the government should close private detention and torture cells. The government should respect international treaties, including the UNCAT. The government should take immediate steps to check incidences of abductions and disappearances. The resolution urged the government to release all those who had been forcibly disappeared.

The government should ensure security of human rights defenders, journalists, political activists, writers, students by developing a mechanism for their protection and safety, it said.

"The authorities should modernise the criminal justice system by establishing complaint centres. The parliament should legislate to change the colonial-era policing system."

The resolution urged provincial governments to check the menace of custodial torture. It demanded that the Punjab government improve human rights standards at police stations, lockups and jails.

Published in The Express Tribune, June 26th, 2015.
Damning figures in HRCP report on violence against women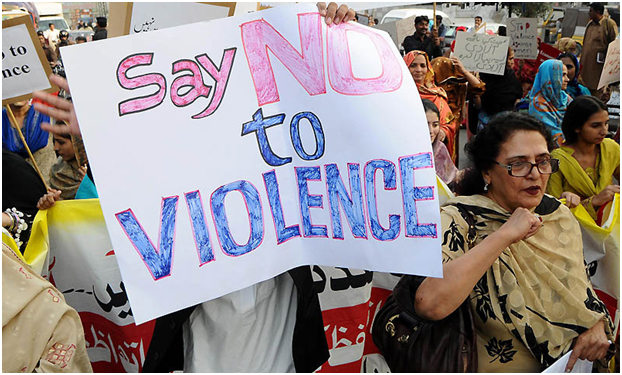 Women march during a rally on violence against women in Lahore. — Photo by AFP LAHORE: Alarming figures of increasing cases of violence against women were presented in a Human Rights Commission of Pakistan (HRCP) report issued recently.
Violation against women is widespread in Pakistan and exists in various forms be it domestic violence and abuse, sexual abuse and harassment, acid attacks, honour killings, restricted freedom of movement to downrightbarring of women from casting their votes in the elections.
The Commission in its statement said: "HRCP has watched with grave concern the rising incidence of violence against women in Pakistan in recent days. Unfortunately, such incidents have always been commonplace in the country but now such reports are coming not from far-off places but from the main cities."
Several cases of rape have been reported from Punjab in the past few days, including that of a five-year old child. To give an idea of the scale of the problem, in the city of Lahore alone,police have registered 113 cases of rape from January 1 to August 31 this year.
In the same period, police in the provincial capital of Punjab registered 32 gang-rape cases.
Most of the victims were teenage girls.
The problem in hardly confined to Punjab.
The plight of Kainat Soomro, a young rape victim in Sindh, and the excesses she has had to endure in her efforts to bring her tormentors to justice are there for all to see.
Her ordeal represents how rape victims who have the courage to pursue their rapists are left to fend for themselves.
Moreover, according to media monitoring by HRCP, until the end of July this year, at least 44 women became targets of acid attacks in the country,seven of whom had died due to their injuries.
As many as 44 women had been set on fire; 11 had died in such attacks.
Furthermore, as many as 451 women had been killed in Pakistan in the name of honour in 2013 by the end of July, compared to 918 killed in 2012.
Earlier this week, three women were shot dead by family members in the name of 'honour' in Khyber Pakhtunkhwa province.
Furthermore, HRCP is acutely concerned that risks have grown for all those who try and help the victims is any manner or try to expose the excesses.
Human rights defenders who try to highlight excesses against women have become particularly vulnerable, the statement issued by the HRCP said.
In fact, an HRCP staff member had to be relocated just a fortnight earlier because his reporting of a woman's beating by her relatives upset the family to the extent that they threatened to kill him and started following him.
Such targeting of a section of population solely on account of gender is utterly unacceptable and it is a matter of shame that the society at large has not felt compelled to raise a strong enough voice to putting an end to this travesty, the commission said.
HRCP has called upon the state authorities to include ending violence against women and impunity for the violators to its list of priorities in order to dispense justice to half the population of the country.
The commission's statement said it hoped that these steps would includeawareness campaigns and would not merely be confined to making changes in laws that then remain unenforced.
Curtsey:DAWN.COM,Sept 18,2013
Human Rights Directorate wronged by government
By Umer Farooq
Federal govt has yet to give K-P a total of Rs.6 billion as its share under the NFC award. PESHAWAR: When the rights of the Human Rights Directorate itself are violated, it appears the people of Khyber-Pakhtunkhwa stand little chance of defending their civil liberties.
The authority has a scarcely believable Rs10,000 to spend every year on seminars and awareness campaigns. Insiders allege the finance department creates hurdles in releasing funds for HRD.
Officials at the directorate reveal that only a handful of people are even conscious of its existence and that's the reason there is little knowledge of the body's role.

They say most complaints are forwarded to it by other government departments as very few people lodge their complaints. "We receive majority of the complaints from the Chief Minister's Complaint Cell as there is no advertising to promote the directorate," an HRD official says.

The official explains the total budget allocated for the directorate is Rs1.57 million annually of which Rs1.24million goes into salaries and just Rs0.33million is left for operational expenses.

"The directorate has been allocated Rs10,000 annually for campaigns and seminars," the official complains. He adds that other departments, including the Right To Information Commission, have been put on the map thanks to sessions and seminars.

"If you do not advertise your product, how will you attract people?" the official asked. He said the government must look into the matter since the HRD is supposed to deal with a major portion of the general public. Another official says the directorate does not even have money to buy stationery and pay for transportation expenses. "Officially, you have to change tyres of vehicles after every 50,000 miles covered, but our cars run for 80,000 miles before getting fresh rubber.

When you bring in a guest, you offer tea at least. It is so embarrassing when something so basic is unavailable at the office," the official concludes. When contacted, HRD Director Noor Zaman Khattak says the finance department treats money meant for the directorate as if it belongs to the latter and is not for spending on the public.

"It [finance department] is violating basic rules and expects us to protect the general public's rights," Khattak says. He adds their telephones have been dead due to non-payment of bills and the department concerned has been informed about this on several occasions. However, he adds that it seems least bothered.

When contacted, K-P Minister for Finance Muzaffar Said tells The Express Tribune that the issue has not been brought to his attention. He asks HRD officials to see him so that all issues are resolved at the earliest. "I would suggest the matter be discussed directly with me so that officials concerned are questioned," the minister said.

Published in The Express Tribune, September 16th, 2015.
Tackling torture
Another day marked on the calendar of global human rights has been observed in our country as it has been in others. Seminars were organised by human rights organisations and others concerned with the welfare of citizens in both Karachi and Lahore to mark the International Day in Support of Victims of Torture on Thursday. Speakers at both seminars spoke for the need for legislation to bar the endemic use of torture in our country and also for Pakistan to abide by the international conventions it has signed against torture. We all know how commonplace torture is in our jails and police stations. But the picture is, in international terms, a far more complicated one. The reality, as has been demonstrated at Guantanamo Bay and also other prisons run by the US, is that even the world's most developed countries which claim to uphold human rights around the world have little hesitation in using torture when they believe they need it. Ridding ourselves of the horrors this involves will be no easy task.

In our country, it is made even more complex by the fact that our police receive very little training in methods of interrogation and inquiry. Collecting forensic evidence at the scene of crime is still not a common feature of investigations. In this situation, all that is left is torture-based confessions. It is the only means the police believe they have at their disposal to make a case. The results can be devastating. Only recently we saw the case of Bahadur Masih, a juvenile when he is said to have committed the crime he was convicted of, hanged as a result of a confession allegedly obtained under torture. On the global front, we have seen how it is not only oppressive regimes that are the main perpetrators of torture against citizens but also so-called democratic civilised nations. The war on terror has produced horrific cases of torture and state impunity – especially in the US and its 'terror' prisons in Iraq and Afghanistan. This is an international problem and has to be dealt with urgently; indeed countries around the world need to sit together to find solutions to a problem that has existed for centuries and which shows no signs of being seriously taken on by any country.

Curtsye:The News, Sunday, June 28, 2015
Karachi
'Parental neglect a subtle form of child abuse'
Anil Datta
Karachi
Hunger and poverty are major issues in the defective bringing up and nurturing of children but parental neglect is an equally lethal yet subtle factor which is often ignored.

These views were expressed by Nafisa Shah, an MNA of the Pakistan People's Party and the chief of party's human rights cell, while presiding over a seminar titled "Protecting our children: a dialogue on child's rights in Pakistan".

It was organised by the PPP's human rights cell at the Pakistan-American Cultural Centre (PACC) on Friday evening.

She said neglect of children by parents robbed them of much-needed love for which they compensated by looking for attention outside home and thereby becoming vulnerable to all kinds of pernicious influences, which could jeopardise their futures.

She congratulated the PPP's human rights cell for highlighting this all-important issue which had not received due attention and was often just pushed under the rug.

"We want to inculcate progressive thinking in Pakistan. We should strengthen linkages with the media and civil society to bring about a sea change in the attitude of parents towards children and most of all, force the government to speedily implement resolutions on the rights of the child," she said.

Nafisa said the recent superlatively despicable Kasur incident had shocked the world. "It is a scar on our national conscience but the Punjab government seems to be least bothered and is may even be shielding the heinous culprits because they are big wigs of the area," she said. "We must learn to confront such heinous issues boldly. We have to initiate an awareness drive."

Former journalist and an executive of the Pakistan Institute of Labour Education and Research (Piler) said Pakistan lagged far behind in the endeavour of child rights and its important must not be relegated.

He said today even international trade was deeply intertwined with progress in implementing human rights while referring to the legislation by the European Community (EU) of not importing anything from countries where child labour was rampant.

The Right Reverend Nazir Alam of the United Church of Pakistan condemned child abuse and said all religions considered it an abomination. He most strongly condemned the Kasur incident.

Syed Najmi Alam, the Karachi president of PPP, said that unsavoury events should not be concealed. He said children who got involved in earning a livelihood at the age of eight or ten years were far worse off than those who went to school because they had to put up with corporal punishment and maltreatment. He said the government has to provide for such children. "Education of every child is the state's responsibility," he said.

Noted industrialist and business tycoon Majyd Aziz lamented that laws were made but nobody ever bothered to implement them. Like other speakers before, he too lamented that there was this national tendency to evade an unpleasant issue. In this context, he said carpet makers denied that any child labour was involved in the manufacture of carpets while the EU insisted that it was. The Bangladeshis, however, admitted that child labour was involved in the garments industry and decided to dispense with the children's services and instead, train and employ their mothers. As a result of that, he said, Bangladesh's garments exports had increased up to Rs32 billion.

He said between 2002 and 2006, child sex abuse cases had posted a 50 percent increase, which, he thought was because the government didn't bother to implement anti-child abuse legislations.

Advocate Rana Asif said the PPP would work untiringly for the elimination of child abuse and corporal punishment in schools. He said there were so many joints where pornographic material was being purveyed unchecked which was accessible to children and was polluting their young, innocent minds, which, he said, was also a form of abuse.

But the sharks running the businesses were just not bothered and all they were concerned with was fattening their coffers. He said there were 963 traffic signals in town where children were often maimed and were forced to beg.

Vice-President of the Human Rights Commission of Pakistan (HRCP) said poverty was the main culprit in child abuse in our country. He said that police high-ups and other responsible officials were just not prepared to talk on the heinous Kasur tragedy.

Shahida Rehmani said that both the Constitution of Pakistan and Islam strictly forbade the maltreatment of children. She said Punjab, in particular, was one of the provinces where massive child abuse was taking place.

Curtsye:The News, Saturday, September 19, 2015
'Torture in state custody on the rise'
LAHORE
There is a need to bring about change in attitudes, frame laws and implant them effectively to check increasing violence in Pakistani society, said speakers at a seminar held here on Thursday.

Addressing the seminar, Human Rights Commission of Pakistan (HRCP) secretary general IA Rehman said that torture in state custody was on rise in different shapes, including extra judicial killings and disappearances, violating local and internationally-ratified laws.

The seminar – "Fight against Torture in Custody" – was arranged by Initiative for Peace and Freedom (IPF), a non-government organization working on peace and freedom, in collaboration with Asian Human Rights Commission (AHRC), a Hongkong-based human rights group. It was held at the HRCP auditorium.

The seminar was addressed and participated in by lawyers, human rights activists, journalists. Speakers demanded the government of Pakistan make laws according to the UN Convention Against Torture and implement the laws in letter and spirit to check the increase in trends of violence by state and non-state actors. Immediately after signing the UN convention, Pakistani government had shown its reservations on almost all important articles of the CAT, which provided protection against torture by state. The reservations are coming from Pakistani at a moment when the head of the state, President Asif Ali Zardari, himself has said that he has been tortured in the state custody as a political prisoner.

The main source of torture in Pakistan, in particular, and in South Asia, in general, is the physical remand in custody, HRCP reports. According to the law, a judge or magistrate who allows remand and police custody has to ask the accused whether he or she has been subject to torture but this practice is generally not followed.

I A Rehman said that the judicial remand of accused persons in Pakistan had become a joke, adding that accused persons were tortured against the law for the forced confessions.

Highlighting the misuse and abuse of laws against torture in Pakistan, he said the state tortures further gave a justification to the private torture. "Resultantly, the society is becoming more violent and intolerant," he said, and added that studies and reports showed that the incidents of Karo-Kari were on rise in Pakistan.

He said the gun had takeover discourse and dialogue, unfortunately, adding that torture was increasingly become part of our culture. There is no remedy to extra judicial killing despite the ratification of UN CAT, he said. Only a few are sentenced on violating law and torturing and killing people in custody, he claimed.

He urged the Pakistani government and state authorities to frame laws and make rules in the line with the CAT after its ratification in 2010. "We need to make rules and create forums which the convention demands." He said that non-state violence in the name of religions, culture and social customs was adding to the miseries of the citizens.

The state torture and organized non-state violence always affected the society negatively. He said the use of gun and ammunition was also becoming a common resort of torture in Pakistan.

Not to condemn the torture is also an indirect approval of torture, he said, demanding of the government to take the Convention Against Torture seriously. In Pakistan, he maintained, there are many laws and conventions which are not being implemented.

Husain Naqi, a veteran journalist and activist, said that the reservations of Pakistan against CAT after its ratification were raising serious concern in the international community and UN circles. The Pakistani parliament had also not been taken into confidence on the CAT and its reservations. He said though Pakistan had taken back some reservations but still main points were to be addressed.

Senior journalist and activist Wajahat Masood said that the incidents like killing of a boy by Pakistan Rangers in Karachi and brutal firing and killing of five foreigners in Kharotabad, Quetta, reflected the rise in torture by the state even before taking people into custody and formally accusing them of any crime.

Curtsey:The News, Friday, July 01, 2011
Pakistan needs law on domestic violence: Nasira
LAHORE
JUSTICE (r) Nasira Javed Iqbal has said that Pakistan needs law on domestic violence, as majority of crime against women are of domestic nature but they are not reported due to our weak social and legal system.

According to a press release, while speaking at a seminar organised by the Ravians Law Society at Government College University (GCU) in connection with the International Women's Day, she further said law enforcement authorities more often did not view domestic violence as a crime and usually refused to register cases.

GCU Vice Chancellor Prof Dr Muhammad Khaleeq-ur-Rahman also attended the seminar which was addressed by a large number of successful women from different walks of life.

"If we don't protect a woman at her home and ensure its domestic rights, how can we protect her in the world, which is ruled in majority by men?" questioned noted human rights activist Justice (r) Nasira Javed Iqbal who is the daughter-in-law of Allama Muhammad Iqbal.

Justice (r) Nasira Iqbal urged the political parties to select female parliamentarians on merit for reserved seats; not on the basis of nepotism and favouritism. "I don't see any true female human right activist, teacher, scientist, nurse or doctor in the parliament on reserved seats," she regretted.

She stressed the women's rights were also being affected due to delay in local bodies elections. She said the participation of women in politics at the union council level provided strong base for empowerment of women in the country besides these women played a crucial role in resolving the social and domestic issues of their gender in their community.

She also urged the educated young girls to contest the local body elections and contribute their skills in grooming health, sanitary and education personalities at grassroots level.

Curtsey:The News, Thursday, March 13, 2014
HRW report voices concern over rights violations
Meeran Karim
Lahore
The Human Rights Watch (HRW), a globally renowned independent monitor of rights and civil liberties, in its annual World Report 2015 released on Thursday has strongly criticised the government for neglecting the alarming situation of human rights in the country.

In the detailed country chapter of Pakistan, the HRW 2015 report has observed that Pakistan had a 'tumultuous' year in 2014 with the continued increase of sectarian attacks perpetrated with impunity, the displacement of 1 million people in the North, and catastrophic floods in Punjab and Sindh in 2014.

Criticising the government for its response to PTI and PAT public sit-ins in Islamabad, the Human Rights Watch censured the federal government for imposing a state of emergency in the capital, thus suspending fundamental rights of citizens including the right to petition courts to enforce constitutional guarantees.

Evaluating the political situation of the volatile country, the global monitor of human rights also criticised PAT and PTI for undertaking 'violent opposition protests' that HRW believes threatened to undermine gains achieved by Pakistan after the first civilian transfer of power in the country following the 2013 electoral victory of PML-N.

The protests in Islamabad led by opposition figures Imran Khan and Dr Tahirul Qadri prompted violence by both the protesters and law enforcement officials that resulted in at least three deaths and hundreds of injuries, the HRW report stated. Taking note of attacks on religious minorities, the Human Rights Watch report featured the tragic killing of a Christian couple in Kot Radha Kishan by a mob in November, assassination of lawyer Rashid Rehman in Multan in May, and the attack on minorities in Gujranwala by a mob of hundreds in July last year. The government failed to provide protection to religious minorities as a result of attacks against these communities increased, the annual HRW report said. Additionally, HRW observed that the government failed to successfully prosecute and imprison those groups behind sectarian attacks in the country, with the city of Karachi resultantly being a "hotbed of sectarian violence."

Addressing the condition of internally displaced persons, HRW has stated that the government did not 'adequately' respond to the health needs of displaced people and restrictions on independent media access make it difficult to objectively assess their condition. It noted that the UN High Commissioner for Refugees (UNHCR) Pakistan representative in July reported on lack of potable water, sanitation facilities, and healthcare in camps set up for displaced persons. Due to this negligence, HRW noted that this has led to widespread breakout of communicable diseases.

Referring to crimes perpetrated against women in Pakistan, the Human Rights Watch report highlights that honour killings, rape, acid attacks, and forced marriages of women remain routine parts of daily life, with an average of 1000 honour killings taking place in the country every year.

In a case which generated media hype, 25-year-old and three months pregnant woman Farzana Parveen was stoned to death outside Lahore High Court by her family members for honour. The HRW believes that perpetrators of these killings often enjoy impunity because the police routinely drop such cases, and intimidation and threats face women who chose to go public in the country.

Meanwhile, at least 1,000 girls belonging to Pakistan's Hindu and Christian communities are forced into marriage every year through abduction. The government has failed to act against forced marriages, the HRW report 2015 noted with concern.

Accountability of law enforcement agencies also showed no signs of improving in 2014, the HRW report observed, and taking note of the Model Town tragedy in which at least eight PAT members were killed and 80 injured, it noted that the police fired without warning and used 'excessive' force.

Freedom of expression and media came under pressure in 2014, stated the HRW report, with attacks on senior journalists Hamid Mir, Raza Rumi, and death threats to journalist Omar Quraishi, and columnist Kamran Shafi last year.

Curtsey:The News, Friday, January 30, 2015
HRCP report paints grim picture of human rights
Myra Imran
Islamabad
Presenting a grim picture of human rights situation in Pakistan, Human Rights Commission of Pakistan (HRCP) launched its much-awaited annual report 'State of the Human Rights in 2012' on Thursday.

The report terms 2012 a year of challenges for Pakistan where government did not prove 'equal to the task' but side by side mentions the completion of the democratically elected government as an unprecedented milestone.

The report also mentions that 2012 saw a state of confrontation between the judiciary and the executive. As a result, Prime Minister Yusuf Raza Gilani was convicted of contempt of court and lost his office and seat in the National Assembly. His successor barely escaped the same fate and eventually complied with the SC order.

The report says that Pakistan faced 1,577 terrorist attacks in 2012 claiming the lives of 2,050 innocent people and causing injuries to another 3,822. The report further said more than 100 Shia Hazaras were killed in Balochistan alone and at least 2,284 people died in ethnic, sectarian and politically-linked violence in Karachi during the year 2012.

The HRCP received reports of 87 missing persons among which 72 were either traced or released whereas 72 dead bodies of individuals who had gone missing in previous months were recovered from Balochistan. "These statistics are just tip of the iceberg as a large number of cases were not reported," said HRCP's former chairperson Asma Jahangir. Other prominent personalities who addressed the press conference included HRCP Secretary General I A Rehman, Director Hussain Naqi, Council Member Nasreen Azhar and editor of the report Najmud Din.

Presenting highlights of the report to media persons, HRCP Co-Chairperson Kamran Arif shared that in March hundreds of attackers blew up the gates of Central Prison in Bannu and succeeded in releasing 384 prisoners and there were a total of 75,444 detainees in prisons of the country against the authorised capacity of 44,578. There were 1,289 juvenile prisoners in jails across the country, and an overwhelming majority of them was under trial, it claimed adding, 59 detainees died in the custody of prison authorities while another 81 were injured and 10 incidents of alleged torture of detainees were reported.

Regarding law and order situation in the country, 350 police encounters were reported from across the country in which 403 suspects were killed while 48 drone attacks took place in Fata in 2012 as compared to 74 in 2011. Around 583 people were killed and 853 injured in 213 incidents of sectarian-related terrorist attacks and sectarian clashes in the country, it said adding, in Karachi, at least six churches were attacked, two of them within a period of 10 days in October.

During 2012, 14 journalists were killed while performing their journalistic duties. "This year was also bad for human rights defenders. Many of them were killed and many received threats by different sources and means," said Asma Jahangir while giving the example of attack on Malala in October.

The report says that according to United Nations Educational Scientific and Cultural Organization, at least 5.1 million Pakistani children were out of school among which 63 per cent were girls. At least 121 schools were targeted by militants opposed to education, especially girls' education. As many as 913 girls and women were killed in the name of honour in 2012 and 74 per cent of the girls married off in Charsadda and Mardan districts of Khyber-Pakhtunkhwa in 2012 were under 16.

The report termed 20th Constitutional Amendment, which was related to electoral matters, most significant enactments in 2012. The law for the establishment of a National Commission of Human Rights came into force while the National Commission on the Status of Women became autonomous. During the year 22 Acts were made and eight ordinances issued. The report mentions the approval Fair Trial Bill of 2012 in the National Assembly as another step forward in improving the human rights situation in Pakistan.

Among other positive developments, the report talks about the registration of 84 million voters, 47 million male and 36 million female. Another encouraging factor was that Pakistan got a prominent slot in world rating regarding women in parliament and it stood at number 52 in the world ranking of countries according to the percentage of women in parliament. A marginal decline was also observed in infant mortality and under-five year mortality rates in 2012 whereas, 58 cases of polio were reported from 28 districts of the country.

Regarding health, the report says that Pakistan ranked sixth among the 22 high-risk tuberculosis countries. About 1.6 million cases of malaria occurred annually and one out of every nine women faced the risk of breast cancer which resulted in 40,000 deaths every year in the country.

About freedom of movement, the report says that in Moharram, the Punjab government barred 929 clerics from entering Punjab and 439 clerics were banned from making speeches. After attacks on Shia pilgrims travelling through Balochistan in 2011, it was made mandatory for the pilgrims to obtain a no-objection certificate from the authorities before starting off on their journey to Iran via Balochistan but killing of Shia pilgrims continued in 2012.

The issue of blasphemy law reform was left untouched. Rimsha (14), a Christian girl, charged with burning the Holy Quran was acquitted but Ryan (17) stayed in jail, and Sherry Rehman, envoy to the US, faced being booked for blasphemy.

Regarding freedom of association, restrictions on forming trade unions remained in force in 2012. Trade union leaders also faced serious risks to their lives. At least 356 political activists were killed in 2012 in Karachi alone on account of their party affiliation.

Housing shortage continued to be acute and the number of people in main cities who slept in the streets increased.

The floods destroyed 275,720 dwellings in Sindh and parts of Balochistan while the rehabilitation of the people rendered homeless by natural disaster or conflict since 2005 was yet to be completed. Despite notice of their excesses being taken by the Supreme Court, the land mafia in Karachi remained unconquered.

Talking about Article 62 and 63, I A Rehman said that they have been opposing this addition of Zia's era since 1990's and the same demand also made part of their recommendations for 18th Amendment. He demanded conclusive action on the cases of missing persons. "There are reports of people being picked up from almost all parts of the country. We hope that matters will change with the change of government," he added.

Curtsey:The News, Friday, April 05, 2013
HRCP presents dismal rights picture
By Xari Jalil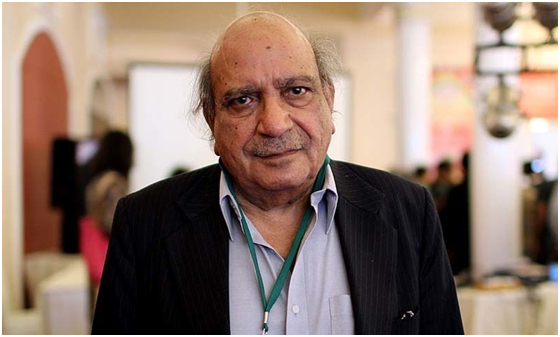 "Perhaps the only positive things — if one wants to see them as positive — is that provinces were more active in making laws this time thanks to the 18th Amendment, and also that perhaps the number of missing persons in Balochistan decreased this time but only very slightly," Mr Rehman said. — Sara Faruqi/ File LAHORE: "The state of human rights in the year 2014 overall has been bad," said I.A. Rehman. The HRCP general secretary was speaking at launch of the annual report on the State of Human Rights (for 2014) at the HRCP auditorium on Friday.

The findings in the report denote that the condition of the country regarding human rights, journalists' safety, labour and unemployment, the justice system, including prisoners' rights, forced disappearances, missing persons and encounters, freedom of thought, conscience and religion, the status of refugees, and the state of education, health, housing and environment was in bad shape.

"Perhaps the only positive things — if one wants to see them as positive — is that provinces were more active in making laws this time thanks to the 18th Amendment, and also that perhaps the number of missing persons in Balochistan decreased this time but only very slightly," Mr Rehman said.

HRCP Chairperson Asma Jahangir said the government's performance was obviously not good enough. "When the government or state fails to protect human rights and other related problems then other institutions try to fulfil this role, but this often leads to a clash between institutions."

The statistics in almost all sections remain as appalling as the year before. Law and order was considered to be the biggest problem. Sindh police, for example, registered 1,261 cases of kidnapping of women for forced marriages in 2014. There were 114 cases of acid attacks in Pakistan, involving 159 victims. About 1,723 people were killed and 3,143 injured in 1,206 terrorist attacks, including 26 suicide hits. There has been a significant increase in sectarian violence too because of which 210 people were killed. Professionals were also not spared and 12 doctors and 13 lawyers were killed in targeted attacks, along with 14 media practitioners, while threats to journalists still continue with no safety given to them. Forty-five polio vaccinators and their facilitators were also killed during 2014.

The HRCP monitored 63 killings of people in custody, including four women and two minors, while FIR was registered only in 14 cases. Forty-seven people, including seven women, underwent custodial torture.

Commission's annual report shows last year the situation was as bad as in the preceding year There were 3,392 encounters in 2014 as against 2,616 in 2013 in Sindh, where the number of encounters has risen; 925 suspects were killed in shootouts and 160 personnel of police and Rangers fell in the line of duty in Karachi. Khyber Pakhtunkhwa police killed 26 persons in encounters. Punjab police killed 276 suspected criminals and arrested 322, while 27 policemen died and 59 suspected criminals and 73 policemen got injured in 283 encounters in 2014. The situation of minorities is just as dire. Eleven churches and Hindu temples were desecrated in Sindh, including in Karachi. Two attacks were also carried out against the Zikri sect in Balochistan. A total of 144 incidents of sectarian violence were reported across Pakistan out of which 144 were sectarian-related terrorist attacks and three were sectarian clashes. Perhaps one of the most horrifying incidents in 2014 was when a Christian couple in Kot Radha Kishan were lynched and burned by a mob in a brick kiln for allegedly desecrating the Holy Quran. A total of 11 Ahmedis lost their lives in targeted attacks. It should be noted that no laws were made by the federal government to safeguard the interests of religious minorities and only two bills related to minorities were passed at the provincial level by KP. (KP has had the highest law making performance followed by Sindh.)

Around 157 families belonging to religious minorities were among those displaced from Fata due to Pakistan Army's operation against militants in the region. Some of these families reported facing discrimination at the IDP camps. At the same time about 597 women and girls were gang-raped; 828 raped; 36 stripped in public; 923 women and 82 minor girls, including 21 in Gilgit-Baltistan, fell victim to honour killings. Seven women died in acid attacks on 92 women and 13 minors; 60 women expired in other incidents of suspicious nature like cylinder blasts, stove burning and setting on fire. Pakistan was ranked second to last in gender equality regarding access to health care, education and work (Global Gender Gap Report 2014).

There were some positive instances, including the regularisation of 47,000 LHWs, in Punjab. The Punjab government also announced the establishment of 65 day care centres and introduction of training programmes for 4000 women from rural areas. KP recruited 36 women as the province's first female anti-terror squad commandos who trained alongside men, along with women facilitation desks at police stations.

Baluchistan criminalised domestic violence by passing the Domestic Violence Prevention and Protection Bill in June 2014. Pakistan was also given GSP-Plus Status on Jan 1, 2014, by the EU which calls for compliance with 27 international conventions, including eight ILO core labour conventions.

The Privatisation Commission announced plans to privatise nine entities which sparked countrywide protests. Meanwhile, 82 workers died and 88 were injured in 36 occupational accidents.

Little has also been done to protect workers' rights. With 306 new polio cases, Pakistan has been ranked the worst polio affected country. The cases accounted for 86 per cent of the 356 detected worldwide during the year.

Infant mortality rate was 95 per 1000 at least 30 more than in other countries. Deaths from pregnancy-related complications stood at 276 per 100,000 live births.

Environment remained in a dire state, although all provinces had legislation related to environmental protection in place. Climate change caused food shortage and floods in many regions. In Tharparkar, 650 children lost their lives due to drought (and malnutrition, and also lack of medical care).

Sahil's data related to child abuse revealed that 311 cases of sexual abuse of children had been reported from January to September with 214 girls and 97 boys falling prey in Rawalpindi and Islamabad. A total of 120 children faced corporal punishment during the year. The Sindh Child Protection Authority Act 2011 awaited implementation in the province despite the lapse three years ago since its enactment. There are many other statistics and numbers highlighted in the report.

Curtsey: Dawn, April 18th, 2015
Speakers highlight human rights contradictions
By Perwez Abdullah
Karachi
South Asia and Africa have the worst human rights record in the world, but even Europe, which has rather a commendable record overall, falters when it comes to the human rights of "Third World" citizens. This general consensus was reached on Wednesday at a workshop titled, "Human Rights: Universality and Disparity in South Asia, Africa and Europe." The event was jointly organised by the University of Karachi's (KU) Area Study Centre for Europe (ASCE) and the Hanns-Seidel Foundation.

Veteran journalist Ghazi Salahuddin was the discussant in the first session, while Zahra Shahid Hussain assumed the role in the second session.

Human rights activist I.A Rehman gave an overview of the UN Declaration on Human Rights and other international agreements that have tried to safeguard human rights in different countries. Rehman pointed out that human rights outfits had to design specific tools for specific groups. These include conventions on the rights of children, laws againt the discrimination of women and labour, etc. "Some countries say that their laws and regulations are better than the UN's and so they are not bound to accept the latter," he commented.

Retired Senator Iqbal Haider, who is also the Co-Chairperson of the Human Rights Commission Pakistan (HRCP), spoke at length about human rights issues in Pakistan, and the responses of successive governments. Haider said that it was the right of the people to be governed by their chosen representatives. Citizens also have the right to education, political, economical and ideological freedom, gender rights and the right to live with the basic amenities of life.

Haider deplored the fact that successive governments in Pakistan had a very bleak human records record.

Haider defended "Judicial activism" on the grounds that citizens could not be left "to the whims of the Executive". He also thought that the democratic system might have flaws but it should be strengthened. "Article 9 of the Constitution defends the rights of the citizens, and the judiciary has the duty to defend these rights if the Executive falters in its duty in this regard," Haider said.

Assistant Professor at the ASCE, Uzma Shujaat, showcased human rights abuses in Darfur and the EU's responses. She suggested that the genocide in the region was one of the biggest crises of modern times. "With over two million people dead, the world should have risen to stop it but unfortunately except a few countries that showed half-hearted support, and then receded into the background, the global fraternity has remained aloof from the tragedy. The Arab and Muslim countries are the biggest offenders in the backdrop of their apathy. The Darfur genocide was not on the basis of religion as both sides were Muslims. It is an ethnic strife where Arabs are pitted against Africans. The govt in Khartoum supported the Arabs," she said.

Political Analyst Lt Gen (Retired) Talat Masood, KU Pakistan Study Centre Director Dr Syed Jaffer Ahmed and ASCE Deputy-Director Syed Imdad Shah also spoke on the occasion.

The News: Thursday, July 23, 2009