By Niha Dagia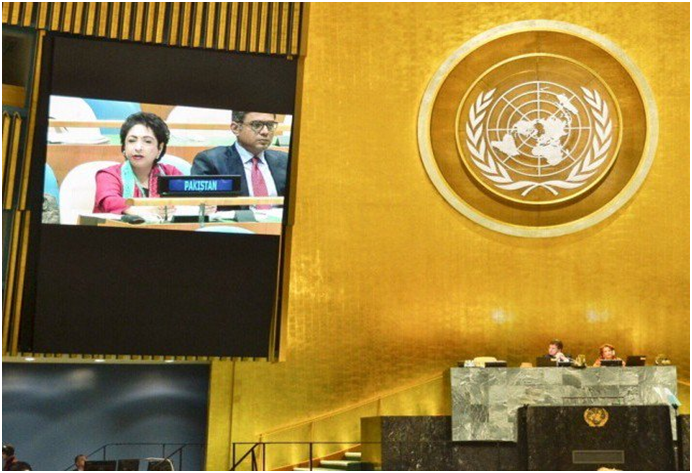 Ambassador to UN Maleeha Lodhi says India has considerable experience in state sponsorship of terrorism in our region.
PHOTO COURTESY: @LodhiMaleeha
India is the mother of terrorism in South Asia, the Pakistan's permanent ambassador to the
United Nations told world leaders, highlighting the Modi government's continued ceaseifire viola-
tions and fuelling insurgency in the country.

Maleeha Lodhi remarked in response to the terrorism allegations made by India against Pakistan
at the 72nd United Nations General Assembly (UNGA) session in New York on Saturday.

Lodhi said Foreign Minister Sushma Swaraj's comment betrayed the hostility New Delhi had against
Islamabad. "Hostility that Pakistan endured for 70 long years," she said, adding, "Repeating false-
hood a year after year cannot conceal the truth."

She added: "India has considerable experience in state sponsorship of terrorism in our region. It has
sponsored and perpetrated terrorism and aggression against all its neighbours."

Referring to the India's premier spy agency RAW-sponsored insurgency in Balochistan and rest of
the region, the envoy told the UNGA session: "Creating terrorist groups, destabilising and block-
ading neighbours to do its strategic bidding. And sponsoring subversion, sabotage and terrorism
in various parts of Pakistan."

All this establishes that India is the mother of terrorism in this region, she maintained.

Lodhi observed that New Delhi was using terrorism as a state policy and Indian spy Kulbhushan
Jhadav had already confessed that his country supported terrorist activities in Pakistan.

During the second right of reply, the ambassador stressed that the Indian foreign minister spoke
about human rights but used forced in Indian-occupied Kashmir. "Let me ask who is using pellet
guns that are blinding unarmed protesters including children in IoK? Who is violating fundamental
human rights? Who is using rape as an instrument of terror, an instrument of state policy?"
questioned Lodhi.

Highlighting 'war crimes' in occupied Kashmir, Islamabad called on the international community to
investigate human rights violations, end the impunity enjoyed by the Indian security forces and lift
the draconian emergency laws in the disputed territory.

She urged the UN to punish those responsible for the ongoing genocide in IoK. Despite Indian
aggression, Lodhi made it clear that Islamabad was open to dialogue to resolve all issues.
Source:www.tribune.com.pk, Published: September 24, 2017
Pakistan lobbying in UN to get India declared state
sponsor of terror
By Amir Khan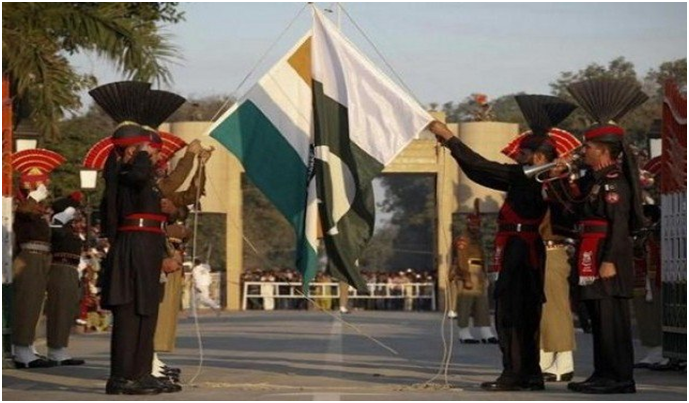 PHOTO:REUTERS
KARACHI: Pakistan is lobbying in the United Nations to get India declared 'State Sponsor of
Terrorism', Daily Express has learnt from highly credible sources. As a result of such a designa-
tion, a wide range of sanctions are imposed on the state.

Islamabad has also decided to raise at the global forum the issue of unabated ceasefire violat-
ions by Indian border guards, according to sources.

A resolution will be moved in the UN Security Council after approval from Prime Minister Shahid
Khaqan Abbasi, they say, adding that all veto-wielding members of the Security Council, especially
China and Russia, will be approached to garner their support. Beijing is said to be already on board.

Pakistan will also take the United States into confidence on the issue, according to sources.

An American delegation is due in Islamabad next month for high-level talks, according to an under-
standing reached in a meeting between Premier Abbasi and US Vice President Mike Pence.

Sources say Pakistani officials will impress upon their American counterparts to build up diplomatic
pressure on India to desist from provocation along the Line of Control and the Working Boundary.

At least seven civilians have been killed in unprovoked firing and shelling by Indian forces on
Pakistani villages this week.

In his maiden speech at the UN General Assembly, Premier Abbasi has already called on India to
end its covert campaign of stoking terrorism in Pakistan through its intelligence agency and proxies.
He has also handed the UN secretary general dossiers cataloging evidence of India's involvement
in terror activities in Pakistan.

Pakistan's assertions are not without a ground. Kalbhushan Jadhav, an agent of Research and
Analysis Wing (RAW), the top spy agency of India, was arrested in Balochistan in March 2016 after
he crossed over from neighbouring Iran.

In a subsequent video confession, Jadhav admitted that he had been assigned by his agency to
foment terrorism in Pakistan, especially in Balochistan and Karachi. He has been sentenced to death
by a military court since.

Sources say Jadhav's confession and continuing Indian border provocations would be made part of
the 'strongly-worded resolution' with the aim to expose shenanigans of Narandra Modi's administra-
tion against Pakistan.

In a prelude to this move, top foreign policymakers are planning to launch a diplomatic offensive to
unmask India's sponsorship of terrorism in Pakistan by sharing damning evidence with key world
powers, according to sources.

In the meantime, Pakistan will continue to give a befitting response to border provocations by Indian
troops.

Premier Abbasi told the UN General Assembly in his speech that Pakistan has thus far acted with
restraint despite 600 ceasefire violation by Indian troops since January.

"But if India does venture across the LoC, or acts upon its doctrine of 'limited' war against Pakistan,
it will evoke a strong and matching response," he warned. "The international community must act
decisively to prevent the situation from a dangerous escalation."
Source:The Express Tribune, Published: September 24, 2017
Analysis: Abbasi's speech throws Delhi off balance
By Kamran Yousaf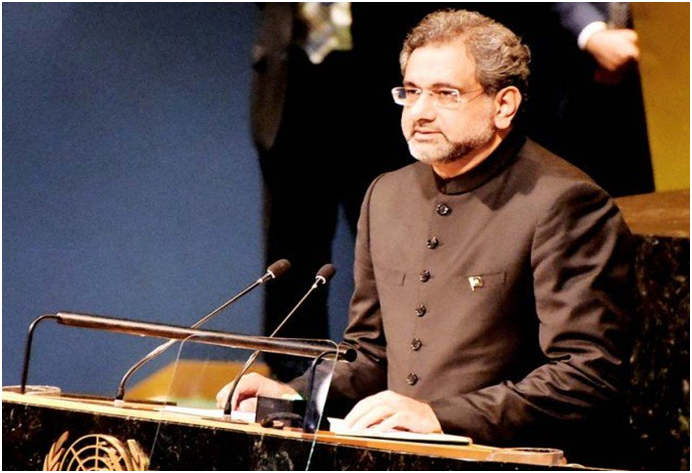 PM Shahid Khaqan Abbasi addressing UNGA session PHOTO:NNI
ISLAMABAD: India's unsavory knee-jerk reaction says it all. Prime Minister Shahid Khaqan Abbasi's
maiden speech at the UN General Assembly has left New Delhi reeling.

Stung by scathing criticism, India exercised its 'right of reply' to make a repugnant retort, calling
Pakistan 'Terror-istan.' This shows Abbasi's forceful speech has thrown Delhi off-balance, according
to analysts and Foreign Office officials.

Abbasi's address came against the backdrop of simmering tensions between the two nuclear arch-
rivals. So much so that when the prime minister was rehearsing his speech at the UN General
Assembly, Indian border guards shelled civilian population in Pakistan, killing six people.

Since his ascension to power, Prime Minister Narendra Modi has been doing all he can to isolate
Pakistan diplomatically by branding it a state sponsoring terrorism.

The PML-N government has long been criticised by its rivals for going soft on India despite Modi's
relentless slur campaign against Pakistan. Abbasi's predecessor Nawaz Sharif had been particularly
targeted for not publicly saying enough against India's policy of destabilising Pakistan.

Against the backdrop, Abbasi had a challenge not only to satisfy critics at home but also deliver a
speech that must help counter the Indian narrative.

Though his speech covered many issues ranging from climate change to nuclear non-proliferation
and from Palestine to Rohingya Muslims, his focus was tensions with India and Afghanistan imbroglio.

In a clear departure from earlier position, Premier Abbasi minced no words in publicly naming India
for being behind a "campaign of subversion and state-sponsored terrorism against Pakistan, including
from across our western border".

Sharif did make a reference to 'externally sponsored' terrorism in his address to the UN General As-
sembly last year but stopped short of explicitly naming India.

Pakistan's former ambassador to the US Ashraf Jahangir Qazi says Abbasi's speech reflects Pakistan's
position that India is sponsoring terrorism. "I don't think it has anything to do with the change of
prime minister," Qazi told The Express Tribune.

He recalled that it was during Sharif's tenure when Pakistan submitted dossiers to the UN secretary
general cataloging evidence of Indian secret agencies' involvement in fomenting violence in Pakistan.

However, some observers believe Abassi was more forthcoming as compared to his predecessor, who
had often been accused by opposition parties for going soft on India because of his 'personal ties' with
Modi.

Sharif was a strong proponent of normalising ties with India. Apart from other factors, many people
believe Modi's 'hostile policies' had made it difficult for Sharif to pursue rapprochement as public
support for such an approach had fast dwindled.

India's reign of terror in Kashmir had compelled Sharif to declare Bhurhan Wani a 'martyr', something
that drew strong condemnation from India.

On the Kashmir dispute, Abbasi mostly repeated what Sharif had said in his speech last year. The incum-
bent prime minister demanded the international investigation into 'India's crimes in Kashmir.'

"We ask that the UN Secretary General and the High Commissioner for Human Rights send an inquiry
Commission to Occupied Kashmir to verify the nature and extent of India's human rights violations,
secure the punishment of those responsible and provide justice and relief to the victims," Abbasi said
in his UN speech.

The premier also drew the world's attention towards the current tensions along the Line of Control and
Working boundary.

"To divert the world's attention from its brutalities; India frequently violates the ceasefire along the
Line of Control in Kashmir. Despite over 600 violations since January this year Pakistan has acted with
restraint. "But if India does venture across the LoC, or acts upon its doctrine of 'limited' war against
Pakistan, it will evoke a strong and matching response," he added.

He cautioned that the international community must act decisively to prevent the situation from a
dangerous escalation.

"If it would not have made any difference, then why would India give such a stinging reply to the PM
speech," said a Foreign Office official, when asked if Abbasi's attempt to raise the Kashmir dispute
could make any difference.

Former ambassador Qazi endorsed the view. The international community, particularly the West, was
aware of the situation in Kashmir. They may not be criticising India publicly because of 'political
expediency' but privately they must have been confronting New Delhi, he added.

Analysts and former diplomats also applauded Abbasi for putting up a strong defense of Pakistan's
achievements in the fight against terrorism and at the same time reminding the world that it could
not be made 'scapegoat' for the failures in Afghanistan.

However, they believe a mere speech at the UN General Assembly cannot make a huge difference as
there still exists a huge gap between what Pakistan says and how the world, particularly the West, perceives
us.
Source:The Express Tribune, Published: September 23, 2017
At UN,Premier Abbasi calls for end to "India-
Sponsored Terror'in Pakistan
<
Prime Minster Shahid Khaqan Abbasi addresses the 72nd session of the UN General Assembly in New York. PHOTO: ONLINE
In his maiden address to the UN General Assembly, Premier Shahid Khaqan Abbasi renewed
Pakistan's offer for dialogue with India on all thorny issues, especially over the Himalayan region
of Kashmir.

However, he added that such a dialogue was possible only if New Delhi called off its overt and
covert campaign of arming and bankrolling agents of terrorism and chaos in Pakistan.

"Pakistan remains open to resuming a comprehensive dialogue with India to address all out-
standing issues, especially Kashmir, and discuss measures to maintain peace and security," he
told his audience of global leaders.

"This dialogue must be accompanied by an end to India's campaign of subversion and state-
sponsored terrorism against Pakistan, including from across our western border," he said in his
wide-ranging address in which he spoke on an array of issues, including the Middle East situation,
UN reforms, climate change, and Pakistan's economic stability and consolidation of democracy.

Abbasi called for expeditious steps towards the implementation of UN Security Council resolutions
on Kashmir with the appointment of a special envoy to promote a just and peaceful settlement of
the festering dispute that has led to heightened tensions between India and Pakistan.

"The international community must act decisively to prevent the situation from a dangerous
escalation," he told the General Assembly, while voicing concern over unabated persecution of
unarmed Kashmiris struggling for their right to self-determination.

The prime minister said India had responded with massive and indiscriminate force to suppress
the Kashmiris, shooting indiscriminately at children, women and youth. Hundreds of innocent
Kashmiris had been killed or injured, he added.

"Shotgun pellets have blinded and maimed thousands of Kashmiris, including children. These and
other brutalities clearly constitute war crimes and violate the Geneva conventions."

Today the Kashmiri people are waging a heroic and popular struggle to rid themselves of India's
oppressive rule, he added.

He urged the international community to call on India to a.) halt pellet gun attacks and other
violence against demonstrators; b.) stop the use of rape as an instrument of state policy; c.)
end media blackouts; d.) rescind its draconian emergency laws; and f.) free all Kashmiri political
leaders.

The premier told the assembly of world leaders that India frequently violated the ceasefire along
the Line of Control in Kashmir to divert the world's attention from its brutalities.

Despite over 600 violations since January this year Pakistan has acted with restraint, he said.
"But if India does venture across the LoC, or acts upon its doctrine of 'limited' war against Pakistan,
it will evoke a strong and matching response," he warned.

"The international community must act decisively to prevent the situation from a dangerous
escalation," the prime minister said. "The Kashmir dispute should be resolved justly, peacefully
and expeditiously."

"As India is unwilling to resume the peace process with Pakistan, we call on the Security Council
to fulfill its obligation to secure the implementation of its own resolutions on Jammu and Kashmir."

"To this end, the UN secretary general should appoint a special envoy on Kashmir. His mandate
should flow from the longstanding but unimplemented resolutions of the Security Council."

Spelling out Pakistan's stance in clear terms, Prime Minister Abbasi said his country was not
prepared to fight the Afghan war on its soil.

"Nor can we endorse any failed strategy that will prolong and intensify the suffering of the people
of Afghanistan and Pakistan, and other regional countries."

Pakistan, he said, had suffered and sacrificed much due to its role in the global counter-terrorism
campaign. "It is especially galling for Pakistan to be blamed for the military or political stalemate
in Afghanistan," he said.

"We are not prepared to be anyone's scapegoat. Taliban 'safe havens' are located not in Pakistan
but in the large tracts of territory controlled by the Taliban in Afghanistan."

He said cross-border attacks did occur, but those were mostly conducted by anti-Pakistan terrorists
from the "safe havens" across the border.

"To end all cross-border attacks we ask the Afghan government and the coalition to support and
complement Pakistan's ongoing efforts to strengthen border controls and monitor all movement
across it."

Prime Minister Abbasi said, "No one desires peace in Afghanistan more than Pakistan." However,
after 16 years of war in Afghanistan, it was clear that peace would not be restored by the continuing
resort to military force.

"Neither Kabul and the coalition, nor the Afghan Taliban, can impose a military solution on each
other."

Premier Abbasi said Pakistan believed urgent and realistic goals in Afghanistan should include
concerted action to eliminate the presence in Afghanistan of Da'ish, al Qaeda and their affiliates,
including the TTP and Jamaatul Ahrar, which was recently declared a terrorist organisation by the
Security Council.

He also suggested promotion of negotiations between Kabul and the Afghan Taliban – in the
Quadrilateral Coordination Group (QCG) or any trilateral format – to evolve a peaceful settlement
in Afghanistan.

The two steps, he added, offered the most realistic prospect of restoring peace and stability in
Afghanistan and the region.
Source:The Express Tribune, September 22, 2017
NDS-RAW nexus working to destabilise Pakistan:
Ehsanullah Ehsan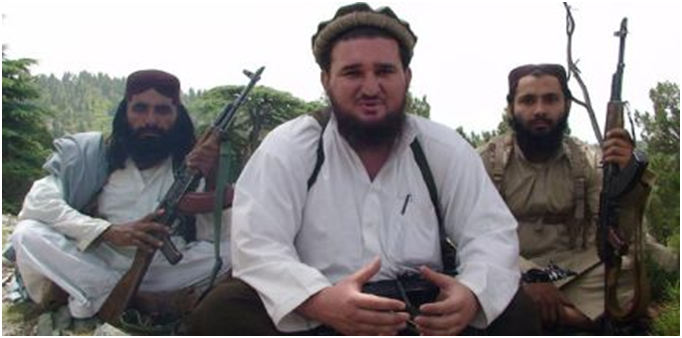 • 'One of RAW's main agendas is to create a rift between Punjabis and Pashtuns'

• Ehsan says TTP is not an organised movement; after Hakeemullah's death, all of the local chiefs
wanted leadership

The former face of the outlawed Tehreek-e-Taliban Pakistan (TTP) and Jamaat-ul-Ahrar (JuA)
Ehsanullah Ehsan has claimed that Indian spy agency RAW's main aim is to stoke communal
tension in Pakistan, saying RAW coordinated with the anti-Pakistan terrorist outfits based in
Afghanistan through the NDS—the premier Afghan intelligence agency.

The Islamabad High Court (IHC) on Friday accepted the IMC's application and allowed Geo News
TV to broadcast Ehsan's interview.

"One of their main agendas is to create a rift between Punjabis and Pashtuns [in Pakistan]," said
Ehsan in his interview on RAW's intentions.

On a question about the freedom of movement of anti-Pakistan terrorists inside Afghanistan,
Ehsan said the Afghan government is fully aware of their movements. "We used to inform them
beforehand that we would be passing through a certain area and should not face any difficulty.
There was a proper system to it," he explained.

In the areas where Afghans had no control in the presence of NATO or American troops, he said,
"They [Afghans] used to make us aware of the potential hindrances."

Afghan forces have a greater hold mostly in urban areas, he revealed.

TTP NOT AN ORGANISED MOVEMENT:

Ehsan said that when the TTP was formed in early 2008, the idea was to take part in Jihad against
the allied powers in Afghanistan, adding that their training base was in Mohmand Agency, while the
instructors there belonged to Afghanistan. When there was a military operation in Mohmand Agency
in 2011, they moved to Kunar in Afghanistan, he said.

Ehsan said that he was later called to Waziristan, where he was appointed as the official spokesper-
son of TTP.

On the organisational structure of the TTP, Ehsan said as far as he was aware, TTP was not an
organised movement. "It was like an umbrella. Baitullah Mehsud had gathered people (groups) from
rural and urban areas to make the TTP. At that time, each area had its own chief. After Baitullah,
Hakimullah Mehsud took over the leadership. After Hakeemullah's death, all of the local chiefs wanted
to be the leader, so Fazlullah was elected as the chief of the organisation after a lucky draw, and
Khalid Haqqani was appointed his deputy."

He added that after Jamaat-ul-Ahrar (JuA)'s formation, he moved around in Afghanistan.

JUA CHIEF KHORASANI TREATED IN INDIA:

When asked to comment on [JuA chief] Omar Khorasani's whereabouts, Ehsan revealed Khorasani
has two to four houses in Afghanistan and three wives. "Therefore, he shuttles among Jalalabad,
Khost and Kabul," he said, adding that "the last time I met him was 5-6 months ago when he
came to Khost to meet me."

Commenting on Khorasani's injury reports, Ehsan said six months after the formation of JuA in 2015,
Khorasani was injured in the area of Lalpura. "He went to India to get treatment where he was
completely cured. He travelled on an Afghan passport."

On a question on the whereabouts of [TTP chief] Maulana Fazlullah, Ehsan said he is living in Kunar.

With regards to the relations between TTP and JuA, Ehsan said each head was looking to take on
total power.

Regarding the potential merger of JuA and Islamic State (IS), Ehsan said Khorasani had demanded
IS to make him their chief representative of the region, but this was not accepted.

Replying to a question, Ehsan informed that cross-border shelling on JuA camps by the Pakistan
Army had resulted in the killing of several commanders and relocation of foot soldiers.

'RAW COORDINATES THROUGH NDS':

On a question about RAW's destabilisation attempts in Balochistan, he said that he had heard about
these things while being in the organisation from various people, adding that the organisation was
also informed to improve relationships with other countries. He said that they had a problem on the
Kashmir policy and the China-Pakistan Economic Corridor as well. "However, RAW always coordinated
and sent in their messages to us through the NDS. It is one of the main aims of RAW to create
communal tensions in Pakistan."

Talking about TTP's income and supply of arms amidst the decrease in manpower, he said that the
arms and money had not reduced a bit because there were lots of ways to recover and obtain these
things. "They also receive extortion money from common people. If they don't oblige, their homes
are obliterated and they are killed," he revealed.
Source:Pakistan Today, MAY 13, 2017
India's Undeclared War against Pakistan
By: Sajjad Shaukat,
India's undeclared war against Pakistan—India had already started the undeclared war against
Pakistan, which has been accelerated after the leader of the ruling party BJP Narendra Modi became
Prime Minister of India. This war includes all the tactics of psychological warfare, propaganda and
secret operations against Pakistan.

India's Undeclared War against Pakistan:

In this regard, while addressing a ceremony during his Bangladesh tour, Indian Prime Minister Modi
openly stated on June 7, 2015 that Indian forces helped Mukti Bahini (terrorists) to turn East Pakistan
into Bangladesh. He elaborated that former prime minister Atal Bihari Vajpayee had played an active
role in separating Bangladesh from Pakistan, and he had also come to Delhi in 1971 to participate in
the Satyagraha Movement, launched by Jana Sangh as a volunteer to garner support for the Mukti
Bahini members.

During his address on the Independence Day of India on August 15, 2016, Modi went aggressively
further in a diatribe against Pakistan by claiming that people of Gilgit-Baltistan, Azad Jammu and
Kashmir are thankful to home for raising voice for their suppressed rights.

In fact, in wake of continued siege and prolonged curfew, Indian security forces have martyred more
than 80 innocent persons who have been protesting since July 8, 2016 against the martyrdom of the
young Kashmiri leader Burhan Wani by the Indian security forces in the Indian-held Kashmir. Without
caring for severe criticism all over the world and even within his own country and especially in Pakistan,
BJP-led Modi's extremist policies continue unabated.

As growing frustration in the Indian-occupied Kashmir situation brings more pressure on BJP- led
Indian government, Modi has chosen offensive Psychological Operations against Pakistan. It is being
manifested through all tools of Non Kinetic Warfare (NKW), mainly media and diplomacy. Since Indian
NKW apparatus is quite effective within and outside India, Pakistan must expect this tirade to gain
momentum in coming days.

Since New Delhi is trying to internationalize the fabricated issues of Balochistan, Gilgit-Baltistan and
Azad Kashmir (AK), Pakistan's government and media need to counter the Indian anti-Pakistan moves
and to develop a response at international level as well. They must point out that Indian tirade in
Balochistan is violation of UN charter and an outright non sense.

As part of the undeclared war against Pakistan, American CIA, Indian RAW and Israeli Mossad want to
obtain the clandestine aims of their countries, particularly by sabotaging China-Pakistan Economic
Corridor (CPEC). In this respect, a deadly suicide bomber in Quetta-the provincial capital of Pakistan
killed at least 74 people on August 8, 2016 in an attack at the government-run Civil Hospital was part
of the scheme. However, especially, the US and India are playing double game with Islamabad.

In this context, based in Afghanistan, operatives of CIA, Mossad and RAW which are well-penetrated
in the Islamic State group (Also known as Daesh, ISIS, ISIL) the Tehreek-e-Taliban Pakistan (TTP),
and their affiliated Taliban groups are using their terrorists to destabilize Tibetan regions of China,
Iranian Sistan-Balochistan and Pakistan's Balochistan province by arranging the subversive activities.
As part of the double game, these foreign agencies are also in connivance with the Afghan intelligence
agency-Afghan National Directorate of Security (NDS) and have arranged various acts of terrorism
inflicting harm to Pakistan, especially Balochistan.

As regards Balochistan, every Pakistani knows that separatist groups like the Balochistan Liberation
Army (BLA), and their affiliated outfits, including Jundollah (God's soldiers), Lashkar-i-Janghvi which
have been creating unrest in the Balochistan get logistic support from RAW and Mossad with the
tactical assistance of CIA. In the recent years, these terrorist outfits massacred many persons through
suicide attacks, bomb blasts, targeted killings and sectarian violence.

In the recent past, these externally-supported insurgent groups kidnapped and killed many Chinese
and Iranian nationals in Pakistan including Iranian diplomats. They have claimed responsibility for a
number of terror assaults, including those on Shias in Balochistan and Iranian Sistan-Baluchistan.

It is of particular attention that arrest of the Indian spy Kulbhushan Yadav in Balochistan has exposed
Indian undeclared war against Pakistan. While addressing a joint press conference with Federal
Minister for Information Pervaiz Rasheed, Director General of Inter-Services Public Relations (ISPR) Lt.
Gen. Asim Saleem Bajwa said on March 29, 2016, "Kulbhushan Yadav's arrest is a rare case that does
not happen very often." He disclosed that Yadav was an active officer of the Indian Navy prior to his
joining RAW. He also served as a scrap dealer and had a jewelry business in Chahbahar, Iran, after
he joined RAW in 2013.

A video was also shown during the press conference in which Yadav confessed that he spied for India.
Yadav admitted that he was assigned with the task to create unrest in Karachi and Balochistan by
stating, "I supported the individuals who worked to destabilize Pakistan…I promoted the criminal
mindset that was there in Balochistan." Another task assigned to him was to target the Gwadar Port.

Yadav also confessed—funding Baloch separatists along with other terrorists. During investigation,
RAW agent Yadav admitted that during his stay, he contacted various Baloch separatist leaders and
insurgents, including Dr Allah Nazar Baloch, to execute the task to damage the China-Pakistan
Economic Corridor project. Regarding Indian inteference in Pakistan, a website the "theworldbeast
.com" has also published a number of articles.

However, Pakistan's future lies in a happy and prosperous Balochistan and CPEC would be a game
changer in the region. Various projects within Balochistan soil will get boost as a result of CPEC.
India is actually working against interests and the future of people of Balochistan.

Balochistan has made tremendous progress in last three decades and is opening up through infras-
tructural developments and major industrial projects. Gwadar Deep sea port, Kasa Marble, Chama-
lang Coal Mines, Sandak Gold Copper mines, Coastal Highway to Gwadar, Quetta-Gawadar Road
etc. have placed Gwadar on a path of strategic development.

Pakistan Army has made tremendous contributions for Balochistan in shape of Frontier Works
Organisation (FWO) and National Logistic Cell (NLC). The country is paying due attention to human
resource development in Balochistan with active participation of the Army, Navy and Air Force.
These include Combined Military Hospital (CMH) Quetta, Medical College, and host of new Cadet
Colleges like Sui, Ormara, Gwadar Technical Institute, Frontier Constabulary (FC) Public schools,
Balochistan University of Information, Science and technology (BUITMS), BITE etc. Baloch officers
are joining Pakistan Defence forces in large numbers.

Despite RAWs effort to sabotage Balochistan's peace through the Quetta blast, recent celebration
of the Independence Day across all areas within Balochistan province is a clear manifestation of the
fact that Baloch people are with Pakistan.

Within Baloch population only, few angry brothers, which are as less as 2500 are part of the so-
called separatist groups like BLA and BRA, That is not even 02% of entire population of Balochistan.

It is noteworthy that the Baloch separatist leader Brahamdagh Bugti is being backed by the above
mentioned foreign countries. Some online reports say that there are indicators that Bollywood would
make a Blockbuster on Nawab Akbar Bugti, this could have major consequences for war of perception
within Pakistan.

At this crucial hour, Pakistan must counter India's undeclared war. Time has come to ruthlessly curb
Indian media ingress within Pakistan. Islamabad can start ban Bollywood in Pakistan, ban Indian
advertisements and ban cultural exchanges within Indian and Pakistani academia.

Besides, Sikh diaspora across the globe is gearing up for a referendum on Khalistan and has even
approached Pakistani friends to help them build a case for Independent Khalistan. Pakistan could
develop enhanced focus through all tools of NKW. There have been encouraging statements by Sikh
leadership within and outside Indian Punjab, which need to be focused.

Apart from Kashmir, these topics could cover major movements of secession and independence
within India. Pakistan's top officials and media could focus on Naxalites, Bodos, Nagas, ULFA ultras,
Gorkhas etc. operating across Indian Eastern Seaboard and Seven Sisters. Indian North South fault
line also needs to be exposed. Entire Hindu caste system and plight of religious minorities like Dalits
and Christians also require concentration.

While, 350 million Dalits are suffering at the hands of Brahmin Raj, BJP's militant wings like Shiv
Sena and RSS have made the life of Dalits and Muslims as a hell hole and Dalits within India have
started collaborating on issue of human rights and also raised their voice in international forums.
Time has come for "Dalitstan" as an independent entity.

History of Indian hegemony in South Asia is also of particular attention. India absorbed Sikkim
(60s), fought with China (62), Bhutan was made nominally independent, Nepal was and is being
exploited, Sri Lanka was invaded and subjected through Tamil Terror, and even Maldives was not
spared. Despite the so-called India-Bangladesh brotherhood, 70% Bangladeshis detest Indian
intervention; Farakka Barrage is a case in point. Pakistan is the only country in South Asia which
gives a ray of hope to other regional countries against Indian hegemony.

With longest un-demarcated border in the world (4000 kms) between India and China, it is a
powder keg waiting for explosion. New Delhi has already sided with the US, Japan and Australia
in building up the Asia Pivot against China and Russian Federation, why should India be tolerated
in the association of Brazil, Russia, India, China and South Africa (BRICS) when it is working
against two of its major partners.

Nevertheless, despite the ingress of Shining Indian themes in western world and Middle East, India's
growing population is considered as a threat. Some research needs to be done to highlight why
Indians are not considered for US visa lottery and why Australia is shy of Indians.

Some online sources have disclosed that there is a RAW-NDS-ISIS-TTP nexus which is also linked
with terrorism within Afghanistan to create further unrest in the war-torn country, so that India
could continue fulfilling sinister designs against Pakistan and Iran. And Indian attempt to raise the
case for free Balochistan will give a fillip to Iranian Sistan-Balochistan as well. This is what the anti-
Pakistan and anti-Iran CIA, Mossad and especially RAW want.
Source: http://www.theworldbeast.com/india-undeclared-war-pakistan.html