India-Iran port deal reveals tense Asian rivalries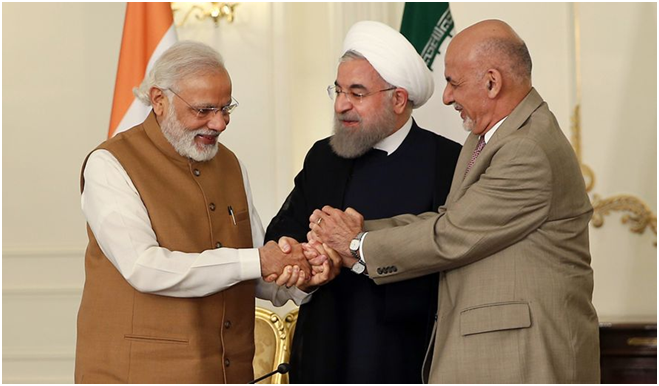 Photo by: Uncredited
From left, Indian Prime Minister Narendra Modi, Iranian President Hassan Rouhani and Afghan President Ashraf Ghani
hold hands in a show of solidarity after their trilateral meeting at the Saadabad Palace in Tehran, Iran, on May 23.
(Iranian Presidency Office via Associated Press)
By Guy Taylor - The Washington Times - Sunday, May 29, 2016
A little-noticed deal this month between India and Iran to develop an obscure port in the Gulf
of Oman is offering a glimpse into just how dramatically last summer's Iranian nuclear accord
stands to upend South Asia's geopolitical dynamics — as New Delhi pushes to expand its
influence in nearby Afghanistan, outflank rival Pakistan and challenge Chinese dominance in the
region.

Indian Prime Minister Narendra Modi, Iranian President Hassan Rouhani and Afghan President
Ashraf Ghani were all smiles at an unusual gathering last week in Tehran, where Mr. Modi
pledged billions to develop Iran's southeastern Chabahar port and help establish a free trade
zone stretching toward the Iran-Afghan border during the coming years.

News of the deal prompted a wary reaction from some in Washington, amid concern that
sanctions relief under the Obama administration-backed nuclear accord with Iran last year
has paved the way for a key U.S. ally to align itself with Washington's main adversary in the
region.

But most South Asia experts say New Delhi remains firmly committed to its growing security
cooperation with the U.S., and that its dealings with Iran are being motivated mainly by a
desire to open a vast new trade link between a key Indian industry hub and the landlocked
nations of Central Asia — without including rival Pakistan.

Iran's Chabahar port, located on the northern side of the Gulf of Oman, sits less than 600
miles from western India's export powerhouse of Gujarat state, where Mr. Modi served as
chief minister for more than a decade prior to his election as prime minister in 2014.

It's a long-stalled deal that has economic, diplomatic and security implications for states
across the region and beyond.

"This is about ensuring transit access for Indian goods in general to Afghanistan through Iran,
but potentially also to Central Asia," said Tanvi Madan, who heads the India Project at the
Brookings Institution in Washington. "The Indians have tried for many years to get such transit
access through Pakistan, but they've come to the conclusion that it's just not going to happen
and that they need to move forward another way.

"India also sees this deal as potentially contributing to the future stability of Afghanistan,"
Ms. Madan said, adding that New Delhi is anxious to ensure that "Afghanistan has options other
than going through Pakistan to get access to the sea."

The big question, she said, is whether ground will actually be broken on the Chabahar project
anytime soon. New Delhi first made promises about the port back in 2003. But the plan got stalled
for years by bureaucratic bungling on both sides and was then derailed by international tensions
over Iran's nuclear program — specifically when the Obama administration and its allies ramped up
sanctions on Tehran in 2012.

Mr. Modi pledged $500 million to develop the port's facilities and make it a major transshipment
point for goods during last week's meeting in Tehran. He also said India will spend some $16 billion
during the coming years to build up the Chabahar Free Trade Zone with roads and railroads running
inland to the north.

Mr. Rouhani said the projects could be a "great symbol" of Iran-India cooperation, with Iranian
energy resources and Indian mines potentially paving the way for expanded trade in aluminum,
steel and petrochemicals between the two nations.

Such plans fit within Tehran's push to reintegrate into the global economic system following the
lifting of international sanctions in exchange for Iran's curtailing of its nuclear program under last
summer's accord with the U.S. and other world powers.

For New Delhi, the deepened engagement could mean easier access to oil and gas to feed India's
immense and growing energy needs.

Iran had been the nation's second-largest crude supplier prior to the imposition of sanctions in
2012. Mr. Modi's two-day trip to Tehran came with the announcement that India has begun
paying back $6 billion in debt to Iran from past oil purchases — reportedly delivering some $750
million in such payments last week.

Friction with China and Pakistan?
The India-Iran-Afghanistan nexus comes as Pakistan has grown increasingly close to China,
which has poured money and resources into its own port-development project in the Pakistan
coastal city of Gwadar — just 45 miles down the coast from Chabajar.

Despite the threat of attacks by Islamist militants in Pakistan, the Chinese have forged ahead
with a $46 billion China-Pakistan Economic Corridor project, the thrust of which revolves around
developing Gwadar.

Construction at Gwadar is already well underway, with Beijing framing the project as essential to
connecting its industries in western China to markets across the Middle East through Pakistan.

The Indians are keenly aware of Chinese plans and, according to Ms. Madan, a key part of
New Delhi's interest in backing a competing project through Iran stems from a desire to "make
sure China is not the only option Middle Eastern countries have for trading in the future."

Many believe the Pakistanis, who have been locked in a nuclear arms race with India for decades
and have long resisted Indian involvement in Afghanistan, will view any India-Iran alliance with
alarm.

"For India to build up a relationship with one of Pakistan's other neighbors, you can't look at that
as anything but a threat," said Richard M. Rossow, a senior fellow on U.S.-India policy studies at the
Center for Strategic International Studies in Washington.

And from the Indian side, the idea of "geopolitically surrounding Pakistan makes a lot of sense,"
Mr. Rossow said. "They're putting a bet down that building ties with Iran will give them a friend
on the other side of Pakistan that they can potentially leverage at some point."

Pakistan's embassy in Washington declined to even acknowledge the Chabahar Port announcement
last week. When pressed, an embassy official said only that the Pakistani government views
the China Pakistan Economic Corridor "as an important step toward growth and shared prosperity."

But the prospect of friction with Pakistan seemed to be on Mr. Rouhani's mind while he met with
Mr. Modi and Mr. Abadi in Tehran for their celebratory summit. The Iranian president went out of
his way to assure Pakistan that the project is not against Islamabad.

"Today's deal will not be against any country, and activities of [Iran, India and Afghanistan] will
serve the entire region and its peace and stability," he said.

U.S. watching 'closely'
To date, the Obama administration's approach to India has centered largely around an effort to
enlist New Delhi in Washington's push for a coalition of nations to counter China's growing
influence in East Asia.

The most notable example came in January 2015, when President Obama visited New Delhi and
signed the "U.S.-India Joint Strategic Vision for the Asia-Pacific." Defense Secretary Ashton Carter
last June inked a 10-year defense framework pact with his Indian counterpart.

"India is playing ball with the U.S. on security issues more than they ever have," said Mr. Rossow,
who suggested that India's willing alignment with the Obama posture toward China may have
created some "wiggle room" for New Delhi to expand its ties with Iran without objection from
Washington.

"We look at India's security role and we look east, we don't look west," he said.
But India's moves have not gone unnoticed on Capitol Hill. Several U.S. lawmakers have raised
questions about the extent to which the Chabahar Port deal might violate remaining U.S.
sanctions on Iran, and expressed concern toward the prospect of deepening military ties between
New Delhi and Tehran.

During a Senate Committee on Foreign Relations hearing last week, Sen. Benjamin L. Cardin,
Maryland Democrat, cautioned that Iran continues to sponsor terrorism in the region. Sen.
David Perdue, Georgia Republican, asked whether Washington should be paying closer attention
as nuclear-armed India grows closer to the "aspiring nuclear power" of Iran.

The Obama administration's top official for South Asia told lawmakers that there has so far been
no evidence of military-to-military or counterterrorism cooperation between India and Iran, but
that U.S. officials have been carefully monitoring the situation.

"We watch very closely," said Assistant Secretary of State for South and Central Asian Affairs
Nisha Desai Biswal. "We have very candid conversations about what our concerns and red lines are."
With Chabahar, "we have been very clear with the Indians on what we believe are the continuing
restrictions on activities with respect to Iran," Ms. Biswal said. "They've been very responsive and
receptive to our briefings."

As for potential sanctions violations, a State Department official speaking on background noted that
the 2012 Iran Freedom and Counter-Proliferation Act, which had specifically authorized against
sanctions on anyone trying to invest in Iranian ports, was lifted under last summer's nuclear accord.

While U.S. sanctions remain in place against anyone engaging in transactions with Iran's Islamic
Revolutionary Guards Corps (IRGC), the official said that "there's never been any specific evidence
that Chabahar Port is controlled by the IRGC."
http://www.washingtontimes.com/news/2016/may/29/india-iran-chabahar-port-deal-reveals-tense-asian-/
Chabahar port to make India capable of bypassing Pakistan,
says report
By News Desk
Published: June 1, 2016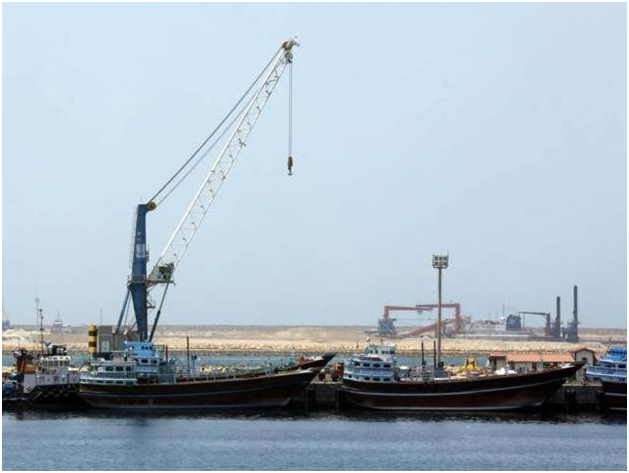 A partial view of the Kalantari port in city of Chabahar. PHOTO: AFP
India's latest ambitions to build a new port complex on Iran coast are set to find the country
a path towards needed supplies of energy, Foreign Policy magazine reported on Tuesday.

This was revealed during Indian Prime Minister Narendar Modi's recent visit to Iran where
Chabahar port deals were laid down.

The port deals will help India to establish itself in the reshaping of Central Asia's economic
and diplomatic alliances.

According to the Foreign Policy, the project deals will make India capable of bypassing
Pakistan and provide Iran the opportunity to have its first deep-water port. "It's meant to
ease access to key markets," says Michael Kugelman, a senior associate for South Asia at
the Wilson Centre.

The plan if successful will give India the access to natural gas from Iran and other Central
Asian countries, as it grows to be one of the biggest energy-consuming countries in the
world.

"For India, it's about economics and energy," Kugelman added.

But there is not only fortune for India in this programme: closer ties with Iran can make
India-US relations complicated.

The United States is keeping a vigilant eye on all developments, it has been learnt by a source.

However, there is not much worry as India will only get trade ties with Iran, rather than
military ties with Tehran.

It has also been said, according to the Foreign Policy, that the Chabahar port will make India
resume its contact – trade's or otherwise – with its pre-partition neighbours.
Iran's strategic port offer to help India bypass Pakistan
By Reuters
Published: July 18, 2015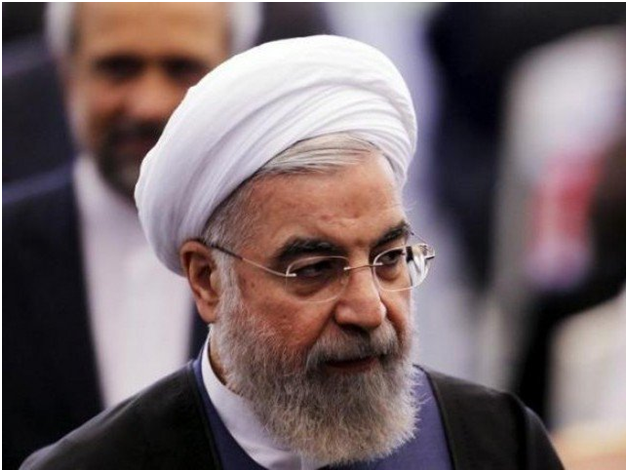 Iranian President Hassan Rouhani leaves after delivering a speech at plenary session during the Asian African
Conference in Jakarta April 22, 2015. PHOTO: REUTERS
Iranian President Hassan Rouhani has asked India to invest in infrastructure projects worth
$8 billion, including an expanded role in developing a strategic port that will open up access
to Central Asia, Iran's envoy to New Delhi said on Friday.

The port of Chabahar in southeast Iran is central to India's efforts to circumvent arch-rival
Pakistan and open up a route to landlocked Afghanistan where it has developed close
security ties and economic interests.

Rouhani suggested the larger role for India during a meeting with Prime Minister Narendra
Modi on the sidelines of a summit in Russia days before the historic nuclear deal between
Iran and world powers, Iran's ambassador to India told Reuters.

"The potential between Iran and India is great but we were just facing such a wall of
sanctions, wall of American pressure," ambassador Gholamreza Ansari said.

Ansari said that with sanctions likely to be lifted soon, it was a "golden time" for India to
seize investment opportunities because of the two countries' close trade ties and shared
interest in improving Central Asian transport links.

"Connectivity is the main policy of Modi that coincides with Iran's government policy,"
Ansari said. "We have offered them, in connectivy, $8 billion of projects."

Modi's meeting with Rouhani was part of a tour of Central Asia focused on increasing
India's role in the region.

It was not immediately clear how Modi responded to Rouhani's offer.

India's foreign ministry did not respond to a request for comment.

Iran and six world powers reached a nuclear deal on Tuesday, clearing the way for an
easing of sanctions on Tehran.

India and Iran agreed in 2003 to develop Chabahar on the Gulf of Oman, near Iran's
border with Pakistan, but the venture has moved slowly because of the sanctions over
Iran's atomic programme.

The two countries maintained a close relationship despite the US-led trade restrictions that
halved their oil trade to 220,000 barrels per day last year.

In May, India's Shipping Minister Nitin Gadkari and his Iranian counterpart, Abbas Ahmad
Akhoundi, signed an $85 million deal for India to lease two existing berths at the port and
use them as multi-purpose cargo terminals.

Under the new proposal India could help build second and third terminals at the port, as
well as railway connections into the rest of Iran, Ansari said.

India has moved slowly on opportunities in Iran in the past, including the giant Farzad B gas
field. Ansari said India was the "first priority" to develop Farzad B, but urged New Delhi to
move fast: "If they drag their feet, the market will not wait."


Chabahar port will help India bypass Pakistan: Afghan president
By Reuters
Published: September 15, 2016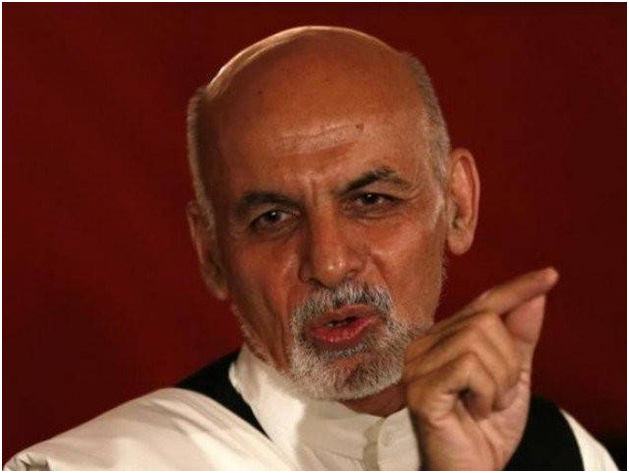 Afghan President Ashraf Ghani. PHOTO: AFP
Afghanistan President Mohammad Ashraf Ghani on Wednesday said the Chabahar agreement
will help India bypass Pakistan in transporting goods to Pakistan via a sea-land route.

"Why are we so concerned that a country (Pakistan) can block two great nations (India-
Afghanistan) from trade? Let's organise it then, let's put the logistics in place. Anyway,
Chabahar will end the monopoly," said Ghani, during his visit to India.

Ghani's comments come at a time when ties between South Asian rivals India and Pakistan
are severely hit due to the unrest in Kashmir.

Ghani, who is on a two-day visit, had bilateral talks with Indian Prime Minister Narendra Modi
earlier in the day. Both leaders agreed that militancy presented the single biggest threat to
peace, stability and progress in the region and beyond.

Speaking at the Institute for Defence Studies and Analyses in New Delhi, Ghani asserted that
making distinction between good and bad terrorism is a "short-sighted" approach.

The Afghan state head said states should help their neighbours and not indulge in maligning
them. "They (states) do not behave like maligned non states actors vis-a-vis their neighbours.
They see a collective security to be an objective and that's what brings stability. Stability does
not come from the barrel of the gun," said Afghanistan President, Mohammad Ashraf Ghani.

Pakistan has blamed India for the two-month unrest in Kashmir that has left at least 71 people
dead and wounded thousands of others.

Meanwhile, New Delhi has blamed its neighbour for stoking further trouble by pushing militants
across the heavily militarised border that divides the region.

India in May this year announced that it will build and operate Chabahar port and invest USD
500 million to develop the strategically important port, close to Iran's border with Pakistan.

Earlier in the day, India and Afghanistan signed three agreements. New Delhi also announced
a credit of USD one billion to Kabul.

New Delhi has provided a little over $2 billion in economic assistance to Afghanistan in the last
15 years, but has been more measured in providing weapons in order to avoid a backlash from
Pakistan, which sees Afghanistan as its area of influence.

INSTC will connect the India Ocean and Persian Gulf with the Caspian Sea through Iran and then onwards to St. Petersburg
in Russia and Europe.
Thursday, April 13, 2017
Dry Run for India-Iran-Russia Transport Project
The plan is to move goods from Indian ports to Iran's Bandar Abbas Port by sea and then to the
Iranian port of Bandar Anzali by road and from there to the Russian port of Astrakhan by sea. The
goods would then be transported into Russian Federation and Eu .INSTC is much shorter than the
current route, which runs through the Suez Canal and the Mediterranean Sea.

India is pulling out all stops to operationalize the International North-South Transport Corridor with
a dry run planned for Thursday.

The second such dry run is aimed at ironing out the creases in the ambitious multimodal transportation
project involving Iran, Russia and India, and comes in the backdrop of China's "One Belt, One Road"
initiative, the Indian newspaper Mint reported on its website.

While the Chinese strategy is aimed at connecting some 60 countries across Asia, Africa and Europe
to boost trade and economic ties along its traditional maritime route, INSTC will connect the India
Ocean and Persian Gulf with the Caspian Sea through Iran and then onwards to St. Petersburg in
Russia and northern Europe.

The plan is to move goods from Jawaharlal Nehru and Kandla ports on India's west coast to Bandar
Abbas Port in the south of Iran by sea. From Bandar Abbas, the goods will be transported to the
Iranian port of Bandar Anzali on Caspian Sea by road and from there to the Russian port of Astrakhan
by sea. The goods would then be transported into Russian Federation and Europe by Russian railroads.

According to Indian government officials, INSTC can reduce the time and cost of deliveries by 30-40%.
It is much shorter than the current route, which runs through the Suez Canal and the Mediterranean Sea.

Goods transported through the Suez take 45-60 days to reach Europe, compared to INSTC's 25-30 days.

The potential of this corridor will be manifold for India if it is linked further with Southeast Asian countries.
This can boost trade between Europe and Southeast Asia as well.

A senior Indian government official, requesting anonymity, said at present India depends on the sea route
via Rotterdam to St. Petersburg. To reach out to Central Asia, goods have to be routed through China,
Europe or Iran.

The routes through China and Europe are long, expensive and time consuming. This calls for the need for
a route that is relatively shorter, cheaper and safe.

"The corridor will help India bypass Pakistan to reach Central Asia and Russia and potentially get a
competitive advantage due to lower cost and shorter delivery time," the official added.

Another Indian government official, who also didn't wish to be identified, confirmed the development.

First Dry Run Experience

The first dry run was conducted in August 2014 by the Federation of Freight Forwarders Association in India.

The dry run report stated, "The proposed INSTC route, via Bandar Abbas in Iran to Russia and the
Commonwealth of Independent States destination in transit through Iran, could be the best route with
optimal transit/cost for Indian exporters/importers."

Queries emailed to the spokespersons for India's ministries of road transport and highways, and external
affairs remained unanswered.

India is moving ahead with its plans of accessing transnational multimodal connectivity to articulate its role
in the proposed transportation architecture in the region and beyond.

This follows India's decision to become the 71st signatory to Transports Internationaux Routiers or
International Road Transports Convention—an international transit system designed to facilitate the
seamless movement of goods throughout these countries in Asia and Europe.

Need to Leverage Chabahar

"The streamlined international system for the movement of goods by road and other modes will, in
particular, enhance India's International 'North-South' Transport Corridor, a key trade route between
Central Asia and the Commonwealth of Independent States in the north, and southern ports in India and
beyond, such as Chabahar in Iran," IRU, the world's road transport organization, said in a statement on
March 7.

Experts say India should leverage Chabahar to make INSTC a viable proposition.

"We have to make best use of Chabahar, which can open the entire Central Asia to us," said Saurabh
Chandra, former secretary in the Department of Industrial Policy and Promotion.

India plans to develop Chabahar Port in Iran, which will allow access to landlocked Afghanistan and energy-
rich Central Asia through the Jawaharlal Nehru and Kandla ports on India's west coast. In addition, India
has built a 218-km road link connecting Delaram with Zaranj in Afghanistan, which is adjacent to Iran's
border.

Indian Railways also plans to set up a Trans-Asian Railroad route of Dhaka-Kolkata-Delhi-Amritsar-Lahore-
Islamabad-Zahedan-Tehran-Istanbul.

Besides, India has been instrumental in implementing the India-Myanmar-Thailand Highway, along with
the Bangladesh-Bhutan-India-Nepal Motor Vehicles Agreement.

Progress on Iranian Side

Last month, Iran, Russia and Azerbaijan agreed to reduce tariffs on interstate cargo transit by 50%, as
part of efforts to activate INSTC.

The agreement was reached in a trilateral meeting on March 7 in Moscow where rail officials from the
three countries discussed ways of activating the INSTC project.

An official with the Islamic Republic of Iran Railways, Hossein Ashouri, was quoted as saying by Mehr
News Agency that all sides hope to activate the corridor later in 2017.

Islamic Republic of Iran Railways is currently building a railroad from the Iranian Caspian port city of
Astara to the border with Azerbaijan, from where it will be extended to another city also named Astara
in Azerbaijan.

A completed section of the railroad was tested early March after a train set off on a maiden journey
from Azerbaijan's Astara. The train travelled 8 kilometers to the border from where it entered the
Iranian section of the route.

According to Younes Ranjkesh, governor of the northeastern Iranian port, Iran has started laying tracks
on the Iranian section and in the first phase, track-laying for 0.6 kilometers will be carried out.

The Astara-Astara project includes a bridge on Astarachay River stretching along the border, which was
built by Azerbaijan.

Azerbaijan has agreed to invest $500 million to build the railroad that is one of the main links in INSTC.

Another missing link is a route from Qazvin to Rasht. The construction of this section is in the final stage.
The route includes Iran's biggest rail bridge with a length of 1.43 km on Sefidroud river in the city of
Manjil in Gilan Province.

Despite a missing rail link from Rasht to Astara, the Islamic Republic will use a multimodal transport
system from its southern ports to Astara until the incomplete rail connection is added to the pathway.

Read this report at :https://financialtribune.com/articles/economy-business-and-markets/62314/dry-run-for-india-iran-russia-
transport-project
Chabahar Port: Strategic necessity for India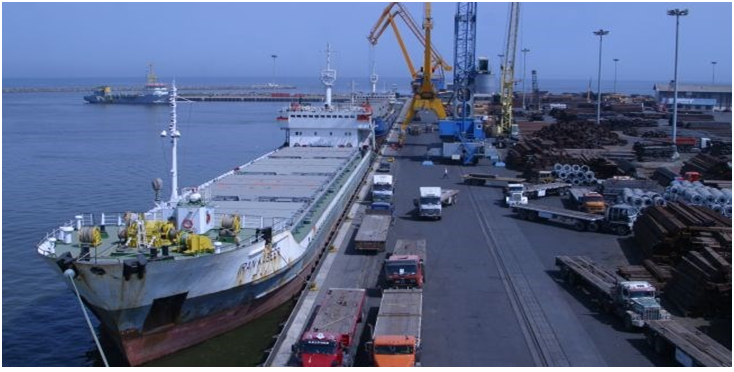 By Bharat Shakti
Chabahar is definitely an opportunity for Iran, Afghanistan and India. Located close to Gwadar, it
provides India an avenue to extend its reach and contest the emergence of China as the predominant
influence in the region.

In terms of capacity, the port is much smaller in design as compared to Gwadar, but with investments
being more limited its viability is definitely greater.

For India, it provides a routing to Afghanistan without having to pass through Pakistan. The author
provides an evaluation of the project both from the strategic and also the economic viewpoint.

Located in close proximity to Afghanistan and the Central Asian countries of Turkmenistan and Uzbekistan,
Chabahar Port has been termed as the 'Golden Gate' to these landlocked countries.

Iran-India partnership

Iran invited India in 1990s to develop the Chabahar Port to obtain a land access into Afghanistan. This
was followed by a trilateral agreement in 1997 with Turkmenistan to expand trade into Central Asia
followed by another agreement with Russia to provide seamless transport between India and Europe
via an International North South Transport Corridor.

India agreed to expand the Chabahar port and to lay a railway track between Chabahar and Zaranj.

India spent $134 million during 2005 to 2009 to construct a road from Delaram in Afghanistan to Zaranj
at the Iran Afghanistan border. Iran has completed first phase of the Chabahar Port at a cost of $340
million.

Connectivity from Chabahar through Milak, Zaranj and Delaram has been established to the Garland road
in Afghanistan which connects the major Afghan cities Herat, Kandhar, Kabul and Mazar-e-Sharif.

In March 2012, ships from India docked at Chabahar carrying 100,000 tons of wheat under humanitarian
aid to Afghanistan. However, without further development of the port the roads remained unutilized.

In May 2016, India signed a series of 12 memorandums of understanding pertaining to the port of
Chabahar. The most important one pertains to the deal between Iran and India which permits India to
develop and operate two berths of the Chabahar Port for 10 years.

This will be done by India Ports Global — a joint venture between Jawaharlal Nehru Port Trust and Kandla
Port Trust in partnership with Iran's Aria Banader.

The company has guaranteed handling of 30,000 twenty foot equivalent units (TEUs) ships on completion
of two years and eventually reaches a figure of 250,000 TEUs. The berths will be developed at a cost of
$85 million. A container handling facility of 640 meters will be constructed and reconstruction of the
existing 600 meters container handling capability in the second berth will be taken up. All these will be
fitted with modern port handling equipment. This would result in the port handling capability of Chabahar
being enhanced from 2.5 million tons to 8 million tons.

It is pertinent to note that the investment is supplemented with a $150 million line of credit to Iran through
the Exim Bank of India. Apart from this, a memorandum of understanding was also signed for the financing
of the planned Chabahar–Zahedan railway line as a part of the North South Transport Corridor by Indian
Railways construction unit — Ircon International.

The offer entails providing the cost of $1.6 billion. This would enable Chabahar to be linked to Afghanistan
and Russia by rail.

Strategic necessity

As per political observer Aagam G Shah's statement in quora.com, the reason for Indian economic and
geopolitical involvement with Iran is to counter the influence of China's string of pearls strategy. The
advantages that would accrue are:

● It will provide a land route to Afghanistan, Iran, Central Asia and Russia. In doing so it will make way
for India to bypass Pakistan in transporting goods to Afghanistan using a sea land route. At present
Pakistan does not allow India to transport goods through its territory to Afghanistan.

● It would give momentum to the International North-South Transport Corridor of which both are initial
signatories. It entails the ship, rail and road routes for moving freight between India, Russia, Afghanistan,
Central Asia and Europe.

● It would counter the Chinese presence in the Arabian Sea through the support to Pakistan in developing
Gwadar port. Further it would enable our shipping vessels to be provided security if the need arises in the
region.

● All these leads to the development of the region and with iron ore deposits available it could result in a
steel plant being opened in this region. This would see the region developing economically apart from
being a communication hub.

The other important issue is the Japanese interest in developing Chabahar. Japan's State Minister for
Foreign Affairs Kentaro Sonoura during a visit to Afghanistan in January 2017, pledged to develop access
to Chabahar.

Japan's interest in Chabahar is important to India as the assistance would ensure time-bound completion
of the port leading to timely optimization of facilities.

Japan is an important strategic partner of India and its support would be essential in countering Chinese
influence in Gwadar.

India is playing an important strategic role in Afghanistan. Currently India is training the Afghan National
Army and providing limited military equipment. We are undertaking Capacity Development for which
material both civil and military needs to reach Afghanistan. Chabahar provides connectivity and this in
turn provides multiple strategic options. Apart from move of equipment, we could plan training exercises
initially at a small scale and later at a larger scale between the two armies.

Way ahead

Undoubtedly the development of Chabahar port would be a game changer for the region. Apart from
countering the Chinese port of Gwadar, the route would possibly eliminate the term 'strategic depth'
from the lexicon of the Pakistan Armed Forces.

It is hoped that the Iranian government completes the application for the $150 million loan and forwards
it to the Exim Bank of India. Thereafter, Indians can move expeditiously. India would be able to extend
its reach as a regional power, too.

It is extremely important that India connects on a direct route to Afghanistan without having to go
through Pakistan to exercise its strategic options. Such a routing also provides a passage to the Central
Asian Republics. Chabahar provides us this great opportunity and we must leave no stone unturned to
turn this concept into a reality.

Iran Idaily

http://www.iran-daily.com/News/193833.html

Chabahar: The 'missing' link to Eurasia
15 September 2015
DEBIDATTA AUROBINDA MAHAPATRA, SPECIALLY FOR RIR
Officials from India, Iran and Russia recently met in New Delhi and approved draft transit and customs
agreements for the International North South Transport Corridor (INSTC). The three countries and ten
other countries, from Central Asia, the Gulf and East Europe forming the INSTC coordination council, met
and approved draft agreements which will provide a legal basis for freight movement in Eurasia.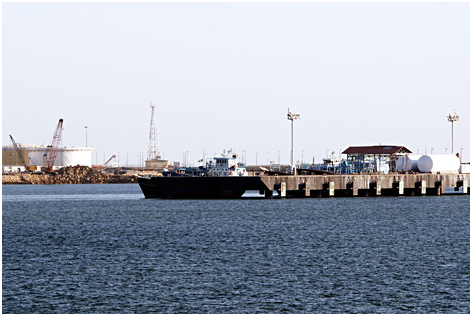 A general view of the Kalntari oil dock of the Sea of Oman near the strait of Hormuz in the city of
Chabahar, south-eastern of Iran. Source:EPA

The southeastern Iranian port Chabahar is a crucial link in the INSTC. India signed an agreement with
Iran in May 2015 to develop this port. The multimodal transport link, when operationalized, will galvanise
Eurasian trade.

India's Transport Minister, Nitin Gadkari visited Tehran to give concrete shape to the Chabahar development
project, conceived over a decade ago but stalled due to international sanctions on Iran. With the sanctions
girdle set to loosen, India's involvement in developing the port will be crucial. Chabahar will be connected to
Milak, close to the Afghan border, and into Afghanistan through the Indian built Zaranj-Delaram highway.
This section is part of the broader INSTC project that links Eurasian nations, from Russia in the north to India
in the south, through Central Asia. The corridor can further be linked to the Silk Road, and other networks of
roads linking China to Europe.

Though estimates vary, transport costs and duration will be minimized when this corridor becomes operational.
According to Gadkari, "It is expected that cargo by this route (INSTC) would reach Russia in about 25-30 days
as against the present route through Suez which takes about 45-60 days". During his visit to Russia earlier in
May 2015, Indian President also referred to this transport corridor.

The $85 million Indian investment in Chabahar will provide India a ten year lease of two berths, one of which
will be used for container traffic and the other for multipurpose cargo at the site.

During his visit to Russia in July 2015, for the BRICS and SCO summits, Indian Prime Minister Narendra Modi
raised the corridor issue with leaders of Russia and Central Asia. Earlier, in June, a stakeholders' conference in
Mumbai by India's Commerce and Industry Ministry and Federation of Freight Forwarders' Associations in India
(FFFAI) discussed the issue. Iranian Foreign Minister, Javad Zarif, visited India last month and met his Indian
counterpart, Sushma Swaraj, Gadkari and Prime Minister Modi to discuss bilateral cooperation, including
Chabahar port and the INSTC.

Commenting on Zarif's visit, Indian Foreign Ministry spokesperson Vikas Swarup said, "We are at an advanced
stage in two ongoing projects related to Chahbahar and the International North South Transport Corridor
(INSTC)." Zarif told reporters, "I believe sooner rather than later we will start serious work." Both sides also
discussed energy cooperation and transforming the relationship from a buyer-seller relationship to a 'genuine
energy partnership.' Iran has offered to build a rail link from Chabahar to Zahedan, capital of its Sistan-
Baluchistan province, as part of the larger INSTC project.

Pakistan does not provide India overland access to Afghanistan. Development of Chabahar will provide India
access to Afghanistan and other Central Asian countries. Particularly in Afghanistan, it will help India carry
forward its humanitarian work, and help build Afghan forces and democratic structures for a more stable
Afghanistan. It will help India to access energy resources in Iran and Central Asia and help turn Eurasia into
a hub of economic cooperation.

A comprehensive economic partnership agreement between India and Eurasian Economic Union will increase
economic cooperation in the region and give a boost to India's connect Central Asia policy. India's investment
in Chabahar will also help counter maritime piracy and tackle other mishaps and disasters at sea.

A zero sum perspective and compartmentalization keeps relations confined to a narrow realm of geopolitics
at the cost of economic advantages. India's involvement in Chabahar can complement China's involvement in
Gwadar. The two ports are located at a distance of about 72 kilometers. A mutual understanding between
India, Pakistan, Iran, China and Russia will not only be mutually beneficial, but also help in giving concrete
shape to projects languishing long such as TAPI and IPI. At present it appears difficult. Sunni dominated
Pakistan has differences with Shia dominated Iran. The decades old Indo-Pak rivalry over Jammu & Kashmir,
and India-China border differences have contributed to a tunnel vision.

India and Iran share huge cultural capital. The two countries shared a long history of trade through the
ancient Silk Road. Once the sanction regime is totally over, Iran's relations with BRICS countries will likely
flourish.

Dr. Debidatta Aurobinda Mahapatra is an Indian commentator. His areas of interests include conflict, terrorism,
peace and development, South Asia, and strategic aspects of Eurasian politics.

First originally pyblished at : https://in.rbth.com/world/2015/09/15/chabahar-the-mising-link-to-eurasia_396951
Iran: India's Gateway to Central Asia
Meena Singh Roy
Pages 957-975 Published online: 23 Nov 2012
Abstract
Most of the discourses on India–Iran relations are either focused on cultural and civilisational links with Iran
or its relevance as an energy-rich nation. Its transit potential in providing India with access to Central Asia
has not received adequate attention. While there is a general acceptance that Iran provides India with access
to Central Asia, what is little known and thus not analysed is the question: to what extent has India been able
to realise Iran's transit potential and what are the major bilateral, regional and international challenges faced
by both these countries for realising that potential? The article argues that despite Iran's geostrategic location
as well as regional complexities, the Iran–US standoff, security challenges and lack of adequate economic
resources constrain India's efforts to maximise the potential offered by the various land, sea and rail routes
connecting India to the Eurasian region through Iran. A new thrust by all regional partners supported by
international agencies to revive old links and build new corridors therefore becomes necessary.

India's plan to develop Iran's Chabahar port faces US headwinds
Reuters June 12, 2017

Western manufacturers are shying away from supplying equipment for an Iranian port that India is developing
for fear the United States (US) may reimpose sanctions on Tehran, Indian officials say, dealing a blow to New
Delhi's strategic ambitions in the region.

Lying on the Gulf of Oman along the approaches to the Straits of Hormuz, the port of Chabahar is central to
India's hopes to crack open a transport corridor to Central Asia and Afghanistan that bypasses arch-rival
Pakistan.

India committed $500 million to speed development of the port after sanctions on Iran were lifted following a
deal struck between major powers and Tehran to curb its nuclear programme in 2015.

But the state-owned Indian firm that is developing Chabahar is yet to award a single tender for supplying
equipment such as cranes and forklifts, according to two government sources tracking India's biggest overseas
infrastructure push.

US President Donald Trump denounced the nuclear agreement on the campaign trail, and since taking office in
January has accused Iran of being a threat to countries across the Middle East.

Swiss engineering group Liebherr and Finland's Konecranes and Cargotec have told India Ports Global Pvt Ltd,
which is developing the deep water port, they were unable to take part in the bids as their banks were not ready
to facilitate transactions involving Iran due to the uncertainty over US policy, the two officials said in separate
conversations with Reuters.

These firms dominate the market for customised equipment to develop jetties and container terminals. One
official said the first tender was floated in September, but attracted few bidders because of the fear of renewed
sanctions. That fear has intensified since January.

"Now the situation is that we are running after suppliers," one official said, speaking on condition of anonymity
because of the sensitivity of matter.

A Konecranes spokeswoman declined to comment beyond confirming the company was not involved in the project.
Cargotec and Liebherr did not respond to requests for comment.

Some tenders have been floated three times since September because they failed to attract bidders. A Chinese
firm, ZPMC, has since come forward to supply some equipment, the same Indian official said.

Threat of sanctions

Trump has called the agreement between Iran and six major world powers restricting Tehran's nuclear programme
in exchange for lifting of sanctions "the worst deal ever negotiated".

Last month his administration extended relief on Washington's broadest and most punitive sanctions, while carrying
out a wider policy review on how to deal with Iran.

Uncertainty over US policy is already causing long delays in contracts that Iran has sought with international firms
to develop its oil fields and buy planes for its ageing airlines.

The lifting of United Nations and European Union sanctions in 2016 partly reconnected Iran with the international
financial system crucial to trade.

But large international bankers with exposure to the United States remain unwilling to facilitate Iranian deals for
fear of running afoul of narrower, unilateral US sanctions that remain outside the nuclear deal and uncertainty
over whether wider sanctions relief will continue.

India's ambassador to Iran said the process of procuring equipment for the Chabahar port was under way and
that some of the customised cranes needed take up to 20 months to build. The banking situation was slowly
improving, he added.

"Tenders are re-floated for a variety of reasons including technical specifications not being met, etc. Banking
channels, in recent months, have in fact somewhat eased," Saurabh Kumar said in an emailed response to
Reuters from Tehran.

"If some companies do not participate, it really is their business," he added.

India has been pushing for the development of Chabahar port for more than a decade as a hub for its trade
links to the resource-rich countries of central Asia and Afghanistan.

Access to those countries is currently complicated by India's fraught relationship with Pakistan.

Bureaucratic delays, difficult negotiations with Iran and the risk of incurring Washington's displeasure during
the financial embargo in Tehran had meant there was little progress on the port until now.

But, prodded in part by China's development of Gwadar port, which lies barely 100 km from Chabahar on the
Pakistani coast, Indian Prime Minister Narendra Modi's government has unveiled massive investment plans
centred around the Iranian port, offering to help build railways, roads and fertiliser plants that could eventually
amount to $15 billion.

So far, even an initial credit line of $150 million that India wants to extend to Iran for development of Chabahar
has remained a non-starter as Tehran has not been able to do its part of work.

"They have not sought the loan from us because they haven't awarded the tenders, either because of lack of
participation or banking problems," said the second government official.

Ambassador Kumar said the Iran had indicated it would be sending proposals shortly to tap the credit line.

Meena Singh Roy, who heads the West Asia centre at the Institute for Defence Studies and Analyses, a New
Delhi think-tank, said increasing tension between Washington and Tehran would have an impact on the port
project.

"The Chabahar Project has strategic significance for India," she said.

"However ... nothing much seems to be moving due to new uncertainties in the region."


US lawmakers question Indian plans for Iran's Chabahar port
Reuters
May 24, 2016
WASHINGTON: US Senators questioned on Tuesday whether India's development of a port in southern Iran for
trade access risked violating international sanctions, and a State Department official assured them the
administration would closely examine the project.

"We have been very clear with the Indians (about) continuing restrictions on activities with respect to Iran,"
Nisha Desai Biswal, Assistant Secretary of State for South and Central Asian Affairs, said on Tuesday.

"We have to examine the details of the Chabahar announcement to see where it falls in that place," she testified
to the Senate Foreign Relations Committee.

Indian Prime Minister Narendra Modi on Monday pledged up to $500 million to develop the Iranian port of
Chabahar, to try to give his country trade access to Iran, Afghanistan and Central Asia. The route is currently
all but blocked by Pakistan, long at odds politically with India.

ADVERTISEMENT
The United States and Europe lifted sanctions in January under a deal with Iran to limit its nuclear program
but some restrictions to trade remain, tied to issues such as human rights and terrorism.

Biswal said she believed India's relationship with Iran was primarily focused on economic and energy issues,
and said the administration recognized India's need for a trade route.

"From the Indian perspective, Iran represents for India a gateway into Afghanistan and Central Asia," she said.
"It needs access that it doesn't have."

Biswal said she had not seen any sign of Indian engagement with Iran in areas, such as military cooperation,
that might be of concern to the United States.

Modi is due to visit the United States next month and will address a joint meeting of Congress, a rare honor.

Senator Ben Cardin, the committee's top Democrat, asked if Biswal expected formal security cooperation
agreements to be signed during that visit.

She noted that India and the United States have already strengthened their security cooperation in several
areas. "We're looking at what additional areas we can engage in to deepen that cooperation," Biswal said.

Washington sees its relationship with India as critical, partly to counterbalance China's rising power.
President Barack Obama has called it "one of the defining partnerships of the 21st century."

Read this report at: https://www.dawn.com/news/1260388
Chabahar Port: Why future of India-Iran project hinges
on outcome of Narendra Modi-Donald Trump meet
Prakash Katoch Jun, 20 2017
The trilateral engagement between India, Iran and Afghanistan during the visit of Prime Minister Narendra
Modi to Iran in May 2016 expanded avenues of trade for India with Iran, Afghanistan, Central Asia and
Russia through the International North South Transportation Corridor (INSTC). Chabahar, Iran's only
oceanic port, consists of two separate ports named 'Shahid Kalantari' and 'Shahid Beheshti' — each of
which have five berths.

India and Iran first agreed upon plans to further develop 'Shahid Beheshti' port in 2003, but India was
deterred by sanctions against Iran. Under the India-Iran agreement of May 2016, India is to refurbish one
of the berths at 'Shahid Beheshti', and reconstruct a 600-metre-long container handling facility at the port.
The bilateral agreement between India and Iran gives India the right to develop two berths of Chabahar as
agreed in 2015, allowing them to be operated for 10 years by India Ports Global — a joint venture between
Jawaharlal Nehru Port Trust and Kandla Port Trust, in partnership with Iran's Aria Banader.

Along with the development of Chabahar Port, India is also to construct a railway line linking Chabahar with
Zahedan on the Iran-Afghanistan border, which beyond Zahedan will be linked to the Iranian Railway running
west and then north close to the Iran-Afghanistan border, avoiding the volatile Helmand Province of
Afghanistan. India's development of Chabahar will be at a cost of $85 million over the course of 18 months.
Upon completion of upgrade work agreed to in May 2016, Chabahar's capacity will be increased to eight
million tonnes from the current 2.5 million-ton capacity.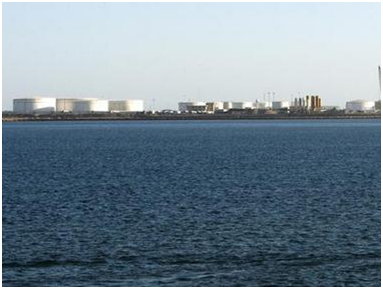 File image of Chabahar Port. Reuters

India's investment is supplemented with a $150 million credit line to Iran through Exim Bank of India. India
has also offered to supply $400 million worth of steel towards the construction of the rail link between Chabahar-
Zahedan. Chabahar Port and the INSTC give India the strategic access for trade with Afghanistan and Eurasia,
faced with denial of the land route through Pakistan.

Prior to the Indo-Iranian agreement on Chabahar, Iran had offered the same project to China and Pakistan also
in addition to India, with China, Pakistan not responding. Iranians grudge that India agreed to develop Chabahar
in 2003 but despite US being amenable to India doing so, India remained complacent. However, it did emerge
in 2015 that there were problems in clearing backlog payments for imported Iranian oil even through European
banks because of the sanctions.

But the fresh agreement of May 2016 implies that India should complete the project within the stipulated 18
months — by November 2017. However, this appears impossible with US-Iran relations gone sour and the
threat of sanctions by the Trump administrations. Trump has called the agreement between Iran and six major
world powers restricting Tehran's nuclear program in exchange for lifting of sanctions "the worst deal ever
negotiated".

India committed $500 million to speed up development of Chahabar after sanctions on Iran were lifted but
India's Ports Global Pvt Ltd has not been able to award a single tender for cranes and forklifts etc. Swiss
engineering group Liebherr and Finland's Konecranes and Cargotec, both of which dominate the market for
customised equipment to develop jetties and container terminals, maintain they are unable to take part in the
bids as their banks are not ready to facilitate transactions involving Iran due to the uncertainty over US policy.
The lifting of UN and EU sanctions in 2016 partly reconnected Iran with the international financial system but
large international bankers remain unwilling because of the US stance, especially due to possibility of unilateral
US sanctions that may be imposed irrespective of the nuclear deal.

There is little progress on the Iranian side as well; even an initial credit line of $150 million that India wants to
extend to Iran for development of Chabahar has remained a non-starter as Tehran has not been able to do its
part of the work. So, the 18-month deadline for completion is impractical, especially with the Indian Ambassador
to Iran stating that "some of the customised cranes needed take up to 20 months to build".

In 2011, Beijing and Tehran signed a deal giving China exclusive rights to multiple several Iranian oil and gas
fields through 2024, including rights to build necessary infrastructure. In return, China promised to treat any
foreign attack against these regions as attacks against its own sovereign territory, and defend them as such.
China needs no prior permission from Iranian government to maintain and increase its military presence in Iran,
and will control the movement of Iranians in and out of these territories.

According to Green Experts of Iran, this agreement was the basis for PLA's General Zhang Zhaozhong stating,
"China will not hesitate to protect Iran even with a Third World War." China and Iran aim to increase bilateral
trade to $600 billion within the next decade, even though economists feel it is not attainable. Just last week,
the Chinese and Iranian navies undertook joint exercise in the strategic Straits of Hormuz, preceded by a
China-Pakistan joint naval exercise off the coast of Karachi.

According to James M Dorsey, senior fellow at the S Rajaratnam School of International Studies in Singapore,
the Donald Trump administration appears to take be getting ready to back Saudi Arabia and the UAE
to destabilise Iran, possibly topple its Islamic government and force Qatar to fall into line with Gulf policies
that target Iran. If that were to happen, the US in all probability may re-impose unilateral sanctions.

This would adversely affect India's development of the Chabahar Port and consequently trade with Afghanistan,
Central Asia and beyond through the INSTC. India will need to find a way to continue developing the Chahabar
Port even in the event of fresh sanctions against Iran. This will require sustained high-level diplomacy including
perhaps discussion of the issue between Modi and Trump.

The author is a retired lieutenant-general of the Indian Army

First published at: http://www.firstpost.com/india/chabahar-port-why-future-of-india-iran-project-hinges-on-outcome-of-narendra-modi-
donald-trump-meet-3722647.html
Despite Trump's Threats to Iran, India Must Push Ahead on Chabahar
BY SUMITHA NARAYANAN KUTTY 16/02/2017

There is limited interest to 'tear up' the Iranian nuclear deal in Washington. Even as New Delhi monitors these
moves closely, it should consider a coordinated approach with Asian partners who continue to engage with Iran.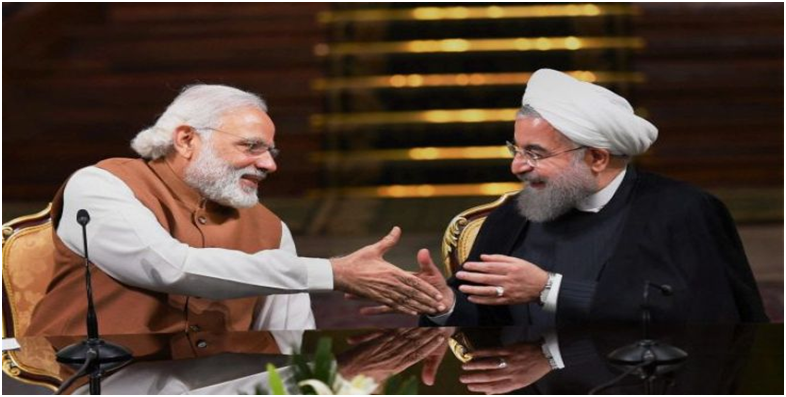 Prime Minister Narendra Modi shakes hands with Iranian President Hassan Rouhan. Credit: PTI
The Trump administration's recent move to sanction dozens of Iranian entities has raised concerns in India,
specifically over the future of the Chabahar port project. These apprehensions are justified given the strategic
significance of the southern Iranian port, which will enable India to bypass Pakistan and gain direct access to
Afghanistan, Central Asia and Europe.

This proposal has taken over a decade to materialise and any move by the new US government to discourage
economic engagement with Iran would throw a spanner in the works.

Therefore, it would be in New Delhi's best interests to safeguard its proposed investments in Chabahar and
convey to Washington that Iran's most important strategic and economic partners – including Russia, China,
Japan and South Korea – would not like to see the Iranian nuclear deal unravel.

Trump's choices: deal, new deal or no deal?

Despite his Twitter rhetoric, Trump's new sanctions against Iran are not exactly new. This policy is in line with
that of the Obama administration to keep a strict check on Iran's behaviour through non-nuclear sanctions even
after the nuclear deal.

Non-nuclear sanctions include those against Iranian or related entities and individuals who support terrorism,
human rights violations and, as in the latest case, the country's ballistic missiles programme. They are separate
from the sanctions that were lifted as per the Iranian nuclear deal, the future of which is undoubtedly of great
concern today.

The Iranian nuclear deal, or the Joint Comprehensive Plan of Action, reached in 2015, was negotiated between
Iran and the P5+1 countries – the US, Russia, China, the UK, France and Germany – and was facilitated by the
European Union (EU). The Trump administration has repeatedly indicated that it plans to force the Iranians back
to the table to renegotiate "the worst deal ever negotiated".

However, there is zero appetite for renegotiations. The EU's Vice President Federica Mogherini, who coordinates
the joint commission that implements the deal, has confirmed as much and so has Iran's President Hasan
Rouhani, who labelled such talks "meaningless".

The Russians find such a move "risky" and have advised Trump to "not try to fix what is not broken". The British,
while raising concerns over Iran's behaviour, have opined that the deal be properly enforced and policed. And
finally, China has interestingly been the loudest on this matter since it was hit by the latest US unilateral sanctions
(three Chinese companies and three Chinese individuals were on the list). Beijing has now warned the US that
such moves "will not help in enhancing trust."

More importantly, there is very little appetite to return to the past scenario of multilateral economic sanctions
against Iran. This realisation seems to have dawned on the Republican camp and, if shared across the administration,
would prove helpful in preserving the deal.

Paul Ryan, the speaker of the US House of Representatives, has stated that the deal is very likely to stay in place,
"I don't think you're going to go back and reconstitute the multilateral sanctions that were put in place." Trump also
appears to now be talking about "rigorously enforcing the deal." In a recent interview, when he was specifically
asked whether he would tear up the deal, he remained non-committal.

On red flags and a coordinated approach

This brings us to how New Delhi could prepare and proceed on the matter. What red flags should the Modi
government watch out for and in what ways can it safeguard India's proposed investments in Iran going forward?

New Delhi should specifically look for announcements from the US Treasury targeting the Iranian port operator
Aria Banader Iranian Co., which has partnered with Indian Ports Global Pvt. Ltd. to develop the Chabahar port.

This private company, according to Iran's Ports and Maritime Organisation, currently also operates a terminal in
the Anzali port facing the Caspian Sea.

In the past, a port operating company, Tidewater, believed to be functioning in Bandar Abbas and owned by
Iran's Islamic Revolutionary Guard Corps (IRGC), was blacklisted in 2011, making it difficult to conduct trade
through the port. The company remains in the list but the secondary sanctions on Bandar Abbas have been
lifted as per the nuclear deal.

If Aria Banader was found to have linkages with the IRGC – which is unavoidably deeply engaged in Iran's key
sectors – or other blacklisted individuals by Washington, it would be highly problematic for India. This could
indeed have been one of the reasons that upset New Delhi when the Iranian government failed to mention
they had leased the port to the private firm at the signing of the MoU in 2015. It meant spending additional
time on the due diligence and vetting of its new business partner in Chabahar.

A second proposition for the Modi government to consider is widening consultations with Asian partners who
have invested or are considering investments in Iran, specifically in Chabahar. New Delhi is already working
with Japan on this matter and should consider including South Korea as well.

Japanese Prime Minister Shinzo Abe was one of the first world leaders to call on Trump in November when
he won the presidential election, and last week met him again to shore up the Japan-US alliance. It was also
within these same months that the Japanese deputy foreign minister announced in Kabul that the country
had reached an agreement with New Delhi to expand the Chabahar port in Iran and promised to help boost
Afghan trade in the region. This could indicate that the Japanese have taken this calculated decision to proceed
with investments in Iran after having consulted or engaged on the subject in some form or fashion with
Washington.

Last year, the South Korean steelmaker POSCO agreed to jointly build a steel plant in Chabahar's Free Trade
Zoneand use it as a springboard to more investments in Iran. Other Korean companies have also signed MoUs
on electricity-generation and desalination plants in the coastal city.

Joint consultations with Japan and South Korea, who are also US allies, are increasingly becoming the need of
the hour as Iran and the US indulge in escalation.

Here's why – the US and Iran are no longer talking to each other. They are back to talking at each other.

This is a significant change – or perhaps, a return to the status quo – going forward. The direct and functional
channel of communication that existed between former US Secretary of State John Kerry, Iranian foreign
minister Javad Zarif and their teams looks difficult to replicate with the Trump administration.

Trump's latest moves against Iran won't unravel the Iranian nuclear deal just yet. And the Modi government's
Budget allocation for the Chabahar port project demonstrates that it aims to move forward on it and is not
entirely risk averse. It must, therefore, strategise to ensure its interests in Iran are protected when engaging
with it becomes tricky.

Together with Tokyo, Seoul and other like-minded partners, New Delhi can drive home the point in Washington
that there is greatly reduced appetite for multilateral sanctions against Iran, which are in clear violation of the
nuclear deal. It needs to also underscore the reality that it will be a much harder task to wrestle Iran back into
the 'sanctions box'.

New Delhi cannot afford to stand by mutely while its strategic ambitions come undone for a second time.


Sumitha Narayanan Kutty is an associate research fellow with the South Asia Programme at the S. Rajaratnam School of International Studies,
Nanyang Technological University, Singapore.
Read the original article at:https://thewire.in/108949/despite-trump-threats-to-iran-india-must-push-ahead-on-chabahar/
Published Date: Date: Jun 20, 2017
US backs India-Iran Chabahar port deal as it outflanks
China-Pakistan Gwadar project
Uttara Choudhury

May, 26 2016
New York: Washington broadly supports India and Afghanistan signing a deal with Iran for a transport corridor
opening up a new route to Afghanistan via the Iranian port of Chabahar, as it outflanks the $46-billion China-
Pakistan Economic Corridor project with Gwadar as its focal point.

Analysts say Washington is acutely aware that China's plans to develop Pakistan's southern coastal fishing
town of Gwadar into an economic hub, potentially redraws the region's geopolitical map. It gives China a new
trade link from its relatively undeveloped west to key Arabian Sea shipping routes at the mouth of the oil-rich
Persian Gulf — giving it potentially strategic as well as economic leverage.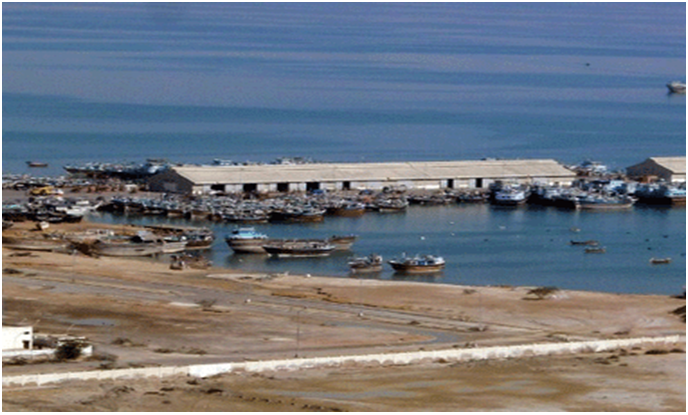 File image of Pakistan's Gwadar Port. AFP

"The massive Gwadar project reveals China's regional power play. There is no comparison in scale and intent
between China's role in Gwadar and India's in Chabahar, but the Americans are pleased that India is pushing
back against the Chinese expansionist mindset," said author and South Asia expert Adam V Larkey.

"The transport corridor will open up a much-needed independent route to Afghanistan via Iran's Chabahar port
circumventing Pakistan. This is significant for India and Afghanistan, whose economic stability in turn, is
important to the United States. There are fissures in Pakistan's relations with the US and Afghanistan, while its
ties with old friend China remain rock solid," added Larkey.

The Gwadar project is about more than simple trade — its backers hope that once finished, it will bolster
Pakistan's economy and potentially give China's navy access to the Indian Ocean. The plan would also strengthen
both China and Pakistan's positions versus India, and hedge against US influence in Asia.

India's Chabahar investment has been pending for years, in part owing to US sanctions against Iran over its
nuclear program, many of which were lifted earlier this year. New Delhi will invest $200 million to develop two
terminals and five berths at Chabahar.

Gwadar is being built as a commercial port and not as a naval facility for China's navy — at least for the time
being, but it could potentially be developed as one in the future. Situated on a barren, hammerhead-shaped
peninsula in the south of insurgency-ridden Balochistan — and just north-east of the strategically important
Straits of Hormuz — Pakistan's generals and China's politicians predict the development of Gwadar will be a
game-changer.

It would give China a firm and reliable long-term beachhead in the Indian Ocean and close to the Persian Gulf,
"effectively making it a two-ocean power," said Claude Rakisits, a senior fellow at the Atlantic Council.

Some US senators were caught off guard by the announcement of the Chabahar port deal, but the Obama
administration has batted for India.

"For India to be able to contribute to the economic development of Afghanistan, it needs access that it does
not readily have across its land boundary. And India is seeking to deepen its energy relationship with the
Central Asian countries and looking for routes that would facilitate that," assistant secretary of state for South
Asia Nisha Desai Biswal told the Senate foreign relations committee on Tuesday.

Biswal assured the senators that the Obama administration has been "very clear with the Indians what our
security concerns have been and we would continue to engage them on those issues".

Published Date: May 26, 2016

Read this report at source:http://www.firstpost.com/world/us-backs-india-iran-chabahar-port-deal-as-it-outflanks-china-pakistan-gwadar-
project-2799596.html
Chabahar port may be opened next year: Indian minister
NEW DELHI: The Indian government is hopeful that the strategic Chabahar port in Iran will be operational by
2018, Union minister Nitin Gadkari has said.

India's minister for transport, highways and shipping was in Tehran on Saturday in connection with the
inauguration of President Hassan Rouhani's second term in office.

Prime Minister Narendra Modi had earlier congratulated Rouhani on his re-election as the president of Iran
and affirmed India's commitment to strengthen the "special relations" between the two countries.

"India and Iran have been historically sharing special ties... We are keen on developing Chabahar port and are
hopeful of starting operations in 12 to 18 months," Gadkari said.

Chabahar port, located in the Sistan-Baluchestan pro¬vi¬nce on the energy-rich Persian Gulf nation's southern
coast, can be easily accessed from India's west coast, bypassing Pakistan.

Gadkari's visit has assu¬med significance as India has accelerated work at the Chabahar port and finalised some
tenders for installation of key equipment there.

"Civil construction work has started there. We have finalised tenders worth Rs:3.8 billion for equipment out of
Rs:6bn and once the port becomes operational it will become a growth engine," the minister said.

Gadkari said he was also hopeful of certain approvals from the Iranian government for expediting work and
add¬ed that once Chabahar be¬came operational trade and business between the two countries would see a
boost.

For greater trade and investment flow with Iran and neighbouring countries, the Indian cabinet last year
approved proposals for development of Chabahar port, including a $150 million credit from Exim Bank.

According to the MoU signed by the two countries in May last year, India is to equip and operate two berths
in Chabahar Port Phase-I with capital investment of $85.21m and annual revenue expenditure of $22.95m
on a 10-year lease.

Ownership of equipment would be transferred to Iranian side on completion of 10 years or for an extended
period, based on mutual agreement.

As per the accord, operations of two berths are to commence within a period of 18 months after the signing
of the contract.

Besides the pact to dev¬elop the port, for which India will invest $500m, a trilateral Agreement on Trans¬port
and Transit Corridor has also been signed by India, Afghanistan and Iran.


—By arrangement with the Times of India

Published in Dawn, August 6th, 2017
Chabahar vs Gwadar
S. Mudassir Ali Shah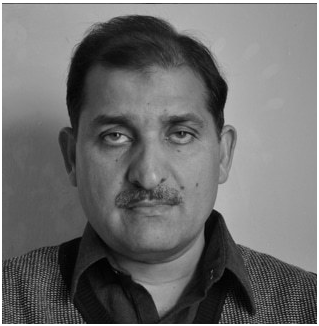 The writer is a Kabul-based Pakistani journalist.
INDIA and Iran concluded a long-awaited port deal in Tehran on Wednesday, lending a big boost to efforts for
promoting regional trade. The Chabahar port near the Iranian border with Balochistan reflects Prime Minister
Narendra Modi's keen interest in forging robust trade links with Central Asia, including landlocked Afghanistan.

In 2003, the two sides had agreed to execute the project, bypassing Pakistan, but the venture made slow
progress due to Western curbs on Iran over its controversial nuclear programme. The port's expansion is
expected to whittle down transport costs and cut freight time from India to Central Asia and the Persian Gulf.

Chabahar provides India an easier land-sea route to Afghanistan, where it has fostered close security cooperation
and economic interests over the years. New Delhi has already spent $100 million on building a 220-kilometre
road in the Nimroz province of Afghanistan. The road will be extended to Chabahar.
Chabahar provides India an easier land-sea route to Afghanistan.
Afghanistan is expected to sign a tripartite transit trade agreement on using the port as an alternative route,
which could jack up bilateral trade to $3 billion from $700-800 million.

ADVERTISEMENT

The project's strategic nature is illustrated by its location along the coast from the Chinese-funded Gwadar port
in Balochistan. Noting the prospect of sanctions on Iran being lifted or eased, India plans to fast-track the plan.

Modi's sense of urgency in concluding trade pacts with Iran and other Persian Gulf nations is apparently driven
by Chinese President Xi Jinping's signing of $46bn energy and infrastructure development agreements with Pakistan
last month.

During his daylong visit to Tehran, India's shipping minister inked with his Iranian counterpart Abbas Ahmad
Akhoundi a memorandum of understanding on developing the port on the Gulf of Oman. Both sides overruled
America's call for India and other countries not to rush into doing business with Iran. The US has expressed its
concern that India is moving too fast and could undermine the sanctions regime.

After a commercial accord is reached on implementing the pact, Indian firms will, according to the Indian
government, "lease two existing berths at the port and operationalise them as container and multi-purpose
cargo terminals", providing Afghanis¬tan with access to the sea and reducing its substantial reliance on Pakistan.

The signing ceremony came on the heels of a warning from the US ambassador to India, who said countries
engaging with Iran must wait for the outcome of Tehran's discussions with the P5+1 group — the US, Russia, China,
France, Britain and Germany.

With the next round of talks scheduled for May 12 at Geneva, the European Union and the rest of the partners
will join the negotiations three days later. As the negotiators seek to wrap up the process by June 30, there is
cautious optimism of a breakthrough.

For its part, the Modi administration insists the development of the port in no way violates sanctions and that it
is not bound to enforce Washington's decisions. The port will enable Iran to open up to the Western world once
the sanctions are lifted. India had also expressed its interest in developing a key oilfield, but Iran refused to give
it gas marketing rights.

During the government of ex-premier Atal Behari Vajpayee, India slashed oil imports from Iran, a move that
left the two countries running into rough weather. The situation worsened in 2014 when Iran hiked import duty
on Indian rice from 10pc to 45pc, worrying traders and farmers from Punjab, Haryana and UP.

While eyeing a larger role in Wes¬tern Asia, Delhi's regional diplomatic status will see a huge surge with the
development of the port. Iran, meanwhile, wants India to help create a free trade zone near Chabahar, some
70km from Gwadar where the Chinese Overseas Ports Holding Company has agreed to help Pakistan establish
a free economic zone.

Islamabad's constant refusal to provide a land route for Indian shipments to Afghanistan via Wagah has
frustrated Delhi's efforts to engage with Kabul economically and strategically. India has pledged $100m for
laying railway lines connecting Afghanistan with Central Asia.

In order to ensure the launch of trade activities at Chabahar, India may enter into discussions with the US for
seeking a sanctions waiver. Once the nuclear deal is sealed, New Delhi will invest $85m in the purchase of
equipment to set up and run a container terminal and a multi-purpose berth at the port, whose operation is
estimated to cost India $22.95m annually.

Officially designated as a free trade and industrial zone by the Iranian government, Chabahar has acquired
increased significance in terms of an international trade hub. Poised to connect business growth centres in
South Asia, the Middle East and Afghanistan, the free trade area is being connected to Iran's main rail network.


The writer is a Kabul-based Pakistani journalist.

Published in Dawn, May 10th, 2015

On a mobile phone? Get the Dawn Mobile App:
Pakistan needs to block India's move to become regional
sheriff
By Faran Mahmood

Published: May 2, 2016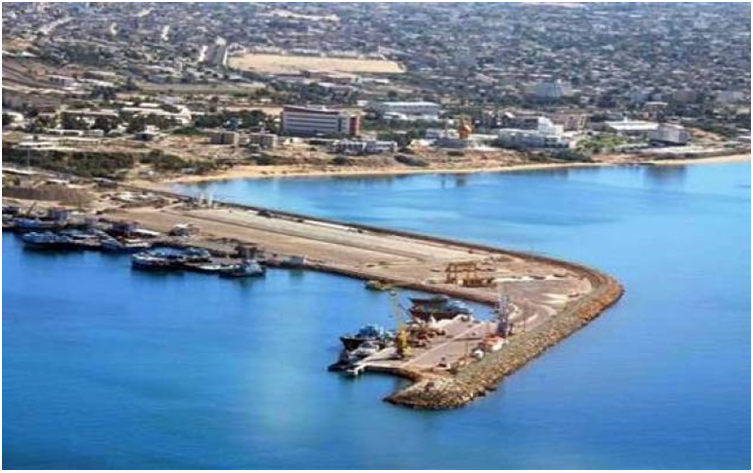 File photo shows an aerial view of Chabahar port in southeastern Iranian province of Sistan and Balochistan. PHOTO: IRNA
ISLAMABAD:

The China-Pakistan Economic Corridor (CPEC) project has been mired with cost squabbles in political waters.
But amid all this controversy over the CPEC route, New Delhi is rushing to seal deal after inking an MoU with
Iran for extending a $150 million loan to develop its Chabahar port.

India plans to lease two docks for a decade that would give it access to Afghanistan and Central Asian energy
markets – bypassing Pakistan. Moreover, in collaboration with Tehran and Moscow, India is looking to create
a vast network of enhanced connectivity with the land-locked Central Asia and eventually Europe, through the
International North-South Transport Corridor (INSTC)

Indian calculus on Pakistan

New Delhi is following a policy of 'twin track' by engaging Pakistan's neighbours but circumventing Pakistan
in trade partnerships; and at the same time, maintaining good ties with its civilian leadership. India is playing
a similar 'minus 1' card in Saarc and now is looking for new regional groupings beyond South Asia.

But will the Chabahar agreement be a 'real' game changer and a direct threat to CPEC? Or like Saarc, the
triangle would fall prey to Indian's hegemony?

Yes and maybe. Designated as a free trade zone on the gulf of Oman, Chabahar is a direct competitor to
Gwadar. However Indian-Iranian relations have no long-standing history of amity and harmony and as recent
as 2014, Iran increased import duty on Indian rice from 10% to 45% while revoking visa-on-arrival for Indian
citizens.

Now the deal between Tehran and P-5+1 (US, Russia, China, UK, France and Germany) over its nuclear
programme has helped break the ice between the two countries and Modi's government is now all set to steer
the course of regional dynamics.

Iran could use this as an opportunity to grab oil market share from the Saudi-led OPEC, while the Iranian gas
would help India diversify its energy mix. Indian companies are also ready to invest more than $20 billion in
Iranian oilfields and petrochemical plants.

The deal will also give Afghanistan an alternate port for fulfilling its maritime needs and shall decrease
Islamabad's influence on its foreign policy. Afghan imports through Karachi port have already declined by
more than 40% in Feb 2016 and according to estimates, Afghan-Indian trade volume could increase by a
four-fold if modalities of a trilateral agreement materialise.

Previously in 2009, India built the "Route 606" to bypass Pakistan for commercial trade at a cost of $150
million. The road connects to the Iranian city Zabol whereas construction work on a Chabahar-Milak-Zaranj-
Dilaram route from Iran to Afghanistan is already in progress.

Pakistan's strategy

There is a need to advance comprehensive trade reforms for sustaining macroeconomic growth and to stop
India from becoming a regional sheriff. The post-sanctions era in Iran presents multiple opportunities for
Pakistan but pursuing them requires deep understanding of Iran's complex social, economic and geo-political
issues. At present, Pakistan needs to adopt a two-pronged strategy, at a national as well as regional level,
to counter Indian threats and emerging geo-political challenges.

At a national level, Pakistan needs to assuage the concerns of smaller provinces whereas political parties
need to show maturity and ownership of the CPEC programme. Stakeholders need a full agenda of shared
objectives to start with.

At the regional level, the mistrust between India and Pakistan has prevented Saarc to become a model of
regional cooperation like the Association of Southeast Asian Nations. Trade under South Asian Free Trade
Agreement (SAFTA) is a mere 5% of South Asia's total trade volume which is not very promising.

Pakistan needs to lobby with small states of Saarc and negotiate e-visa arrangements with states like
Sri Lanka and Maldives that are popular tourist destinations. The Beijing-Islamabad axis is not a substitute
to regional partnerships and Pakistan needs more cooperative relationships with its neighbours.

Pakistan also needs to sort out its differences with Afghanistan. India has not only shown keen interest in
the development of Afghanistan's natural wealth but has actually delivered on numerous infrastructure
projects including the Salma dam and the Afghan parliament building. More than 10,000 Afghan students
have studied in India on scholarships in the last decade. Public opinion polls confirm overwhelmingly
favourable sentiments for New Delhi.

Islamabad should support Afghan government in developing its agricultural, livestock and industrial sectors.
The writer is a Cambridge graduate and is working as a management consultant
Published in The Express Tribune, May 2nd, 2016.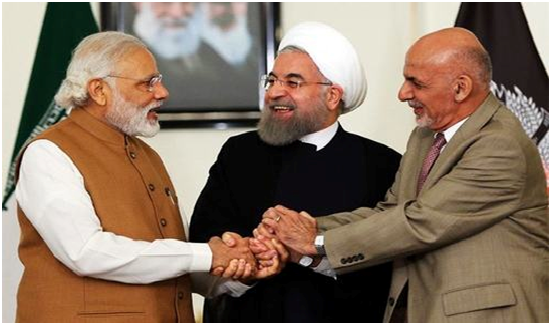 Trade route linking Chabahar Port with Afghanistan a
security threat'
ISLAMABAD: Two former defence secretaries insist the trade route which is being established by Iran, India
and Afghanistan, linking Chabahar Port with Afghanistan, is a security threat.

The comments made by the former defence secretaries just a week after the agreement for the trade route
was signed by Iranian, Afghan and Indian leaders, is a reflection of the opinion held in military circles, which
have been deeply suspicious of the port and the trade route.

Speaking on the first day of a three-day workshop on Monday which was hosted by a local think tank, Strategic
Vision Institute (SVI) on 'National Security, Deterrence and Regional Stability in South Asia', former defence
secretary retired Lt-Gen Asif Yasin Malik said: "The alliance between India, Afghanistan and Iran is a security
threat to Pakistan" and added that he feared that Pakistan is going into isolation.

"In view of the regional and global environment, I see Pakistan falling into an abyss of isolation primarily
because of its own mistakes and partly due to the hostile policies of other states," he said.

ADVERTISEMENT
He blamed the situation on the "dysfunctional Foreign Office" and the absence of a full time foreign minister.

Iran has tried to dispel concerns about its cooperation with India and Afghanistan with its envoy in Islamabad,
Mehdi Honardoost last week saying that Pakistan and China should join in on the Chabahar agreement. He had
then stressed that the Gwadar and Chabahar ports should not be seen as rivals.

Pakistan's Foreign Office also views the Chabahar port positively with Adviser on Foreign Affairs Sartaj Aziz
saying at a press conference on Thursday that Pakistan did not see Iran's Chabahar port as a rival and that
Pakistan was in fact exploring the possibility of developing links with Gwadar.

Nevertheless, the concerns among the military persist as mirrored by the former defence secretaries.

At the event on Monday, retired Lt-Gen Nadeem Lodhi said the existence of such a "formidable bloc" in the
neighbourhood had "ominous and far reaching implications" for Pakistan.

He feared the three-nation bloc will affect Pakistan's plans for regional economic integration, restoration of
internal peace and maintenance of peaceful borders. It will also affect CPEC timelines, he added.

"We need to break out of this encircling move with help from friends... diplomatic manoeuvres and by forging
a strong deterrence," he said, adding that of the three countries, Iran is most likely to pay heed to Pakistani
concerns.

He suggested Pakistan use China's influence for fixing problems. "Iran must not be further alienated and its
interests in CPEC should be developed," Mr Lodhi said.

He said that the defence and strategic relationship with China should be formalised instead of an unwritten
understanding.

Other speakers also deliberated on national security and asked the government to broaden its conception of
challenges and risks and to respond to them proactively.

Air University Registrar Ghulam Mujadid said that the eminence of security in national priorities is reflected
in the four military take-overs in the country and the "ascendancy of military in political, internal and foreign
policy decision making".

"Pakistan needs to correct this strategic myopia. A survivalist mindset about national security dominates the
political discourse and continues to be the central pillar in Pakistan's strategic calculations," he said.

Such a security focused state, he observed, allocates more resources for defence at the cost of social welfare
and human security.

He pointed out that the country lacked forums for national security formulation. Recognising that the
establishment of a Cabinet Committee on National Security and the appointment of a national security adviser
were steps in the right direction.

Mr Mujadid noted that "decisions on security issues remain ad-hoc and disconnected; formulated and
implemented in separate silos, hence policies are reactive instead of being consistent and coherent".


Published in Dawn, May 31st, 2016