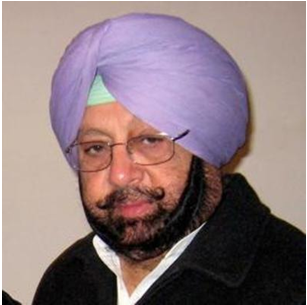 Punjab Congress president Captain Amarinder Singh
CHANDIGARH: Terming the creation of Punjabi Suba as the second partition for Punjabis after Inde-
pendence, PunjabCongress president Captain Amarinder Singh on Tuesday flayed the Akalis for
shrinking the state to fulfil their "sectarian agenda".

Reacting to the celebration of the 50th anniversary of Punjbai Suba by the SAD-BJP government,
Amarinder said there was no reason to celebrate for laying the foundation for the continuous decline
of the state. "Rather than celebration, it should be a moment of penance and selfatonement for the
Akalis.They effectively shrunk the state and deprived it of the rich resources that it had earlier,"
Amarinder said.

The Punjab Congress president pointed out that not only did Punjab lose out on vast tracts of land
spanning 80 lakh acres, it also lost precious resources like water, hydroelectric power, forests and
tourism to Himachal Pradesh, while large and well-planned industrial belts went to Haryana. "While
Haryana prospered through industrial growth, particularly in Faridabad, Gurgaon and Panipat, Punjab
was left struggling with a legacy of festering disputes, including the demand for Chandigarh as its
exclusive capital and a commitment to provide Haryana with our precious water," said Amarinder.

Punjab is yet to rid itself of the baggage it inherited from the second partition in 1966, said Amarinder,
adding that never in history had people of a state volunteered to reduce their land instead of
expanding it."No well-meaning Punjabi could feel proud or happy over what happened to Punjab 50
years ago," he said.

Noting that half the state was earlier lost to the tra gedy of India's partition in 1947, Captain Amarinder
lamented that whatever was left thereafter was further fragmented by the Akalis in the name of
`Punjabi Suba'.

The Punjab Congress chief challenged the Akalis to list out a single benefit resulting from the state's
trifurcation. "From being one of India's most prosperous state, Punjab had been reduced to being
quite a backward one. It is time to rescue the state," he said.
`Haryana, HP have marched ahead of us'

Questioning the rationale for celebration of 50th anniversary of second partition of Punjab that left
the state poorer, the Congress Legislature Party (CLP) le ader Charanjit Singh Channi today asked
Chief Minister Parkash Singh Badal to explain to the people as to why his party launched the Dharam
Yudh Morcha in 1982 that pushed state in more than a decade long period of turmoil in which about
30,000 people were killed. He said in case the re-organization of Punjab on November 1, 1966 is a
cause for celebration going by the function organized at Amritsar, he should apologize to the people
of Punjab.

"November 1 is a cause for celebration for Haryana and Himachal Pradesh but not for Punjab as it is
this state that suffered.

"Punjab is now among the laggard states while both Haryana and Himachal Pradesh have marched much
ahead. It is the Akali Dal that is squarely responsible for this plight of this state. Of course, it might be
a personal gain for Badal who has is completing his 5th term as the chief minister. This might not have
been possible otherwise. Badal should list just one gain from second partition of Punjab," he added.
Source: The Times of India, Nov 2, 2016
Send email to nazeerkahut@punjabics.com with questions, comment or suggestions
Punjabics is a literary, non-profit and non-Political, non-affiliated organization
Punjabics.com @ Copyright 2008 - 2018 Punjabics.Com All Rights Reserved
Website Design & SEO by Webpagetime.com