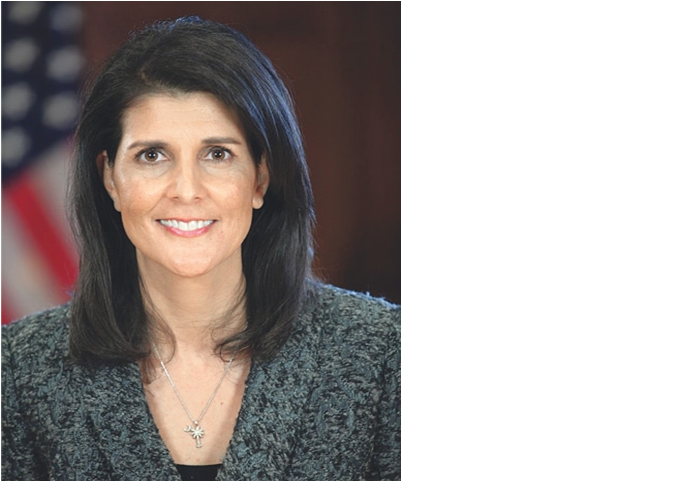 US Ambassador to the UN Nikki Haley says America's interest in Afghanistan and South Asia is to eliminate terrorist safe
havens
WASHINGTON: US Ambassador to the UN Nikki Haley has said that India can help the United States
in keeping an eye on Pakistan, as Washington cannot tolerate any government that shelters terrorists.

In her address to the US-India Friendship Council in Washington on Tuesday, Ambassador Haley,
an American politician of Indian origin, also advised India "not to touch" the present veto arrange-
ment at the UN Security Council if it wanted to join the world body as a permanent member.

Explaining Washington's growing interest in New Delhi, the US envoy said the United States was
"really going to need" India's help in stabilising Afghanistan and was looking forward to greater
support from this major South Asian power in resolving the Afghan conflict. "So having them help
not only with infrastructure and the aid that they can give towards rebuilding Afghanistan, (they
can) also help us to keep an eye on Pakistan," Ms Haley said.

"That is going to be really important in making sure that we hold them accountable, because we are
at a pointwhere we kind of laid the groundwork that we need to see better partnership from Pakistan...
India is going to help us with that," she added.

The US envoy to the United Nations said that America's overriding interest in Afghanistan and
throughout South Asia was to eliminate terrorist safe havens and to keep nuclear weapons out of
the hands of terrorists. "We will use all the elements of our national power: economic, diplomatic
and military to pursue these goals," she said.

Ms Haley recalled that US President Donald Trump had taken a "tougher approach" to Pakistan for
allegedly "harbouring terrorists" and wanted Islamabad to eliminate the so-called terrorist safe
havens from its soil.

"Pakistan has been a partner to the US at times. We value and respect that. But we cannot tolerate
this government or any other government giving safe haven to terrorists who target Americans,"
she said.

"This new approach will require understanding and restraint from both Pakistan and India," said the
US diplomat while explaining the US position that the United States wanted to maintain separate
relations with both nations.

The United States, she said, recognised the important contributions India had made to the stability
of Afghanistan and wanted New Delhi to continue doing so.

Ms Haley said that while President Trump had decided to make sure that Iran never got a nuclear
weapon, he did not oppose the Indian nuclear programme.

"India is a nuclear power and nobody gives it a second thought. Why? Because India is a democracy
that threatens no one," she said.

Ms Haley said two of the five permanent members, Russia and China, opposed any changes in the
current structure of the Security Council and could also keep India out if it tried to acquire veto powers.

The US envoy to the United Nations said the proposed reform of the UN Security Council was "much
more about veto" — the power that allows Russia, China, Britain, US and France to veto a resolution
— than about its expansion.

"None of them (five permanent members) want to give that up. So, the key to getting India on the
Security Council would have to be not to touch the veto," Ms Haley said.
Source: Published in Dawn, October 19th, 2017
CPEC passes through disputed territory:US
US Backs India's Stand On OBOR (One Belt One Road) | Goes Through Disputed Territory - James Mattis
Taking sides on CPEC
The comments were incendiary and call into question whether even the so-called adults in the
administration of US President Donald Trump understand the extent to which their words can
cause damage.

The strategic rivalry between the US and China means the latter's Belt and Road initiative is
unlikely to be looked on with great approval by any US administration. But US Secretary of
Defence James Mattis has controversially waded into the CPEC debate by claiming that the
"One Belt, One Road also goes through disputed territory", an obvious reference to CPEC's
route through Gilgit-Baltistan.

The astonishing comment has seemingly aligned the US with India on CPEC and possibly even
the Kashmir dispute — a potentially shocking development with far-reaching consequences
that the Trump administration appears oblivious to.

Indeed, for a US administration that has remained studiously silent about the atrocities by
Indian forces in IHK, it is remarkable that a senior official has decided to weigh in on the Kashmir
dispute in a manner that blindly supports the Indian position.

When President Trump signalled a South Asia strategy in outlining his Afghan policy earlier in
the year, was he really suggesting a plan of pitting India against Pakistan to further US strategic
goals in the region? The mere possibility would have disastrous consequences for the region
and beyond.

Even from a narrower perspective, Mr Mattis's attack on CPEC is deeply troubling. The corridor's
vast potential of helping Pakistan become a trading hub and grow and diversify its economy is
universally recognised. For Pakistan, there is an inherent challenge to ensure that CPEC's max-
imum gains accrue to this country and not to outside investors, workers and communities. But
CPEC is an undeniably historic opportunity and represents a commitment to Pakistan that is
unrivalled.

So why is Mr Mattis coming down on the wrong side of history and the wrong side of the true
interests of the people of Pakistan in trying to tarnish the initiative?

The US has hardly been rushing to Pakistan's economic assistance in recent times. In fact, its
officials have routinely threatened to withhold legitimate economic assistance for all manner
of perceived offences. Unhappily, there is a history of the US trying to bully Pakistan into staying
strictly inside the US orbit of influence.

The Iran-Pakistan pipeline, for example, was opposed by the US at a time of acute gas shortages
here simply because the US was then pursuing the economic isolation of Iran. The pipeline ought
to have been Pakistan's right to pursue and was in this country's clear strategic interest — but
the US effectively vetoed it even though it was not apparent that American sanctions at the time
necessarily applied to the pipeline.

Now it is CPEC that appears to be in America's cross hairs.
Source:DAWN.COM,October 10, 2017
US backs India's stand in China-Pakistan Economic Corridor
The Trump administration on Tuesday threw its weight behind India's opposition to the China-
Pakistan Economic Corridor (CPEC), saying it passes through a disputed territory and no country
should put itself into a position of dictating the Belt and Road initiative.

India skipped the Belt and Road Forum (BRF) in May this year due to its sovereignty concerns
over the nearly USD 60 billion CPEC, a flagship project of China's prestigious One Belt One Road
(OBOR), which passes through Pakistan-occupied Kashmir (PoK).

Having returned from his maiden trip to India last week wherein he met his counterpart Nirmala
Sitharaman and Prime Minister Narendra Modi, US Defence Secretary Jim Mattis appeared to be
a strong opponent of China's ambitious OBOR initiative.

"In a globalised world, there are many belts and many roads, and no one nation should put itself
into a position of dictating 'one belt, one road'," Mr. Mattis told members of the Senate Armed
Services Committee during a Congressional hearing.

"That said, the One Belt One Road also goes through disputed territory, and I think, that in itself
shows the vulnerability of trying to establish that sort of a dictate," Mr. Mattis said apparently
referring to India's position on CPEC.

Mr. Mattis was responding to a question from Senator Charles Peters over OBOR and China's
policy in this regard.

"The One Belt One Road strategy seeks to secure China's control over both the continental and
the maritime interest, in their eventual hope of dominating Eurasia and exploiting natural resources
there, things that are certainly at odds with US policy. So what role do you see China playing in
Afghanistan, and particularly related to their One Belt One Road," Mr. Peters had asked.
Source: Hindustan Times, OCTOBER 04, 2017
India doing propaganda against CPEC to divert attention
from Kashmir:Abbasi
India is unleashing baseless propaganda against China Pakistan Economic Corridor and nothing
good is expected from New Delhi, Prime Minister Shahid Khaqan Abbasi was quoted as saying
by Radio Pakistan.

In an interview with Geo News on Sunday night, Abbasi said New Delhi was using negative tactics
to divert the attention of the international community form Kashmir issue.

"Pakistan is ready for meaningful dialogue with India, despite the fact that nothing good is expected
from New Delhi," he said.

India is creating baseless propaganda against China Pakistan Economic Corridor, Abbasi maintained.

Earlier on Saturday, while responding to the reservations raised by US over the China-Pakistan
Economic Corridor (CPEC), Islamabad had asserted that "CPEC is a development and connectivity
project for the betterment of the people in the region and beyond", and urged the international
community to rather focus on the human rights violations committed by Indian forces in held Kashmir.

To a question, the prime minister said that no country in the world other than Pakistan is more
desirous of peace in Afghanistan.

Abbasi said ties between Pakistan and the United States are based on decades-old diplomatic, political
and historical affinities and could not be defined with the sole issue of Afghanistan.

"Both countries are committed to remaining engaged over a range of issues, including the issue of war
on terror," the premier was quoted as saying.

He asserted that leaders of terrorist groups were hiding in Afghanistan from where they carry out
terror activities in Pakistan. "Border management between Pakistan and Afghanistan is vital to check
cross-border movement of terrorists."

The premier further said that Kashmir issue should be resolved according to the aspirations of Kashmiris
in line with United Nations Security Council resolutions. "Kashmiris should be given right of a plebiscite
to decide their fate."

Pakistan will continue its moral, political and diplomatic support to Kashmiris in their just struggle for
the right to self-determination, he added.
Source:DAWN.COM, October 09, 2017
CPEC passes through disputed territory:US

WASHINGTON: The Trump administration has informed Congress that it too believes the China-
Pakistan Economic Corridor (CPEC) passes through a disputed territory — originally an India
claim aimed at thwarting the development plan.

The $56 billion CPEC passes through Pakistan's northern areas, which India claims is part of
the disputed Jammu and Kashmir territory.

"The One Belt, One Road also goes through disputed territory, and I think that in itself shows the
vulnerability of trying to establish that sort of a dictate," US Defence Secretary James Mattis told
the Senate Armed Services Committee.

Secretary Mattis and Chairman Joint Chiefs of Staff Gen Joseph Dunford appeared before
the Senate and House armed services panel earlier this week to brief US lawmakers on the current
situation in the Pak-Afghan region.

Secretary Mattis said the US opposed the One Belt, One Road policy in principle because in a
globalised world, there were many belts and many roads, and no one nation should put itself into
a position of dictating One Belt, One Road. And it opposed the one going through Pakistan also
because it passed through a disputed territory.

The new US position on CPEC will further strain already tense relations between the US and
Pakistan, which also opposed the greater role Washington has assigned to India in Afghanistan
in a strategy President Trump announced on Aug 21.

"As far as Afghanistan goes, as we try to separate out variables where, in some areas, we
work with China, for example, terrorism — I think there are areas where we can work — find
common ground with China when it comes to counterterrorism, and we should exercise those
areas pretty fully," said the US defence chief.

"But we should be under no illusions," he warned. "There are areas where, also, strategically, we
need to confront China where we think it's unproductive — the direction they're going in."
Source:Published in Dawn, October 7th, 2017
US backs India, China's OBOR crosses 'disputed' territory : Jim Mattis
China rejects US criticism of OBOR passing through PoK
Uk Parliament passes bill for POK as Indian state
Send email to nazeerkahut@punjabics.com with questions, comment or suggestions
Punjabics is a literary, non-profit and non-Political, non-affiliated organization
Punjabics.com @ Copyright 2008 - 2018 Punjabics.Com All Rights Reserved
Website Design & SEO by Webpagetime.com