Prime Minister Narendra Modi and Myanmar's State Counsellor Aung San Suu Kyi on
Thursday met in Vientiane on the sidelines of the ASEAN Summit. "An icon of democracy,
a partner for development. State Counsellor of Myanmar Aung San Suu Kyi meets Prime
Minister Narendra Modi," External Affairs Ministry spokesperson Vikas Swarup tweeted
along with photos of the two leaders shaking hands and holding talks.

Earlier, Modi also held bilateral talks with South Korean President Park Geun-hye. 71-year-
old leader Suu Kyi, whose National League for Democracy brought down curtains on five
decades of military rule, is also the country's Foreign Minister.

Last month, Myanmar assured India that it will not allow any insurgent group to use its
territory against New Delhi, in the backdrop of certain insurgent groups from northeastern
states using the country for launching attacks.

The assurance was given during the first high-level visit from India after the civilian
government assumed office when External Affairs Minister Sushma Swaraj called on
President U Htin Kyaw and held extensive talks with Suu Kyi.

Within a week, Myanmarese President Kyaw and Modi held wide-ranging talks in New
Delhi during which the Prime Minister said India will stand by with Myanmar at "every
step" of its new journey and that it wants to take the ties to "new heights".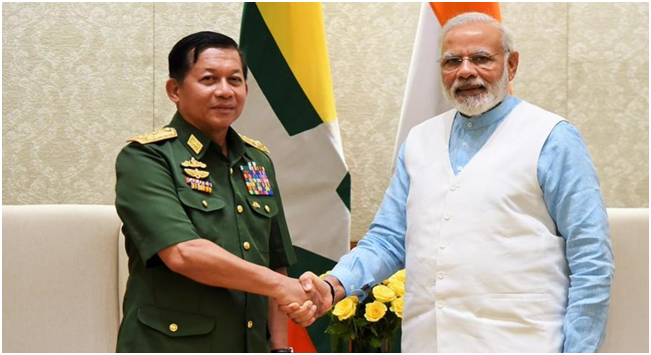 PM Modi meets Aung San Suu Kyi, says India shares Myanmar's concerns of extremist violence in Rakhine Anti-Muslim monk preaches hate: Ashin Wirathu
Prime Minister Narendra Modi, who is on his first bilateral visit to Myanmar, today met Aung
San Suu Kyi. India shares Myanmar's concerns regarding the extremist violence in Rakhine,
PM Modi said in refrence to the massive refugee crisis that has been sparked by the
crackdown on Rohingya militants.
Dev Goswami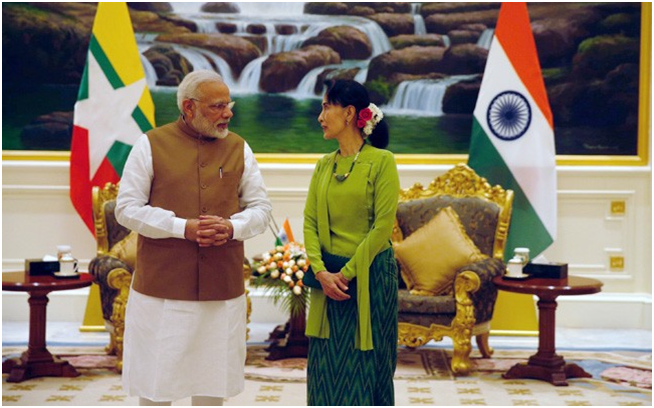 HIGHLIGHTS
• 1 PM Modi met with Myanmar state counselor Aung San Suu Kyi today.

• 2 Share Myanmar's concern about the extremist violence in Rakhine, PM Modi said.

• 3 Modi called for a solution that respects the unity of Myanmar.
Strategic importance of Myanmar to India to counter Chinese influence
Deepening relationship with Myanmar is a priority for India, Prime Minister Narendra Modi
said as he met state counselor Aung San Suu Kyi a day after meeting President U Htin
Kyaw. Modi spoke on development and terrorism, while announcing that India would begin
giving Myamarese citizens visas free of charge.
Why Narendra Modi Supports MYANMAR on Rohingya.
The prime minister also addressed the situation in Myanmar's Rakhine, where a crackdown
on Rohingya militants has sparked an enormous refugee crisis. "We share your concerns
about extremist violence in Rakhine state&violence against security forces & how innocent
lives have been affected," Modi said, standing next to Suu Kyi at a joint press briefing.

Suu Kyi responded saying, "Would like to thank India for taking a strong stand on the
terror threat that Myanmar faced recently."

"We hope that all stakeholders together can find a way out in which unity and territorial
integrity of Myanmar is respected. At the same time we can have peace, justice, dignity
and democratic values for all," PM Modi further said.

"Being neigbours, we have similar security concerns. Important for us to work together,"
Modi also said. Suu Kyi added, "Together we will ensure that terror is not allowed to
take roots in our country, on our soil or in neighboring countries."
India calls Rohingya refugees'threat to national
security'
Reuters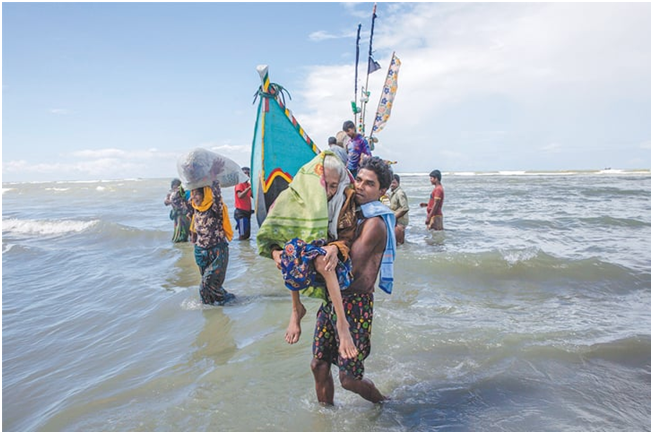 A ROHINGYA Muslim man walks to the shore carrying an elderly woman after they arrived by boat from Myanmar to
Shah Porir Dwip in Bangladesh on Thursday. Nearly three weeks into a mass exodus of Rohingya fleeing violence in
Myanmar, thousands were still flooding across the border in search of help and safety in teeming refugee settlements
in Bangladesh.—AP
NEW DELHI: The Indian government on Thursday told the Supreme Court that Rohingya
refugees were "a threat to national security", pushing back against condemnation of its
plans to deport them.

India's top court is hearing a challenge to Prime Minister Narendra Modi's government's
decision to deport Rohingya Muslims, filed by two Rohingyas living in Delhi who fled their
village in Myanmar's western Rakhine State about six years ago.

The decision to deport Rohingyas comes as Myanmar's military crackdown in Rakhine has
forced hundreds of thousands of Rohingyas to seek shelter in Bangladesh, in a process the
UN has described as ethnic cleansing.

Close to 40,000 Rohingya Muslims live in India after fleeing Myanmar over the past decade.
Nearly 15,000 have received refugee documentation, according to the United Nations, but
India wants to deport them all.

Some groups allied to Modi's Bharatiya Janata Party have stepped up calls for Rohingyas to
leave, and Modi said last week that India shared Myanmar's concerns about "extremist
violence" in Rakhine state.

On Thursday, a senior lawyer representing India's government told the supreme court that
"the state considers that Rohingyas are a threat to national security".

Intelligence agencies suspect that Rohingya Muslim leaders in India are in touch with
Pakistan-based militant groups, the lawyer said.

Aid groups and human rights activists have criticised the plans to expel Rohingyas, and
some lawyers say deportation would violate India's constitution.

India's supreme court is expected to start hearing the case on Monday.

India this week sent 53 tonnes of relief materials to Bangladesh for Rohingyas fleeing
Myanmar.
Published in Dawn, September 15th, 2017
Myanmar's Anti-Muslim Monks | AJ+ Docs
"We would like to contribute to Myanmar's development efforts as part of our 'Sabka saath
sabka vikaas' initiative," Modi also said. Going to to talk about Suu Kyi, Modi said, "Your
(Aung San Suu Kyi) courageous leadership to the Myanmar peace process needs to be
lauded.

Modi announced that India will start given gratis (free-of-charge) visas to Myanmarese
citizens wishing to visit the country and added that 40 Myanmarese citizens who are
currently in Indian jails will be released soon.
Al jazeera on Narendra Modi Visit to Myanmar 2017.
Soon after Modi and Suu Kyi's delegation-level meeting and press briefing, the Ministry
of External Affairs, via Twitter, announced that a number of memorandums of
understanding had been signed between India and Myanmar. These included MoUs
between the countries' respective election commissions and press councils.

REFUGEE CRISIS

Modi's bilateral visit to Myanmar, his first-ever, comes amid a spike in ethnic violence
in the Buddhist nation's Rakhine state that has exacerbated a refugee crisis.

An army crackdown triggered by an attack on Aug. 25 by Rohingya insurgents on
Myanmar security forces has led to the killing of at least 400 people and the exodus
of nearly 125,000 Rohingya to neighboring Bangladesh, leading to a major
humanitarian crisis.
Myanmar's Muslim Genocide
The Indian government is also concerned about Rohingya immigrants who previously
arrived in the country, and has been considering deporting them. Around 40,000
Rohingya are said to be staying illegally in India.

Myanmar's Aung San Suu Kyi has come under international pressure and has also
faced criticism in some quarters for not commenting on the Rohingya Muslim exodus.
Rohingya refugees get off to the boat as they arrive in Bangladesh by boat through the Bay of Bengal in Teknaf,
Bangladesh, September 5, 2017. REUTERS/Mohammad Ponir Hossain
Suu Kyi on Wednesday blamed "terrorists" for "a huge iceberg of misinformation" on the
violence in Rakhine state but made no mention of the nearly 125,000 Rohingya Muslims
who have fled over the border into Bangladesh.

In a statement issued by her office on Facebook, Suu Kyi said the government had
"already started defending all the people in Rakhine in the best way possible" and
warned against misinformation that could mar relations with other countries.

MODI's FIRST BILATERAL TRIP TO MYANMAR

India and Myanmar were also looking at strengthening existing cooperation in areas
of security and counter-terrorism, trade and investment, infrastructure and energy,
and culture, Modi had said ahead of his visit.
PAK MEDIA FREAKING OUT ON MODI FOR VISITING MYANMAR
Modi arrived here on the second leg of his two-nation trip during which he travelled to
southeastern Chinese city Xiamen where he attended the annual BRICS summit and
held talks with Chinese President Xi Jinping, Russian President Vladimir Putin and
other world leaders.

This is Modi's first bilateral visit to Myanmar. He had visited the country in 2014 to
attend the ASEAN-India Summit. The Myanmarese president and Suu Kyi had visited
India last year.

Myanmar is one of India's strategic neighbours and shares a 1,640-km-long border
with a number of northeastern states including militancy-hit Nagaland and Manipur.
(With inputs from agencies)
Source: IndiaToday.in New Delhi, September 6, 2017
PM says Bangladesh cannot help Rohingya
Myanmar's monk accused of stirring anti-Muslim sentiment
How Israel is helping Myanmar army against Rohingya
Shailaja Neelakantan| TIMESOFINDIA.COM Sep 7, 2017
HIGHLIGHTS

• Israel has sold Myanmar more than a 100 tanks, and weapons and boats

• Notably, the US and the European Union (EU) have an arms embargo on Myanmar

• The EU's embargo on Myanmar refers to the ban on sales of "equipment which
might be used for internal repression"
Rohingya refugees (Photo: Reuters)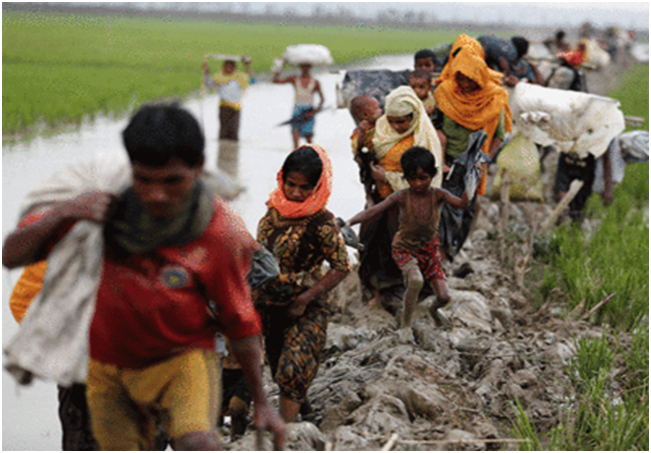 NEW DELHI: Israel has refused to stop supplying arms to the Myanmar army, which
human rights groups say is involved in the ethnic cleansing of Rohingya Muslims+, saying,
"the matter is clearly diplomatic", reported online news portal Middle East Eye (MEE).

Not just that, Israeli arms companies like TAR Ideal Concepts have even trained Myanmar's
special forces in Rakhine state where most of the violence against the Rohingya has taken
place, added MEE.

The weapons Israel has sold Myanmar include more than a 100 tanks, and weapons and
boats used to police its border, said human rights groups and Burmese officials.

Notably, the US and the European Union (EU) have an arms embargo on Myanmar. The
US cites the International Religious Freedom Act and uses the embargo on countries that
have "engaged in or tolerated particularly severe violations of religious freedom".

The EU's embargo on Myanmar refers to the ban on sales of "equipment which might be
used for internal repression".

In the latest bout of violence that began August 25, and that was triggered by an attack
on Myanmar police posts, at least 400 Rohingya have been killed, and as many as
146,000 have made their way, starving and terrified, to Bangladesh, reported the
Associated Press. Satellite images show dozens of Rohingya villages burned to the ground
by the Myanmar army, agencies reported. On Tuesday, even the UN Secretary-General,
Antonio Guterres, expressed concern the violence could spiral into a "humanitarian
catastrophe".

Last December, Israeli lawyers and human rights activists wrote to their country's defence
ministry urging it to suspend a military shipment ordered by the Myanmar Army. They
said Myanmar still commits human rights abuses against minority groups, reported
The Irrawaddy, a website run by exiles from Myanmar in Thailand.

"It is surprising that the State of Israel, while struggling for continued sanctions against
Iran, has no qualms about ignoring the US and EU sanctions against Burma for the
most severe crimes being committed there," read the letter.

In January this year, following visits by Israeli officials to Myanmar and vice versa, to
discuss arms deals, activists in Israel filed a petition urging their government to stop
arms exports to Myanmar.

The petition is expected to be heard later this month, but in March, in a preliminary
reply, the Israeli defence ministry said the court had no jurisdiction over the issue.
The ministry said arms sales to Myanmar were "clearly diplomatic", reported MEE.

Myanmar-Israel ties

In fact, diplomatic and military ties between Israel and Myanmar flourished even during
the military dictatorship in the latter, said Ofer Neiman, an Israeli human rights activist,
to MEE.

In September 2015, two months before the country's first election in 25 years, one of
the heads of the then Myanmar junta, General Min Aung Hlaing, who's now chief of the
armed forces, visited Israel on a "shopping trip" of Israeli military manufacturers,
reported Israel's Haaretz. His delegation met President Reuven Rivlin and other military
officials including the army's chief of staff. Hlaing also visited military bases and
defense contractors Elbit Systems and Elta Systems, added Haaretz

In June 2015, the head of Israel's defence export department Gen Michel Ben Baruch
visited Burma and met with leaders of the Burma Army, reported The Irawaddy.

Israel's relationship to Myanmar is linked to Israel's ongoing occupation of Palestinian
territory in the West Bank, said Neiman, Neiman, the Israeli human rights activist, to
MEE.
"This policy is strongly related to Israel's oppression and dispossession of the
Palestinian people. Weapons used against the Palestinians are being sold as 'field-
tested' to some of the worst regimes on the planet," said Nieman to MEE.

Some analysts say they aren't surprised that Israel refuses to stop arms sales to
Myanmar.

"It's not at all surprising that the latest escalation in Myanmar's genocide of the
Rohingya has not moved the Israeli state to cease its supply of weapons to Myanmar's
military," said Penny Green, director of the International State Crime Initiative at
London's Queen Mary University, to MEE.

"Its own record of violence and terror against the Palestinian people of Gaza is clear
enough evidence that the Israeli government is unmoved by ethical concerns and
human rights," added Green.
How Israel is helping Myanmar army against Rohingya
PM Narendra Modi Meets Aung San Suu Kyi In Myanmar
Great Game in BURMA | Listen Ahmed Qurishi's Analysis
Rohingya killing: The india factor - Orya Maqbool Jaan- Neo News
UN human rights chief slams Burma for 'textbook ethnic cleansing'
UN rights chief slams Myanmar's 'textbook example of ethnic
cleansing'
Published on 11 Sep 2017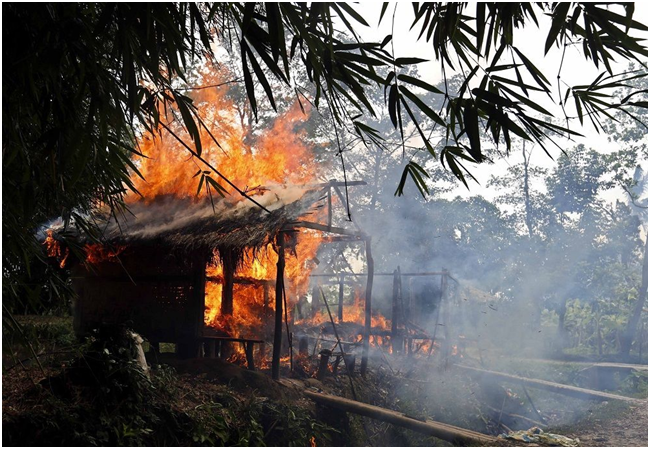 Flames rising from a burning house in the Gawdu Thara village in Maungdaw township,
Rakhine state, last week. United Nations human rights chief Zeid Ra'ad Al Hussein says he
is particularly 'appalled' by reports that Myanmar authorities had begun laying landmines
along the border with Bangladesh to prevent Rohingya who fled from returning. – EPA pic,
September 11, 2017.

THE United Nations human rights chief today slammed Myanmar's apparent "systematic
attack" on the Rohingya minority, warning that "ethnic cleansing" seemed to be under way.

"Because Myanmar has refused access to human rights investigators, the current situation
cannot yet be fully assessed, but the situation seems to be a textbook example of ethnic
cleansing," Zeid Ra'ad Al Hussein told the UN Human Rights Council.

The Rohingya are reviled in Myanmar, where the roughly one million-strong community
are accused of being illegal immigrants from Bangladesh.

A UN spokesman said today the number of Rohingya who had fled violence in Rakhine to
Bangladesh since August 25 had reached 313,000.

The estimate came from Joseph Tripura, a spokesman for the UN refugee agency.

Tens of thousands more are believed to be on the move inside Rakhine after more than
two weeks without shelter, food and water.

"The operation... is clearly disproportionate and without regard for basic principles of
international law," Zeid said.

"We have received multiple reports and satellite imagery of security forces and local militia
burning Rohingya villages, and consistent accounts of extrajudicial killings, including
shooting fleeing civilians."

Aung San Suu Kyi's government has come under strong international criticism over the
military's treatment of the Rohingya.

"I call on the government to end its current cruel military operation, with accountability for
all violations that have occurred, and to reverse the pattern of severe and widespread
discrimination against the Rohingya population," Zeid said.

He said he was particularly "appalled" by reports that Myanmar authorities had begun
laying landmines along the border with Bangladesh to prevent those who fled from
returning.

He also criticised "official statements that refugees who have fled the violence will only
be allowed back if they can provide 'proof of nationality'", pointing out that Myanmar,
since 1962, had been stripping the Rohingya of a wide range of rights, including
citizenship rights.

"This measure resembles a cynical ploy to forcibly transfer large numbers of people
without possibility of return."

He urged the Myanmar government to "stop pretending that the Rohingya are setting fire
to their own homes and laying waste to their own villages".

"This complete denial of reality is doing great damage to the international standing of a
government which, until recently, benefited from immense goodwill ," he said, calling
on authorities to allow his office access to investigate the situation in the country.
– AFP, September 11, 2017.
Source: http://www.themalaysianinsight.com/s/14240/
Malala Yousufzai criticises Aung San Suu kyi over plight of Rohingyas | Oneindia News
Global split over Rohingya crisis as China backs Myanmar
crackdown
AFPUpdated September 12, 2017
International divisions emerged on Tuesday ahead of a UN Security Council meeting on a
worsening refugee crisis in Myanmar, with China voicing support for a military crackdown
that has been criticised by the US, slammed as "ethnic cleansing" and forced 370,000
Rohingya to flee the violence.

Beijing's intervention appears aimed at heading off any attempt to censure Myanmar at
the council when it convenes on Wednesday.

China was one of the few foreign friends of Myanmar's former junta.

Beijing has tightened its embrace under Aung San Suu Kyi's civilian government as part
of its giant trade, energy and infrastructure strategy for Southeast Asia.

The exodus from Myanmar's western Rakhine state began after Rohingya militants
attacked police posts on August 25, prompting a military backlash that has sent a third
of the Muslim minority population fleeing for their lives.

Exhausted Rohingya refugees have given accounts of atrocities at the hands of soldiers
and Buddhist mobs who burned their villages to the ground.

They can not be independently verified as access to Rakhine state is heavily controlled.

Myanmar's government denies any abuses and instead blames militants for burning down
thousands of villages, including many belonging to Rohingya.

But international pressure on Myanmar heightened this week after United Nations rights
chief Zeid Ra'ad Al Hussein said the violence seemed to be a "textbook example of ethnic
cleansing".

The US also raised alarm over the violence while the Security Council announced it would
meet Wednesday to discuss the crisis.

Opprobrium has been heaped on Suu Kyi, who was once a darling of the rights community
but now faces accusations of turning a blind eye to ─ and even abetting ─ a humanitarian
catastrophe by Western powers who once feted her as well as a slew of fellow Nobel
Laureates.

But Beijing offered more encouraging words to her on Tuesday, with foreign ministry
spokesman Geng Shuang voicing support for her government's efforts to "uphold peace
and stability" in Rakhine.

"We hope order and normal life there will be recovered as soon as possible," he told a
press briefing.

The Rohingya minority are denied citizenship and have suffered years of persecution in
Buddhist-majority Myanmar.

"An estimated 370,000 Rohingya have entered Bangladesh," since August 25 Joseph
Tripura, a spokesman for the UN refugee agency, told AFP.

The real figure may be higher as many new arrivals are still on the move making it
difficult to include them in the count, the UN said, adding 60 per cent of refugees are
children.

Most are in dire need of food, medical care and shelter after trekking for days through
hills and jungles or braving dangerous boat journeys.

In a statement late Monday Suu Kyi's foreign ministry defended the military for doing
their "legitimate duty to restore stability", saying troops were under orders "to exercise
all due restraint and to take full measures to avoid collateral damage."

Britain and Sweden requested the urgent Security Council meeting amid growing
international concern over the ongoing violence.

The council met behind closed doors in late August to discuss the violence, but could
not agree a formal statement.

'Stop the oppression'

The UN special rapporteur on human rights in Myanmar has said the latest violence
may have left more than 1,000 dead, most of them Rohingya.

Myanmar says the number of dead is around 430, the majority of them "extremist
terrorists" from the Arakan Rohingya Salvation Army (ARSA).

It says a further 30,000 ethnic Rakhine and Hindus have been displaced inside
northern Rakhine, where aid programmes have been severely curtailed due to the
violence.

The exodus of Rohingya has saddled Bangladesh with its own humanitarian crisis,
as aid workers scramble to provide food and shelter to a daily stream of bedraggled
refugees.

The UN-run refugee camps in its Cox's Bazar district were already packed with
Rohingya who had fled from previous waves of persecution.

Dhaka is providing them temporary shelter.

But Bangladesh Prime Minister Sheikh Hasina, who visited a Rohingya camp on
Tuesday, stressed it was up to Myanmar to "resolve" the issue.

"We will request the Myanmar government to stop oppressing innocent people,"
she said during a tour of a camp in Cox's Bazar, according to local outlet
bdnews24.com.

Dhaka, which has refused to permanently absorb the Rohingya, said it plans to
build a huge new camp that will house a quarter of a million refugees.

But it remains unclear if or when they will be able to return.

Plumes of smoke continued to rise on the Myanmar side of the border this week
despite the militants' announcement on Sunday of a unilateral ceasefire.
Dalai Lama says Buddha would have helped Myanmar's
Muslims
AFP/AP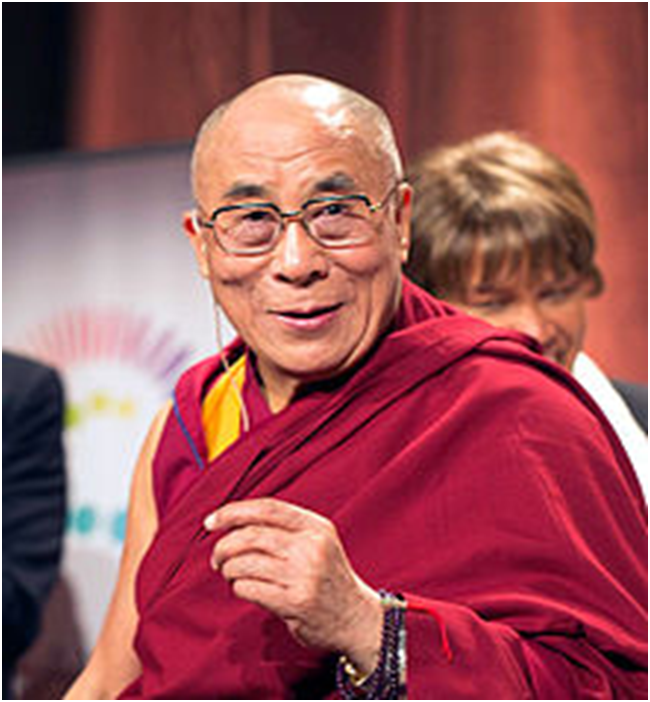 Image:Tibetský dalajláma v roce 2012*christopher* - Flickr: dalailama1_20121014_4639:wikipedia
The Dalai Lama has spoken out for the first time about the Rohingya refugee crisis, saying
Buddha would have helped Muslims fleeing violence in Buddhist-majority Myanmar.

Hundreds of thousands of Rohingya have arrived in Bangladesh in recent weeks after
violence flared in neighbouring Myanmar, where the stateless Muslim minority has endured
decades of persecution.

The top Buddhist leader is the latest Nobel peace laureate to speak outagainst the violence,
which the UN special rapporteur on human rights in Myanmar says may have killed more
than 1,000 people, most of them Rohingya.

"Those people who are sort of harassing some Muslims, they should remember Buddha,"
the Dalai Lama told journalists who asked him about the crisis on Friday evening.

"He would definitely give help to those poor Muslims. So still I feel that. So very sad."

Myanmar's population is overwhelmingly Buddhist and there is widespread hatred for the
Rohingya, who are denied citizenship and labelled illegal "Bengali" immigrants.

Buddhist nationalists, led by firebrand monks, have operated a long Islamophobic
campaign calling for them to be pushed out of the country.

Myanmar's de facto civilian leader Aung San Suu Kyi has been condemned for her refusal
to intervene in support of the Rohingya, including by fellow Nobel laureates Malala
Yousafzai and Desmond Tutu.

Archbishop Tutu, who became the moral voice of South Africa after helping dismantle
apartheid there, last week urged her to speak out.

"If the political price of your ascension to the highest office in Myanmar is your silence,
the price is surely too steep," Tutu said in a statement.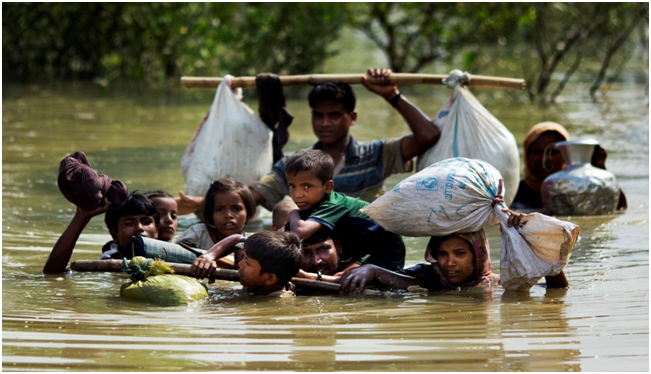 A Rohingya family reaches the Bangladesh border after crossing a creek of the Naf river on the border with
Myanmmar, in Cox's Bazar's Teknaf area. —AP
Myanmar accused of laying mines

Myanmar's military has been accused of planting land mines in the path of Rohingya
Muslims fleeing violence in its western Rakhine state, with Amnesty International reporting
two people wounded on Sunday.

Refugee accounts of the latest spasm of violence in Rakhine have typically described
shootings by soldiers and arson attacks on villages. But there several cases that point to
antipersonnel land mines or other explosives as the cause of injuries on the border with
Bangladesh, where 300,000 Rohingya have fled in the past two weeks.

AP reporters on the Bangladesh side of the border on Monday saw an elderly woman with
devastating leg wounds: one leg with the calf apparently blown off and the other also badly
injured. Relatives said she had stepped on a land mine.

Myanmar has one of the few militaries, along with North Korea and Syria, which has openly
used antipersonnel land mines in recent years, according to Amnesty. An international
treaty in 1997 outlawed the use of the weapons; Bangladesh signed it but Myanmar has not.

Lt Col Ariful Islam, commanding officer of the Bangladesh border guard in Teknaf, said on
Friday he was aware of at least three Rohingya injured in explosions.

Bangladeshi officials and Amnesty researchers believe new explosives have been recently
planted, including one that the rights group said blew off a Bangladeshi farmer's leg and
another that wounded a Rohingya man. Both incidents occurred Sunday. It said at least
three people including two children were injured in the past week.

"It may not be land mines, but I know there have been isolated cases of Myanmar soldiers
planting explosives three to four days ago," Ariful said on Friday.

Myanmar presidential spokesman Zaw Htay did not answer phone calls seeking comment
Sunday. Military spokesman Myat Min Oo said he couldn't comment without talking to his
superiors.

A major at the Border Guard Police headquarters in northern Maungdaw near the Bangladesh
border also refused to comment.
Source;DAWN.COM, September 11, 2017
UiTM Medic : Flash Mob for Rohingya
Conflicting claims over arsons in Myanmar's Rakhine
Al Jazeera World - The Rohingya: Silent Abuse
Halla Bol: Modi Government Advocating Deportation Of Rohingya Muslims
Cooperation Between Indian and Myanmar Armed Forces
March 23, 2013
IOD
India and Myanmar have been maintaining relations at an adequately high level between
their Defence forces and particularly between the Indian Army and the Myanmar Army
(Tatmadaw). Relations between the two armies have been substantive especially since
the early 1990s. This was but natural considering geographical contiguity, the 1463 km
long land boundary, the sensitivity of the security situation in India's northern eastern
states of Assam, Nagaland and Manipur that border Myanmar, and China's expanding
economic and military links with Myanmar.

India has also had an arms-equipment supply-based relationship with the Myanmar
armed forces. After 1992, a radical change in this respect was discernible when India
started supplying weaponry and equipment including 105 mm guns, T-55 tanks, light
helicopters, transport planes, artillery ammunition and some naval craft. However,
during the NDA regime in India, counter-espionage authorities at the behest of the
Defence Minister George Fernandes had ham-handedly and without suitable precautions
supplied some quantity of infantry and artillery weapons to the Tatmadaw. The outcome
was evident recently, when, some of these weapons having `batch numbers` from the
lot exported by Sweden to India, fell into the hands of the Kachin Independence Army
(KIA), leading to adverse international publicity and consequent embarrassment for
New Delhi.

Ewa Bjorling, Sweden's Trade Minister, has confirmed to the Swedish Parliament that
Swedish Carl Gustaf M-3 anti-tank rifles and related ammunition originally exported to
India have ended up in the hands of the Myanmar Army, which is using them in its
operations against the KIA. Consequent to the above and related media coverage,
External Affairs Minister Salman Khurshid has had to respond to this revelation during
his recent visit to Myanmar. He indicated that a suitable enquiry would be carried out
on the matter. A more cautious and supervised military assistance process to the
Myanmar Army during the NDA regime could have averted this embarrassing incident.

India's political relations with the Tatmadaw-dominated regime in the post-Ne Win
period had a logic of its own. The northern tribal region of Myanmar has been neglected
and been in ferment for more than two decades. The Nagas of India have some of their
ethnic stock in north-western Myanmar. In this milieu, insurgents from India's north-
east had tried to exploit the ferment in north-western Myanmar. Even now, the NSCN
(Khaplang) maintains regrouping areas and rear bases in this region. India justifiably
had to build up a relationship with the Myanmar junta to neutralise the operational
facilities Indian insurgents have tried to develop in Myanmar's territory. The Myanmar
Army did place some curbs on hostile Indian insurgents in its territory, but could do
so only up to a degree keeping in view its own political priorities as well as material
limitations.

India's posture in the matter of defence cooperation with Myanmar now needs to be
tempered, keeping in view the realities of ethnic turmoil in that country, the breaking
down of the 17-year ceasefire between the Tatmadaw and the KIA (which had held till
September 2011), periodic violence between the majority Buddhist Burmans and the
minority Muslim Rohingyas in the south-western Rohingya province and a manifestly
negative human rights record of the Myanmar Army. While India has supplied arms
and equipment quite selectively, the outcome, which was expected to serve India's
interests, has not been commensurate. India has now, perforce, to be extra cautious
while supplying material resources including warlike items to the Myanmar Army
when more than 260 of its own 340 Army battalions are de facto deployed in counter-
insurgency and counter-terrorist operations.

While India may maintain a measured relationship with the Tatmadaw, it should work
towards facilitating a rapprochement among the Burmans and the other ethnic groups.
Such an approach will also harmonise with Myanmar's national consolidation and
progress towards further democratisation. Chinese Premier Wen Jiabao had stated in
the recent past that China supports Myanmar's efforts in maintaining its national
stability while promoting ethnic groups. India's message may be similarly nuanced
and should not be viewed as being on the wrong side of either the ethnic population
or of democratic political forces like the National League for Democracy and their allies.

India's cooperation with the Tatmadaw may be more in the realm of training military
personnel in Indian establishments and training facilities in as broad-based a manner
as possible, i.e. including some minor component of non-Burman personnel but
without causing diplomatic or political irritations. Joint operations between the Assam
Rifles who are responsible for the first-level security of the India-Myanmar frontier
and their Myanmarese counterparts are a necessity apropos India's interests and may
also be organised more effectively with adequate political supervision. These
approaches may be attempted rather than direct arms and equipment supplies to the
Myanmar armed forces, where end-use may not always be assured in tandem with
New Delhi's interests.

Gautam Sen Former Additional CGDA and presently an Adviser to Government of
Nagaland.
Courtesy - IDSA
Source: http://www.todayonline.com/commentary/why-india-gave-myanmars-military-chief-kings-treatment
Myanmar is key pillar of India's 'Act East' policy: PM Modi
The prime minister appreciated the close cooperation between the armed
forces of India and Myanmar.
INDIA Jul 14, 2017
Press Trust of India, New Delhi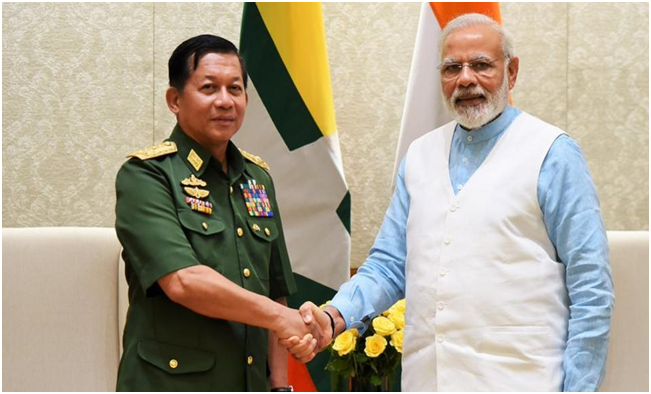 Sr. Gen. U Min Aung Hliang, Commander-in-Chief of the Myanmar Defence Services calls on PM @narendramodi
in New Delhi on July 14, 2014.(PIB Twitter)
Prime Minister Narendra Modi on Friday described Myanmar as a "key pillar" of India's 'Act
East' policy and expressed his firm commitment to strengthen the bilateral relationship in
all areas.

He made the comments when Commander-in-Chief of the Myanmar Defence Services Sr
Gen. U Min Aung Hliang called on him here, a PMO statement said.

Hliang briefed the prime minister about bilateral defence and security cooperation, the
statement said.

The prime minister appreciated the close cooperation between the armed forces of India
and Myanmar, it added.

During the meeting, Myanmar's military chief condemned the recent terrorist attack on
pilgrims of Amarnath yatra in Kashmir and expressed his sincere condolences for the
victims, the statement said.

Modi also conveyed his condolences at the loss of lives of Myanmar armed forces personnel
and their families in the tragic air crash of June 7.
Source: http://www.hindustantimes.com/india-news/myanmar-is-key-pillar-of-india-s-act-east-policy-pm-modi/
story-CsZCKbdTnNjtNdhJqgH3uK.html
Why India gave Myanmar's military chief 'king's treatment'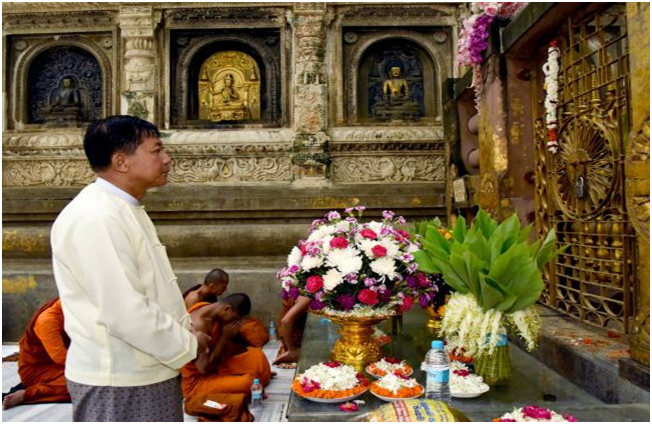 Senior General Min Aung Hlaing, the commander-in-chief of the Myanmar Armed Forces, visiting the Buddhist
Mahabodhi Temple in Bodh Gaya, on July 8, during his eight-day trip to India. Gen Hlaing had several top-level
meetings, including with Prime Minister Narendra Modi and Defence Minister Arun Jaitley. Photo: AFP

BY NEHGINPAO KIPGEN
Myanmar's military commander-in-chief Senior General Min Aung Hlaing recently concluded
an eight-day trip to India, a visit aimed at strengthening defence and security cooperation
between the two nations.

What is notable about the visit is how New Delhi rolled out the red carpet for the general,
drawing China's close attention.

The military chief began his trip with a three-day visit to Bodh Gaya, the site of a sacred
Buddhist shrine, in the state of Bihar. For many Buddhists, especially in Myanmar, a visit
to Bodh Gaya is considered a high point in their lives.

The reception accorded to Gen Hlaing was described by some Indian media as a "king's
treatment". In order to make the visit more significant, Indian Army Chief General Bipin
Rawat flew to Bodh Gaya and hosted a dinner at the Officers Training Academy in honour
of his guest.

Gen Hlaing had several top-level meetings, including with Prime Minister Narendra Modi
and Defence Minister Arun Jaitley, where discussions covered a wide range of issues,
including expanding cooperation between the armed forces of the two countries.

During their meeting, Mr Modi described Myanmar as a "key pillar" of India's Act East
policy and expressed his firm commitment to strengthening the bilateral relationship
in all areas. The question is, why did India give such a special treatment to the visiting
military chief, who is neither a head of state nor head of government? Basically, there
are three factors to explain this.

Firstly, the visit happened at a time when Indian and Chinese troops were locked in a
continuing standoff near the Sikkim-Bhutan-Tibet tri-junction.

With the red carpet reception for Gen Hlaing, India wants to send a strong message to
China that it is prepared and ready to strengthen defence and security cooperation with
Myanmar and other members of the Association of South-east Asian Nations (Asean).

Currently, New Delhi provides Naypyidaw with 105mm light artillery guns, rocket
launchers, rifles, radars, mortars, Bailey Bridges, communication gear, night-vision
devices, war-gaming software and road construction equipment as well as naval gunboats,
sonars, and acoustic domes. A deal of US$37.9 million (S$51.9 million) for the supply of
lightweight torpedoes was also recently finalised. Moreover, New Delhi is also making
regular port calls to Myanmar as well as taking part in coordinated patrolling exercises
along the bilateral maritime boundary.

Secondly, the Indian leadership understands the special power and influence the Myanmar
military has under the 2008 Constitution.

For example, the military controls three important ministries — home, defence and border
affairs — which are related to security matters of the country. The military also occupies
25 per cent of seats in all legislatures of the country, as well as majority membership in
the National Defence and Security Council, the country's highest authority in the government.

For India, it is important to have a good relationship with the Myanmar military leadership
to help tackle its own insurgency problems in the north-east of the country. Many of the
armed groups operating in this region have bases inside Myanmar and New Delhi needs
the cooperation and support of the Myanmar military to deal with these groups.

The third reason is that New Delhi is exploring ways and means to reclaim its space in Asia
by forging alliances with countries in the region, which it thinks has been neglected to
China's advantage.

In other words, New Delhi is recalibrating its Act East policy which primarily aims at making
up for the strategic loss it suffered in the past few decades.

In an attempt to counter Beijing's influence, New Delhi is planning to increase its military
supplies to Naypyidaw. New Delhi understands the importance of strengthening relationships
with members of Asean where Myanmar's strategic location serves as a corridor to all
South-east Asia.

Myanmar is adopting a policy of a balancing game between New Delhi and Beijing.

Though Myanmar does not want to disappoint China, its largest investor and major defence
partner, it is increasingly wary of heavy dependence on one country.

In the aftermath of the 1988 pro-democracy uprising and the subsequent nullification of the
1990 general election results, India was one of the staunchest critics of Myanmar for its
failure to protect human rights and democratic institutions.

India was also one of the few countries in the region to provide food, shelter and other
logistical support to the Myanmar pro-democracy forces until it changed its policy in the
1990s when the Look East policy was introduced.

In contrast, China pursued an engagement policy towards Myanmar when it was under
sanctions by Western democracies.

Beijing's close engagement with the military junta gave China an advantage of significant
trade and investment opportunities in Myanmar.

China was the single largest investor and trading partner of Myanmar during the years of
international sanctions, and this continues to be the case.

But with the lifting or easing of international sanctions and a shift in India's strategic
priorities in the region, coupled with Myanmar's own democratic reforms, Naypyidaw is
looking for more alliance partners.

The needs of Myanmar equally serve the strategic interests of India. Their mutual interests
lie in the fact that Myanmar wants to receive investments as well as weaponry supplies.
On the other hand, India feels that it achieves double objectives by increasing its presence
and degree of influence in Myanmar and the region through enhanced economic and
defence cooperation.

While the Myanmar military chief's visit to India is a positive sign for bilateral relations
between the two countries, it also sends a discouraging message to China and Myanmar's
ethnic armed groups which maintain close ties with Beijing and refuse to sign the so-
called Nationwide Ceasefire Agreement.

Through the high-level visit and the potential enhanced defence and security cooperation,
New Delhi also wants to send an unambiguous warning message to its north-east insurgent
groups which are operating from Myanmar.

Gen Hlaing's visit was primarily aimed at boosting defence and security cooperation between
the two countries, but the Indian leadership seized the moment to show China and the world
about its larger strategic interest in the region.

ABOUT THE AUTHOR:Dr Nehginpao Kipgen is assistant professor and executive director of
the Center for Southeast Asian Studies, Jindal School of International Affairs, OP Jindal Global
University. He is the author of three books on Myanmar, including 'Democratization of
Myanmar'.
Source: http://www.todayonline.com/commentary/why-india-gave-myanmars-military-chief-kings-treatment
PUBLISHED: 4:00 AM, JULY 20, 2017
Myanmar: Inside the closed Rakhine region - BBC News
HRW: Satellite data show fires burning in Rakhine state
Human Rights Watch says satellite data show fires have razed several sites in Rakhine
state in the wake of crackdown.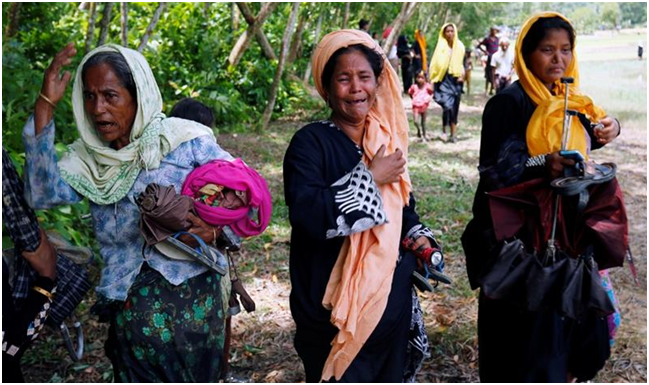 More than 3,000 Rohingya Muslims have arrived in Bangladesh from Myanmar [Mohammad Ponir Hossain/Reuters]
Satellite data accessed by a rights body shows widespread fires burning in at least 10 areas
in Myanmar's Rakhine state, following a military crackdown on the country's Rohingya
Muslim population.

Residents and activists have accused soldiers of shooting indiscriminately at unarmed
Rohingya men, women and children and carrying out arson attacks.

However, authorities in Myanmar say close to 100 people have been killed since Friday
when armed men, reportedly from the Arakan Rohingya Salvation Army (ARSA), launched
a pre-dawn raid on police outposts in the restive region.

Myanmar authorities say Rohingya "extremist terrorists" have been setting the fires during
fighting with government troops, while Rohingya have blamed soldiers who have been
accused of carrying out extrajudicial killings.

A government spokesperson could not be immediately reached for comment.

"The Burmese government should grant access to independent monitors to determine the
sources of fires and assess allegations of human rights violations," the Human Rights
Watch (HRW) said in a statement on Tuesday.

The overall area in which burnings were found is 100 kilometres in length, approximately
five times larger than the area where burnings by Burmese security forces occurred from
October to November 2016, Human Rights Watch said.

In that period data from the group suggested some 1,500 buildings were destroyed.

Witness statements

The locations of the fires correlate with some witness statements and media reports
describing blazes deliberately set, the group said.

"This new satellite data should cause concern and prompt action by donors and UN agencies
to urge the Burmese government to reveal the extent of ongoing destruction in Rakhine
State," Phil Robertson, HRW's deputy Asia director, said in a statement.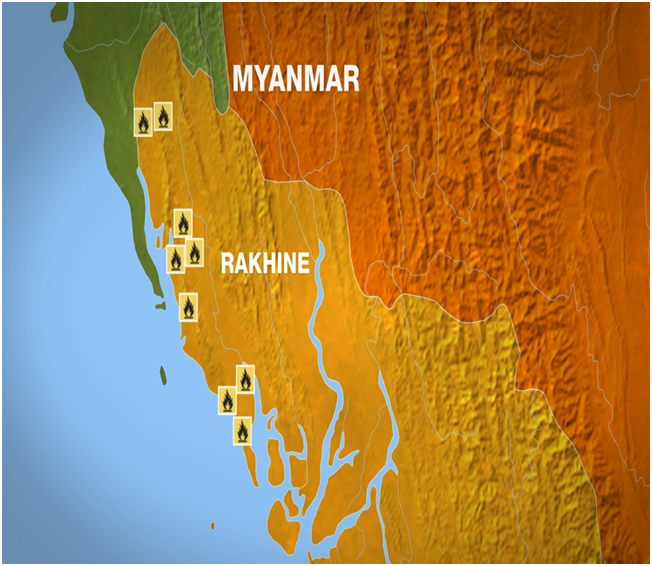 "Shuffling all the blame on insurgents doesn't spare the Burmese [Myanmar] government
from its international obligations to stop abuses and investigate alleged violations."

Antonio Guterres, the UN secretary-general, "is deeply concerned at the reports of civilians
being killed," according to a statement from spokesman Stephane Dujarric.

Guterres called on Bangladesh to step up assistance to civilians escaping the violence,
noting "many of those fleeing are women and children, some of whom are wounded".

More than 3,000 Rohingya have arrived in Bangladesh from Myanmar, where the Muslim
ethnic minority faces persecution, in the past three days, the UN refugee agency UNHCR
said on Monday.

The top UN human rights official called on authorities to ensure that the security forces
refrain from using disproportionate force against Rohingya.

Zeid Ra'ad al-Hussein, UN High Commissioner for Human Rights, condemned coordinated
attacks by rebels on security forces last Friday, but said that the political leadership had a
duty to protect all civilians "without discrimination".

Bangladesh has said there are thousands more Rohingya Muslims massed on its border
with Myanmar, where it has stepped up patrols and pushed back hundreds of civilians who
have tried to enter.

On Monday, Bangladesh detained and forcibly returned at least 90 Rohingya refugees
back to Myanmar.

About 87,000 refugees entered Bangladesh in 2016 following the military crackdown.

Ethnic cleansing

The UN believes the army's response may amount to ethnic cleansing, allegations denied by
the government of Aung San Suu Kyi and the army.

Meanwhile, Bangladesh has proposed joint military operations with Myanmar against
Rohingya fighters in Rakhine state.

At the weekend, as violence in Rakhine worsened, Bangladesh's foreign minister summoned
Myanmar's charge d'affaires in Dhaka to express "serious concern" at the possibility of a
fresh refugee influx.

There are already almost 400,000 Rohingya refugees in Bangladesh in squalid camps near
its border with Myanmar.

In a goodwill gesture, the Thai prime minister on Tuesday said his country was preparing to
receive people fleeing fighting in Myanmar.

"Thailand's defence ministry and security are preparing to receive various displaced people,"
Prayuth Chan-ocha told reporters. "We will provide them with shelter like in the past ... and
send them back when they are ready."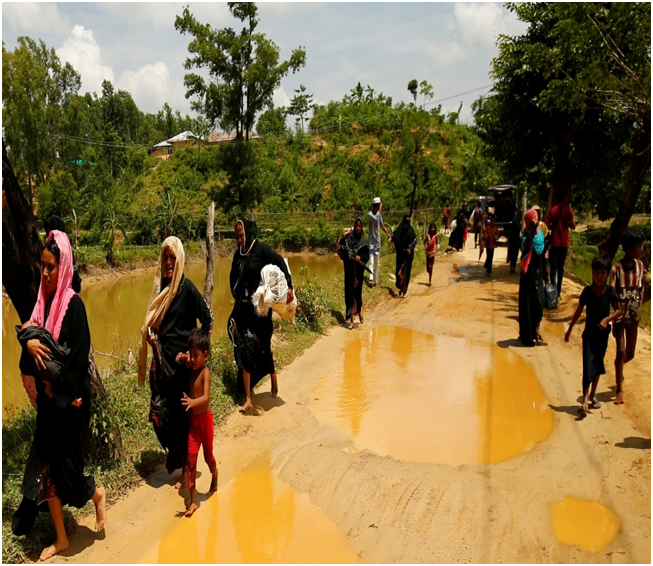 Rohingya Muslims enter Bangladesh from a makeshift shelter near Cox's Bazar [Mohammad Ponir Hossain/Reuters]
Source: Al Jazeera and news agencies: http://www.aljazeera.com/news/2017/08/hrw-satellite-data-show-fires-
burning-rakhine-state-170829065457014.html
Massacre at Tula Toli: Rohingya recall horror of Myanmar
army attack
Link: https://www.theguardian.com/world/2017/sep/07/massacre-at-tula-toli-rohingya-villagers-recall-horror-
of-myanmar-army-attack
BREAKING NEWS - Mass Genocide in Burma ❤ READ DESCRIPTION BELOW ❤ BBC Jazeera CNN INDIA CHINA NBC ❤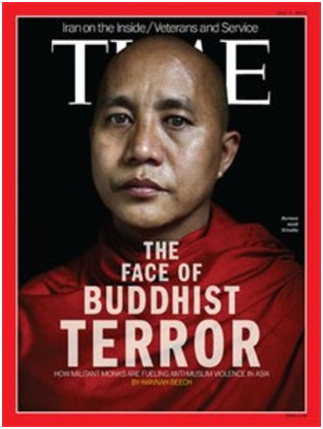 Gang of Rohingya lives and limbs shattered by mines at
Myanmar frontier
AFP | Updated September 14, 2017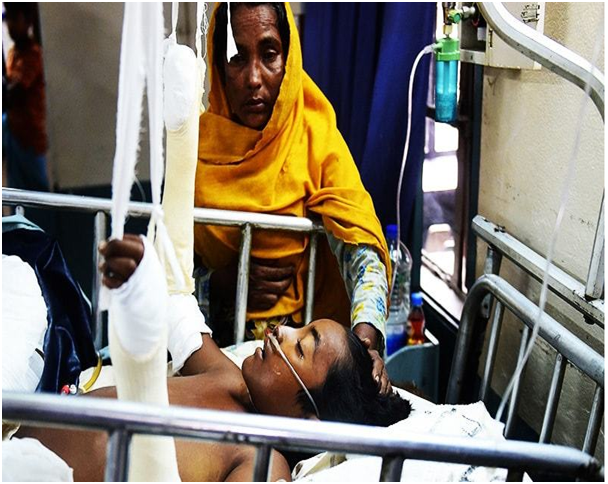 In this picture Rohingya Muslim refugee Rashida Begum stands next to her son Azizul Haque, 15-AFP
Azizul Haque wanted to scream but could not muster the energy as he fought for his
life, his body torn apart by the landmine he stepped on as he and his Rohingya
Muslim family fled Myanmar.

Instead, the 15-year-old is so feeble he can barely beg his mother to bring him a
juice, which in any case she cannot afford to buy. Haque is in a hospital bed in the
Bangladesh border town of Cox's Bazar, bandaged virtually from head to toe. He
lost both legs and part of a hand in the explosion, and suffered shrapnel wounds
across his body.

"We heard a huge explosion as Azizul stepped on the mine," said his mother Rashida
Begum, standing next to his bed, helplessly shedding tears. "I saw his two legs
blown away," she said.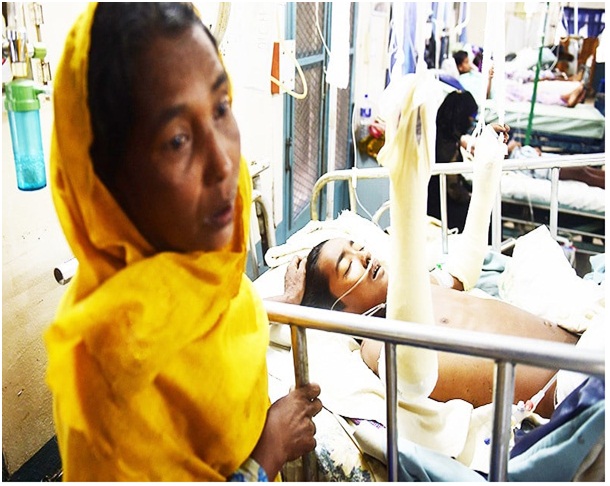 In this picture Rashida Begum stands next to her son Azizul Haque, 15, as he is treated after being injured
by a landmine while crossing from Myanmar to Bangladesh.—AFP
The family are among 379,000 Rohingya who have sought refuge in Bangladesh from
violence in Myanmar's Rakhine state that started August 25, after Rohingya militants
attacked police posts there. They ran away from their home village of Debinna, and
were in sight of the frontier when the boy stepped on a mine near the barbed wire
border fence.

"Everyone was in a rush. Nobody could look out for others as the Burmese were
chasing us from behind and burning the village," the mother of four told AFP.

While many Rohingya refugees have recounted tales of torture and rape by Myanmar
troops and Buddhist militias as they escaped torched villages, landmines are the
latest deadly threat to come to light.

Senior Bangladeshi officials believe anti-personnel mines, which were banned by a
1997 global treaty, have been planted by Myanmar security forces to prevent
Rohingya from trying to return to their villages.

"Since September 3, we have heard at least 12 landmine explosions. At least three
people were killed and seven were injured in the blasts," Border Guard Bangladesh
Commander Manzurul Hasan Khan told AFP.

"All indications point to the Myanmar security forces deliberately targeting locations
that Rohingya refugees use as crossing points," said Tirana Hassan of Amnesty
international.

"This a cruel and callous way of adding to the misery of people fleeing a systematic
campaign of persecution," she said.
'State of collapse'
The UN Security Council on Wednesday broke its silence on the crisis in Myanmar
and called for an end to the violence, as UN chief Antonio Guterres said the military
campaign amounted to ethnic cleansing of Rohingya Muslims.

The 1.1-million strong Rohingya have suffered years of discrimination in Myanmar,
where they are denied citizenship even though many have long-lasting roots in
the country.

Bangladesh does not want the group either, though it is providing the refugees
with temporary shelter. Border guards let Haque's family enter when they carried
the stricken boy to the fence.

"We rushed him to a nearby Doctors Without Borders clinic and they referred us
to this hospital," said his mother Rashida.

Surgeons have conducted multiple operations on Haque, but do not hold out much
hope for the youth. A nurse told AFP he feared Hoque could die before the end of
the week.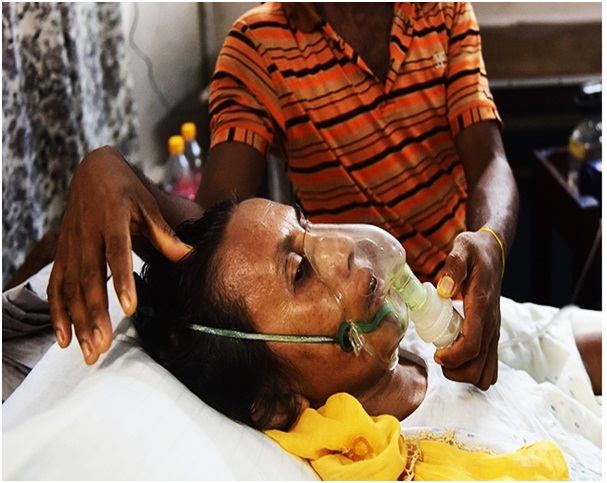 Rohingya Muslim refugee Sadekun Nahar, 50, is tended to by her son as she is treated in a hospital.— AFP
The hospital has struggled to find supplies of his rare blood type for transfusions.
"Ninety per cent of his body is in a state of collapse," the nurse said.

Haque is just one of at least 20 Rohingya victims of bullet wounds, burns and bomb
explosions being treated at the Cox's charity hospital. Several others, including
another of her Rashida's sons, also suffered injuries in the same incident, and are
being treated nearby.

Sabekun Nahar, 50, suffered leg injuries after she stepped on a suspected landmine
near where Hoque was blown up. "I wonder how I will ever walk again," she said,
tears welling in her eyes.
Source: DAWN.com