Lahore : Provincial Minister for Higher Education Syed Raza Ali Gilani has said that Nations who value their mother language excel in education sector.

He said that Punjabi is our mother language and we are proud of it. He was addressing the three day International Punjabi Conference at LCWU here on Thursday morning.

Chairman Evacuee Trust Board Siddique Al-Farooq, Vice Chancellor Lahore College for Women University Dr. Uzma Qureshi, Dr. Dhawant Kor from India and Punjabi Language experts from Canada and Pakistan were present at the occasion.

In his speech the provincial Minister further said that Punjabi is a strong and influential language accepted all over the world. He said that government will consider the proposal of teaching Punjab at all the government colleges of the province as soon as possible.

VC Dr. Uzma Qureshi said that such international conferences help in getting latest knowledge from experts of a particular sector. Various programs will be presented in the three-day conference to highlight the culture of Punjab, including folk songs, Qawwali and Mushaira.

The Provincial Minister later attended the 2nd Convocation of Government College for Women Bilal Gunj and distributed certificates and medals among successful students.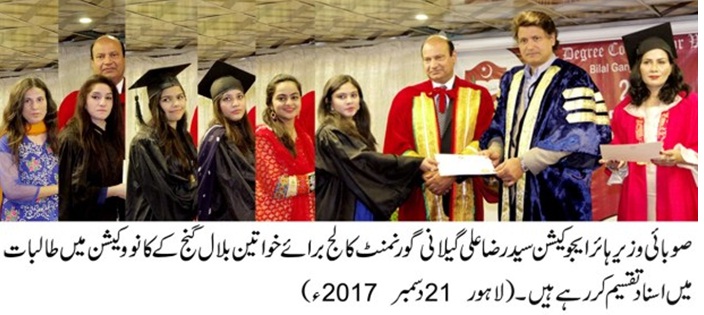 The minister also distributed certificates among students who received significant achievements in co-curricular activities. In his address the Minister said that it is very important to educate women because it helps you in educating the generations to come. He said that student who participate in co-curricular activities are generally more shining as they get creative ability.

Later the Provincial Minister presided over the closing session of the two days conference on Population Growth and Human Development. Punjab Higher Education Commission and Population Association of Pakistan jointly organized this conference in GCU Lahore.

Addressing the Conference Syed Raza Ali Gillani said that for solving a problem we must first understand its nature. Enormous population growth is a problem which will be resolved though continuous support of civil society.

He said that every person should spread awareness in his family and surroundings. He said that the statistics of recent census show that Punjab's population has shrunk due to which Punjab's seat in the National Assembly are also reduced. It's a positive sign which shows that people are being educated regarding this populations mess.

The minister said that government will incorporate the recommendations of this conference in its population control policy. He said that increase in population also increase the risk of Poverty, Intolerance and Crime.

Chairman Punjab Higher Education Commission Dr. Nizam Uddin and Vice Chancellor GCU Dr. Hassan Amir Shah also spoke at the conference.