Malicious Bollywood

Most Hated anti –Pakistan ,anti- Musliam and anti Islam Indian movies Videos
************************
Malicious Bollywood
      Pak-bashing Hindu cinema
Indian movies against Pakistan ( Ban all Indian movies)
     *************************
Indian Movies with anti-Pakistan sentiments
By Hira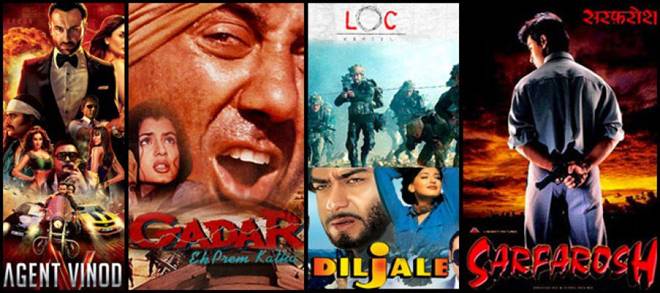 More than six decades have been passed since Indo-Pak partition but nothing has changed among both the countries, the rivalry stays as rigid as it was in the beginning of the journey.
Albeit people from both the countries try to join hands with each other through sports and arts but extremist factions present in all the fields don't want the countries to have a peaceful start. Indian film industry in last six decades has made countless anti-Pakistan movies but here are some movies that have broken all the records of abhorrence. By making these fabricated movies how can they even think that they are lighting up Aman ki Asha.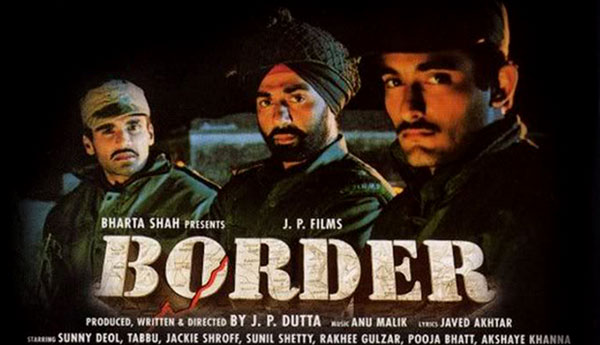 The most anti- Pakistan movie of all time is Border it gets all the applause for showing record breaking hatred. The film is also full of unrealistic facts regarding the 1971 war as most of the war was fought on the eastern wing of Pakistan and not much fighting was done by West Pakistan side. But Indians are Indians to make an heroic image of themselves they forget to mention that 1971 war was actually triumph and fought by the support of Mukti Bahini not the real Indian army heroism.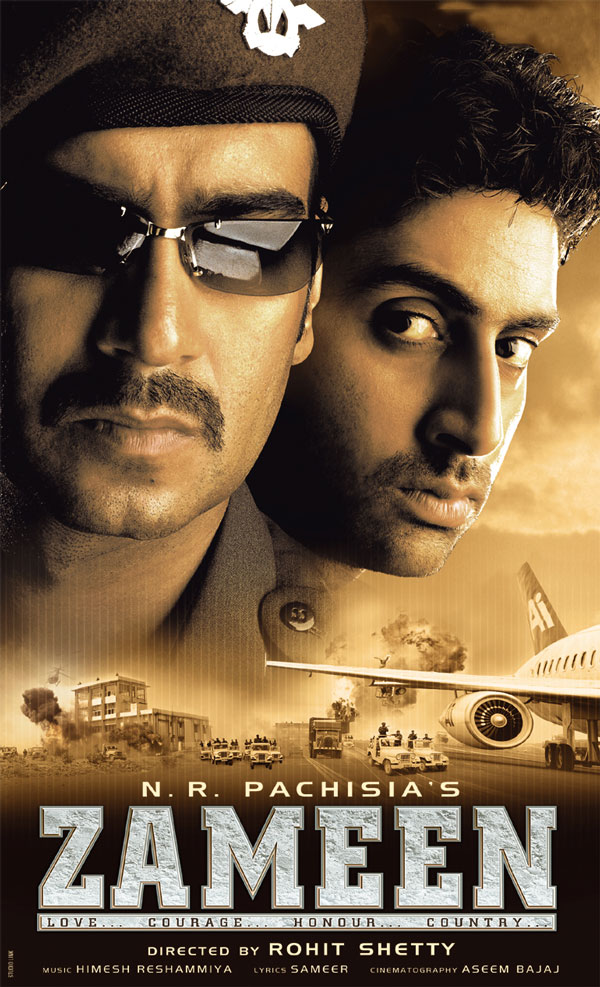 Although, Pakistan is not directly targeted in the movie but the terrorist group shown in it is backed by Pakistan. The terrorist hijacked Indian civilian airline to take it to Pakistani-administrated Azad Kashmir. The film is full of verbal abuses against Pakistan which gives flare to the burning conflict between the two countries

.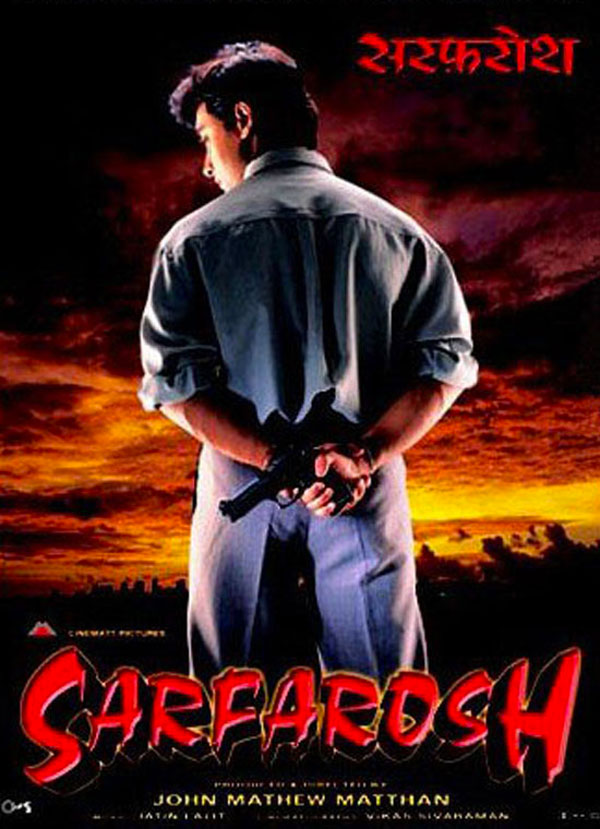 This movie revolved around an Indian terrorist racket but the people behind sending and feeding Indian militants were Pakistani Army. A senior officer of Pakistani intelligence ISI (inter security intelligence) was also shown in the movie emotionally playing with the religious sentiments of an Indian Muslim to support him. The film was about arm trades and the arsenal that was provided to Indian terrorist.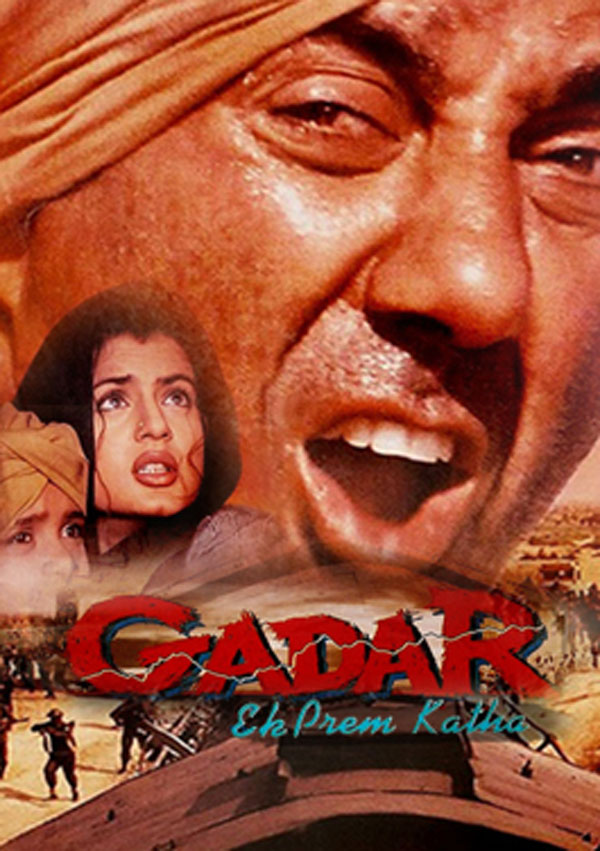 Gadar-Ek Prem Katha was not really a love story but a film to disgust Pakistan's image. The story is based on Partition and its after effects. Pakistani politicians in the movie are shown cruel and malicious towards Indians. The film tells that the Pakistani politicians do nothing except humiliating Indians and they are so fragile that one Indian can crush them totally in their own country. This ridiculous film is full of verbal abuses.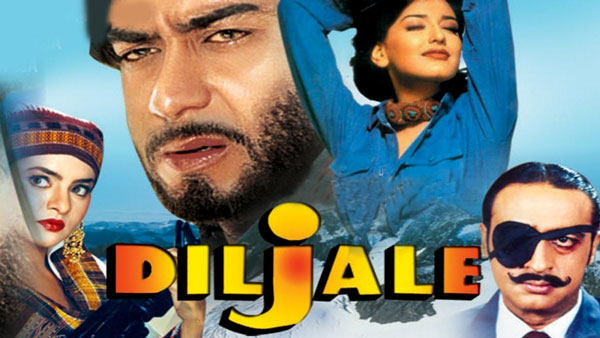 Diljale was another anti-Pakistan movie, Pakistan's Army was targeted in this movie who was funding some terrorist groups in India. The movie is based on a love story in Kashmir and how a patriotic guy joins terrorist group. The terrorist group is backed by Pakistani army (as always) whose officials believed in creating terrorists to accomplish their motives against India and killing them when the task is done.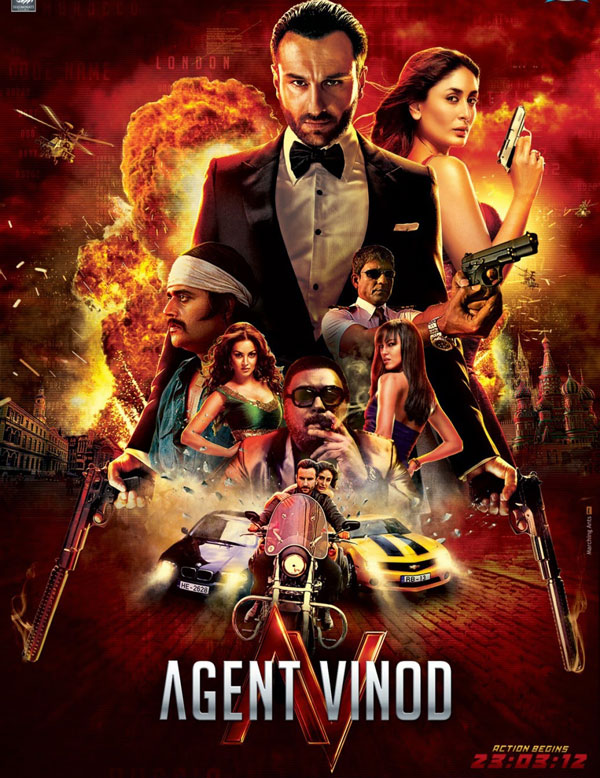 Agent Vinod is the story based on a mission of a RAW (research analysis wing) agent. The story tells that not only common Pakistani girls fall for Indian guys but a female Pakistani ISI agent can also get allured by the charismatic looks of an Indian agent (yeah right). The film is a dumb story in which a Pakistani intelligence officer rather than supporting her own intelligence team went to protect India from an attack indirectly backed by Pakistan.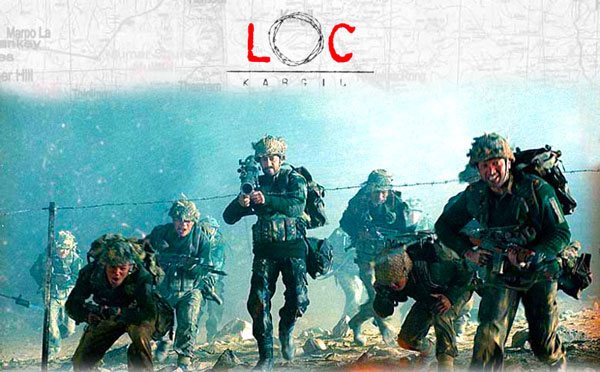 As the name tells LOC Kargil is based on the Kargil war 1999. The film is full of anti-Pakistan sentiments. Filmmaker JP Dutta is a champion in making films against Pakistan. It is really important to know what he went through that made him make such ridiculous movies.
Curtsey:ARY News: November 21, 2014
*********************************************************
Deténte, Bollywood-Style
JAMAIS CASCIO, 30 MAR 04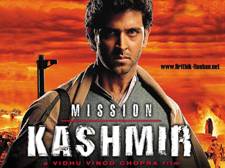 In recent years, a relatively-popular sub-genre of Bollywood movies emerged focusing on the tensions between India and Pakistan. Whether based on historyor fantasy, the films depict heroic Indians and perfidous Pakistanis locked in mortal combat -- and it's very clear who you are supposed to be rooting for. But according to an article in Sunday's Indian Express, the changing relationship between India and Pakistan is now starting to affect how Bollywood filmmakers portray their country's western neighbor.
Anil Gadar Sharma is also trying to play it safe this time round. Known for his shrill jingoism and Pak-bashing cinema, Sharma is toning down his ambitious war saga Ab Tumhare Hawaale Watan Saathiyon which stars Amitabh Bachchan, Akshay Kumar and Bobby Deol. Sources in Sharma's crew said the maker is rewriting dialogues that came down too heavy on Pakistan.
Interestingly, the motivation to do so was provided by actor Akshay Kumar who refused to spout any anti-Pakistan dialogues. Says Kumar, ''I made it very clear to the director that I will not badmouth any country or a religion. My director got the point and now the dialogues are okay.''

It's a small move, but a hopeful one.
Curtsey: http://www.worldchanging.com/archives/000516.html
Indian Movie "D-Day" banned to release in Pakistan by Pakistani censor board
Fatima Awan
0
These days it is very common for Indian movies to be banned to release in Pakistan because of their sensitive subject. When we see movies like Ranjhaana, Shootout at Wadala, Ek tha Tiger, and David etc. banned to release in Pakistan by Pakistani censor board, another movie named "D-Day" is also banned to release in Pakistan by Pakistani censor board.
The movie has a powerful cast that includes Rishi Kapoor, Irfan Khan, Arjun Rampal, Huma Qureshi, and Shruti Hassan. The movie has managed to generate a lot of interest in India. The movie has been banned to release in Pakistan because of its synopsis. Like all the previous Indian movies that have been banned to release in Pakistan, this movie also has a sensitive subject that may cause conflicts in Pakistan.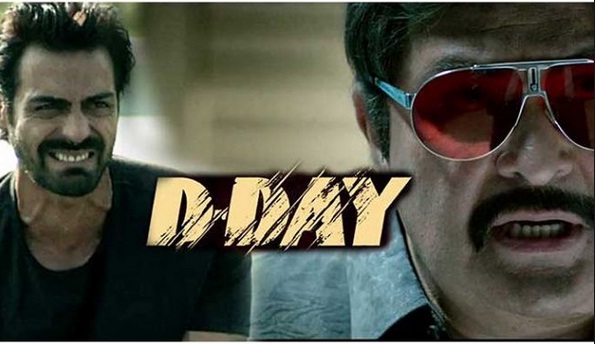 It is good to see Pakistani censor board banning contents that they know will hurt Pakistanis and cause conflicts. We appreciate them for banning the content that will hurt Pakistanis and cause conflicts.
What are your views on the ban on release of Indian movies in Pakistan that have a sensitive subject? Your feedback is appreciated!
Regards,
Alia Khan

Curtsey: http://reviewit.pk/indian-movie-d-day-banned-to-release-in-pakistan-by-pakistani-censor-board/
Pakistan bans film featuring Indian James Bond
The Indian James Bond can disarm a bomb while flying a helicopter, dodge bullets from deadly assassins and save his country from nuclear disaster. But getting into cinemas in neighboring Pakistan has proved to be an impossible feat.
Pakistan banned the Indian film Agent Vinod a few days before its scheduled release, likely because of its critical portrayal of the country's generals and spies. They are shown providing support for the Taliban in Afghanistan and scheming to set off a nuclear suitcase bomb in archenemy India's capital.
"It was our judgment that it should not be allowed to be screened," the vice chairman of Pakistan's Film Censor Board, Muhammad Ashraf Gondal, said. "It falls under the negative codes of our censor."


Newly released Bollywood film 'Agent Vinod' is display for sale at a movie store in Rawalpindi, Pakistan, on Monday, March 26, 2012. The film has been banned in Pakistani cinemas for its critical portrayal of Pakistani generals and spies as well as Pakistan being shown providing support for the Taliban in Afghanistan. (AP Photo/Anjum Naveed)
He refused to provide further details.
The film, which was scheduled to open last week in Lahore and Karachi, likely hit too close to home because it echoes real criticism of Pakistan — admittedly, in the exaggerated style of India's popular film industry.
Although Pakistan has never been accused of trying to detonate a nuclear weapon in India, it has sponsored Islamist militant groups who have carried out attacks in the country. It helped the Taliban seize power in Afghanistan in the 1990s to counter Indian influence, and many believe support for the group has continued despite Pakistan's denials.
"Agent Vinod is for Indians, but it is not against Pakistanis," said the movie's lead actor and co-producer Saif Ali Khan in an interview with the Indo-Asian News Service. "But I understand if they get upset because we are beating them up quite often in the film."
Khan plays agent Vinod, dubbed "India's James Bond." He is a spy from India's Research and Analysis Wing, which has spent decades in a real-world cloak and dagger struggle with Pakistan's Inter-Services Intelligence agency, or ISI.
Pakistan and India were founded in 1947 following the breakup of the British empire. They have fought three major wars since then, two of them over the disputed territory of Kashmir.
The Indian film shows Pakistani officials encouraging terrorist attacks in India and financing Lashkar-e-Taiba, a militant group founded with the ISI's support in the 1990s focused on pressuring India to give up Kashmir.
"If you feel this is unreasonable or not true, then it is fair enough," said Khan, the actor-producer. "I think it is all quite true."
Lashkar-e-Taiba has been officially banned in Pakistan, but the government has done little to crack down on the group. It is blamed for the 2008 attacks in the Indian city of Mumbai that killed 166 people.
Agent Vinod is certainly not the first Bollywood film to be prohibited in Pakistan. The government imposed a blanket ban on all Indian movies in 1965, following a bloody war between the two countries.
Pakistan lifted the measure in 2008 but has continued to block individual films. It banned an Indian comedy about Osama bin Laden in 2010, claiming it could spark terrorist attacks.
The impact of such censorship is limited. Indian films are popular in Pakistan, but there are relatively few movie theatres in the country. DVDs are a more common means of watching movies, and pirated copies are easily available at shops that specialize in them. Copies ofAgent Vinod were already being sold in several Pakistani cities on Monday.
© The Associated Press, 2012


The Associated Press Posted: Mar 26, 2012

Curtsey:www.cbc.ca:
Source link: http://www.cbc.ca/news/arts/pakistan-bans-film-featuring-indian-james-bond-1.1197730
Agent Vinod - New Theatrical Trailer [English Subtitled]
Bollywood Movies Banned in Pakistan!
BollyCurry brings to you a recent list of movies which didn't see the day of light on the screens of Pakistan.


There was a time when Bollywood movies weren't allowed to be screened in Pakistan due to various conflicts. However, as time changed things got better between the two countries and finally a b-town flick, none other than the colored version of Mughal-e-Azam, was shown across screens in the country. After that, various movies made its way through the hearts of the audiences in the neighboring country. However, there are still certain movies in today's date that are banned due to various reasons. So this time around BollyCurry brings to you a recent list of movies which didn't see the day of light on the screens of Pakistan.
Tere Bin Laden



This comedy riot star the Pakistani singer-actor Ali Zafar in the lead role. However, the film was still banned due to the subject of the movie; Osama Bin Laden. The censor board in Pakistan felt that if the movie would be released there, then it would give extremists a wrong idea of starting riots and planting attacks.
Ek Tha Tiger



The Katrina Kaif and Salman Khan starrer Ek Tha Tiger unfortunately didn't reach Pakistani cinema screens either. The films content was tagged as "Problematic" and the censor board felt it showed the country in a negative light hence it was never released. The plot mainly revolves around two security agencies, Pakistan's ISI and India's RAW.
Khiladi 786



The Akshay Kumar starrer Khiladi 786 is another film added to the list of banned movies. First the poster were rejected, then the promo of the film was taken off and at last the movie got banned. The film was banned because the number 786 has a significant meaning for muslims, and the use of this symbolism in the film would have offended people.
Agent Vinod



The Saif Ali Khan and Kareena Kapoor Khan starrer Agent Vinod was another movie that caught the censor board's attention. The film is about Saif who plays an Indian intelligence officer who exposes anti-Indian elements in Pakistani security agency ISI. Its also shown that Pakistani generals and spies are supporting Taliban in setting up a nuclear bomb in Afghanistan. The film was obviously receiving a ban.
Raanjhanaa



The afresh released Raanjhanaa is one of the latest movies to be banned. The film was the talk of the town, and the ban was not accepted by many across both borders. The film stars the fashion icon and actress Sonam Kapoor with newcomer Dhanush. The film was a huge hit in India, but The Pakistan Film Censor Board banned the screening of the movie in Pakistan. The reasoning was the controversial story of the film where the female protagonist who's a Muslim falls in love with two Hindu guys. They felt that the movie portrayed the character of a muslim girl the wrong way.
Bhaag Milkha Bhaag



The newly released Milkha Singh biography caught everyone's attention, and its highly appreciated by everyone. The film had it all a strong plot, acting and its proved to be a blockbuster in India. However another blockbuster gets rejected by Pakistan. Due to some strong dialogues the film was announced banned in Pakistan. But according to the producer of the film it's just a rumor and the film will soon release in Pakistan. Time will tell if it's just a rumor or not.
These were movies that didn't quite make it through. Both countries are torn by politics and religion but the film industry is trying to decrease this distance by joining the industry on the other side of the border, and they're welcomed as well. Pakistani actors like Ali Zafar, Veena Malik, Nargis Fakhri, Salma Aagha, Zeba Bakhtiyar, Meera, Mona Lisa/ Sara Loren, Ahsan Khan, and Imran Abbas will all be soon seen on the silver screen in India, and they're all warmly welcomed.
Let's just hope that the leaders of both countries will see their effort and join them to decrease the distance that time and circumstances have created. Till then BollyCurry hopes the people of both the countries stick to making a difference
Thursday, August 15, 2013
Curtsey: http://www.india-forums.com/bollywood/talk-round-town/36104-bollywood-movies-banned-in-pakistan.htm
Akshay Kumar's 'Baby' banned in Pakistan
ZOYA ANWER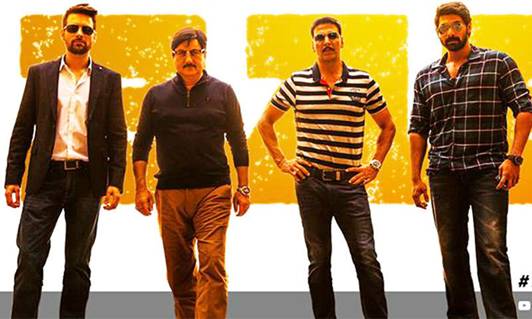 The film stars famed Pakistani TV drama actor Mikaal Zulfiqar as well as Rasheed Naz, who played the villanous cleric in Shoaib Mansoor's Khuda Ke Liye —Publicity photo
As largely expected, Akshay Kumar starrer Baby will not be seeing the light of day in Pakistan as the censor board of Islamabad and Karachi decided not to screen the film owing to its controversial content.
A representative of the film's distributor, Everready Pictures informed Dawn that the film has been banned in Pakistan.
"Censor boards in Islamabad and Karachi have decided to ban the film because it portrays a negative image of Muslims and the negative characters in the film also have Muslim names. CDs and DVDs of the film have also been banned in Islamabad. The company has taken a similar stance on this issue and will not go-ahead with its release."

Hindi films should be blocked in Pakistan
By Garga Chatterjee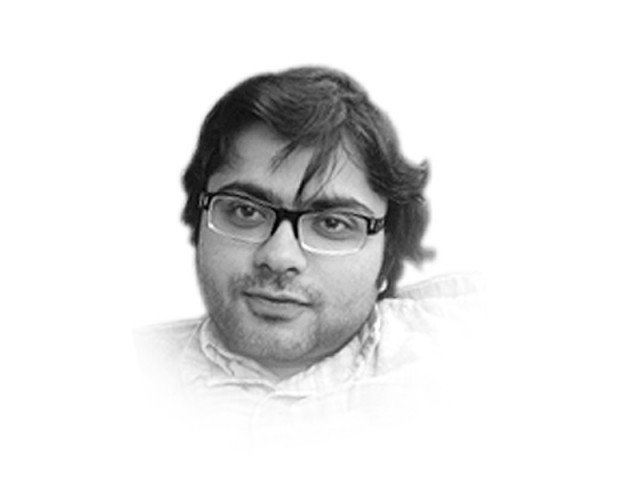 The writer holds an MBBS (Calcutta) and a PhD (Harvard University) and is currently a postdoctoral scholar at MIT
The case in Pakistan regarding the continued certification and commercial screening of films produced in the Indian Union territory has been settled. Mubashar Lucman, the Film Producers Association and the Cinema Owners Association have come to an agreement that would allow for the equal sharing of screening time between films made locally and those imported from the Union of India. This is a useful opportunity to discuss some issues regarding the commercial import and certification of Bollywood Hindi films in Pakistan.
Let us first understand what these 'Indian' films are. We are largely talking of films made in the Hindi language produced via a very cash-rich industry setting in Mumbai. For the rootless young people in certain metros of the Indian Union, that is much of what constitutes 'Indian' films. But for those who are talking in terms of greater mutual understanding via these films, one needs to realise that much of the Indian Union does not speak Hindi and produces films in their own languages. The content of such non-Hindi films represent a much greater terrain of the subcontinent than Bollywood Hindi flicks can ever aspire to. To be fair, Bollywood Hindi films never did aspire to that. Thank the gods for that, as with the money power behind Bollywood Hindi films, they might even try to define Tamil-ness or Bengali-ness through a metro-centric Hindi medium. Are they influencing people in Pakistan with an alien commercially-produced idiom? If yes, people in Pakistan better take notice.
Those who portray films as some sort of a medium to develop India-Pakistan bonhomie might also do well to look beyond Bollywood. Virulently anti-Pakistan films with a lot of 'action' are also a Bollywood Hindi film sub-genre. Yes, that does good business. Go find an Assamese, Bengali, Tamil, Manipuri or an Oriya film in the last 15 years that has an anti-Pakistan theme. There are none. Are these not 'Indian' films? What is it about the Bollywood Hindi film idiom that lends itself to making films like Gadar: Ek Prem Katha and LoC Kargil, which unabashedly dehumanise people from Pakistan? The economic muscle of Bollywood ensures that such films receive a wide audience. It is not the specific film that matters. Pakistan can choose to not allow this film or that. But it is the same set of cartels that produce most films — the ones that are anti-Pakistan and the ones that are unrelated. This industry understands only money and would not stop from producing the next commercially lucrative anti-Pakistan blockbuster. There is a market for such prejudice in India just like there is a market for anti-Hindu prejudice in Pakistan. Do people from Lahore and Karachi really need to add to the profits of an industry that sees no qualms in showing Pakistanis in a bad light?
Most Bollywood Hindi films are set in the cities of Mumbai or New Delhi, and increasingly in cities of the Western world where people from north India live and aspire to flourish. This can be Sydney, London, New York or Chicago (Dhoom 3, an action film released a few days ago and which has already grossed crores of rupees, is set largely in Chicago). Delhi and Mumbai choose to tell their stories and want people to pay for them. But Karachi is not Delhi and I am sure it has its own stories to tell, stories that are different from the stories of young partying explorers of Mumbai and Goa, stories that are not about aspirational or 'everyday' life of Delhi people. Despite the Zia years, one can be sure that 15 crore people have stories to tell. If the decision was left to the burgers, they might even start a juloos in support of Hollywood and Bollywood. The culturally illiterate have no investment in their own cultural milieu. That is precisely why their 'tastes' shouldn't be setting agendas. Nor can they be depended on for a revitalisation of films culturally rooted in Pakistan (and not cheap Bollywood remakes).
Bollywood Hindi films represent the metro-centric and homogenised 'idea of India' in the mind of the new Indians — 20-40 years-old, in the top five per cent income category, aspirational migrants with Hindi and English being their near exclusive vocabulary. They are concentrated in a few cities but have the economic might to determine cultural policy. These multiplex consumers, with their moneybags, have launched a great assault on the idea of mass-films, which is why now a film's profits are not an indication of its popularity. The Pakistani film industry is up against an economic behemoth with an agenda of its own cultural expansion. Its production, distribution and broadcasting machines are well oiled. Stupendous amounts of black money from deep pockets bankroll the 'creative' explosion that is Bollywood.
The twin attack of a homogenising national ideology and economic muscle has grave implications on visible public culture. The 19th Kolkata International Film Festival witnessed the extraordinary scene of Bollywood Hindi film stars being feted in a manner as though they represented some pinnacle of human achievement. It was a sad moment — underlining how limited and predictable the cultural horizon of West Bengal's film industry had become. The lack of self-confidence showed. Film industries that do not have as much black money circulating, have lesser number of casting couches, have lesser number of ageing 'artists' and producers targeting young actresses, have lesser number of big crooks financing films and which do not make films in Hindi or India-English, have been relegated to second and third class status. Pakistan has the legal mechanisms to stop the damage that Bollywood has done to film industries elsewhere. It better act soon.
Published in The Express Tribune, December 25th, 2013.
Indian Movies Are Against Pakistani Culture: Nadeem

Pakistan famous actor Nadeem Baig has said that screening of Indian movies in pakistan cinemas are against our culture. He stated that every class of population must resist against screening of Indian movies in Pakistan. Nadeem mentioned that he also appeals to Pakistani state administration to ban Indian films screening in Pakistan.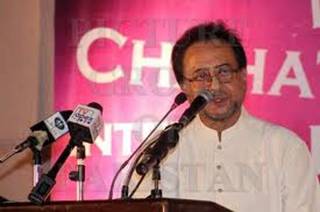 The 71-year-old actor said that some people are trying demolish Pakistan movie industry and hence ther are screeinibg Indian films in Pakistani cinemas.

Nadeem (who was born Mirza Nazeer Baig Mughal) said: in the past I have also talked versus Indian films screening in Pakistan at every forum but still I believe that Pakistan film industry is suffering because of screening of Indian films in Pakistani cinemas".
http://thenewsfocus.blogspot.ca/2013/04/indian-movies-are-against-pakistani.html
ASIA
Pakistan bans Indian Hindu-Muslim romance film
: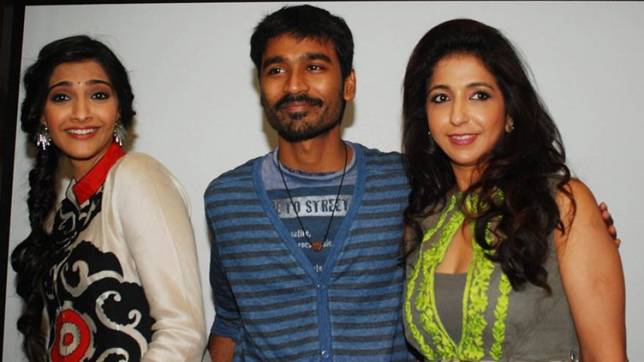 Indian Bollywood actors Sonam Kapoor (right) and Dhanush (centre) with producer Krishika Lulla (right) attend a promotional event for the Hindi film "Raanjhanaa" in Mumbai on June 20, 2013. Pakistan has banned an Indian film about the love affair of a Muslim-Hindu couple on the grounds that it could offend viewers in the conservative Islamic republic, officials said Friday. (AFP/File)
ISLAMABAD (AFP) – Pakistan has banned an Indian film about the love affair of a Muslim-Hindu couple on the grounds that it could offend viewers in the conservative Islamic republic, officials said Friday.
"Raanjhanaa" was scheduled for release in June, but Pakistan's Film Censor Board refused to clear it for cinema showings.
"The censor board did not clear this movie because of its controversial story," Arshad Ali, a senior government official and chairman of the board, told AFP.
"The board recommended that the movie's storyline could offend the majority Muslim population in the country and a law and order situation could arise in response," he said.
According to press reports the film is the love story of a Hindu man and a Muslim woman.
While a huge array of Western and Bollywood films can be bought over the counter on pirated DVD in Pakistan, the censor board routinely bans productions deemed too sensitive for cinemas.
Pakistani movie distributors boycotted Hollywood film "Zero Dark Thirty" about the hunt for Osama bin Laden, who was killed by US troops in Pakistan on May 2, 2011 to the country's humiliating.
In 2012, Pakistan banned Agent Vinod, India's answer to James Bond in which an Indian secret agent thwarts Pakistani spies from detonating a nuclear bomb in Delhi.
India and Pakistan have fought three wars since independence from British rule in 1947.
In 2010, censors also refused permission for Indian film "Tere bin Laden", which poked fun at bin Laden. The board claimed it would incite suicide attacks.
Pakistan's own film industry declined in recent years, finding itself unable to compete with the huge popularity of Bollywood productions.
Published July 05, 2013
Armed forces divided over Indian movies' screening
BY UMAIR AZIZ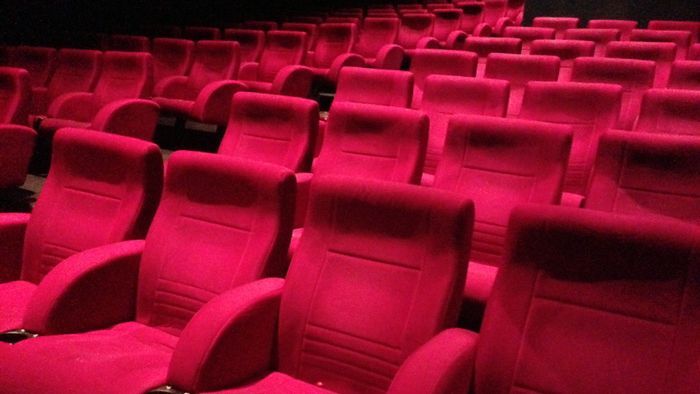 LAHORE-
The top command of Pakistan Army and Air Force seems to be divided over showing Indian movies in cinemas under their respective jurisdictions, Pakistan Today has learnt.
The PAF top command has banned showing Indian movies in their cinemas in Lahore and Rawalpindi whereas the same is being openly shown in the cantonment areas and the Defence Housing Authority (DHA).
Interestingly, the PAF base Sargodha shows Indian movies in its cinema highlighting a clear-cut discrepancy. According to well-placed sources, the reason for not banning Indian movies in the PAF Sargodha is because that comes under the cantonment and hence under the control of the army, which allows showing Indian movies.
Sources on good authority further revealed that a top PAF official was told during a visit to one of the bases that showing Indian movies might demoralise a lot of officers with religious leanings and hence should be banned in cinemas under the PAF.
Major urban centres of the country have seen a boom in the cinema industry with even old cinema houses being renovated in the wake of a reviving industry. The Indian movies have played a vital role in the revival of an otherwise dying trend.
New cinema houses with state-of-the-art technologies have opened up recently in various parts of Lahore and many still opening up in near future. The trend continues in the commercial spaces of cantonment
areas such as the Fortress Stadium and DHA.
However, the authorities have been "unclear" about the moral question involved in showing Indian movies.
The matter was brought to the Lahore High Court (LHC) as well in the past when it was decided that an equal time would be allocated to movies produced in India and those locally made. Since then, Indian movies are being shown in cinemas across Pakistan. However, sources revealed that top command of the PAF did not like showing Indian movies and hence it has been banned.
Nadir Minhas of the PAF cinema confirmed that the PAF top command has banned showing Indian movies since the start of the year. "Initially we had gotten the move stayed by the court but the last Indian movie was shown in December and we have no Indian show this year," Minhas added.
The administration of DHA Cinema Lahore however said they were showing Indian movies which was as per the law.
"The DHA does not come under the cantonment area and hence we can show Indian movies here. It might be a security question for the cantt areas," the administrator said. On the other hand, however, the Sozo World Cinema in the Fortress Stadium, under the cantonment area, is also showing Indian movies.
"If it has been done for some security risk, it should have been banned in cantt areas as well, or in the entire country. Banning movies only in two bases of the country makes no sense and shows there is no uniformity of policy making," a cinema staffer spoke to Pakistan Today on the condition of anonymity.
Curtsey:www.pakistntoday.com - AUGUST 6, 2014