Punjab: Business and Economy-II
Punjab devastated by energy crisis

By Farakh Shahzad

As the adverse effects of energy crisis have started appearing on the overall business horizons of Pakistan, Punjab seems to be the most severely hit region as compared to Sindh and KPK. Textile industry is on the course of total disaster as production and exports are falling month by month due to persistent gas closure and electricity load shedding in Punjab.

In this state of uncertainty and frustration, all fresh investments and new projects in the textile sector have come to a standstill as energy crisis and economic slowdown hurt businesses as well as domestic and export markets. It is pertinent to cite the case of recent International textile exhibition held in Frankfurt, Germany. Around 219 Pakistani companies exhibited their products but the Pakistani exporters were able to get very little business amounting $ 3 millions only as compared to $100 million in the past. The poor performance is being attributed to Pakistani exporter's inability to meet the last year's shipment deadlines that lapsed due to delay in production process caused by energy crisis.

Suspension of gas supply for a long period of time, rising cost of production, hyper inflation, high mark up rates, institutional corruption, political instability and economic slowdown have caused the closure of industrial units, rendering thousands of workers jobless. In Faisalabad alone, more than 500 textile units and around 26 flagship companies have closed their business after suffering heavy losses. A number of mega industrial groups have shifted their capital outside Pakistan to open industrial units in countries like Bangladesh and Malaysia. The industry in Punjab has remained totally closed for the last 35 days as the gas authorities had forced indefinite shutdown. This lengthy gas cut off had followed irregular load shedding in earlier months which have resulted in decline of textile exports by 159.5 million dollars in October and 193.9 million dollars in November topping at 225 million dollars in December of last year. The shortfall was visible more prominently in sub sectors. Export of cotton cloth went down by 44.8 million square meters which is down by 26.41 per cent, Knitwear 4.59 million dozens short which is 37.65 per cent, Bed wear 8342 metric ton 32.75 per cent, Towels 904 metric ton 7.83 per cent and garments 0.19 million dozens which is 6.75 per cent in December.

Textile sector is the backbone of the national economy as it has direct contribution to domestic production and foreign exchange earnings. Gas shortages in conjunction with electricity load shedding created immense problems for the industries and negatively impacted the production process as well and export of value added textiles. Textile industry lost 225 million dollars exports in December and likely to lose another 250 million dollars in January. About 600 million dollar shortfall in three consecutive months is a big setback to the national economy and it is apprehended that if the situation remains constant, this shortfall could touch one billion dollar mark in February. Unprecedented energy shortage was the prime reason behind substantial drop in exports. Situation arising out of gas outage would lead to further decline in exports, huge labor layoffs and decrease in the revenue of the Government. It is predicted that negative growth in the textile exports would adversely affect the country's economic growth.
Industry sources say that Government must set priorities for uninterrupted gas supply to industries to resolve energy shortage issue. Huge gas reserves have been explored and waiting for execution. The Government, therefore, should execute these projects on priority basis to bridge the rising gap between demand and supply of gas. Billions of dollars investment on machinery is becoming redundant owing to long hours load shedding of electricity and no gas supply.

Energy supply and economic growth were interlinked and gas suspension had slowed down the pace of industrial growth in the country. Present trade and industrial conditions in Pakistan are the worst in the history of the country and if timely remedial measures are not taken, the situation will get out of control.

The trade bodies like PTEA and APTMA have repeatedly urged the government to speed up its efforts to overcome gas crisis. Pakistan's exports mostly depend on textile and due to outage of gas supply; country's export will not grow as targeted and the gap is likely to widen up in the coming months. It is high time that the government wake up and ensure supply of gas to industries to avoid troubles in the production process.
Curtsey: Pakistan Today, FEBRUARY 5, 2012

Power load shedding continues to hit Punjab Industry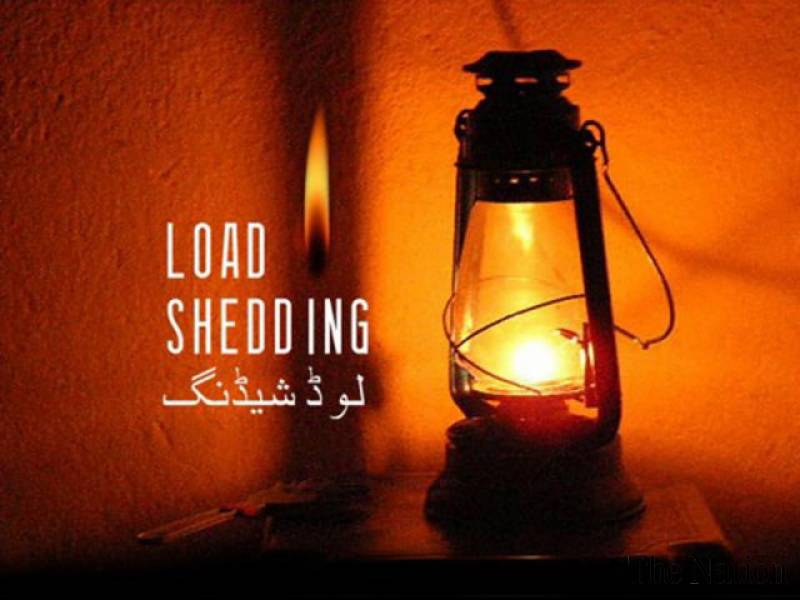 LAHORE – Around one dozen industrial associations have warned the government of more industrial closures in Punjab if it fails to stop power outages and restore supply of gas to the industry.

Business leaders from a number of trade and industrial associations including Lahore Township Industrial Association, Ferozepur Road Industrial Association, Katarbund Road Industrial Association, Kahna Kacha Industrial Association, Anjuman-e-Tajiran Pakistan, Qoumi Tajir Ittehad, Anjuman-e-Tajran Badami Bagh Auto Market, Township Traders Association, Pakistan Auto Parts Manufacturers and Exporters Association, Anjuman-e-Tajran Urdu Bazar, and Brandreth Road Traders Association said this during their meeting with the LCCI office-bearers.

They said that the government would not be able to control the situation triggered by the demonstrations and strikes called by the angry industrial workers against their retrenchments as a result of gas suspension and power outages.

"Industrial productions had already gone down by fifty percent in the province of Punjab only because of gas and electricity suspension and the remaining is paying a very high cost for keeping the industry wheel on the run."

They said that the situation today has reached the point that the international donors have started showing their reluctance in rescheduling Pakistan loans.
They said that the industry needs a continuous supply of electricity to complete the export orders well within the given timeframe but only because of the shortage of electricity the exports are not up to the mark.

They said that Pakistan had already lost a number of international markets while the condition of both local and foreign investment is also precarious. He said that cheaper and uninterrupted power supply is only way to achieve economic targets set for the year 2013 but neither the government is sharing its future plans to this regard nor paying any heed to the difficulties being faced by the trade and industry in Punjab.
They said that it is astonishing that on the one hand the government circles were talking of economic stability in 2013 while on the other hand they were not sharing any kind of roadmap to achieve this goal.

The LCCI President Farooq Iftikhar feared a surge in street crimes, saying that law and order situation is bound to aggravate in the coming days as repeated power outages in the industrial estates is jacking up the graph of unemployment and is particularly hitting hard the daily wagers.

He said that the most of industrial units had reduced their working to single six-hour shift from the previous three shifts system. This had led to increased level of raw-material wastage leaving production process non-profitable.

Now the leading industrial units were experiencing losses despite being managed professionally. The crisis in industrial sector is causing flight of capital and relocation of industrial units to the countries like Bangladesh and Malaysia.
Curtsey: The Nation,January 20, 2013

Is the sun the answer?
Asad Najeeb
 

'Loadshedding incurring huge industrial losses'; 'Power loadshedding continues to hit industry in Punjab'; 'Industry continues to suffer up to 18 hours power breakdowns'; 'Punjab textile industry suffers record power breakdowns'; 'Power outages ruining Swat's silk industry'.

The above are just a few headlines from early 2013 in major newspapers in Pakistan. Power outage has always been a common enough fact in Pakistan, but over the past decade it has become much more prevalent with dire consequences on society and economy. In particular, the industrial sector of Pakistan has been hit hard by these power outages, and many industries have shut down in the absence of power: and their workforce consequently laid off.

To survive the power crisis, several industries have started generating their own electricity by relying upon conventional diesel generators or captive power plants fuelled by furnace oil (RFO) in order to reduce their reliance on the national grid.

Yet this option has its own unique challenges.

For one, there is no fuel assurance for these power projects. As many captive power plants running on natural gas soon found out the hard way, fossil fuels are limited and their continuous supply cannot be ensured.

Moreover, the cost of fuel is also not stable. Generating electricity using conventional fuels is not only expensive but also one of the factors that cause pollution. The perpetually varying price of the fuel means that the cost incurred by the industry for generating the extra power during loadshedding hours is highly variable.

Despite the heavy costs, the industry continues to rely on these power sources in order to meet its base load demand and ensure that production does not stop. The extra cost incurred by the generators is translated into the inflated price of their product, which is ultimately paid by the consumer.

Despite this backdrop, a few industrialists have looked towards renewable energy sources; however, many are still reluctant to explore this avenue.

The primary reason for this hesitation is the lack of prior experience anywhere in Pakistan as most solar projects range in the kilo-watts instead of mega-watts. Moreover, the general notion that renewable energy, particularly solar, is both expensive and unreliable has also kept away many an industrialist.

This notion can now be dispelled with the launch of Pakistan's first 100MW on-grid power plant.

The project, envisioned in 2013, has been executed by Quaid-e-Azam Solar Power Pvt Ltd (QA Solar), a company wholly owned by the government of Punjab. The provincial government has injected 25 percent equity in the project while the remaining 75 percent has been loaned by the Bank of Punjab for a repayment term of 10 years.

When the project was launched, there was no in-house knowledge that could help QA Solar scrutinise and single out the top-notch contractors for the project. In order to overcome this, QA Solar procured the services of the best available legal (HaiderMotaBNR), financial (Grant Thornton) and technical (ILF BeratendeIngenieure GmbH, Germany) consultants from national and international markets.

QA Solar's most significant achievement was to procure the services of TBEA Xinjiang SunOasis Co Ltd, the world's second largest (and China's largest) engineering, procurement and construction (EPC) contractor at $131.15million for the 100MW project for a lifetime of 25 years.

This price includes the cost of all major components used in the power plant such as mounting structures, photovoltaic (PV) modules, inverters, transformers along with the entire substation. The equipment was imported from China and, in order to ensure that only the highest quality products complying with international standards are used, PV Lab (Germany) was hired for the testing of PV modules and inverters on site. Only after verification were these panels installed, and the cost of this examination is also built into the EPC Contract Price.

With this economic EPC price, the levelised cost of energy (LCOE) — the ratio of the total cost to be incurred during the life of the project (25 years) to the total energy to be produced in this time — is also very low.

Quaid-e-Azam Solar Power (Pvt) Ltd has accepted an upfront tariff of a mere Rs. 14.15 cents/kWh which was determined by Nepra, the power regulating authority. The tariff clearly indicates that, contrary to the general perception, installing a 100MW solar power project is not expensive. All it requires is a one-time major investment following which there is no substantial cost incurred by the sponsor in terms of fuel purchase or operation and maintenance.

The landmark accomplishment by QA Solar has set the precedent for upcoming grid-connected PV power projects in Pakistan, but it has achieved much more.

For once, anyone in Pakistan interested in setting up medium to large-scale solar projects — not necessarily grid connected — has concrete numbers depicting the time, cost, manpower and equipment needed to install a mega-project.

And this is where the industry can dive in.

Using the figures from QA Solar, industries can now set up their own solar power projects based on their load demand with a comparative cost estimate. For any solar power project, the EPC cost will be roughly in the same ratio as that of the 100MW project by QA Solar.

This is because the major portion of the EPC cost is incurred on solar panels, inverters and other accessories used in the generation area. Since the generation area is modular — a 1MW block is replicated 100 times for the 100MW plant — the cost is also modular.

Industries can therefore look towards the 3,500 hours a year sunshine and use the solar power to generate electricity instead of relying on the grid and fossil fuels.

Setting up a solar power plant does not mean that the heavy capital that industries have already invested in setting up generation plants goes to naught. Instead, these power plants will continue to be used when solar power is not available (for example at night) or needs to be compensated with another power source to meet extra demand.

The solar power plant will not completely replace the existing power plants but only reduce the cost incurred on fuel. Moreover, the solar plant will ensure free power generation throughout the day – that is, during peak load hours such that the supply and demand of power remains aligned.

The industry should now look towards this golden opportunity and use the experience of QA Solar to replicate similar power plants instead of relying on fossil fuels. QA Solar has done its job — to lead by example — and now it is up to others to follow suit.

The writer is a Lahore-based freelance contributor.

Email: najeeb2729@gmail.com
Curtsey:The News, Friday, May 01, 2015
Havoc in Punjab
TARIQ MAHMUD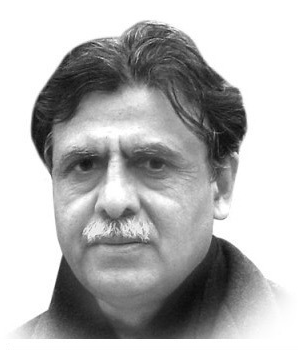 PUNJAB is in the grip of devastating floods with thousands of acres of productive land affected, habitats and infrastructure damaged. Around 200 people are estimated to have perished thus far. And there is no let up in the loss of livestock, an integral part of the village economy.
The mighty rivers combined are surging in southern Punjab, where the growing pressure at Trimmu headworks in Jhang district resulted in the decision to breach protective embankments, leading to the inundation of over 100 villages, causing yet more damage to crops and assets.
The floods are projected to enter Sindh within another 24 hours. While in Punjab the water overflowing the banks tends to return to the river bed, the situation in Sindh often becomes serious because the flood water turns the low-altitude area into a huge swamp.
Rescue and relief efforts are afoot with Pakistan Army troops bolstering operations. Relief agencies are doing their bit to rescue affected people to makeshift shelters and provide them with basic necessities including medical assistance. The task, however, is enormous, and one is at a loss to understand what we have learned from the devastating floods of 2010 in terms of the national state of preparedness.
While floods have been a recurring phenomenon since 1973, it has become evident over the past few years that these have now assumed a cyclical pattern. Exceptionally high floods in recent times have repeatedly exposed the inadequacies of our flood management strategy. The state of our protective infrastructure, such as embankments and spurs, raises many basic questions about their upkeep and maintenance.
At this crucial moment, we must address issues of long-term significance.
Unfortunately, the episodic nature of floods means that disaster preparedness barely registers on the political Richter scale of our rulers. Judicious spending of public money is more often than not absent, compounding the fact that there is already a paucity of funds where it comes to improving infrastructure in what is considered a low priority geographical area. Routine medium- and low-intensity floods are a boon for the people in the katcha (riverbed) area because flooding of this nature enables them to bring huge swathes of fertile, moist land under cultivation and reap a rich harvest. The downside of that, however, is that it contributes to the low priority given to such areas to save them from massive flooding.
According to reliable reports, Trimmu head­works on the Chenab in Jhang dis­trict, were under severe threat, because of which the banks had to be breached to save the barrage. The imminent threat to the headworks, however, was not on account of the exceptional nature of the floods alone, but because over the years hardly anything has been done to revamp these ageing structures. During the last six decades we could only remodel the Taunsa barrage whereas most other vital headworks require corrective engineering.
The severe damage to economic activity as a result of the floods has also highlighted the country's poor resource management strategy for a water-starved economy. A well-calibrated strategy, on the other hand, could have minimised economic losses while at the same time set the pace and direction for conserving and storing surplus flow.
Our storage capacity is lagging far behind our needs. The issue warrants an emergency response backed by strong political commitment. However, the fear is that given the inert mindset so far on display on this critical issue, the country will continue to suffer as floods keep crossing the danger line.
In central Punjab, rain-fed nullahs have also caused major flooding over the years, largely be­­cause of the continuous enc­r­o­­achment obstructing the natural course of these torrents. We need to enforce land use regulations and provide alternate land in genuine cases while retrieving en­­croached stretches.
At this crucial moment, we must also look at the larger picture and address issues of long-term significance. Increasing deforestation, poor watershed management and the steady rise in the silt level of our limited reservoirs cry out for a well-integrated response on a sustainable basis. Matters regarding climate change also warrant a clear-headed policy response.
It is pertinent to point out that some of the largest glaciers outside the Arctic zone are in the Karakoram range with lengths often exceeding 60 kilometres. There are also many smaller glaciers that melt during the summer. Brazen human intrusion in the region has hastened the process of climate change, for melting glaciers give rise to gushing streams that lead to increased transpiration and hence, more monsoon rains.
The Indus basin, like the Ganges basin in the north-eastern parts of India and Bang­ladesh, poses a grim challenge which requires a plan of action at the regional level. After all, the three countries share a common eco system and instead of sporadic, ad hoc measures, we must put in place an institutional framework to grapple with what is essentially a trans-national issue.
The writer is a public policy analyst and a former federal secretary.
Published in Dawn, September 14th , 2014

Knit wear industry refusing orders due to energy crisis

Lahore - The Punjab knitwear industry is continuously refusing orders placed by the foreign buyers only because of energy issues, despite having huge capacity of high quality production.

This was stated by Usman Jawwad, chairman of Pakistan Hosiery Manufacturers Association, while briefing the members of Lahore Economic Journalists Association about the knitwear scenario.
He said the power supplied by the state is most expensive in the region that impacts cost.
Gas is sparkly available in Punjab that deprives the industry of producing power at low cost.
He regretted that the government has recently subjected furnace oil to addition sales tax increasing the cost of the alternate fuel available for self generation.

Chairman PHMA said that high cost of doing business is only because of inept government policies and its inability to implement its own policies.
He said extra ordinary delay in the sales tax refunds is one example.
He said there are exporters that have not received refunds on dozens their export consignments spread over two years.
"How can anyone increase exports when its liquidity is sucked by the government though delay in genuine refunds?," he asked.
He said exports according to stated government policy are zero rated but there are many taxes paid during the manufacturing process that are not refunded due to non documentation of economy.
He said ensuring full documentation of economy is governments' job and exports should not be penalized for its failure.

Former chairman Shahzad Azam Khan advised the government to take the compliance issue of 27 conventions signed with EU to ensure continuity of GSP Plus status.
He urged the government to remove bottlenecks that hamper exports.
He said knitwear is the most labor intensive industry of the country employing over a 1.
5 workers including those employed by industries catering to domestic needs.
He said about 1200 organized units spread in Karachi, Lahore, Faisalabad and Sialkot are operating the country which is about the same as 15 years back.
Though export of knitted garments shows an ever growing trend over the past many years but inconsistent government policies and failure to match facilitations provided to this sector by India and Bangladesh has resulted in closure of numerous smaller units.
There are certain compliance issues like water treatment plants that are out of reach of small knitwear units.
Despite numerous promises no government has as yet installed a common water treatment facility for small knitwear units so that they could qualify for exports.

Former PHMA chairman north Zone Adil Butt said some features of new textile policy are attractive; special rebates on exceeding exports by 10 percent to knitwear exporters should be reduced to any increase in exports to motivate small exporters.
He hoped that the new policy would be implemented in letter and spirit and not shelved like the previous 2009-13 policy after announcement.

President LEJA Mohammad Riaz thanked the PHMA for the capacity building session organized for the economic journalists.
Curtsey:The Nation,February 20,2015
Punjab's growth strategy
NASIR JAMAL

THE Shahbaz Sharif government is all set to roll out its new strategy over the next few weeks to grow the provincial economy by a hefty 8pc in the next three years by creating favourable conditions for massive private investment in both infrastructure projects and industry.
The growth strategy document — Punjab Growth Strategy 2018 — has been developed by a group of senior economists affiliated with the International Growth Centre (IGC), in collaboration with the Punjab Planning and Development Board (P&DB).
"The strategy is an initiative of the chief minister who wants to see the provincial economy grow rapidly and the public service delivery to improve," a P&DB official told Dawn last week.
---
'The success or failure of the strategy largely hinges on its implementation. The province may not achieve the targeted growth rate but the recommendations of the strategy will create [favourable] conditions for rapid economic growth in the country's largest province'
---
The government had originally planned to roll out the document later this month. "But the launch is understood to have been delayed until early next month owing to the recent Lahore Church attacks," one of the economists involved in the writing of the draft strategy said.
The IGC economists and researchers have been working on this since June last year.
The economist said the Punjab government had requested the IGC to form a group of economists and experts to work with various provincial departments and help them develop specific areas of policy reforms and investment on the basis of existing research and evidence.
The primary objective of the document is to make Punjab a "secure, economically vibrant, industrialised and knowledge-based province, which is prosperous and competitive," says the P&DB document.
The strategy, said the official, attempts to find solutions to key challenges — an underutilised manufacturing capacity, energy shortages, stagnant exports, low productivity, unemployment, skill shortages, and a difficult security situation — facing the provincial economy to realise the development vision of the provincial government.
The P&DB officials say the strategy will help the province achieve 8pc economic growth (real gross regional product growth rate), increase annual private investment in the provincial economy to $17.5bn, raise its exports by 15pc a year and create 1m jobs every year.
They are hopeful that the kind of growth the government is looking for will make it possible to achieve the Millennium Development Goals (MDGs) and also target sustainable development and significantly improve security conditions across the province.
The strategy focuses on reform and development of key sectors of the economy like industry, cities, agriculture, skills, education, and health. For each sector, the aim is to identify economic growth-enhancing policy interventions as well as investment projects for the government, says a P&DB paper.
Nevertheless, critics of the Punjab government's development policies remain quite sceptical about the implementation of the strategy and successful achievement of the goals set in it by the government.
"The Punjab government has set some very ambitious targets for itself. I doubt these can be achieved given the energy constraints and security conditions prevailing in the province at the moment," said economic analyst Shahid Zia.
He was also doubtful about "private investors stepping forward to put their money in manufacturing and infrastructure projects at a time when the solution to the energy and security issues is nowhere in sight and they are unsure about the direction of economic policies".
The IGC economist agreed that the growth target set by the Shahbaz Sharif government was ambitious but not unachievable.
"The success or failure of the strategy largely hinges on its implementation. The province may not achieve the targeted growth rate but the recommendations of the strategy will create [favourable] conditions for rapid economic growth in the country's largest province," he said. He added that a growth strategy implementation framework is also being prepared for its execution.
"The thing is that Punjab has to grow at a much faster pace than the rest of Pakistan if the national economy is to be pulled out of its current, slow growth mould. Various studies have shown that the performance of the national economy is heavily dependent on the economic performance of Punjab, which contributes 60pc to the country's economy.
"This is what the new provincial growth strategy aims at: remove the constraints to growth in Punjab and give a big push to the national economy," he said.
Published in Dawn, Economic & Business, March 23rd, 2015

Economy:A closer look
  Dr Kamal Monnoo

While conceding that this government has some sort of economic plan in mind, the trouble is that nearly every economic claim for a turnaround disappoints the moment it is put to the test. If they honestly believe their claims, then it is even more dangerous, since they will continue to do more of the same, worsening an economic situation standing at the brink of disaster. Economic management entails successfully harnessing the potential of economic activity in an economy and then using it to spur real growth in a manner that is not only sustainable but also equitable. Artificial growth and development on the other hand is one based on borrowed funds/resources bearing little correlation to an economy's true underlying ability to repay its assumed debt and one that in the long-term tends to cause more pain than joy – Greece, Spain, Portugal, Iceland, Ireland, etc are all recent examples we can learn from. Call it a coincidence, but democracy in Pakistan and a rapid rise in its national debt are phenomenon that almost always seem to coincide. The PML(N) government of the 90's was instrumental in borrowing excessively and of late in the last 5 years of PPP and the first 1 year of the PML(N) government, the rise witnessed in our national debt is unprecedented and irresponsible. Borrowing in itself is not an ill, provided it is put to productive use and linked to an endeavor's propensity to pay back the borrowed amount. In fact, post 2008 financial crisis, countries have become very sensitive about professionally managing their national debt accounts. More and more struggling western economies are setting up independent cum autonomous monitoring bodies, comprising of professionals representing both the public and private sectors to manage their national debt accounts. The idea behind this is to promote responsible borrowing, ensure the judicial usage of the borrowed funds and an oversight on servicing and re-payment of the debt – an institutional framework to manage debt rather then relying on the whims of an individual! With a rapidly swelling national debt, Pakistan also needs to think on these lines fairly quickly.

PML(N)'s shortcomings reveal that they suffer primarily on two counts, a) Incompetence in management and b) Lack of focus or clarity. On the former, we see that key areas continue to be governed through political priorities instead of resorting to a professional management model combining private sector's entrepreneurial skills and public sector's social priorities. One hoped that by now they would have embarked on structural reforms using their business background, and would have addressed operational difficulties by differentiating between external rhetoric and domestic ground realities. However, their economic team appears to be totally out of depth when it comes to tackling these underlying economic challenges. Further, it is all very well to talk about strategies like export led growth, fixing fiscal imbalances and improving CAD (current account deficit) etc in your manifesto, but these initiatives require 'doing.' And successful implementation in-turn requires competence and a focused mind-set.
India did not improve its exports from a mere $18 billion in 1990-91 to its current level of around $300 billion without first undertaking significant lower tier structural reforms and unleashing a support environment to enable its businesses to look outward. One can understand the desire of our economic managers and global financial institutions (whom they excessively borrow from) to see national companies operate on global standards and to quickly raise more taxes, but anyone with a deep understanding of Pakistan's small and medium sized corporate sector will be quick to realize that without freeing-up doing business per se and before bringing back legitimate profitability to the markets, it will be impossible for them to tax the people to finance their own idiosyncrasies. As for the wishes of the lending agencies like the IMF, World Bank, etc in context of Pakistan, there is nothing more to be guarded against, than the overweening confidence these institutions display to introduce their doctrines in untried soils. Such arrogance always leads to acrimonious disputes, if not violent reactions.

Regardless of what we are made to believe, the 18th and 19th amendments have serious shortcomings when seen through the prism of the corporate sector. Primarily lawyers and politicians got together to draft these amendments without seeking any help from or ensuring due participation of corporate stakeholders; the real drivers of economic activity and revenue that pays the state's bills. As a result, a mish-mash of decentralization has occurred that impairs the ability of companies to operate freely on a national scale by developing products and management models that are acceptable countrywide. Needless to say, this lack of uniformity compounded by a lack of coordination within the provinces hurts the competitiveness of Pakistani companies by compromising options on 'economies-of-scale' and optimization of funds' allocations for research and development. As an example, a leading food company recently had to pull out its tomato ketchup from Punjab's market simply because the newly formed Punjab Food Department came up with its own independent set of regulations, which ironically happen to be completely out of sync with the rest of the provinces and even with Western European standards! Further, given an obvious lack of capacity at the provincial level and with a rather declawed centre, the uncertainty adds to the confusion on leadership and makes the cause of bringing about an economic turnaround that much more difficult. Sound economic management as we know, takes its strengths from coordination, linkages, synergies and leadership.

Finally, if we look at recent successful turnaround stories closer to home then we see that all have been based mainly on providing a conducive work environment to operate in. That is, respective governments ensuring the following of three elements: a) law and order, b) prudent oversight that acknowledges the trade-off between an idealistic regulatory framework and one that is practical, and c) an understanding that some inequality is needed to propel growth. More importantly, these economic turnaround stories are based on 'clarity' and a 'narrow cum targeted focus'. For example, Nitish Kumar in Bihar kept it simple by concentrating on just two areas: Law & Order and Industry. Likewise, Modi in Gujarat chose Agriculture and Industry.

All reforms, revised regulations, infrastructural development and new governance priorities revolved around solving a practical day's problems of agriculture and manufacturing and then leaving it to the private sector entrepreneurial juices to do the rest. The way Gujarat handled its power sector solutions, both in the short-term and the long-term, has now found its way in text books. While the government embarked on its long-term vision of correcting the supply side, in the short-term the solution was simple: power will be rationed but continuous. Meaning, if electricity load-shedding in an area was to be 8 hours, then it would be in one go and the remaining 16 hours will have uninterrupted supply. Also, no tariff increases but everyone would have to pay their bills. This was a tall order as Indian farmers were not used to paying for electricity. However, gradually when the culture of uninterrupted power (albeit for the benchmarked duration) replaced the uncertainty of frequent and unannounced power cuts, attitudes also began to change. In rural areas, where milking buffalo mechanically had been a hit-and-miss affair because of power cuts, there was now regular electricity supply and a surge in production. The animals reportedly gave extra milk because they were comfortable standing beneath cooling electric fans. Savings and productivity began outweighing costs.

Ultimately, an economic turnaround is all about one thing: making economic activity happen.

The writer is an entrepreneur and economic analyst.
Email:kamal.monnoo@gmail.com
Curtsey: The Nation,May 07, 2014

Persistent fuel shortage worsens in Punjab: disrupts life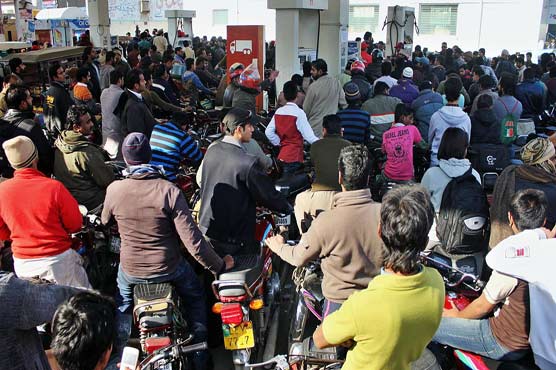 Deficit of petrol led the public to rage over government's inefficiency to culminate petrol crisis.
LAHORE (Dunya News) – Petrol shortage entered its seventh day on Monday in Punjab as people are seen travelling from pumps to pumps looking for petrol, Dunya News reported.
People in Karachi have started to store petrol out of fear of facing the severe petrol shortage like Punjab. The people have clogged the petrol pumps in Karachi.
In Punjab. despite assuring the public to resolve the issue in a few days, the government has not yet been able to purge off the petrol crisis in the province.
Persistent shortage of fuel has thwarted the life routine of the people causing serious trouble to office going and students whereas patients have also faced difficulties in reaching the hospital on time.
Women along with men queued up for long hours to buy petrol whereas scenes of clashes with the petrol staff were also witnessed.
However mostly petrol pumps are either closed or display 'no sale 'board.
Deficit of petrol from the last six days has led the public to rage over government's inefficiency to culminate petrol crisis in the province.
According to the sources, a ship carrying 50,000 ton fuel has started supplying fuel to Northern Punjab through tankers whereas two ships carrying 50,000 tons fuel each will reach the Karachi port on January 25 and 27.
The Prime Minister (PM) kept on holding meeting after meeting but could not identify the people responsible for the petrol crisis. Moreover, the government brushed the responsiblity off its shoulders after forming a committee to probe the matter.
Curtsey: dunyanews.tv, On 19 January,2015
China-Pakistan corridor: Visibility of the game changer
AFSHAN SUBOHI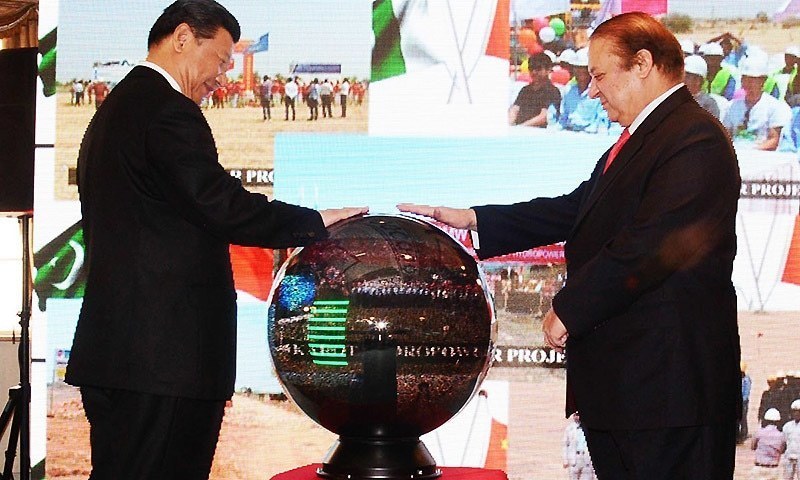 Prime Minister Nawaz Sharif and Chinese President Xi Jinping inaugrating projects via video link.- Online/File
THE sense of thrill found in the PML-N hierarchy is missing, but Pakistan's businesses view China's promise of $46bn investment with a focus on building a China-Pakistan Economic Corridor as a potential game changer.
It considers the convergence of the country's interests, prohibitively deficient in infrastructure, with those of China — which is keen to expand its economic footprint in South and central Asia— a big boon for ordinary and corporate citizens of the country.
Having being disillusioned in the past many times over tall talk about the economy, the business leaders wished China had transferred some token amount of the multi-billion pledge instantly for some doable projects to shore up investors confidence and generate an uptick in the market.
They saw the long-term nature of projects for the lack of an instant market response. But for a brief spurt in the capital market, the commodity and currency markets did not react to the deal.
The businessmen missed the inclusion of their class in the two days of festivities in Islamabad and found it rooted in the ruling party's style of governance, and probably China's preference for a singular state authority over multiple stakeholders.
The perception is strong that the PML-N likes to hold its cards close to its chest and detests the idea of sharing plans and policies with anyone but its inner team of confidantes. Businessmen believe this increases the party's high level of alienation from the society.
---
Yes, it is great if Asia's rising giant is willing to hold our hand, but there is no free lunch in business. The economic corridor will benefit Pakistan, but its value to China is probably yet to be understood — business leader Majyd Aziz
---
Many of them also expect political bickering on the issue of unilateral change in the China-Pakistan Economic Corridor's (CPEC) earlier route, which can strain inter-provincial harmony that is necessary for the implementation of the mega project.
They fault smaller provinces, particularly Sindh, for not being able to negotiate a fair cut in the huge deal. They particularly mentioned the Karachi Circular Railway project, which have been sold to the Chinese had the PPP-led government done its homework and pursued it properly.
They want the government to share details of economic deals with the private sector, as it is not clear how the amount will be channelised and what exactly would be the combination of aid, loan and grant for project financing etc.
Senior business tycoons hammered upon the need for transparency and information sharing to ward off the risk of leakages leading to a situation where individuals and companies benefit at the cost of the country. They mentioned many instances of liberal resource inflows into the country that failed to create the desired impact.
Arshad Saeed Husain, president of the American Business Council, was optimistic. In an e-mailed response, he said: "Pakistan desperately requires investment in infrastructure and energy projects, so we view the announcement positively. A deteriorating infrastructure coupled with energy shortages and compounded by security concerns have kept investors at bay".
"A renewed commitment to the CPEC bodes well for investors groups that are already in Pakistan as well as for investors looking to enter the country," he added.
Muhammad Rafique Ibrahim, a leading textile tycoon, was also optimistic. "There are questions begging answers, but all in all China's investment commitment is a sign of growing confidence in Pakistan. It might take some time before the gains become visible, but the bottom line is that Pakistan is not losing but gaining support," he said over phone.
Majyd Aziz, who is active in multiple business forums, focused on Pakistan's geographical advantage and the convergence of its interests with China's. "Yes, it is great if Asia's rising giant is willing to hold our hand, but there is no free lunch in business. The CPEC will benefit Pakistan, but its value to China is probably yet to be understood. A report suggests that savings on trade transit cost for China will compensate its investment cost in Pakistan within the first two years once the route becomes functional."
Razzak Dewan, another leading businessman, was concerned about what he called an 'invasion' of Chinese goods eroding the country's manufacturing base. "Infrastructure takes time to develop, but our immediate worry is dumping of goods by Chinese companies in Pakistan, driving people out of business. Something should be done to check the trend".
Tariq Rafi, another reputed businessman, hinted at the tardiness of the Sindh government. "If Punjab can get money for the Orange Line from China, I am sure funding for the circular railway wouldn't have been an issue had the Sindh government been persuasive."
Saleem Mandviwala, a businessman-turned-politician from Sindh said the last PPP government had worked hard on cultivating relationships and generating a level of comfort between the two nations to draw them closer economically.
"The PML-N must control its temptation to go solo. It is imperative that the ruling party adopts an inclusive approach and lets other segments and parties participate in the planning and implementation of the CPEC," he said.
During his two-day visit last week, China's President Xi Jinping had signed multiple agreements amounting to an investment of $46bn — about three times the total foreign direct investment received by Pakistan in the last one decade.
According to details under the CPEC plan, the Chinese government and banks will lend to Chinese companies for investment in identified projects. About $15.5bn worth of coal, wind, solar and hydropower projects will come on-line by 2017 and add 10,400MW of electricity to Pakistan's national grid. A $44m fiber-optic cable will also be built.
Published in Dawn, Economic & Business, April 27th, 2015
Punjab's regressive tax policy
ALI SHAN AZHAR

WHILE the taxation effort in Punjab has been meaningless, except for the rising revenues from the general sales tax, the ratio of direct taxes in tax revenue has been on a consistent decline.
A paltry 24pc of the total tax revenue is likely to come from direct taxation in the current financial year.
The 'white paper' released with the budget 2015-16 claims that "the government will continue the shift from direct taxes to indirect taxes because these are less harmful to growth".
Admittedly, there is no hard and fast rule. An indirect tax may be progressive and conversely a direct tax may be regressive. Having said that, the bulk of the burden of indirect taxes is widely perceived to be shouldered by the poor and the low income groups.
However, Punjab has chosen to consistently ignore two of the most under-taxed sectors — agriculture and properties — that fall under its fiscal mandate. Both are characterised by an immobile tax base that is convenient to tap.
Hence, the tax effort is not only minimal and regressive, but also compromises on equity. With the social fabric throughout Pakistan considerably weakened, it is but the minimal demand of good governance that the poor of the most populous province do not end up contributing to the exchequer in excess of what the richest of the land are paying.
---
The 'white paper' released with the budget 2015-16 claims that "the government will continue the shift from direct taxes to indirect taxes because these are less harmful to growth"
---
Punjab collected Rs8.7bn in property tax in the last fiscal year, and expects only an 18pc increase in collection in FY2015-16. The government has completed the automation of the property tax record through GIS mapping in six districts and has also updated the valuation tables.
Under the lame excuse that "the revision of valuation table was done after many years," the government granted a remission to taxpayers to the tune of 50pc for the last fiscal year, and another 40pc for 2015-16.
The objectives of equity and efficiency are being undermined by not treating incomes uniformly for tax purposes. This encourages tax evasion by branding taxable income as accruing from a tax-exempt source or sector. The worst case is the exemption of agricultural income from the income tax. That agriculture in Punjab (as in the rest of the country) offers an ideal tax haven for industrial incomes is well-documented. Abysmally low targets are set and are never met.
After miserably falling short of the target of Rs2bn set for 2014-15, the government has revised the expected receipts for the current financial year to a 'generous' Rs2.3bn. These miserly returns accrue from the land tax levied on landholdings at fixed rates per acre —which have been unchanged since 2002-2003. The agriculture 'income' tax has never been implemented.
'The Punjab Fiscal Study' commissioned by the provincial government through the 'DFID Technical Assistance Management Agency' had estimated that by eliminating exemptions and levying a small withholding tax on sales of cash crops like wheat, cotton, rice and sugarcane to their respective mills, the government can generate over Rs9bn — almost four times the current target.
Three years back, the provincial government had set up the Punjab Revenue Authority, which was to gradually assume the function of collecting all taxes. This eventuality is not in sight. As things stand, the authority is just working to garner a larger share of revenue from the general sales tax on services. The GST collection target for 2015-16 is Rs72bn — or 45pc of the total expected tax receipts.
The enhancement in revenue from a single source will not be able to make up for the poor collection and unexploited potential under a number of other heads.
Ironically, the politician-bureaucracy nexus in Punjab remains reluctant to expand the tax base. The only prescription that the 'white paper' has come up with for the taxation inadequacies of the province is the "need to strengthen the provincial capacity for tax policy analysis via the establishment of a dedicated tax reform unit within the finance department".
To borrow from international case studies, the absence of effective own-source revenues at the provincial level has been the 'Achilles heel' of the devolution process in the Latin America and East Asia regions.
The worst consequence was the erosion of accountability and responsibility for local service delivery.
Attempts to raise taxes in Punjab have been inadequate, regressive and inefficient, and lack uniformity. The existing tax collection effort also reflects weak, if not poor, governance.
The writer is a political economy analyst.
goldenstar2005@hotmail.com
Published in Dawn, Economic & Business ,July 21st, 2015

Textiles industry crisis endangers cotton economy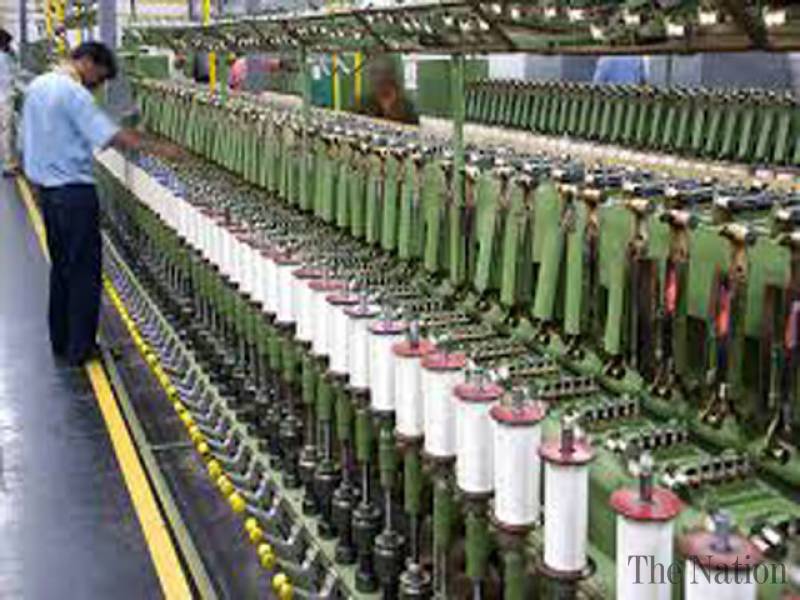 Lahore
Senior Vice Chairman APTMA Akbar Seth has said that the textile industry crisis is set to endanger the cotton economy, as reduction in productivity will make difficult for milers to procure cotton ahead.
According to him, chances are high the cotton farmers will not be able to get even production cost if energy crisis persists for another month. The cotton farmers will set their crop ablaze in case they failed to get appropriate price.
He was addressing a press conference on Wednesday evening along with the Acting Chairman APTMA Syed Ali Ahsan at the APTMA Punjab. Speaking to media, Syed Ali Ahsan said that the production capacity equivalent to 100 textile units has already closed in Punjab due to energy load shedding. Syed Ali Ahsan said the Federal Minister Textile was constantly writing to the Prime Minister for appointment in order to apprise him the Punjab-based textile industry issues. APTMA was also seeking appointment from the Prime Minister to get resolve the energy relating issues, he added. However, he appreciated the Punjab government for providing gas supply to the Punjab-based textile mills during last winter, which was not possible during previous years. The Acting Chairman said that APTMA has signed MOU with Chinese company for 330MW coal-based power plant but the problem is to how keep the operations continue in the meanwhile. He urged the government to save jobs of 15 million direct and indirect textile workers by providing electricity and gas supply to the Punjab-based textile mills immediately.
He said exports of yarn and fabric have dropped by 22 percent and 36 percent respectively in the month of April and May and more is likely to take place in next month due to unprecedented increase in load shedding.
According to him, the textile industry consumes 16 million bales out of which yarn and cloth worth 10 million bales is exported annually, which has suppressed due to energy crisis.
Curtsey: The Nation, July 03,2014

Textile industry in Punjab without gas supply for 31st day running
RECORDER REPORT
By Imaduddin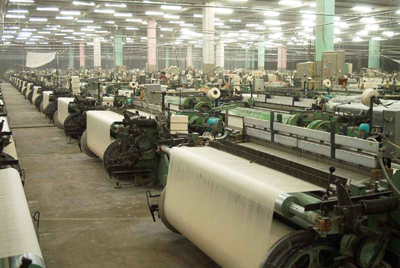 LAHORE: Textile industry in Punjab is out of gas supply for the last 31 days.
The textile industry circles said gas supply to textile industry has been suspended
for 31 days in Faisalabadregion and for 28 days in Lahore region.
Resultantly, they added, the industry wheel is under pressure and fear of bankruptcies is mounting fast due to idle capacities for long. Not only this,
hundreds of textile workers are out of jobs throughout Punjab and it is not easy for
them to make both ends meet. It may be noted that the federal petroleum minister Dr. Asim Hussain was eating his words time and again on supply restoration. A
PTMA leadership has not only held rally but also staged a sit-in at the SNGPL. Later
on, they vowed to defy gas load shedding from coming Monday in case the government failed to restore supply by then.
The Chief Minister Punjab has also taken serious notice of the situation, vowing to approach the court of law to redress the situation. However, very little is likely to change until middle of February when domestic pressure on demand side would
come down with increase in atmospheric temperature. The textile industry circles are foreseeing heavy export losses ahead. According to them, the industry has
already lost $2 billion exports during the first half of the current fiscal year and it is
likely to suffer more in case no reversal of the situation takes place.
Curtsey:Business Recorder, Sunday, 22 January 2012

Call for declaring Ferozepur Road Industrial Area as 'Industrial Zone'

LAHORE: The Lahore Chamber of Commerce & Industry has urged the Punjab Government to declare Ferozepur Road Industrial Area as "Industrial Zone".


The demand was raised by LCCI Vice President Syed Mahmood Ghaznavi while talking to the delegation of Ferozepur Road Industrial Association (FRIA) led by its Patron Chief Adnan Butt here at the Lahore Chamber of Commerce & Industry. Other members of the delegation were include Founder Chairman of FRIA Muhammad Adnan Khalid Butt, Chairman Mubasher Naseer Butt, Former Chairmen Shahid Baig and Saadatullah. The FRIA delegation informed the LCCI Vice President that Ferozepure Road Industrial area has more than 500 industrial units and trading houses catering to the needs of over one lakh people directly or indirectly but due to non-availability of fundamental facilities, the industrialists were facing multiple problems.


They said that law and order situation was also not encouraging. The FRIA Chairman also sought the help of Lahore Chamber of Commerce and Industry for a fire station in the area to avert any untoward incident in the industrial units operational in the area. Speaking on the occasion, the LCCI Vice President Syed Mahmood Ghaznavi said that the Lahore Chamber of Commerce and Industry was quite conscious of the problems of the business community and was putting in its best efforts for their early solution. He said that the LCCI understands well that the acute energy shortage had hit the entire industrial sector and it had asked the government for a bailout package to the industry besides a cut in markup rate that was too high and has no parallel in the developed world.


LCCI Vice President informed the FRIA delegation that LCCI has established a Help Desk to address the issue of property tax and invited them to avail the opportunity. He said that existing industrial estates, despite facing various challenges, were making a sizeable contribution to the Pakistan's economy.


He said that establishment of more industrial estates, industrial zones and declaring the industrial areas as industrial estates, government could achieve economic targets substantially.
Curtsey:Daily Times, January 21, 2015
Iron,Ore,copper,silver,gold: reserves discovered in Punjab
RECORDER REPORT


Pakistan on Wednesday said it has discovered major reserves of iron ore as well as copper, silver and gold in Punjab. The reserves were found in Chiniot city in the Punjab, around 160 kilometres (around 100 miles) north-west of Lahore, by Chinese group the Metallurgical Co-operation of China. A senior provincial administrative official told AFP that initial estimates indicated 500 million tons of iron ore - a primary ingredient in steelmaking - had been discovered.

He said the Chinese company has expressed interest in setting up a steel mill on the site, adding that the extracted iron had been tested in Swiss and Canadian laboratories, which found 60-65 percent of it to be high grade. The official added that silver, copper and gold samples would also be sent for testing soon.

Speaking at the site on Wednesday, Prime Minister Nawaz Sharif said the discovery could help Pakistan's stuttering economy turn a corner and end its "begging bowl" culture. "It is Allah's blessing that under the lush green fields rich deposits of copper, iron and gold have been found, which will help the country get rid of the 'begging bowl' for good," Sharif said.

Conflict, instability, corruption and a chronic energy shortage have hampered Pakistan's economy for years. The IMF granted a $6.6-billion loan to Pakistan in September 2013 on the condition that it carry out extensive economic reforms, particularly in the energy and taxation sectors.

APP adds: Prime Minister Nawaz Sharif Wednesday greeted the nation on the discovery of good quality copper, iron and gold deposits, hoping the same would go a long way in bringing prosperity to the country. He was addressing a gathering here after getting a briefing on the discovery of iron ore deposits at Rajua, around three kilometers south of Chiniot.

Punjab Chief Minister Shahbaz Sharif, Information Minister Pervaiz Rashid, Provincial Minister for Minerals Sher Ali, parliamentarians, representatives of Chinese Metallurgical Corporation and German consultants attended the event. In a detailed briefing by Dr Samar Mubarakmand, Chairman Punjab Mineral Company, and representatives of the Chinese Metallurgical Company and German consultants, the Prime Minister was informed that there were indications of large copper deposits.

It was suggested that there should be more focus on excavating copper as it has a much higher value in the international market as copper fetches 5000 dollars a tonne against 100 dollars a tonne for iron. The Prime Minister was informed that with the assistance of Metallurgical Corporation of China (MCC), a feasibility study had been completed in around nine-month time, whereas it was to be completed in 18 months.

Nawaz evinced keen interest and asked a number of questions about the type and quality of deposits. He said he was personally there to share the joy of moment and to share it with the entire nation. He was informed that studies were being conducted currently in 28 sq kms of area, and initial findings showed that there was high probability of presence of good quality deposits in around 2000 sq kms, particularly in south and south eastern parts of Chiniot city. He was shown through graphs and 3-D models the details of the deposits and informed that there was also probability of finding copper and gold deposits in the area.

The Prime Minister was informed that the MCC along with other international mineral exploration companies evinced desire to participate in the project and were declared successful. He lauded the expertise and hard work of the Pakistani metallurgical experts and scientists. He also lauded the German consultant firm GEOS for supervising the work.

Later addressing a select gathering, the Prime Minister said he wished to address a huge gathering of Chiniot people, but the plan was curtailed owing to security reasons. He said the operation Zarb-e-Azb was going ahead successfully under the National Action Plan and soon peace and tranquility would prevail. He said Pakistan was confronting a number of challenges, including terrorism, extremism and poverty, and lack of basic infrastructure and facilities was one of the basic reasons for them.

The Prime Minister said ruling Pakistan was not a "bed of roses", rather it was a big challenge and his government was braving all the issues with courage, zeal, dedication and a commitment to bring about a positive change in the country. He said it was time that the entire government machinery worked with sincerity, round the clock, to serve the masses. He said the government's revenues had declined as the price of petroleum products dropped, but since the move was aimed at benefiting the masses, the government took the decision. Low prices of diesel, he said, would benefit the agriculture sector and lower prices of food items.

He said had the government enough funds, it would have worked on projects to provide 10,000MW electricity without any delay. However, a lack of funds was hampering government's efforts. He said there was a need for transparency at all levels of governance.

Nawaz said lower fuel prices had led to decline in prices of everyday commodities. The government was committed to providing good quality health, education and communication facilities to the masses at their doorsteps, he added. He said talks with Iran for the acquisition of natural gas were at an advanced stage. Negotiations were also underway on the Turkmenistan-Afghanistan-Pakistan-India (TAPI) gas pipeline project. He said," It is Allah's blessings that under the lush green fields rich deposits of copper, iron and gold have been found, which will help the country get rid of the "begging bowl" for good."

He said Pakistan is rich in natural resources and deposits of copper, gold, coal are available in other provinces as well, which will also be explored. He said the raw material available in the area was also attractive for investment and invited foreign and local investors to come and set up steel industry in Chiniot. He hoped that it would provide jobs to around 100,000 people and bring about economic prosperity in the area.

The past governments, he regretted, caused unnecessary delay in discovering the mineral deposits. He, however praised the present Punjab government headed by Chief Minister Shahbaz Sharif for expediting the work at a fast pace. He expressed the hope that Chiniot would emerge on the world map as a favourite spot for international investors. Necessary infrastructure would be built well in advance for provision of better facilities, he added. The Prime Minister expressed his pride on friendship with China and thanked Chinese and German experts for working together on the project to unearth the precious minerals.

He said the government was working on Pak-China economic corridor from Khunjerab to Gwadar which would ensure economical growth and prosperity, besides further strengthening ties between the two countries. He said the government would generate electricity from Thar coal reserves. Provision of electricity on economical prices besides its generation was the main agenda of government, he added.

The Prime Minister was informed that the quality of iron ore deposits was equivalent to similar ones in Brazil, Russia and India, and had been estimated in thousands of tons. Samples had been tested by top laboratories of Canada and Switzerland, which confirmed the high quality of deposits.

Chief Minister Shahbaz Sharif termed the project a game-changer and said with Allah Almighty's help the country had been endowed with a rich natural resource that would usher in an era of prosperity in the country. He said his government embarked on the project with full sincerity and commitment to find iron ore deposits, but the country was lucky to have found precious deposits of copper and gold.

He attributed the great find to the transparent award of contracts and sincerity of purpose and said the entire funding for the project had been provided by the Punjab government, under the guidance of the Prime Minister. Dr Samar Mubarakmand, Chairman Punjab Mineral Company, said in general copper deposits were discovered along with gold and suggested that the area of research be expanded and divided among different companies for excavation and production.
Curtsey:Business Recorder, February 12, 2015
Punjab signs 300MW solar power project with China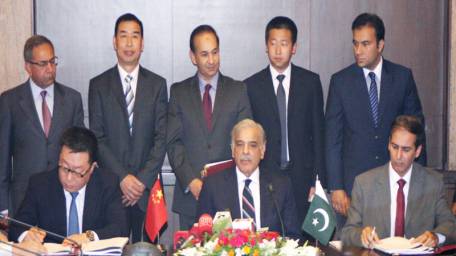 LAHORE: An agreement of 300MW solar project was signed between the Punjab government and Chinese company under China-Pakistan Economic Corridor, on Friday.


Punjab Chief Minister Shahbaz Sharif was the chief guest at the ceremony held at Model Town. According to the agreement, Chinese company Zonergy will complete 300MW project at Quaid-e-Azam Solar Park Bahawalpur under China-Pakistan Corridor by December 25. The 50MW solar project will start producing electricity by August 14 during current year while 600MW solar project will provide electricity by the end of 2016. Agreements of energy purchase and implementation were also signed between the Chinese companies and the federal government.


Talking to media on the occasion, Shahbaz Sharif said that under China Economic Corridor, detailed documents of the agreement of first project have been signed today. He said that these are the great beginnings of China-Pakistan Economic Corridor. He said that this is the beginning point of the long journey of development and prosperity. The chief minister said that the dream is materializing due to the untiring efforts of Chinese president, prime minister, people, Chinese ambassador and consul general in Pakistan and all concerned departments.


He said that under CPEC, $33 billion have been allocated only for energy projects. He said that today's agreement is the first drop of the rain and under CPEC, Chinese investment of 140 billion rupees will be made on 900MW solar project. He said that the contact of solar project was given to Zonergy by Chinese government and there is 100 percent Chinese investment in this 900MW solar project. Shahbaz Sharif said that he congratulates the nation on this great occasion. He said that only two months after the visit of Chinese president, work has been started on first agreement under CPEC.


He said that the first solar project of 50MW will start producing electricity on Independence Day. He said that 100 MW solar project at Quaid-e-Azam Solar Park is providing electricity to national grid.


He said that a total of 1,000 MW solar projects will be set up at Quaid-e-Azam Solar Park and this will be the biggest solar park of the region. The chief minister said that work is continuing speedily on 1,320 MW coal-based energy project in Sahiwal and this project will be completed by 2017. He said that the package of historic CPEC will be converted into reality along with Chief Ministers of other provinces.


He said that the new era of development and prosperity will be ushered in the country through implementation on CPEC and he is thankful to Chinese President and people. Shahbaz Sharif said that this Chinese investment is a great favour to Pakistan and now the ball is in our court.


He said that the projects will be completed through hard work, honesty and trust. He said that agriculture will progress, factories will run and hundreds of thousands of job opportunities will be created. He said that Chinese leadership has expressed everlasting love with the Prime Minister Nawaz Sharif and 180 million people of Pakistan.


He said that the dream of Prime Minister Nawaz Sharif of making Pakistan an "Asian tiger" will be materialised. The chief minister assured the people that no effort will be spared in the implementation of the projects under CPEC and darkness will be converted into lights. He said that the investment of 140 billion rupees is only for one project. Shahbaz Sharif appealed to big investors of the country to make investment in Pakistan as people of Pakistan have first right over the wealth earned through the hard work of the people. Replying to a question, he said that the people will foil the conspiracies against CPEC. He said that earlier it was said in the false propaganda that these are Chinese loans but the entire nation has seen that facts are contrary to it. The chief minister said that 180 million people will foil the conspiracy of a few miscreants.


He said that sincere efforts are being made for coping with the energy crisis. He said that China has supported Pakistan sincerely and there will be negligible load shedding by 2017-18. He said that energy crisis is a burden of the last one-decade and now China has shared this burden. Shahbaz Sharif expressed his belief that projects will be executed with the cooperation of China, darkness will be removed and there will be light. He said that no one could harm us till the nation is united. Shahbaz Sharif said that if shortage of electricity removed, two percent growth rate of the country will automatically increase.


He said that the work regarding up-gradation of transmission lines is continuing at federal level. Replying to a question, the chief minister said that he is deeply grieved over the deaths due to hot weather in Karachi. He prayed that may God grant courage and strength to the members of the bereaved families.


He said that it will be highly unjust to do politics on deaths in Karachi. He said that there should be no politics on these deaths at any cost rather we should express sympathies with those who lost their dear and near ones. Shahbaz Sharif told that Karachi Electric Supply Corporation is getting 650MW electricity from PEPCO since the tenure of Zardari.


He said it was decided twice in Council of Common Interests that 350MW of electricity of KESC should be reduced and only 300 MW be given but this decision was not implemented.
Curtsey:Daily Times, June 27, 2015

Women take the wheel as Pink Rickshaw service kicks off in Lahore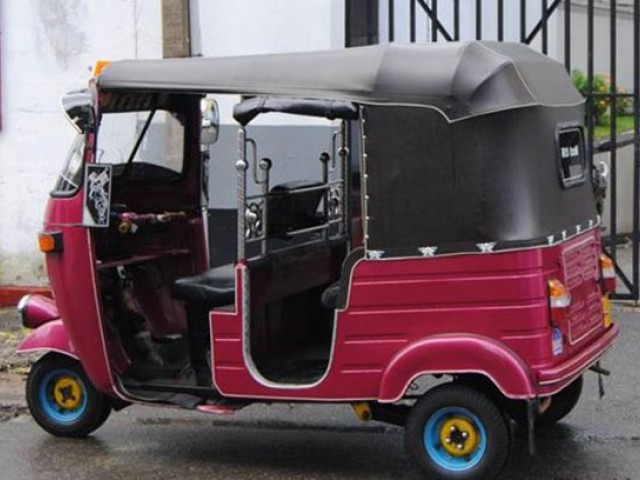 There is only one female taxi driver in the whole country . PHOTO: TWITTER
LAHORE: With Pakistani women often bearing the brunt of cultural barriers and inequality, the ladies-only Pink Rickshaw service has put women from Lahore in the driving seat to generate revenue for their families.
The service was launched with the intention of providing women from the lower social strata of society an opportunity to travel in comfort and at the same time giving them financial independence.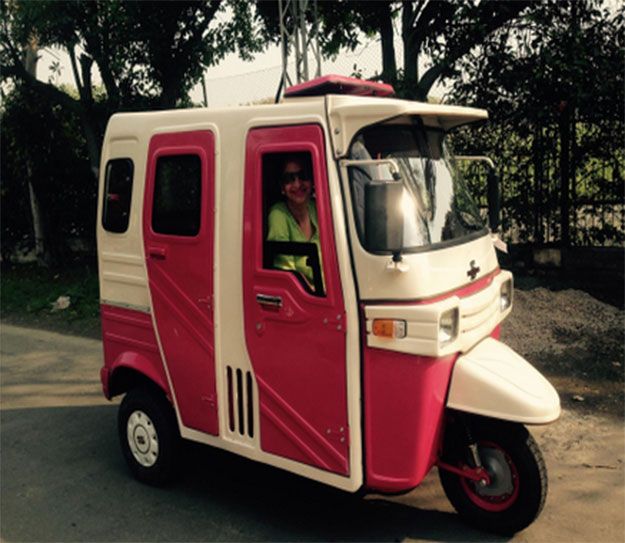 PHOTO: GOGETFUNDING

The women's only service will also enable female commuters to travel without fear of getting harassed on the street. It aims to be a safer option as opposed to other forms of public transport.
As part of the initiative, the way women are perceived in the public eye will be revolutionised, encouraging other women to follow suit and enter the many male denominated professions.
"Thus, the initiative's effect will perpetuate a virtuous cycle of women becoming self-reliant independent and productive members of the society," states one of the objectives of the project.
The project informed that there is only one female taxi driver in the whole country and projects such as 'The Pink Rickshaw' will empower other women to open up to new opportunities and freedoms.
Curtsey: The Express Tribune, Published: March 27, 2015


Ayesha expounds PFA objectives
KHALID HASNAIN

LAHORE: The Punjab Food Authority's Director (Operations) Ayesha Mumtaz says the authority's ongoing drive is not aimed at sealing eateries and food outlets but to ensure provision of pure and hygienic food to the public.
She says about 3,100 notices were issued to the eateries owners after around 6,000 inspections within the last two months.
"We issued notices to the eateries/restaurants to improve cleanliness and maintain hygiene standards. Besides issuing notices, we sealed about 275 eateries/food outlets and in the remaining inspections, fine was imposed on the outlets," she said while talking to Dawn on Saturday.
---
Says authority not sealing eateries but ensuring hygienic food
---
When asked about the issues the PFA teams might ignore during inspection for being minor ones, she said they varied according to the situation, adding: "If the kitchen staff (cook and chef) forgets wearing headgears and gloves despite their availability, the teams could tell or warn the hotel administration to avoid doing that in future.
"But if the kitchen staff don't wear caps, gloves, aprons and gloves, etc. and there are other issues—such as cleanliness in kitchen, freezers, use of expired food/product, unhygienic meat and presence of cockroaches, insects, rats in kitchen—the officials are liable to seal the premises or impose a heavy fine as per gravity of offence and violations," Ms Mumtaz added.
She said the work on categorisation of eateries and restaurants in grade A, B, C and D would complete soon and it would be easier for the PFA field teams to take action according to grading under the law.
Ayesha Mumtaz said the action against those playing with the public health through of unhygienic food would continue without discrimination. She advised the people involved in food businesses to focus on improving the hygiene conditions as per the food safety standards rather than criticising, ignoring or flouting the laws related to with the public health and food.
"We want to ensure provision of hygienic food to the people under the law and nothing more. If any restaurant/hotel, no matter small or big, fails to follow the laws, it will be taken to task," she warned.
Meanwhile, the PFA continued sealing eateries, imposing fine on the owners and disposing of unhygienic milk on Saturday.
According to a PFA spokesperson, a team, headed by Ayesha Mumtaz, sealed Mumtaz Bao Ameen Food production unit in Akbari Mandi, Altaf Soda Water Factory and Saeen Shami Kebab due to presence of rats, cockroaches, dirty floors, unavailability of staffers' medical fitness certificates, use of unrecognised food colours, use of non-branded drinks in branded bottles, dirty freezers and various other hygiene issues. The team also seized a huge quantity of substandard food items.
Earlier, the same team disposed of around 230 litres of unhygienic milk after it checked quality by stopping vehicles carrying milk at various entry/exit points (Saggian, Thokar etc) of the city.
Data Ganj Bakhsh team sealed Lingfing Chinese Restaurant on the Kashmir Road and imposed heavy fine on the owner of New Kashmir Hotel on the Edgerton Road over hygiene issues.
Iqbal Town team sealed Tandoor Nights' Restaurant near Shadewal Chowk in Johar Town whereas Nishter Town team imposed a heavy fine on Ghausia Restaurant and Ajwa Food at Gajjumata and Kahna-Katcha Road.
Gulberg and Shalimar towns' teams also imposed heavy fine on Children Hospital's cafeteria, Ghausia Samosa Corner in Model Town and Al-Noor Milk Shop in Begumpura and Javed Bakery on GT Road.
Published in Dawn, August 9th, 2015