Special Report; Global Punjab, Important news, literary ,cultural and social roundup
Punjabi is the language of love, activism and art, says Lahore-based thespian
As a student of Punjabi, Huma Safdar chose to do theatre in Punjabi, looking at Punjabi literature with a new passion and perspective.
by Parul,Chandigarh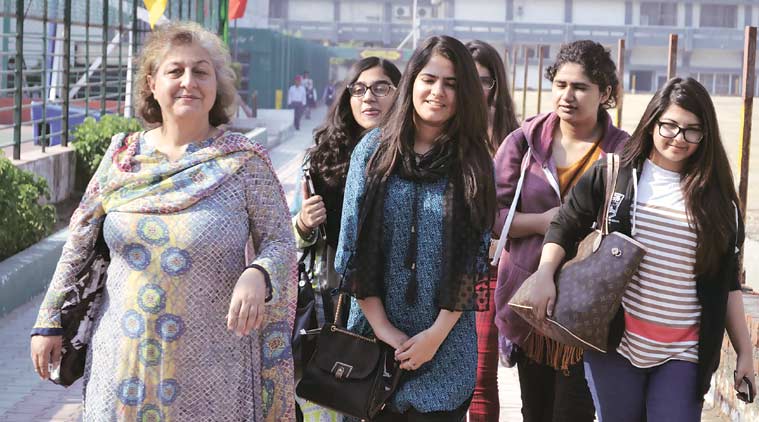 Huma Safdar with her students at Shivalik Public School in Mohali on Thursday. (Express Photo)
Punjabi is the language of love, activism and art, believes Huma Safdar, a Lahore-based artist, activist and theatre director, here in Chandigarh with students and young actors of Lahore Grammar School.
Invited by the Society for Promotion of Peace to stage Birha Tu Sultan, a play on the life and kalams of Baba Sheikh Farid, Safdar has directed the play and also done a role in it. A graduate in fine arts from the National College of Art, Lahore, it was theatre, reflects Safdar, which gave her a 'stage' to explore, express and emote. As a student of Punjabi, Safdar chose to do theatre in Punjabi, looking at Punjabi literature with a new passion and perspective.
"It's a language that was untouched by the elite, as Punjabi is not taught in schools. The Lahore Grammar School, where I have been teaching for three decades, has taken an initiative of not only teaching Punjabi, but also doing theatre productions in it,'' she says. "I chose to do a Punjabi play for the dramatic society of the school, and stage Heer-Ranjha by Damodar Das."
After initial hesitation, her students began to love the production, which received critical acclaim. "There was no looking back, and we staged Heer-Ranjha again, this time by Waris Shah. I love working with children and theatre gives me the space to think, do and speak,'' says Safdar, who has also staged Sassi Punnu. "Love in itself is an identity."
Punjabi literature, says Safdar, became the basis of her theatre work, as it made political, social, ideological statements against established rules and order and confines of religion. During the dictatorial regime of Zia ul-Haq, Safdar, then a student, became a part of women's groups and movements.
"It was so progressive; we through discussions and play readings, discovered the texts, and began staging the love legends and Sufi poetry,'' recalls Safdar.
In these legends, adds the director, she found that the story was from the woman's point of view, and society was critically examined by the power of the outsider. "The essence of Punjabi literature was feminist, and in those tough times, women found theatre as a voice of protest; it gave them space to express their anguish and demand rights. This literature addressed the very basics of society, and its many aspects of family, education, caste, class, marriage,'' reflects Safdar, who says her training as a painter helps her create and establish different aesthetics and connections.
Another play that's close to her heart is Ik Raat Ravi Di by poet Najm Husain Syed who, says Safdar, has given many theatre people in Pakistan a new journey in Punjabi tradition.
Curtsey:The Indian Express, December 25, 2015
Students, teachers urge education in native language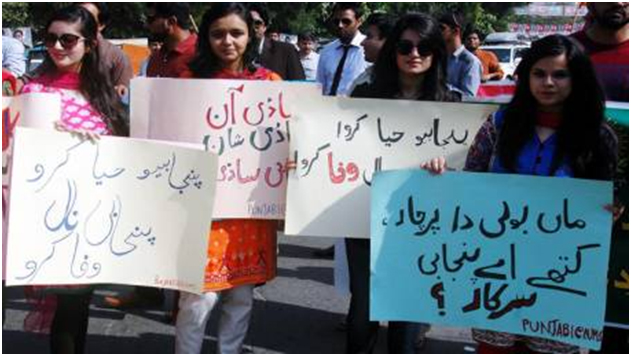 LAHORE: Students, teachers, poets, intellectuals, members of Punjabi organisations, under the aegis of Punjabi Parchar staged a protest rally in front of Lahore Press Club on Saturday urging the Punjab government to impart primary education in the native language.


Addressing the rally, speakers said that Article 251 of the Constitution binds the provinces to adopt necessary measures for promotion, teaching and usage of regional languages, but despite of continuously repeated request, the Punjab government has not taken any step in this direction and has not adopted measures to teach Punjabi in the schools.


Participants of the protest rally demanded the government to take immediate steps to start teaching the langue of 150 million people. They also warned government that if the right of education in mother language is not given, a hunger strike will be staged in front of the Punjab assembly till the fulfillment of their constitutional demand.

Punjabi Parchar president Ahmad Raza alleged, " The Punjab government Punjab government is deliberately making the children of Punjab ignorant through banning the education in their mother language." The right of education in the regional languages has been given to other provinces but in Punjab such a right is still denied by the government," he added.
Writer and scholar Mushtaaf Soofi told Daily Times that Pakistan's Constitution has given right to people to learn right from their primary schooling in their mother language and after the 18th Amendment it is now the responsibility of the provinces to implement that right but Punjab has been committing sheer violation.

Soofi said, "The model is successfully implemented in other provinces of our country like in Sindh, where whole structure of education is based in their mother language." The constitution has given right in 1973 in Balochistan, and Khyber Pakhtunkhwa where they are teaching in the regional languages but despite being the large number of Punjabi language-speaking people living in province, the Punjab government has reluctant to implement.

In the rally, large number of students, teachers, poets, intellectuals, members of Punjabi organisations and members of civil society were present. The really was headed by Punjabi Parchar president Ahmed Raza along with Tariq Jatala, Afzal Sahir, Mushtaq Soofi, Mazhar Tirmazi, Biya Gee, Farhad Iqbal, Deep Saeeda, Khalil Ohjla, Jamil Ahmad Paul, Tohid Ahmad Chatta, Bilal Shaker Kahaloon and other activists.
Curtsey:Daily Times, October 04, 2015

Punjabi language promotion case referred to CJP
Islamabad: The Supreme Court (SC) has referred a case pertaining to promotion of Punjabi language to Chief Justice of Pakistan (CJP) for constitution of three-member bench to take up the case.
While taking up a petition today, Justice Amir Hani Muslim has remarked "decision on Urdu language has come a few days earlier. It will take time to implement this verdict"
The SC, however, has remarked in its verdict with regard to Urdu that provincial governments should discharge their legal and constitutional obligations for promotion and publication of provincial languages.
Justice Dost Muhammad Khan remarked "contempt of court petition can be filed if the SC decision is not implemented in letter and spirit"
The petitioner told the court that the Punjab government has done nothing for implementation of Punjabi and regional language. The court sent the case to the CJP recommending him to form a three-member bench.
Curtsey:The Nation, September 14, 2015
 'Punjabi Grammar' termed systematic word on modern  lines
Islamabad - Director Publishing & Student Affairs NUST, Dr Safdar Ali Shah's recently published book 'Punjabi Grammar' is a comprehensive work in English, based on the language spoken in the West Punjab.

In the foreword of this book, Dr Lars Dyrud, Principal Researcher Socio-linguistic Survey of Punjab, says: "This book not only provides details on the structure of the language, but also introduces the reader to some of the history and richness of the literature and culture that finds its strength in the 'folk character' of Punjabi to which Dr Shah refers.
.
.In summary, by writing this grammar, Dr Shah has provided a core text for students in Pakistan and abroad.Very few systematic works on the modern lines have been authored in Pakistan for the general understanding as well as teaching of Punjabi grammar, and the book under review is one such endeavour, he said.

Punjabi is spoken by over 150 million people across the globe.
It enjoys the status of being one of the official languages of Canada and Singapore, and is counted among the oldest languages of South Asia.
Being the mother tongue of a vast majority of Pakistanis, it is rich with local culture known for its antiquity and diversity.
However, very scanty work, that too in English, has been done in the field of Punjabi linguistics.
It will not be unjust to say that it is a kind of a pioneering effort in the field, said Dr Lars.

Dr Jameel Ahmad Paal, a Punjabi writer and a critic, has lauded the book as a landmark contribution to Punjabi linguistics.'Punjabi Grammar' carries an exhaustive introduction about the origin and growth of Punjabi language.
It elucidates the making of Punjabi at phonological, morphological and syntactic levels and brings to limelight its unique nature of retaining the original flavour, despite being a cosmopolitan language.

One of the salient characteristics of the book is its easy comprehensibility.
Through simple transliteration of examples with translation, it can be easily read and used by students, teachers and researchers at home and overseas, said Dr Paal.

He said Punjab is the most developed province of Pakistan and so is its language a lingua franca of the region.
Taking into account the overwhelming number of its speakers, this book offers a comprehensive course of study in Punjabi.
The word forms, their organization in simple to complex sentence structures and their phonological descriptions have been distinctly distributed in three elaborate chapters spread over 167 pages.

Assistant Director Publications NUST, Faheem Khaliqdad said one of the key interest areas for linguists worldwide is the comparative study of languages.
They attempt at deciphering the commonalities, distinctive parts and points of divergence among various languages.
'Punjabi Grammar' encapsulates all the ingredients for any potential research in the area.
The etymological description of words makes it a rich resource for comparison with other languages of the region.
For its exhaustive treatment of the subject, 'Punjabi Grammar' will go a long way in teaching and promotion of Punjabi language.
Curtsey:The Nation, November 08, 2015

History of Punjabi Journalism
Mrinal Chatterjee


Punjabi is an Indo-Aryan language spoken or understood by the Punjabi people in India, Pakistan and other parts of the world – by over 150 million people. Several different scripts have been used for writing the Punjabi language, depending on the region. Mrinal Chatterjee continues his series on regional journalism with a focus on the Punjab this time
People of Punjab, especially the Sikhs, tended to use the Gurmukhi (which means from the mouth of the Gurus) script. People living in the neighbouring states such as Haryana and Himachal Pradesh often used the Devanagari script. The script used for writing Punjabi in the Punjab province of Pakistan is known as Shahmukhi (from the mouth of the Kings), which is a modified version of Persian-Nasta'liq script. Newspapers have been published in Punjabi language in all these scripts. Presently, Gurmukhi is the officially recognised script for Punjabi language in India.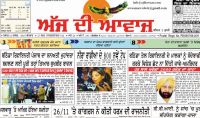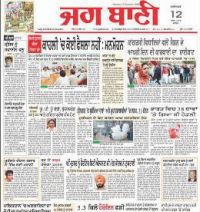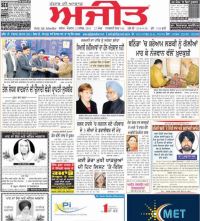 The front pages of some of the Punjabi newspapers in circulation today.
Maharaja Ranjit Singh, the founder of Sikh Empire in India, had encouraged the development of Punjabi journalism when he ruled the undivided northern state before Independence. However, Punjabi journalism took its shape after the Christian missionaries brought out publications in Punjabi in the early half of the 19th Century. The first printing press in Punjab was established in Ludhiana in 1809.
The beginnings of journalistic efforts in Punjabi lie somewhere in the middle of 19th Century and are closely bound up with the twists and turns of Sikh political history. It was the rise of the Singh Sabha movement in 1860s that provided the necessary impetus to the whole enterprise of Punjabi journalism. In its initial stages, magazines and journals were started with the specific purpose of promoting Sikh religious ideals and so had a definitive religious character. Literary journalism, essentially a secular enterprise, was apparently a later offshoot, and became the raison d'etre for the emergence of 'little magazines', only towards the end of the 19th Century.
It was through the efforts of Bhai Veer Singh, a noted Punjabi poet and novelist, that Khalsa Samachar, a weekly, was started in 1899. Known for its conservative outlook, substantive financial standing and well-reasoned articles, the magazine gave a new direction to Punjabi journalism, enriching both language and prose in the process. No wonder it is the longest surviving magazine in Punjabi today.
Apart from publishing poems, short stories and literary reviews, the paper devoted a large chunk of its space to promoting articles relating to Gurbani, Sikh philosophy, history and religion. Bhai Veer Singh's novel Satwanti was also first serialised in the paper.
Sardar Dyal Singh Majithia, a philanthropist and a great freedom fighter, founded The Tribune on February 2, 1881, in Lahore. It is currently published from Chandigarh and managed by a trust – the Tribune Trust. The Trust publishes a Punjabi daily known as Punjabi Tribune.
In the beginning of the 20th Century, the material and historical conditions in Punjab and elsewhere underwent cataclysmic changes. The Bolshevik Revolution in the erstwhile Soviet Union, the outbreak of World War I in Europe, the rowing influence of imperialism in India and sporadic acts of resistance to it resulting in the sinking of Kamagatamaru and the Jallianwala Bagh episode were some of the historical events that helped in shaping an emergent political and national consciousness all over, especially in Punjab.
Shedding its religious character, Punjabi journalism was quick to adapt itself to these social and political changes. Redefining its thrust, it increasingly became a tool of mass awareness, social education and reform. Its reformist character was evident both in the content and form of Punjabi literary journalism as also the manner in which it developed in the early decades of the 20th Century.
It was during this period that Daily Ajit, which is currently the largest selling Punjabi newspaper, was published in 1942 with Sadhu Singh Hamdard as its first editor. The newspaper was started as a Urdu newspaper and became a Punjabi paper later.
The exponential growth of little magazines in the period can easily be gauged from the fact that between 1900 and 1947, as many as 300 papers were started; out of which 27 were circulated daily, 122 weekly, seven fortnightly, 130 monthly, and about a dozen were circulated every three months, six months or annually.
Several Punjabi newspapers have been published in different states of India. The Desh Darpan, the oldest and at one time the most widely circulated nationalist Punjabi daily in Eastern India, was established in 1930 in Calcutta to unite and raise the revolutionary voice of the Punjabi community against the British rule. Niranjan Singh Talib, a close associate of Netaji Subhash Chandra Bose, was running the paper. Desh Darpan also brought out Punjabi weekly, Khalsa Gazette, for many years. Niranjan Singh Talib moved to Punjab and became the President of Punjab Pradesh Congress. A prominent poet, writer and scholar of Calcutta, S. Raghbir Singh Bir, of Atam Science fame, took charge of Desh Darpan.
The Daily Navi Prabhat was started in 1952 from Calcutta. Both the daily papers have survived the onslaughts of harsh times and are the only papers being published regularly outside of Punjab for so long even though with miniscule circulation. Navi Parbhat also published weekly Shan-e-Punjab for several years. Hardev Singh is the present editor.
The Sikh Review, a theological, educational and socio-cultural monthly, was founded by Captain Bhag Singh and his team of dedicated Sikh intellectuals in 1953.
Several Punjabi newspapers have been published from abroad since 1913 Ghadhar movement. Gadhar party activists promoted Punjabi journalism by starting publications from many countries in Europe and America. As the Punjabi Diaspora grew across the world, Punjabi publications also started in several foreign countries. Launched in 1993, Ajit Weekly became the world's largest Punjabi weekly by bringing out editions from Toronto, New York, California and Vancouver. Sher-E-Panjab was started in August 1998 from New York.
Amritsar Times was started by the former chief sub-editor of Punjabi Tribune Daljit Singh from California on March 1, 2005. Punjabi Tribune is also published from California. Another paper titled Punjab News Weekly started in April 2005 in California with Satnam Singh Chehal as editor. Other popular overseas Punjabi newspapers include Awaz-e-Kaum and Sikh Times, both published in Birmingham, and Navyug, published in Australia. Some Punjabi language newspapers are published from Pakistan, including Lokaai, which is published from Lahore in Shahmukhi script.
Radio: Punjabi programmes on radio have been there for long time, thanks to AIR, which commissioned its Jalandhar Station on May 16, 1949. It started Vividh Bharti service on 1968. A second channel, christened Des Punjab was commissioned on April 13, 1969. By mid 2013, there are several stations of AIR, about 15 private FM stations and two community campus radio stations in Punjab. www.punjabijunction.com claims to be the World's first online Punjabi radio channel.
Television: Doordarshan's Punjabi Channel was launched in 1998, and it became a 24-hour service within two years. By mid-2014, there are more than 15 Punjabi language television channels in India and over a hundred across the world.
(The author, a journalist-turned-media academician, presently heads the Eastern India campus of the Indian Institute of Mass Communication located in Dhenkanal, Odisha. Besides teaching Communication he also writes columns and fiction. This article is the tenth in a series on the history of regional language journalism in India. The ones on Bengali, Urdu, Hindi, Gujarati, Marathi, Tamil, Telugu, Malayalam, Kannada and Assamese journalism have appeared in previous issues.)
Curtsey:Press Institute of India, January 21, 2015
Experts retrace Punjabi's journey through history
By Akbar Bajwa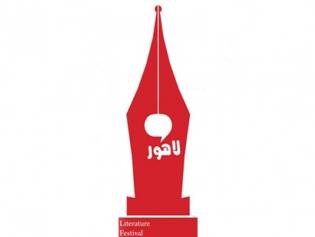 Punjab scholars Mushtaq Sufi, Qazi Javed and Riaz Ahmad Shad addressed the session titled: Punjab Da Husn-i-Adab.
LAHORE: A language is rooted in the land where it flourishes. The diversity and beauty of Punjabi literature is a reflection of Punjab's rich soil, said speakers at a Lahore Literary Festival session on Sunday.
Punjab scholars Mushtaq Sufi, Qazi Javed and Riaz Ahmad Shad addressed the session titled: Punjab Da Husn-i-Adab.
Javed said sufi poetry was the real representative of Punjab's cultural, intellectual and social discourse. "The sufi ideas were brought to the Punjab by individuals from Iran, Iraq and Afghanistan in the beginning of 11th century. Rigveda, also written in the region, had similar teachings. Those ideas were, however, crude. The sufi teachings were refined and had a greater appeal for the natives," he said.
"The most important sufi teaching is Wahdatal Wajood (unity of existence). It calls for observing unity in diversity. It became especially popular in Punjabi," he said.
"Punjabi's first sufi poet, Baba Farid, influenced Sindhi, Siraeki and Urdu poets as well," he said.
Sufi said that an account of Punjabi sufi poetry would remain incomplete without mentioning Baba Guru Nanak. "His work influenced all types of poetry that flourished later," he said.
Sufi said Punjabi folk tales dealt with social and temporal issues rather than spiritual ones broached by sufi poets.
"The first folk tale was written by a Punjabi ascetic, Puran Bhagat. The first Heer was written by Damudar Das. Inspired by his work, Waris Shah wrote the more famous Heer," he said.
"Waris Shah's Heer depicts the social issues that women and men of his time were confronted with. There is a fragile and feminist side to Ranjha and a strong and bold side to Heer. Waris Shah suggested that men have some qualities associated with women and the women too should adopt some of the masculine traits for survival," he said.
"By telling us that Heer would heed Panj Pir as well as Bhagats, Waris Shah wanted to say that Punjab needed to remain secular," Sufi said.
Shad said Punjabi language owed a great debt to Sikh gurus who had preserved the Punjabi poetry in general and war poetry in particular. "Nadir Shah di Vaar (epic poetry) by Najabat and Sikhan di Vaar by Shah Muhammad suggest that people should refrain from fighting and remain united. Otherwise, foreign enemies will overcome them," he said.
Curtsey:The Express Tribune, Published: February 23, 2015

Mir Punjabi Mela@PILAC
Video:Ali Arshad Mir Foundation 3rd Punjabi Mela Punjabi Complex
Gaddafi Stadium Pkg By Riffat Abbas City42
CULTURE CIRCLE: PILAC role in promoting Punjabi language lauded
SHOAIB AHMED

Poets and intellectuals in every society play a pivotal role in shaping up the intellect and aesthetics of the social order and the same goes for the institutions set up to promote literary activities.
The Punjab Institute of Language, Art and Culture (Pilac) has a considerable contribution when it comes to introducing budding poets as well as celebrations of evenings in honour of the seasoned ones.
On Oct 14, the Pilac held an evening with known Punjabi poet Amin Kunjahi. The evening was presided over by a noted poet, Baba Najmi, whereas the chief guest was Khalid Sharif, another notable poet.
To Baba Najmi, Mr Kunjahi is a poet of his own style and diction and this is something which makes him prominent and different from other poets.
Pilac director Dr Sughra Sadaf, herself a poetess, said the Pilac had always tried to hold sessions with poets and intellectuals and to initiate dialogue on their works.
Amin Kunjahi held the role of Pilac in high esteem for its services for the promotion of Punjabi language and culture.
Finally, after a considerable gap, the Pakistan film industry is gearing up and producing more and more films. The much-awaited theatrical trailer of an upcoming movie Ho Mann Jahaan has been released.
The first film as director by Asim Raza is slated to be released on Jan 1, 2016. It tells the tale of three friends on their journey of self-discovery who come of age and pursue their ultimate dream for music.
Asim Raza, the director, writer and executive producer of the film, has commented that "Ho Mann Jahaan is a story about relationships, breaking of societal stereotypes and above all following your heart. It's a story for all generations and is easily relatable".
The strong musical element of the film evokes sentiments that flow seamlessly into the storyline while giving audiences a robust melodic experience.
The film is a collaborative venture between Asim Raza and Sheheryar Munawar. Delivering powerhouse performances, Mahirah Khan, Adeel Hussain, Sheheryar Munawar and Sonya Jehan connect to their characters in a way that will leave the audience mesmerized.
"Ho Mann Jahaan" is a musical film and will be a feather in ARY Films cap. The film also features veterans such as Bushra Ansari, Arshad Mehmood, Nimra Bucha, Jamal Shah and Munawar Siddiqui.
The recent announcement of its series of events in Lahore and Karachi, The Little Art successfully completes phase 1 of its activities with the 4th ArtBeat -- National Child Art Competition and Exhibition 2015 in Lahore (from Sept 30 to Oct 3) and in Karachi (from Oct 9 to 10).
With the ArtBeat in Karachi, the team TLA also completed the International Children's Film Festival (KICFF) 2015 in collaboration with Teachers Resource Centre (TRC) from Oct 5 to 10.
With "Kaisa Pakistan" as the theme of the competition, the 4th ArtBeat received over 6,000 artworks from 210 schools and nearly 25 community organizations from across Pakistan, making it the largest participation of children the competition has ever seen.
The selected winners from the ArtBeat competition were awarded cash prizes worth Rs300,000 and certificates at the opening events in Lahore and Karachi.
As part of the festival, The Little Art also announced its national film making competition "Once Upon a Film" inviting young local film makers to send in their short films and to showcase themselves at the Lahore/Karachi International Children's Film Festival.
This year's International Children's Film Festival (ICFF) in Karachi and Lahore will showcase selected 56 films for KICFF from 24 countries, including several films by young Pakistani film-makers with the theme "Future Generation Cinema". These films have been selected from a total of 960 film entries from 87 countries.
After receiving accolades from across the globe for its crisp, engaging and thought-provoking dramas and programmes, Pakistan's entertainment television channel, HUM wins best Urdu channel award at the Asian Viewers Television Awards 2015 that took place in Lancaster earlier this month, says a release.
The show proved to be bigger and better in its second year with an enjoyable evening and new categories introduced, including "Best Urdu Channel" category, in which HUM along with ARY Digital, Geo and ARY QTV were nominated for the viewers' choice award.
Since the award is exclusively based on viewers' choice and HUM was bestowed with the honour on the basis of securing the highest number of votes. It is indeed a proud moment for the channel to have won so many hearts not just in its home country but also across Asia.
Published in Dawn, October 18th, 2015

Social media can be a boon for Punjabi promotion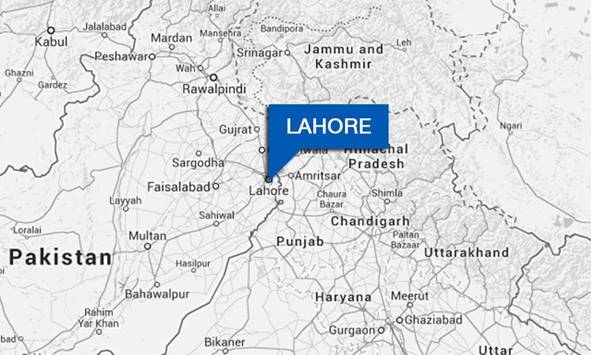 LAHORE: Punjabi writers, poets and scholars have been exhorted to use the social media for promoting the Punjabi language in the wake of government's apathy towards the cause.
"Intellectuals, scholars, poets and writers present should make effective use of social media for popularisation of the Punjabi language by posting English translations of contemporary Punjabi writings on the internet," called World Punjabi Congress chairman Fakhar Zaman while speaking at Baba Farid Shakarganj Conference here on Thursday.
He said the Punjabi writers should not remain mired in purism and archaic vocabulary and make Punjabi a living language. He lamented that in the land of Punjabi Sufi poets the Punjabi language does not enjoy its proper status and the rightful place.
He repeated his demand that Sufism should be taught as a compulsory subject at colleges and universities, and Punjabi should be introduced at the primary level and a Punjabi University in Lahore be established preferably by updating the existing Punjab Institute of Language, Art and Culture.
Mr Zaman said that in this hour of decadence, darkness and moral bankruptcy, the Sufi poets serve as a beacon light to guide us through. He said Baba Farid was the first known Sufi poet of the subcontinent whose poetry's imagery, diction and symbolism influenced all the later Sufi poets till the last Mian Mohammad Bakhsh.
Over a span of seven and a half centuries Baba Farid's exposition of have-nots and the downtrodden gave a philosophy of progressivism, justice and equality.
The WPC chairman announced that the next conference would be held on Shah Hussain to be followed by conferences on Sultan Bahu, Khwaja Farid, Shah Abdul Lateef Bhittai, Sachal Sarmast, Shah Inayat, Rehman Baba, Khushaal Khan Khattak, and Mast Tawwakali.
Dr Imrana Mushtaq, president of International Writers Council, dwelt at length on the different shades and dimensions of Baba Farid's poetry.
Prof Tahira Jabeen, Raja Nayyar and Fakhira Shuja recited some famous 'dhoras' of Baba Farid and explained them in detail.
A naatiya mushaira was held after Iftari.
Published in Dawn, July 3rd, 2015

HED seeks college heads' views on promoting Punjabi

SAHIWAL: The provincial higher education department has sought comments from the principals of all colleges in the province regarding promotion of Punjabi language among the students.
The comments were sought by the public instructions (colleges) director through a letter (No SO (A-II) 1-29/2013) circulated among all directors of colleges.
According to sources, the letter was based on a memorandum issued by Ms Parveen Malik, the Pakistan Punjabi Adabi Board (PPAB) secretary on Feb 24.
It was argued in the memorandum that the Punjabi language should be introduced as medium of instruction in all primary schools of Punjab like the other three provinces – Sindh, Khyber Pakhtun Khwah and Balochistan – where Sindhi, Pushto and Balochi were being respectively used as the mediums of instruction in primary schools, the sources said.
The PPBA had issued the memorandum on the last International Mother Language Day and sent it to high-ups in the province, including the Punjab chief secretary, higher education secretary, education minister, governor and the chief minister.
The memorandum made three major demands; introduction of Punjabi as medium of instruction in all primary schools of Punjab, induction and appointment of Punjabi language schoolteachers and filling of Punjabi language teachers posts in all the colleges, so that students in the province were not deprived of their right to learn in their mother tongue at the school level.
The source said the letter was dispatched to all college principals in Punjab during the last week of March.
A Punjabi language professor of a public sector institution said it was encouraging that such a letter had been written by the department to the principals of all the 450 colleges in the province but it would have been more effective if response had been sought by Punjab chief minister.
Curtsey:DAWN.COM, PUBLISHED APR 15, 2014

Punjabi finds its voice at LLF
Irfan Aslam

Punjabi poet Afzal Sahir says resistance has always been a part of Punjabi poetry, even during its classical era as well as modern times.
He was moderating a session on Punjabi poetry titled, Poetry of Resistance, on the last day of the Lahore Literary Festival at the Alhamra Art Council on Sunday. It was one of the two sessions on Punjabi during the three-day event.
However, the session was marred by long, boring readings of papers by two of the panellists, Nasreen Anjum Bhatti and Tanveer Zahoor. Both read out from papers though the subject was not very difficult to talk on by any reader of Punjabi poetry.
Sahir said Baba Farid was first Punjabi poet who left his poetry in a written form and before him there was folk poetry on the pattern of the oral tradition.
He said resistance poetry was not just about politics and rebellion but it focused on the mind and inner self of man.
There was no contradiction in the action and words of Punjabi resistance poets, e.g., Baba Farid and Guru Nanak.
He quoted Shah Hussain, who resisted against the invading Mughals, by reciting one of his couplets: Kahay Hussain Faqir Saeen Da / Takht Nah Milday Mangay (Hussain, a fakir of the Lord says/ One can't get power in alms).
Sahir read out lines from Sultan Bahu and Khawaja Farid too. While quoting the latter who raised voice against the British, he said, "Apni Nagri Aap Wasa Tu / Pat Angrezi Thanay" (Give life to your city yourself / Do away with all that is British).
Punjabi writer Iqbal Qaiser said all the Punjab poets resisted the foreign rulers through their works, adding that death was the biggest symbol in Baba Farid's poetry but it appeared as a source of life as well.
Nanak was arrested from Aimanabad, Gujranwala, by Babur for raising voice against him through his poetry, Qaiser said, adding that Nanak had chronicled the atrocities and rapes committed against Hindu and Muslim women of Punjab by the invading Mughal army in his four poems called "Babur Bani".
One couplet in this poem goes as "Paap ki Junj Lay Kabulon Dhaya / Jori Mangay Daan Ve Lalo" (He invaded with his wedding procession from Kabul / and now seeks tax as a wedding gift).
Qaiser mentioned another poet Najabat, also from Aimanabad, who wrote resistance poetry and Shah Muhammad who witnessed Lahore being conquered by the Mughals. He said the resistance poetry could not reach the masses because foreign languages, like Persian, Arabic and English, were imposed on the people.
Nasreen Anjum Bhatti read his paper, enumerating all the poets who had elements of resistance in their works. She mentioned freedom fighters like Dullah Bhatti, Waryam, Nizam Lohar, Ahmed Khan Kharal and Bhagat Singh who became legends and were immortalised by Punjab poets.
Tanveer Zahoor read out his essay on Ustad Daman that's also a part of the book on the life of the poet. He also read excerpts from Daman's famous poems. —
Curtsey:DAWN.COM, — PUBLISHED FEB 24, 2014

Punjabi cinema languishing in hometown
By Adnan Lodhi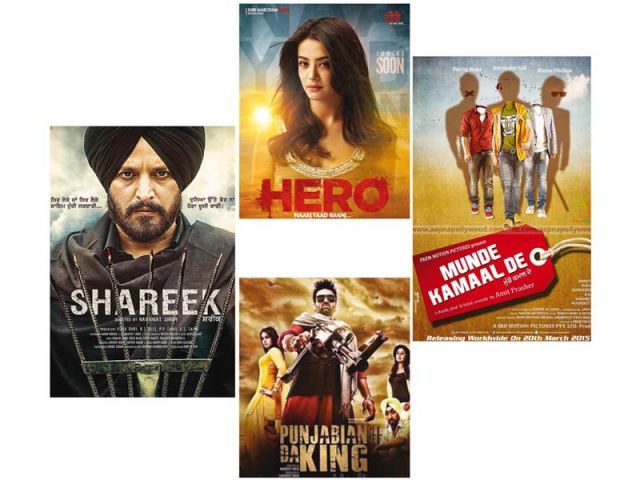 Unlike Pakistan, India saw numerous Punjabi releases this year that did well on the box office. PHOTOS: FILE
LAHORE:
The year 2015 is drawing to a close. In many ways it has been a momentous year for film in Pakistan. As the old world fights for survival in the face of the new world and the industry sees a paradigm shift, we look back at how the past 12 months panned out for regional cinema.
A total of 43 films were released in Lollywood, out of which 17 were Pashto and only five were Punjabi. While areas dominated by Pashto-speaking people fight their battles against militancy, Pashto cinema has found solace in the arms of a city that is father to both Punjabi and Urdu cinema in the country. Films made by Karachi-based producers, such asBin Roye, Wrong No., 3 Bahadur and Moor, were in a league of their own. On the other hand, Pashto cinema itself saw a major boost this year while Punjabi films continue to languish. Punjabi releases such as Razia Phas Gayi Gundon Main, Lahoria tay Pishoria, Gujjar Pooray Dinna Da, Sohna Gujjar and Sami Rawal all failed to make a mark on the box office.

The romance and the Kalashnikov: Pashtun cinema reborn

Meanwhile, almost all of the Pashto films did well, giving director Qaiser Sanober every reason to feel proud. Within the regional context, a lack of resources and interest has traditionally placed Pashto films in the underbelly of Pakistani cinema. "It is a good thing. Even Bari Studio today is now dominated by Pashto directors." Sanober said his fellow film-makers are adopting modern technology and hoped that the forthcoming year will be even better for Pashto cinema.
On the flipside, it seems the stalwarts of Punjabi films have bid farewell to Lahore's studios. This year saw no major release with directors such as Syed Noor, Sangeeta, Pervaiz Rana, Iqbal Kashmiri, Maqsood Butt, Hasan Askari and Altaf Hussain all letting the year go by in silence. Rana said he was expecting film actor Nargis' Dushman Rani to be out in 2015. "I think she changed her priorities. I have always said that if she makes a Punjabi film, it will be a super hit," he said. The director feels the tragedy of Punjabi cinema is that investors have now refused to inject money in Lahore. "They are all interested in investing in [films made in] Karachi."

Pushto filmmakers find solace in Kabul

It seems Noor and Sangeeta have both read the writing on the wall and have diverted all their energies to making mainstream Urdu films, which is not good news for fans of Punjabi cinema. There was a time when Lahore was leading the line in terms of Punjabi films and movies made here were even copied across the border. But now tables have indeed turned. This year saw major Punjabi releases such as Shareek, Mukhtiar Chadha, Punjabian Da King, Hero Naam Yad Rakhi and Munday Kamaal De run successfully in India. "There was a time when hit Punjabi films Heer Ranjha, Kartar Singh and Maa Puttar were being made. But this gujjar and ghunda trend damaged Punjabi cinema considerably," said veteran film-maker Jarrar Rizvi. He appreciated the efforts of the younger lot venturing into films in Karachi and Islamabad. "I can foresee a day when only local films will be exhibited in our cinemas."
Published in The Express Tribune, December 27th, 2015.
Govt asked to promote, protect Punjabi language
Zaman says Punjab needs flyovers, underpasses of intellect, culture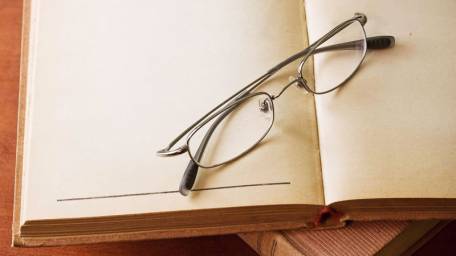 LAHORE – World Punjabi Congress Chairman Fakhar Zaman has said that Punjab of Sufi poets from Baba Farid to Mian Muhammad Bakhsh needs flyovers and underpasses of intellect, culture, blooming flowers and colours more than these iron structures that have destroyed real cultural city of Lahore.


In a statement issued here, he said that this was shameful for the political leadership and the government of the largest province of Pakistan for showing animosity towards Punjabi language which is No-10 in the list of languages spoken in the world as indicated by the UNESCO.


He further said that two Sindhi or two Balochi or two Pashtun highly educated or semi-literate or plainly illiterate would always prefer to speak in their respective languages because they have pride in their languages and culture. "This is only the tongue-less Punjab whose elite, middleclass indulge in incorrect English and badly accented Urdu while talking to each other or to their children," he said.


He also said that former Punjab chief minister Pervaiz Elahi also established the Punjab Institute of Language Art and Culture (PILAC) besides passing a bill in the Punjab Assembly according to which the provincial lawmakers would speak in Punjabi. Zaman reiterated that the Punjabi language should be taught at the primary level.


He also said that the radical changes should be effected in curriculum from college to university level and the first-ever Punjabi University should be established in Lahore. "Our requests have fallen on the deaf ear of Punjab government," he said, adding that Chief Minister Shahbaz Sharif was more interested in distorting the beautiful Lahore city by his puerile projects of the Metro Bus, Orange Train and flyovers and underpasses.
Curtsey:Daily Times, November 12, 2015
No Other Public Or Private University
Cater The Classes In Punjabi Language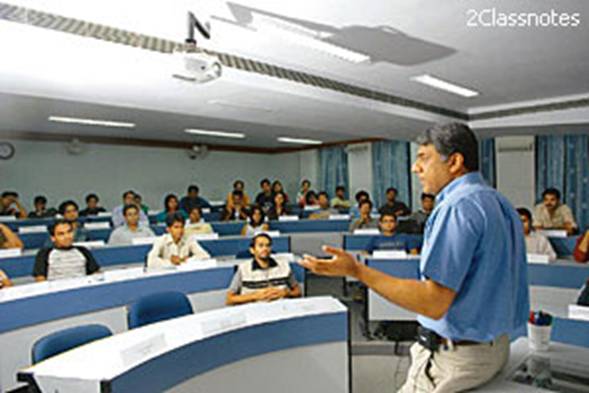 Lahore:What it could be more pitiable that Punjabi, the language of 19 million people of Punjab and equal number of population abroad, is grossly neglected in our educational institutions.
Punjabi language and literature is taught only in 40 out of 450 colleges in the province at graduate level and at postgraduate level only at Punjab University. No other public or private university cater the classes in Punjabi language at any level. What is more surprising is the fact that there is no Punjabi teacher in number of colleges as there is only one teacher in 40 colleges where the discipline is taught. There is no research journal in Punjabi literature except 'The Lekh', a biennial literary journal in the private sector. It is edited and published by a renowned Punjabi scholar Prof Dr Nasir Rana of Govt MAO College.
'The Lekh' is tri-lingual journal carrying literary articles in Punjabi, Urdu and English. The first issue of 'The Lekh' was brought out in June 2005 and since then it is published regularly without any editorial and financial support from anywhere.
Mir Ali Nawaz Talpur's Punjabi poetry (kafees) and Baqi Siddiqui's popular Punjabi plays aired on Radio Pakistan are published by 'Lekh' besides a number of hitherto unpublished and hidden treasures of Punjab literature which are published by Lekh magazine off and on for the benefit of scholars.
Though 'The Lekh' journal is of international standard but unfortunately it neither recognised by the government nor by the HEC although its research work is better than the existing source material available here.
It has a circulation of over 500 copies at home as well as abroad and is circulated in universities in UK, Canada and America. It is full of much-needed Punjabi literary critics and research for scholars. Moreover the only journal in public sector the biennial 'Khoj' of Punjab University is also victim of general apathy and it is seldom published due to non-cooperation of scholars and shortage of funds.
Editor The Lekh Dr Nasir Rana told this correspondent that the plight of learning Punjabi literature was miserable. Once it was major subject in the faculty of Arts where 8,000 students applied for admission in the year 1997. Gradually the students lost interest in Punjabi perhaps due to rising importance of job-oriented higher education in science and commerce. Today MA Punjabi seats remain vacant and admissions remain unfulfilled.
The regular and private candidates who appear in Punjabi at Punjab University MA exams are not more than 250. Even the PhD allowance to Punjabi PhD degree holder is half than the science and arts due to criminal negligence of the authorities.
Dr Rana said it is wholly untrue that the job opportunities to Master's in Punjabi is restricted, although it is minimum as compared to science and commerce and other subjects of arts. The Punjabi laureates are much needed in Radio, Television and newspapers.
Punjabi language programmes must be 25pc of all programmes in radio and television according to the regulations of electronic media but this is grossly violated.
Dr Rana said Punjabi literature is vast in magnitude after Arabic while English literature is stands at No 3. According to a Russian Orientalist Ms I Serebravakove who in her book, History of Punjabi literature said that Punjabi was biggest literature after Arabic particularly its folk literature.
Waris Shah is Punjabi Shakespeare- rather greatest dramatist than Shakespeare. After Quran, the 'Hafiz' (learning by heart) of Heer Warish Shah was highest. Shah Hussain, Bulleh Shah, Hafiz Barkhurdar and Pilu are legendary Punjabi poets and laureates known world wide and second to none.
Curtsey:Lahori Mela.com


Video:Dunya news- Festival held in Lahore for the promotion of punjabi culture

Home verse 'watnon door': How poetry dominates
Punjabi diaspora literature while nostalgia is its leitmotif
I P Singh in Tracking Indian Communities
They are not just sending remittances back home or trying to influence politics here. The experiences of the Punjabi diaspora have given birth to a genre of "Parvasi (diaspora) literature". Recognizing the contribution of the Punjabis abroad, the Punjabi literature and Languages Department Punjab has in fact instituted an exclusive award for this section called Parvasi Punjabi Sahitkar.
"Now two genres can never be deducted from the Punjabi literature ­ Pakistani Punjabi literature and Paravsi (diaspora) Punjabi literature," says Dr S P Singh, former vice-chancellor Guru Nanak Dev University, who had organized the first conference of diaspora Punjabi writers in 1987 and started a serious discussion in the academic circles about the diaspora Punjabi literature.
Poetry has dominated the NRI writings from the start. The first Punjabi publication abroad was more of a journalistic endeavor in the form of Ghadar Gunjaan, the newspaper started by Ghadar Party, but it also carried patriotic poems. "The real literary Punjabi writing started first in UK in the 1960s as Punjabis began emigrating there. Initially, it was more a manifestation of nostalgia coming out through poems and short stories, but gave way to the angst of racial discrimination.This phase was followed by the depiction of cultural crisis as a result of children growing up in an entirely different culture in which religious or caste identities melted away . The first generation immigrants had the feeling that their children were going away from their culture," says Dr Singh.Swaran Chandan's novel Aapne Guache (Ours Lost), a story of a Jat Sikh boy having an affair with a Dalit Punjabi girl there and defying the caste code, exemplified this. "After UK, Punjabi writers from the US emerged on the Parvasi literary scene, but now those from Canada have a predominant presence even as some from Kenya, Thailand and other countries are contributing to the genre," he added.
A Punjabi magazine Watnon Door (Away from own country) started in Canada in late eighties changed its name to Watan (country), symbolizing the dawn of reality that Canada was now their coun try and they should not feel strangers. "It was during this phase that one of its literary contributors and investors Ujjal Doasanjh got into active politics in Canada and rose to become premier of British Columbia," recalls Dr Singh, who was also instrumental in setting up a Research Centre on diaspora literature with UGC help.
In fact, Punjabis abroad also helped in bringing out Punjabi magazines back home and a prominent literary magazine "Hun" was started by a UK-based Punjabi Harbaksh Maqsoodpuri and it still has NRI patrons.
"Though Punjabi writers abroad have come out with short stories, essays and novels, now poetry is back in trend. Another shift is that the earlier `Left impression' in the orientation and writings of Parvasi writers is on the wane," says Dr Lakhwinder Johal, who did his PhD on Bartanavi Punjabi Kavita ­ Sabhiacharak Tanao de Pasaar (Expansion of Cultural Tensions in Punjabi Poetry from UK). "But now their priorities, concerns have changed. Earlier they resembled the train passengers who would sit with their faces facing the rear and look at what they were leaving behind, but now they are looking ahead," he says."If poets like Amarjit Chandan, Jagtar Dhah and Varinder Parhar are continuing with their contributions, new generation poets like Mohhinder Gill and Dalbir Kaur have emerged in the last few years," he says.
However, poet Satnam Chana, who has written about issues of Punjabi diaspora and their contribution back home, says that the dominating character of the writing is pegged on nostalgia and more has to be written about the new cultural synthesis taking place there.
Tracking the contemporary trends, Dr Ravinder Singh, associate professor of Dyal Singh College in Delhi in his paper "Punjabi Diaspora Literature and Contemporary Concerns" notes that British Indian Punjabi writer Harjit Atwal, in his novel 'Southall' tackles the new problems of contemporary Punjabi society dealing with the sensitive issue of honour killing and the emerging mind set of the next generation. "Ajmer Rode in his play `Nirlajj' has unraveled the disgraceful deeds of Punjabi society living abroad in a liberalized western society ," while exposing the trend of `female foeticide' and attacked the Punjabi mind set and its ingrained gender discrimination.
The diaspora Punjabi writing is contextualising the recent challenges and dilemmas of the community in the contemporary events of terrorism. USbased Punjabi writers Jagjit Brar in his story "Jhhande Di Meil", Harbhajan Singh's 'Ground Zero', Karam Singh Mann's 'Fence', Rani Nagendar's 'Curfew' explored different aspects of issues of identity, racial discrimination and `eastern and western' conflicts. Canadian Punjabi writer Jarnail Singh based his story `Towers' on the tragedy of World Trade Towers.
However, UKbased poet Amarjit Chandan, who does not like to be bracketed with "diaspora writers" says, "There is nothing substantial in the so-called disapora literature written in Punjabi.Vanity publishing has produced several hundred books, but only a handful of writers like late Sati Kumar (Sweden), Navtej Bharti and Ajmer Rode (Canada), Mahmood Awãn and Mazhar Tirmazi (England) made their mark, but they preferred to be part of the mainstream Punjabi literature and not to be 'pigeon holed as diaspora writers'."
Canada-based journalist and Punjabi columnist Bakhshinder Singh says that a lot is being produced by the writers settled abroad but it depends on the 'dollar power' of the writers ­ if they can afford the publication with their own money. "Good writing is less as compared to the quantity," he said.
Curtsey:The Tiems of India, December 14, 2015
Enjoying similarities: Pakistani and Indian
Punjabis rejoice in common heritage in Canada
BY MEERA GILL
A group of friends of Indian and Pakistani heritage living in Canada recently held an informal gathering in honour of a friend, Nain Sukh, a Punjabi writer who was visiting from Pakistan, to talk about peace, love and belonging to one another. He had come to Canada to receive the Dhahan Prize for his latest Punjabi Novel, Madho Lal Husain – Lahore Di Vel.
The Dhahan Prize awards $25,000 annually to the best book of fiction published in either of the two Punjabi scripts, Gurmukhi or Shahmukhi, around the world. This year's first prize winner was Darshan Singh for his book "Lota."
Two runner-up prizes of $5,000 each were awarded to Nain Sukh from Lahore, Pakistan, and Harjeet Atwal from the UK.
During this visit to Canada, Nain Sukh met many Punjabi-speaking writers, poets and journalists and the night before his flight back to Pakistan, he also joined this small group of friends at a family home. In this informal gathering, Nain Sukh shared that with his over 20 years of law experience he had met hundreds of people and become part of their real life stories. Through this novel he said that he was able to weave together many of those life stories, historic readings, and personal reflections (dekhea, sunea, ate samjhea) that were waiting to be expressed by him.
It became obvious during a brief interaction with him that besides pursing a successful profession of law, he had lived his life well with staying in touch with literature, history, and social and political movements along with his love for music.
Nain Sukh's novel is about 400 pages long. It is written in Shahmukhi script and is also in the process of being transcribed in Gurmukhi. The novel travels through the cultural, historical, literary and social life of Lahore during a time span of 400 years (from the sixteenth to the twenty-first century). Nain Sukh successfully employed the stream of consciousness technique in this novel and with his remarkable imaginative skills he had his characters live though various important episodes that took place in the plot.
This was one of those times when I thought of my childhood days of looking though dad's collection of Urdu books and feeling such fascination with each featured character. While flipping the pages and running my hand over the script, I still remember being dismayed for being unable to read it.
 It is unfortunate that Indian Punjab adopted only Hindi as a second language and dropped Urdu out of its school curriculum when a larger part of Punjabi literature was saved in Shahmukhi script. Nevertheless, I was happily surprised to find out that Nain Sukh could read Gurmukhi. He said that against all odds in Pakistan more and more people are trying to learn the Gurmukhi script.
Curtsey:www.voiceonline.com, Tuesday, November 3rd, 2015

All photos submitted
As we delved further into the topic of the Punjabi language, he added an interesting touch to the evening. While answering a question about the changing forms of Punjabi, he said that Pakistani Punjabis could easily relate to the poetry of Amrita Pritam and Shiv Batavi, but surprisingly enough not much to the contemporary work. Further dialogue involved the influence of Urdu and Hindi on Punjabi and how social, political and economical factors might be adding to this pressure. The group discussed the concern of losing Punjabi vocabulary by adopting words from other languages while there are many local words already existing in Punjabi to express the same thought, expression, essence, sense, spirit or object.
After taking much joy in talking about countless similar ways of living life in both Punjabs, the evening concluded with poetry of Faiz, songs of Shiv, new writers and that of Nain Sukh himself.
An unsaid resolution was evident on every face to do whatever it can take to celebrate their mother tongue living across the boundaries in India, Pakistan and Canada. They will continue to celebrate their centuries-old common heritage.
It had become evident yet again during this togetherness that the more we get to know each other, the more we realize the physical, intellectual as well as emotional similarities that we live every day. In the gathering we had writers such as Nain Sukh, Ajmer Rode, Fouzia Rafique, Harinder K. Dhahan, Fozia Manan, and Bhupinder Dhaliwal; social activists representing the Committee of Progressive Pakistani Canadians and Our Global Village Foundation; All India Radio host and a singer Amarjeet Josh; Darshan Mann, founding member of India Mahila (women); Haider Nizamani, a professor of political science at Simon Fraser University and other friends.
Curtsey:www.thevoieonline.com , Tuesday, November 3rd, 2015
CONNECTING COMMUNITIES - THE PUNJAB IN INDIA AND PAKISTAN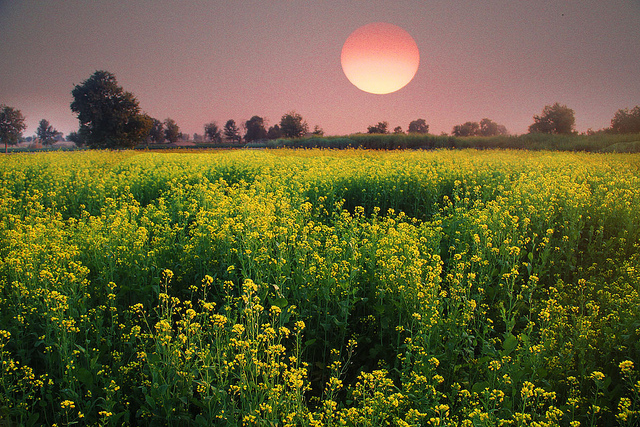 Punjab comes from the word Punj (five) - Ab (River). Known to be the land of five rivers, Pakistan's Punjab is the biggest land area of Pakistan, housing 56% of the total population and contributing 50-60% of the economy. With one of the oldest cultures dating from ancient antiquity to the modern era, Pakistan Punjab shares most of its cultural values with that of India's Punjabi culture.
Pakistani Punjabi culture includes cuisine, philosophy, poetry, artistry, music, architecture, traditions, values and history, and goes so far beyond in definition, as to holding great amount of importance for the Sikh community from India. The founder of the Sikh religion was born in Nankana Sahib, a district of Pakistan's Punjab, where Sikhs from different parts of world come and visit.
What often binds communities together and allows individuals to form relationships is the language that is spoken, and being spoken almost identically in both provinces; Punjabi is one of the many factors that lets the two countries, in a way, be one. Punjabi is the language of over 120 million people in Pakistan, and it is a language that may have different dialects and accents in different regions of the two provinces, but amongst the millions speaking this language, the oral communicability is one hundred percent. The only difference, in language, amongst the two is that of the script; residents of Punjab in India read and write using Gurmukhi script whereas the residents of Punjab in Pakistan read and write using Shahmukhi (Perso-Arabic) script. Another difference, yet having similarities, is the way individuals from both provinces dress; the traditional attire is similar in ways and different, too. In Pakistan's Punjab, fashion is easily influenced by Pakistan entirely.
Living in harmony and peace in Canada, as is the scenario around the world, the two Punjabi cultures from Pakistan and India have come together to relive the importance of brotherhood and unity in various aspects of life. Realizing and acknowledging the scope, history, complexity and density of the two cultures to be so vast, yet so similar, Pakistani Canadian Cultural Association of BC joins hands with VIBC in hope to open doors to the Punjabi youth; not as Pakistanis or Indians, but simply as Punjabi's.
By Saeda (Ammara) Khan - Pakistani Canadian Cultural Association
Photo credit: Photo Courtesy Flickr
Curtsey: www.vibc.org, 05,May 2014
Mahesh explores scope of Punjabi movie Dushman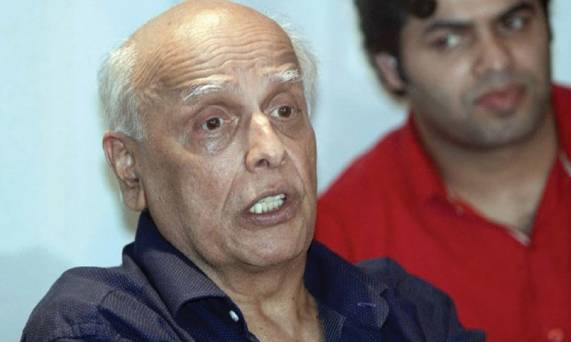 LAHORE: Indian film director and producer Mahesh Bhatt says that during his stay in Pakistan, he will explore the possibilities of making a Punjabi film, jointly produced in India and Pakistan with the help of a Pakistani production house.
He told a press conference at a hotel on The Mall on Friday the movie -- Dushman -- would be a real co-production in terms of artistes, technicians, music and other segments.
Mr Bhatt is in Lahore on the invitation of actor Humayun Saeed to attend the premiere of 'Jawani Phir Nahi Ani' in Lahore on Saturday (today).
Indian film screenwriter Shagufta Rafique and Indian Punjab film producer Vinay Bhardwaj were also present.
He said he wondered if Indian films could be shot in Sri Lanka, then why not in Karachi and Lahore as well. He said the Zindagi channel in India had created a market for Pakistani TV artistes in India.
He said film actress Meera called and asked him for any role in any of his films, however he did not have any role to offer her right now. He said he would consider Meera's request in the future.
About his Punjabi co-production, he would hold meetings with film and TV artistes in Lahore. Though he did not mention the names, he said he had contacted a few senior TV artistes to cast them in the film, however they were reluctant to act in a Punjabi movie.
Published in Dawn, September 19th, 2015
Punjabi novelist dies
IRFAN ASLAM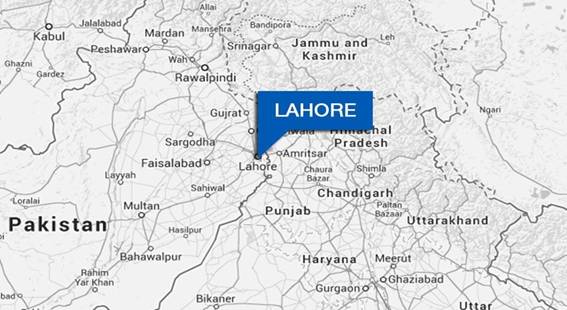 LAHORE: Punjabi novelist, poet and political and rights activist Anwar Chaudhry passed away here on Friday. He was 68.
He suffered a heart attack at 11am at his home in the Punjab Employees Cooperative Housing Society, Phase-I, near Wapda Town, and expired before the rescue service arrived. His funeral prayers were offered near his residence at 9pm.
Anwar Chaudhry's Punjabi novel Sanga was published in 2005. He founded Kitab Trinjan, a publishing house dedicated to Punjabi language and literature, in December 1997 along with Nisar Khan and Zubair Ahmed on Temple Road, Mozang. Besides printing books in Shahmukhi, it transcribed many Indian Punjabi writers from Gurmukhi and introduced them to Punjabi readers in Pakistan. It continued publishing Punjabi books until its closure in September 2009.
Anwar was born in Bahawalnagar in June 1947. He joined active politics at an early age, becoming the regional secretary general of the PPP. He organised party meetings for Zulfikar Ali Bhutto in 1967-68 in his area. ZAB is said to have offered him a party ticket but he refused. He joined the Mazdoor Kisan Party in early 1970s and worked for peasants and workers' rights.
He shifted to Lahore in 1983. He joined the South Asia Partnership in 1995 and edited many books including classical poets Bulleh Shah and Shah Husain. At the time of his death, Anwar Chaudhry was working with the organisation as editor and head of its communication and documentation section
Published in Dawn, March 7th, 2015