ANNOUNCEMENT
2015 The Dhahan International Punjabi Literature Prize announced
Announcement
Awarding literati: Abdullah Hussain,
Afzal Randhawa nominated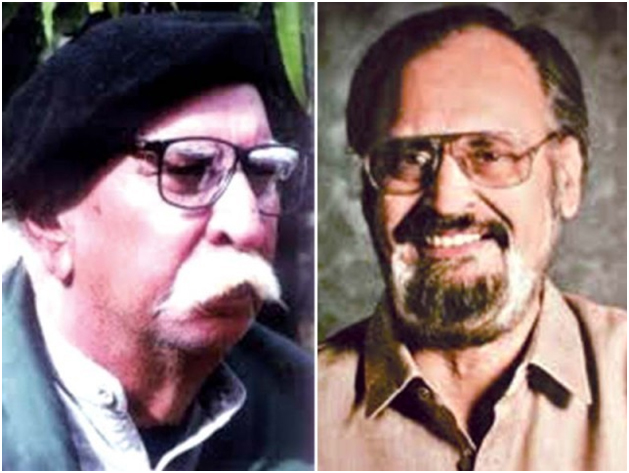 Afzal Ahsan Randhawa, Abdullah Hussain

ISLAMABAD: Noted novelist Abdullah Hussain and Punjabi language short-story writer Afzal Ahsan Randhawa have been nominated for "Kamal-e-Fun" award for 2012 and 2013 respectively. "Kamal-e-Fun" is the highest literary award of Pakistan, given for lifetime achievement in creative and research work that carries cash prize of Rs500,000.
The Pakistan Academy of Letters (PAL) Chairperson, Dr Qasim Bugio announced the decision at a press conference here on Wednesday.
A panel of judges comprising writers and intellectuals — Masood Ashar, Dr Shahid Iqbal Kamran, Dr Riaz Majeed, Hafeez Khan, Dr Muhammad Iqbal, Naseem Khattak, Taj Baloch, Munir Ahmad Badini, Prof Nazir Tabassum and Dr Munaza Yaqoob, which met here at the PAL, nominated the two literary giants for the award.
The panel also announced "National Literary Award" for the year 2013, given on the best literary books in Urdu and other Pakistani languages with a monetary reward of Rs100,000.
Dr Bughio said that the academy had been working for the promotion of literature and national languages.
"It is an honour for us that we have gathered here to encourage writers who have been writing throughout their lives for promotion of literature. The awards were initiated in 1997 and have been given to writers for the last 15 years," he said.
Some of the prominent recipients of the awards include Ahmed Nadeem Qasmi, Intizar Hussain and Mushtaq Ahmad Yousafi.
Poet Sabir Zafar has been nominated for Dr Allama Muhammad Iqbal Award for his book "Sar-e-Bazaar Mee Raqsam". In Urdu prose segment, Hasan Manzar has been nominated for the "Baba-e-Urdu Molvi Abdul Haq Award" for his book "Insan Ae Insan". Zahid Masood has been nominated for the Syed Waris Shah Award for his Punjabi language book "Kanee Kanee Darya". In Sindhi-language category, Dr Ghulam Qadir Soomro has been nominated for Shah Abdul Latif Bhittai Award for his book "Sindhi Adab Mein Tanz Aen Mazah". In the Pashto-language category,
Qamar Rahi has been nominated for the Khushal Khan Khattak Award for his book "Mashal", while in the Balochi-language category Munir Ahmad Badini has been nominated for the Mast Tavakali Award for his book "Baheshatu Dozaha". Mazar Khan has been nominated for Khwaja Ghulam Fareed Award in the Seraiki language for his book "Pani Naal Kahani" and Ferhad Hervi for his book "Koi Asman Te Kalha Hosee". For Taj Muhammad Tajal Award in the Brahui language Rahim Naz has been nominated for his book "Maher Naz Baad" and in the Hindko language category, for Saeen Ahmad Ali Award, Abdul Waheed Bismil has been nominated for his book "Kache Dahley Peenghan".
In English language category, for Pitras Bukhari Award, Ayesha Jalal has been nominated for her book "The Pity of Partition". In the translation category Muhammad Hasan Askari Award, Muhammad Umar Memon has been nominated for his book "Novel ka Fun".                                                              Published in The Express Tribune, June 11th, 2015.

PAL announces names of literary award winners
Islamabad
The Pakistan Academy of Letters (PAL) has announced 'Kamal-e-Funn' awards for the years 2012 and 2013. Prominent novelist and intellectual, Abdullah Hussain and Punjabi novelist and short story writer Afzal Ahsan Randhawa have been nominated for the 'Kamal-e-Funn' Award 2012 and 2013 respectively.
The panel of judges, comprising well-known writers and scholars, Masood Ashar, Dr. Shahid Iqbal Kamran, Dr. Riaz Majeed, Hafeez Khan, Dr. Muhammad Iqbal, Naseem Khattak, Taj Baloch, Munir Ahmad Badini, Professor Dr. Nazir Tabassum and Dr. Munaza Yaqoob, met on Wednesday at the Pakistan Academy of Letters, Islamabad. Masood Ashar presided over the meeting.
'Kamal-e-Funn' Award is the highest literary award in the field of literature for recognition of lifetime achievements in creative and research work. The amount of this award is Rs500,000.
PAL Chairman Dr. Muhammad Qasim Bughio has also announced the National Literary Awards for the year 2013 given on the best literary books written during the year in Urdu and other Pakistani languages in a press conference.
According to the decision of the panel for Urdu Poetry, Dr. Allama Muhammad Iqbal Award is given to Sabir Zafar on his book 'Sar-e-Bazar Me Raqsam', in Urdu Prose, Baba-e-Urdu Molvi Abdul Haq Award is given to Hasan Manzar on his book 'Insan Ae Insan', in Punjabi language, Syed Waris Shah Award is given to Zahid Masood on his book 'Kanee Kanee Darya', in Sindhi language' Shah Abdul Latif Bhitai Award is given to Dr. Ghulam Qadir Soomro on his book 'Sindhi Adab Mein Tanz Aen Mazah', in Pushto language' Khushhal Khan Khattak Award is given to Qamar Rahi on his book 'Mashal', in Balochi language' Mast Tawakli Award is given to Munir Ahmad Badini on his book 'Baheshatu Dozaha', in Seraiki language' Khwaja Ghulam Fareed Award is given to Mazhar Khan on his book 'Pani Naal Kahani' and Farhad Hervi on his book, 'Koee Asman Ten Kalha Hosee', in Brahui language, Taj Muhammad Tajal Award is given to, Rahim Naz on his book, 'Maher Naz Baad', in Hindko language, Saeen Ahmad Ali Award is given to, Abdul Waheed Bismil on his book, 'Kache Dahley Peenghan' in English language, Pitras Bukhari Award is given to, Aysesha Jalal on her book 'The Pity of Partition' and in Translation Muhamamd Hasan Askari Award is given to Muhammad Umar Memon on his book, 'Novel ka Fun'. The award money Rs100,000 will be given to each award winner.
Curtsey:The News, Thursday, June 11, 2015

Mother Languages Day on Feb 21
LAHORE
Trade Unions have decided to celebrate International Day of Mother Languages on February 21 by holding a grand congregation at Nasir Bagh followed by a rally.
In a meeting held at the office of Pakistan Punjabi Board on Thursday, various labour and trade unions gathered for a meeting.
The unions included All Pakistan Trade Union Federation, Pakistan Workers' Confederation, PMLQ Labour Wing, Pakistan Railways Worker Union, Rustam Sohram Labour Union Ittehad Labour Union Carpet Industry and Parks and Horticulture Employees union.
The meeting decided that events to be held on February 21 will be planned in advance and the grand public congregation shall be held at Nasir Bagh where prominent socialites, literary notables, poets and prose writers, student unions and politicians will participate.
The meeting also planned to voice the demand of teaching Punjabi Language as a compulsory course from primary till bachelors, on the International Day of Mother Languages. Muhammad Anwar Gujjar, Niaz Khan, Comrade Irfan, M Sarwar, Muhammad Mushtaq Bhatti, Syed Arshad Ali Bukhari and other trade union leaders were present at the meeting.
Curtsey:The News, Friday, January 23, 2015

Peaceful marches to be held in city to promote Punjabi
By Faizan Ali Warraich
LAHORE: After having two brain-storming sessions it was announced by the World Punjabi Congress (WPC) that peaceful marches will be held in Lahore & other divisional headquarters and every month one-day National Punjabi Conferences will be organized to press the demands; participants reiterated that Punjabi language should be extricated from the mire of archaic usage, purism and literary fundamentalism.


The second National Punjabi Conference was held on Friday at Punjabi complex under the aegis of World Punjabi Congress (WPC) to highlight the injustice being consistently meted out to Punjabi language and culture. A Lahore Declaration was passed unanimously reiterated the points made by the learned speakers. It also said that if peaceful protests are not heeded then next step would be to make demonstration in front of Punjab assembly if demands as espoused by different speakers are not met.


In his keynote speech, WPC Fakhar Zaman declared that despite our efforts Punjabi is not being given the rightful place by making it a language for the primary level, establishment of Punjabi University, a radical change in the curriculum in colleges and university, employment of over more than ten thousand MA Punjabi degree holders and language of Punjab assembly be declared Punjabi. He regretted that Punjab government and its anti-Punjabi bureaucracy is regrettably treating step motherly treatment to the language of great Sufi poets, cultural ethos and cultural heritage of Punjab province.


He further said that the TV channels and print media is showing little respect for this language, which according to UNESCO report is the 10th biggest language in the world. HE said social media importance could not be ignored and will be used to spread message of Sufi poets and to promote Punjabi language among new generation .In the end, a mushaira was also held. They were also of the view that contemporary Punjabi languages should be translated into English and be posted on the Internet.


On the occasion, Punjab Higher Education Commission chairman and former Vice Chancellor of Gujrat University Dr M Nizamuddin said that 'Punjabi education model' was possible and was being running successful across the border in Indian Punjab. He said Punjabi should be taught at the primary level and also that a Punjabi University should be established in Lahore. He said that the Higher Education Commission will render maximum facility in setting up such university if serious effort with Feasibility study presented before the HEC. He added, we should start work from without having delay and not relay on' brick models' . He said that Punjabi themselves are to be blamed for the neglect of their mother tongue and only united front could pave the way to make 'Punjabi university'.


In the first session , Poet Tanvir Zahoor made inaugural speech and said linguistic movements only successful when effort being put collectively by writers, teachers ,intellectuals and common people . Mudassir Butt another speaker said 'only collective united front save the dying spark of Punjabi language, we have to re-orient our behavior & approach before heading ahead and to make successful this Punjab movement'. He questioned from the audience to ponder that after the forty years struggle in making Punjabi language official language of the Punjab province we haven't been successful.
Curtsey:Daily Times: March 21, 2015

WPC conference on Munir Niazi next year

LAHORE: Fakhar Zaman, chairman of World Punjabi Congress, announced on Thursday holding of an international conference on poet Munir Niazi on his birth anniversary on April 9, 2016.
He also endorsed the demand of Mrs. Naheed Niazi that the Punjab government should name a road or underpass after the great poet.
In his presidential address at a function held to celebrate Munir Niazi's birth anniversary at Punjabi Complex, he said Niazi was a poet par excellence who alienated himself from mediocre writers and poets and built his separate world which was woven by matchless aesthetics, fresh sensibility and refreshing diction.
He said he believed that only a good human being could be a good poet and Munir Niazi as he knew him over the years was an honest man of high integrity and commitment to the beauty and higher values of this country which have been ruthlessly and criminally trampled upon by corruption, dishonesty and hypocrisy.
Mr Zaman recalled that a special number on Munir Niazi had been brought out by the Pakistan Academy of Letters when he was its chairman.
Begum Naheed Niazi said she was lucky to have a husband like Munir Niazi who was a great poet and a great human being. She said she would always remember the wonderful time spent with him.
Dr Sughra Sadaf paid compliments to Munir Niazi saying that he was a poet of generations.
Sofia Baidar referred to the inspiring poetry of Munir Niazi and said he was very kind to the new writers and that she learned a lot from him.
Shujaat Hashmi narrated some happy moments spent with the great poet.
Dr Naheed Shahid said Munir Niazi's Punjabi poetry was absolutely different as compared to banal writings of other Punjabi poets.
Naheed Durrani, Raja Nayyar, Iqbal Rahi and others also paid compliments to Munir Niazi through their poems especially written for the occasion.
Published in Dawn, April 10th, 2015

World Punjabi moot on April 17-20

ISLAMABAD, Jan 27: The World Punjabi Congress (WPC) on Thursday announced plans to hold an international conference in Lahore on April 17-20 and use this feast of the language it seeks to promote to help peace with neighbouring India.
WPC Chairman Fakhar Zaman told a news conference here that President Pervez Musharraf and Prime Minister Shaukat Aziz would be invited to the international Punjabi conference on peace, culture and literature that he said would be attended by about 400 delegates from 70 countries.
There will be some 140 delegates from India what will be the 12th in a series of international Punjabi conferences staged by the WPC in 18 years of its existence and will include luminaries from politics, literature, culture and media, he said.
Among them would be former prime minister I.K. Gujral, 15 members of parliament, about 20 central and state ministers, and some famous Bollywood celebrities such as Sunil Dutt, Vinod Khanna, Kamni Koshal and Prem Chopra. Cultural programmes would also be organized at Lahore's Al-Hamra Art Centre during the conference.
Mr Zaman said 11 international Punjabi conferences organized by the WPC so far in Pakistan, India and some other countries had played a historical role in promoting India-Pakistan and "Punjab- Punjab" interaction some of whose manifestations were recent visits by Punjab Chief Minister Chaudhry Pervaiz Elahi to Indian Punjab and by the chief ministers of Indian Punjab and Haryana states to Pakistani Punjab.
He said the present dialogue process between the two countries had proved that the advocates of India-Pakistan peace were right and the "monopolists of the so-called ideology of Pakistan" who opposed such moves were wrong. "We think after 18 years we are vindicated."
NO GREATER PUNJAB IDEA: Mr Zaman dismissed the talk of so- called "greater Punjab" idea being behind recent high-level contacts between the Pakistani and Indian Punjabs and called the term as "figment of the imagination of those who are against the Punjabi language. They are fit to be placed in a museum."
He said the division of the Punjab as part of the partition of the South Asian sub-continent in 1947 "can never be undone" and that his organization only wanted good relations between the two Punjabs. "We don't want any confrontation ... as advocated by mullahs and jihadis."
The WPC chief said Pakistan and India must immediately open trade between them and the planned bus service between Azad Kashmir capital Muzaffarabad and the Indian-held Kashmir summer capital Srinagar.
Mr Zaman said interaction between the two parts of Punjab was also opposed by those who were involved in what he estimated to be $4 billion worth trade of some 6,000 items from India to Pakistan via Dubai. These people will stand to lose if the Wagah border is opened for trade between the two countries, he said.
URDU CONFERENCE: Mr Zaman had a dig at reported plans to organize an Urdu conference in Islamabad and said he had heard "disturbing" reports that some federal institutions like the Capital Development Authority were being used to organize the event on March 8-9 as a reaction to "what the World Punjabi Congress has done".
"This is a federal territory, and if an Urdu conference is held here (with official patronage) then Punjabi, Baloch, Sindhi and Pashtu conferences should also be held...," he said.
He also demanded the establishment of federal Punjabi, Sindhi, Pashtu and Balochi universities on the pattern of the federal Urdu university and declaration of Punjabi, Sindhi, Pashtu and Balochi as national languages, just like Urdu, rather than regional languages.
SOLIDARITY WITH BALOCHISTAN: Mr Zaman also used the occasion to assure "fraternity and solidarity" with the people of Balochistan and said problems in the troubled province should be solved by political dialogue rather than military force.
"People of the Punjab are with the people of Balochistan... and are against any moves to deprive them of their rights by any agency, whether it is the federal government, military or the Baloch waderas," he said.
Curtse:DAWN.COM,  Jan 26,2015

WPC to hold moot on Punjabi language, culture on June 22
Press Release

LAHORE: A World Punjabi Congress (WPC) meeting was held at a local hotel on Monday with Chairman Fakhar Zaman in the chair wherein participants decided to use social media and enhance people-to-people contacts in order to promote Punjabi language and culture.
According to a press release, the congress also decided that a one-day National Conference on Punjab, Punjabi Culture and Punjabi would be held in Lahore on June 22 (Sunday) wherein intellectuals of all languages would be invited to deliver lectures and presentations. A session of the conference would be devoted to Punjabi films wherein known film personalities would make deliberations, it added.
It was also decided that efforts should be made to get Punjabi language freed from purist attitude and use of archaic words and also to get worn-out clichés replaced with new diction and fresh images in accordance with the needs of the cyber age.
WPC Chairman Zaman said that Punjabi textbooks from elementary to masters level had retrogressive contents and that progressive Punjabi writings had been neglected criminally. He said that the WPC would form a committee to revise textbooks at all academic levels and to devise new curriculum.
The participants of the meeting also decided to expedite efforts to get the first-ever Punjabi University established and also to get the Punjabi language introduced at primary level. The chairman also resolved that the WPC would be revamped and that some new appointments have already been made in this connection.
In the end, the congress welcomed the visit of Prime Minister Nawaz Sharif to India at the inauguration of Prime Minister Narendra Modi.
Curtsey:Daily Times, June 10, 2014

WPC to protest govts' 'anti-regional languages stance'

LAHORE: The World Punjabi Congress (WPC) has decided to hold after Eid protests across the province against 'anti-Punjabi and anti-Pakistani languages stance' of the provincial and federal governments.
A national conference on Punjabi would also be held next month to discuss the future course of action in the wake of rejection by the National Assembly's Standing Committee on Law and Justice of a bill aimed at granting status of national language to all the regional languages.
"Representatives and scholars of all other national languages will also take part in the one-day conference," said WPC Chairman Fakhar Zaman and other office-bearers. Mr Zaman said PML-N, PPP and PTI had clearly mentioned in their election manifestos all people's languages would be granted status of national languages.
However, NA committee members from PML-N, PPP, PTI and JUI voted against the bill while MQM abstained from voting. Moved by Marvi Memon, the bill was supported by only one member of the committee, Sardar Amjad Farooq Khosa, said Mr Zaman and added that these political parties had done a `shameful act' by blocking the grant of national language status to the languages spoken by the people of Pakistan.
"Urdu is a link language and lingua franca in addition to its national language status. We do not accept the linguistic hegemony of one language because in our opinion all languages of Pakistan have equal status. The protagonist of hegemonic status of one language is bereft of historical, sociological, cultural and political dimensions of the importance of languages of the masses in the polity of a nation. The people of Pakistan have been misled by slogan-mongers and chauvinists who have always stood against languages of the people," said the WPC chairman.
Mr Zaman said that recently a senior officer of the law ministry had the cheek to simplify the separation of East Pakistan because Urdu was not declared the only language of Pakistan.
"This is the most foolish argument generally advanced by ignorant bureaucrats, politicians and some narrow-minded, self-styled intellectuals, columnists and journalists. On the contrary, it's a historical fact that had both Urdu and Bengali been declared national languages, there would not have been a break-up of Pakistan," he said.
Mr Zaman said that the bureaucracy, politicians and the government had been avowedly anti-Punjabi.
"To them slogan of Punjabiat is to govern the smaller provinces and they are shamelessly alienated from Punjabi language and Punjabi culture. The Punjab government has not declared Punjabi as a subject at the primary level, more than 10,000 MA Punjabi degree holders are unemployed and despite our efforts no importance has been given to establishment of the first-ever Punjabi University in Lahore," he said.
Published in Dawn, July 21st, 2014

National Punjabi conference on 22nd

LAHORE
THE World Punjabi Congress (WPC) has decided to hold one-day National Conference on Punjab, Punjabi Culture and Punjabi in Lahore on June 22.
This was announced by WPC Chairman Fakhar Zaman in a press statement issued on Wednesday.
Fakhar said that a session would be devoted to Punjabi films wherein known film personalities would take part. He said WPC had decided that Punjabi language should be freed from purist attitude and use of archaic words and worn out clichés be replaced by new diction, fresh images in accordance with the need of the present cyber age.
Fakhar Zaman emphasised that Punjabi textbooks from the middle to master's level had retrogressive contents and all progressive Punjabi writings had been neglected criminally.
He said that a committee would be formed by WPC to revise all textbooks at all levels and devise new curriculum.
He said efforts would be accelerated for the establishment of a first ever Punjabi university and teaching Punjabi at the primary level.
He said the WPC would be revamped and, to start with, Tariq Khurshid, Rana Ehtesham Rabbani and Hafeez Sheikh had been appointed new vice-presidents, Iftikhar Mijaz media adviser, Riaz Chaudhary finance secretary and M R Shahid secretary record and event.
The WPC chairman welcomed the visit of Prime Minister Nawaz Sharif to India and said the WPC was striving for better relations between the two countries through trade relations, issuance of multiple visas and exchange of cultural and education delegations.
Curtsey:DAWN.COM Thursday, June 12, 2014

Punjabi associations threaten protest
LAHORE: The World Punjabi Congress, the World Punjabi Union and other Punjabi associations, in a joint press conference held at the Lahore Press Club on Tuesday, demanded of the government to accept their demands or else they will stage a sit-in in front of the Punjab Assembly (PA) from August 11.
The office-bearers of the Punjabi associations also threatened that if their demands were not met they would launch a massive protest throughout the province after August 15. They criticised the government for ignoring the importance of the Punjabi language and denying it an appropriate status although it was the most spoken language of the country.
"Punjabi has neither been recognised as a separate subject nor it is taught in the schools, colleges and universities of the province," they said, adding, very few newspapers and journals were being published in the language due to the paucity of the funds while well-to-do people did not take the risk of investing in the field as no return was guaranteed. They said that 40 per cent of the media budget in Sindh is given to Sindhi language newspapers and periodicals whereas the situation in Punjab is very disappointing. They demanded the designated five per cent quota of the media budget to Punjabi newspapers and journals. They also demanded transfer of DGPR Ghulam Mohiuddin Vani.
Representatives of the Punjabi associations including WPC Chairman Fakhar Zaman, World Punjabi Union's Muddassar Iqbal Butt, Parveen Malik, Atif Rehan Butt, Riyaz Raji, Zahid Hassan and Ahmad Nawaz Kamiyana were also present on the occasion.
Curtsey:The News, our correspondent Wednesday, August 06, 2008

Punjabi as separate subject for class-1 being considered
LAHORE
PUNJAB Minister for Education Rana Mashhood Ahmed Khan has said the launch of Punjabi as a separate subject for Class-1 from next year is being considered. He disclosed that Chief Minister Punjab Muhammad Shahbaz Sharif had constituted a special committee to consider the possibility of giving Punjabi synonyms of Urdu titles of pictures and geometrical shapes in the Urdu primer of Class-1.
Addressing "Maan Boli" conference arranged on the occasion of International Mother Language Day at Punjab Institute of Language, Art and Culture (PILAC), the minister said Punjabi was the mother language of crores of people living in Pakistan and means of communication of a vast majority of the country.
He further said there was diversity in the languages of people living in Pakistan and instead of dividing the society on linguistic basis, there was a need to promote folklore and folk wisdom, as failure in this regard would result in depriving the people of their culture. He opined the mother languages of all the regions of the country were given due respect, as they were a means of progress.
He maintained that Punjabi was an identity of the people of the province and they should be proud of their language. He lamented that it was unfortunate that instead of taking Punjabi language a source of pride, it had been made a symbol of ignorance and illiteracy during the last 65 years. He added the new generation considered Punjabi as the language of the poor used only by servants and labourers. He informed the participants that in view of the results of the latest research, establishing the importance of mother tongue in imparting basic education, the Punjab government had decided that Urdu instead of English would be the medium of instructions from Class-1 to Class-3 from the next year and English would be taught only as a subject. However, English will remain the medium of instructions in all the schools after Class-3.
Rana Mashhood Ahmed Khan appreciated the role of public sector universities, radio and Punjabi newspapers in promotion of Punjabi language and literature at graduation, MA and PhD level.
However, he said these efforts were inadequate, as there was a need to strengthen the foundation. He said the shortage of Punjabi teachers in schools was another problem. He invited the Punjabi Adbi Board to assist the Punjab government in teachers' training in Punjabi. He said most of the issues between India and Pakistan could be resolved amicably if the barrier of the scripts of Punjabi language was removed.
Chairman Punjabi Adbi Board Mushtaq Sufi in his key address said that only mother language could guarantee national solidarity. He said Arabic was the language of 22 states of Middle East but they had their separate identity but India, having 40 languages, was one country. He said promotion of regional languages would pose no threat to national unity.
Dr Ishtiaq Ahmed, Dr Jameel Ahmed Dar, Sarwat Mohayuddin, Director PILAC Dr Sughra Sadaf and other experts also addressed the conference. It was informed that ceremony for Punjabi Scholars Award 2014 named after renowned Punjabi intellectual late Shafqat Tanvir Mirza would be held on Friday at PILAC.
The News: Friday, February 21, 2014

WPC to establish Punjabi university on its own

LAHORE, Oct 22: In view of the lukewarm response from the Punjab government, the World Punjabi Congress has now decided to establish a Punjabi university in Lahore by March next year on its own.
The organization had announced establishment of the university at the Waris Shah International Conference, which was held in July this year and attended by delegates from 20 countries.
According to the declaration of the conference, the university was to become functional by March next year with the assistance of the provincial government.
"The congress wanted the government to give it land and share funds for the university. But since the response has been lukewarm, we have decided to go ahead on our own and sought help of the private sector that has been promised," said WPC chairman Fakhar Zaman while talking to Dawn on Saturday.
The institution, he said, would be established in a rented building and function like other universities in the private sector. The fees would be reasonable as the objective of the congress was to promote Punjabi and not make profits.
It would offer postgraduate diploma courses in Punjabi, Urdu, English and other national (regional) languages in Pakistan. It would also offer masters courses in Punjabi, having Gurmukhi script and Indian Punjabi language literature as compulsory subjects.
"At present, Indian Punjabi literature is not being taught in the Punjab University and elsewhere in the country and no-one knows about Amrita Pritam."
Whereas, Mr Zaman said, the Patiala Punjabi University, the Chandigarh Punjabi University, the Amritsar Punjabi University and the Delhi University's Department of Punjabi were teaching Pakistani Punjabi literature as a compulsory subject.
In addition, he said, the university would introduce social sciences disciplines like history, philosophy, sociology, political science, economics and mass communication. They could be taught in English or Urdu and the university would also introduce science subjects afterwards.
He said the congress had been offered voluntary teaching by renowned scholars and teachers. Scholars from Indian universities would be engaged as visiting faculty, he said. He said the Punjabi congress still wanted the government to contribute in the shape of land or funds, hoping these would soon be given to it.
Curtsey:DAWN.COM— PUBLISHED OCT 23, 2005
Back to home page                                                                                                        Back to the top