A case of Punjabi nationalism
Mahmood Awan
A rejoinder of sorts that presents another case of The Other Punjab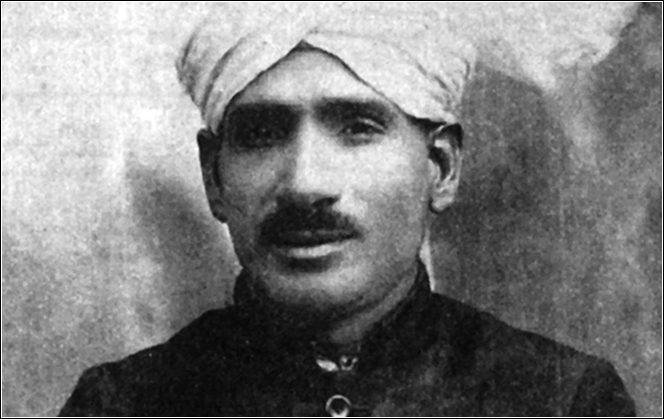 Babu Feroz Din Sharaf.

A recent article about Punjabi nationalism titled "The Other Punjab"
published in another English language paper merits a rejoinder of sorts. There are a few misconceptions and errors of references in the piece and, therefore, I felt it necessary to present my own case of The Other Punjab.

The author Nadeem F. Paracha writes in the piece published on May 31 that Punjabi nationalism in Pakistan emerged in the 1980s partly in response to Seraiki language movement while quoting Alyssa Ayres's book Speaking Like A State (2009). Those who have read this book know that the senior official in the US state department got many things wrong in her book and this assertion is one of those.

First of all, there never was a movement that could be called a Punjabi nationalist movement in Pakistan. So the question of any such emergence in 1980s and that due to Seraiki issue is totally misplaced.

An organised effort for the cause of Punjabi language began in the 1960s when Seraiki-Punjabi issue was non-existent. It was a literary movement focused mainly on the language and literature of the Punjab led by stalwarts like Safdar Mir, Shafqat Tanvir Mirza (STM), Muhammad Asif Khan, Eric Cyprian, Najm Hosain Syed, Ishaq Mohammad and many others. These scholars were not Punjabi nationalists at all (most of them even resented to be identified as Punjabis). Punjabiyat was never their first preference but Marxism and communism was. They wrote in Punjabi language because of their Marxist belief system using Punjabi as a tool to push their ideology and to bring a Marxist revolution in the Islamic Republic.

They rarely explored the cultural and identity crisis of their fellow Punjabis in any clear terms. However, Asif Khan, STM and Ishaq Muhammad were three exceptions. Major Ishaq was the only Marxist leader who connected language issue with the local politics and made Punjabi a part of his Mazdoor Kisan Party's manifesto and started conducting all his corner meetings in his mother tongue.

There is no doubt that our Southern part of the Punjab has genuine political grievances that needs to be addressed. I am from Khushab district and my own Western part of the Punjab is more neglected than Gilani's South, so goes for the whole Dhan-Pothohar region. However, this does not mean that we start disowning our collective history and heritage claiming 'independence' at the behest of a few British-nurtured local feudals.

The Punjab is defined not by its political boundaries but by its linguistic geography because political boundaries may be sublime but linguistic connections are permanent. This collective lingual unity of the Punjab has been nurtured by its selfless commoners for centuries and they are its real custodians. It can't be left to the whims of a few drawing room intellectuals or self-serving politicians. The people of Punjab belong to the land of Sapta Sindhu (ancient name of our land in Rig Ved proudly boasting of its seven rivers with Indus and Sarasvati included) and their culture and destinies are intertwined.

An organised effort for Punjabi language began in the 1960s led by stalwarts like Safdar Mir, Shafqat Tanvir Mirza, Eric Cyprian, Najm Hosain Syed, Ishaq Mohammad and others. These were not Punjabi nationalists. Punjabiyat was not their first preference but Marxism and communism was.

Whenever we raise the issue of Punjabi language, Seraiki separatism jumps in to dilute the whole struggle of mother tongue rights. Our friends from South are free to name the language of entire Punjab as Seraiki and help us get it implemented in the province. I say that because when Aashiq Buzdar claims in a session at the Lahore Literary Festival that Shah Husain and Bulleh Shah are Seraiki poets, he shares the reality of that one common language and the fact that our classics are not linguistically confined only to their birth places.

Punjabi classics were perhaps pre-aware of their coming generation's hateful biases so they incorporated a multi-dialectic unified common language of the Punjab in their writings. We all need to understand that Punjab's linguistic and identity problem is a class issue from Multan to Gujar Khan and it needs a collective response. Therefore, those who thrive on the politics of division must be discouraged especially the ones who have spent their lives to 'correct' the poetry of Khawaja Ghulam Farid to suit their linguistic version of separation.

In the article, the author has named three books that in his words "gave Punjabi nationalism its most cohesive literary shape". His choice of books is also debatable but if we have to name names then only one person's works deserve this honour. He is Babu Feroz Din Sharaf, people's poet of the [undivided] Punjab.



Babu Feroz Din Sharaf's poem Main Punjabi.
Paracha's claim that these three books were banned is also not true. None of these three books was ever banned. He has also quoted Hanif Ramay as a Punjabi nationalist. Let me clarify that Ramay and Malik Meraj Khalid are considered two chief betrayers of the Punjab who, in spite of all the powers as chief ministers and having full support of their party in the 1970s, did not take a single step to implement Punjabi at any level in their own province.

If there ever was Punjabi nationalism in Pakistan, this language apartheid in Punjab may long have been ended as had happened in Sindh. However, thanks to the consistent, indiscriminate and racist verbal and non-verbal hammerings of entire Punjab and all Punjabis by Pakhtun, Sindhi, Balochi and Urdu speaking political leaders, even conservatives like Khurshid Nadeem are being pushed to admit their inner surge of Punjabi nationalism. Nadeem's latest column: Meri Shanakht, Punjabi ya Pakistani? is an indication of that much needed soul searching.

There was a time when, in the entire decade of 1950s, only one modern Punjabi book was published and it was Ahmad Rahi's Trinjan (1952). However, due to Faqir Muhammad Faqir's sole efforts and the language activism of the 1960s, Punjabi books have gradually made their way up to the publishing houses in huge numbers. In recent years, nationalistic colours of Punjabi struggle have started emerging and the cause of Punjabi language has become the main entry point. Social media is playing a pivotal role in shaping this narrative and Punjabi youth is also joining in. Mother Language Day demonstrations of Feb 21 are becoming significant year after year while the Punjab Government and its allies are adamant in behaving like bullies.

I had earlier argued in detail in my piece In the Name of Punjabiyat that Punjabiyat has nothing to do with so called Punjabi chauvinism or western definition of nationalism. Ours is an all-inclusive native phenomenon engraved in our souls by humanity and humility of Baba Farid, Guru Nanak and Damodar Das. We respect every other language and community but demand the same in return. However, all this intellectual argumentation will not yield any result unless a new political leadership evolves out of this long running self-sustaining Punjabi literary movement and starts owning Punjab and Punjabi as their basic political ideology.

Babu Feroz Din Sharaf (1901-1954) was called 'nightingale of the Punjab'. He was a trade unionist and freedom fighter. British colonial authorities not only banned his book DukhãN de Keerney; 1924 (Grieving over People's Suffering) but also sent him to rigorous imprisonment for one year. He is more popular for his heart wrenching songs like Sohna desaN andar des Punjab ni sayyoN (it was sung so mystically by then baby Noor Jahan for film Heer Sial in 1937) but this anthem for the land of five rivers is the one to live for ever. Let's cherish these immaculate lines Main Punjabi in the name of Punjab

Curtsey:The News: July 5, 2015

Mahmood Awan


The author is a Dublin based Punjabi poet. He may be reached at mahmoodah@gmail.com
The Other Punjab:
Link: http://www.punjabics.com/inner/theotherpunjab.php
Send email to nazeerkahut@punjabics.com with questions, comment or suggestions
Punjabics is a literary, non-profit and non-Political, non-affiliated organization
Punjabics.com @ Copyright 2008 - 2017 Punjabics.Com All Rights Reserved
Website Design & SEO by Webpagetime.com